Launched in 2015, and headquartered in Washington, United States of America
Is a HD hardware wallet that supports 7,000+ tokens and 348 blockchains
Compatible with MacOS, Linux, Windows and Android phones.
Integrated with shapeshift, a non-custodial crypto exchange
Doesn't charge transfer fees, and allows anonymous transactions.
Best suited for anyone with crypto assets, people who want non-KYC crypto storage and exchange, and also cold storage away from the risks of hot wallets.
What is KeepKey Wallet?
KeepKey is a hardware wallet first launched into the crypto market in 2015 by Darin Stanchfield. In 2017, it was acquired by the decentralized crypto exchange, ShapeShift. The acquisition made it possible to scale KeepKey wallet to its current size and level of convenience. Its multi-chain and multi–currency support add to the level of expansion it's already achieved in the market.
The wallet currently retails at $78 on the website, and you receive a package containing the wallet device, wallet recovery card to write the seed phrase and a USB cable to connect to a PC, a leather case to store the seed phrase card, quick start menu and installation menu. The device is of a high quality, and comprises an anodized aluminum case. It has an easy to operate interface made of a polycarbonate. The size of the wallet and the size of the touchscreen sets the wallet apart from others. In this KeepKey Wallet review, we'll discuss everything you need to know about it from the price, how to set it up, currencies supported, pros and cons and more. Keep reading:
Type of Wallet

Hardware wallet, open source, Hierarchical Deterministic

Price

$78 on the official website

Fees

Free
Blockchain and network fees might apply

Features

Multi-currency support
Shapeshift integration for crypto exchange
User-friendly
Electrum and Mycelium wallet support
Privacy and anonymity
24/7 customer support
OS Compatibility

Number of Cryptos Supported
7200+ crypto assets
Earn
Yes
Customer Service

Phone number
Discord Ticketing service

Hardware Compatible

Windows PC
Macbooks
Android Phones
Linux PCs

SPV or Full Node
Full node
Who is it Best-suited For

Beginners in crypto
Anyone who wants full custody and digital asset cold storage

Pros

Cheaper than similar hardware wallets
Has a user-friendly interface
Completely anonymous crypto transactions
Supports over 7,000 crypto assets and 238 blockchains
High security measures in place
12 word recovery phrase

Cons

Inconvenient customer support channels
Doesn't offer online wallet apps, and has to be connected to a PC
Comes with a risk of loss and damage
Services Offered by KeepKey Wallet
Offline Crypto Storage and Backup: KeepKey wallet offers the most convenient cold storage for your crypto assets. You're assured that your crypto is always safe with you when you have the wallet and access to your private keys.
Dapp Store: The store gives users access to decentralized applications and their services. You can access decentralized lending, stablecoin issuance and exchange games.
Earning Opportunities: The Dapp stores you can access through the KeepKey wallet also to find liquidity pools where you can stake your crypto and earn APY.
Swapping: You can swap thousands of cryptocurrencies through the decentralized applications integrated into the wallet.
Sending and receiving Crypto: The wallet allows you to send and receive cryptocurrencies from other users.
How to Create an Account
Visit the KeepKey website on your Windows, Linux or MacOS device. Make sure you already have the hardware device and have unboxed it.
Download the KeepKey client by clicking on the link that's appropriate for your device. Once it's downloaded, run it in readiness for setup.
Connect the cold storage wallet to the computer using the USB cable. Select 'Initialize the device' and name or label it.
Create a password for your device. The device will give you a set of nine numbers to choose from. Make sure it's something nobody else can easily guess, but also easy for you to remember. You'll need the pin code to access the cryptocurrency hardware wallet every time.
The device will give you a 12-word seed phrase for recovery. Write them down carefully and store it somewhere nobody else can access it.
Once you've completed backing up the recovery phrase, the entire setup process will be complete.
How to Proceed with a Transaction
KeepKey wallet is easy to use once you've already finished the initial setup. Here are some steps to help you carry out basic transactions:
How to Make a Deposit
Run the KeepKey client software that you set up on your desktop computer.
Connect the hardware wallet using the USB cable. Log in using your pin code.
Click on the account you want to deposit cryptocurrencies into. The wallet will generate an unused wallet address that'll appear both on the computer and hardware wallet's interface.
Carefully copy the address and use it to send the crypto. You can also send this address to anyone who wants to send you crypto.
Once the transaction is complete, the new crypto amount should reflect on your wallet.
How to Make a Withdrawal
You can withdraw your crypto by sending it to another wallet address.
Run the KeepKey client desktop app and connect the hardware wallet using the USB cable.
Once you've provided your pincode and logged in, select the 'Send' button.
The device interface will give you a rudimentary form where you can fill in the amount and receiving address.
Make sure the address you intended to enter matches the one that appears on the device before clicking 'send'.
The transaction should be completed within minutes.
KeepKey Wallet Supported Tokens
KeepKey supports 40 manor cryptocurrencies and more than 7,700 other tokens and coins. Here's a list of the major tokens that you can store on KeepKey: Bitcoin, Bitcoin Cash, Bitcoin Gold, DASH, Dogecoin, Ethereum, Litecoin,Basic Attention Token (BAT), Binance Coin (BNB), Bancor (BNT), Civic (CVC), Storj (STORJ), Dai (DAI), Decentraland (MANA, DigixDAO (DGD), Gnosis (GNO), TrueUSD (TUSD), Maker (MKR), and Melon (MLN) among others.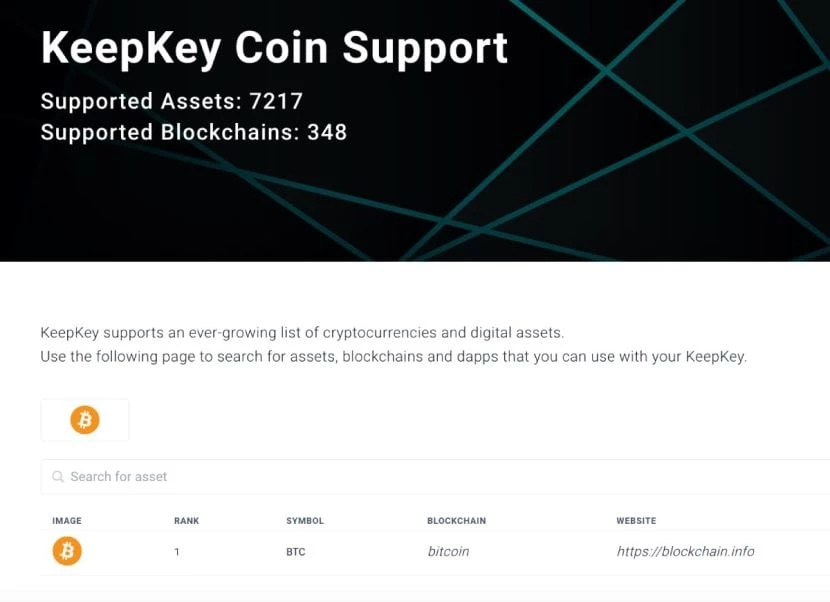 Is KeepKey Wallet Safe and Legit?
Keepkey employs several security measures to ensure your crypto is safe at all times. The wallet is PIN protected, which means that nobody can access it unless they have your code. We found in our KeepKey wallet review, that the device is hierarchical and deterministic, therefore, it can generate an infinite number of seed phrases. It's also well-known and has a lot of positive feedback from users online. The most important thing to remember is to buy the device from KeepKey's website, or one of their authorized resellers. Also, don't store your crypto in a wallet that's been tampered with.
Security
The hardware wallet comes with a unique set of security features to safeguard your crypto. These include:
Private Key Storage: The device automatically generates keys using entropy, and can generate an infinite number. Your keys remain private even when the wallet is plugged into a computer for transactions.
Recovery phrase: The hardware wallet gives you a 12-word recovery seed phrase during the initial setup. You can use it for backup and restore in case you lose access to the hardware device.
Trezor Source Code: Note that KeepKey started out as a fork from Trezor and shares some of its source code, which is known for superior security. Keepkey has improved on the code for even better security.
User Interface
The hardware wallet has one of the largest display interfaces in the market. It's a touch screen, which allows you to easily key in the details of any transaction you want to make.
How to Use Crypto Wallet on Android & iOS
Our KeepKey wallet review found that unfortunately, the hardware wallet and KeepKey Client don't work on Android and iOS devices at the moment.
How to Use Crypto Wallet on Desktop
You can follow these simple steps when using KeepKey on your desktop computer:
Download Keepkey client for your MacOS, Linux or Windows PC.
Connect the hardware wallet and key in your pincode.
Once the setup is complete, you can access your hardware wallet and all the accounts in it.
You can also access the Dapp store and shapeshift exchange where you can swap your coins, participate in staking, yield farming and other activities.
Backup & Restore
Backup
At the start of the wallet setup, you'll get a 12-word seed phrase to help you backup your wallet. It's recommended to write the words in the correct order and store them safely.
Restore
Follow these steps to restore a lost keepkey hardware wallet.
Get a new hardware wallet from KeepKey to replace the old one.
Download the KeepKey Client on your PC, and run the setup process.
Go to shapeshift and click connect wallet. Choose to connect your KeepKey wallet.
In the next step, the system will ask you to either create a new wallet or recover. Choose to recover your wallet.
Choose the length of your recovery phrase and indicate that you have the backup.
Next, you have to create a new pin for your wallet. Enter the digits and confirm them to complete this step.
Then, the system will ask for the 12-word recovery phrase. Paste the words in the correct order, and click 'Recover Wallet,' the system will initiate the restoration.
Your wallet will be fully restored at this point.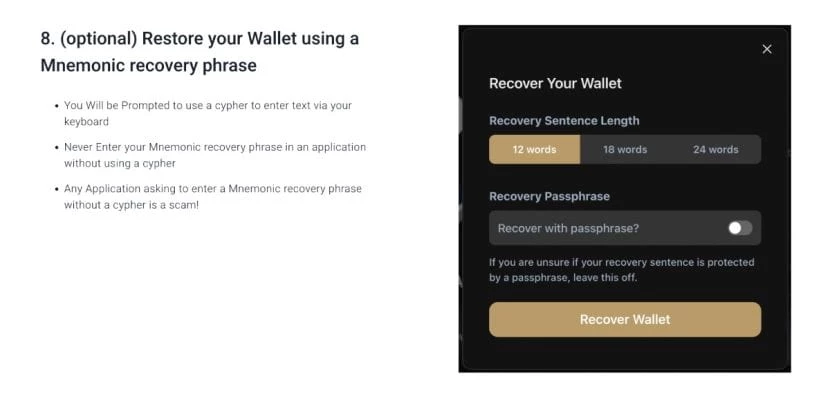 Troubleshooting
Here are solutions to some of the common problems that affect KeepKey wallet:
KeepKey Wallet won't connect
You can try disconnecting and reconnecting the wallet several times. Often, this resolves the problem. It could also be that your wallet is incompatible with your browser. Change the browser and try running it again. If these two measures don't work, contact the customer support.
I lost my KeepKey Wallet PIN
Unfortunately, losing your KeepKey wallet PIN means you cannot access your funds. However, you can regain access by using the seed phrase for recovery.
KeepKey Wallet Alternatives
Let's compare KeepKey wallet to similar wallets in the industry and see how it fares:
KeepKey Wallet Vs Trezor One Wallet
Trezor Model One is the original hardware wallet that KeepKey hard forked from. The cryptocurrency hardware wallet was launched in 2014 by Satoshilabs and is the very first wallet to store private keys to Bitcoin offline. Trezor developers claim to have sold more than one million units to date, which confirms its popularity and level of trust customers have. However, KeepKey has some of the source code used in designing Trezor, which means the level of security and convenience in the two wallets is similar. KeepKey has done a lot to build on the technology used in making Trezor, which is why our wallet review found it to be the better wallet.
KeepKey Wallet Vs Ledger Nano S Plus Wallet
Ledger Nano S is from renowned hardware wallet manufacturer Ledger. It was launched in June 2022, as an upgrade to the older Ledger Nano S. The wallet retails at $79, which is almost the same as the cost of the KeepKey. Many people trust Ledger as one of the best Bitcoin cold wallets, and it has a proven track record for reliability. You can compare the offering from the two wallets and choose the ideal option for your needs.
Final Thoughts
KeepKey is one of the best crypto wallets in the crypto market today. You can use it to store, send, receive crypto and access exchange services like swapping. You can also use its platform to access Dapps and a wide array of functions. The fact that it comes at such an affordable price, and gives you access to 350 blockchains and thousands of tokens makes it a worthy investment. Our conclusion after a comprehensive Keepkey review was that it's a great crypto wallet.
Q&A Session
In this section, Millicent Ngugi will address your inquiries and the most common questions regarding KeepKey Wallet and offer guidance to newcomers in the field. Feel free to submit your questions through our contact form, and we will strive to respond within 48 hours.
Our KeepKey wallet review found that it supports more than 7,000 coins and tokens, and works with 368 blockchains.
KeepKey comes with a 12 month manufacturer's warranty. You should only purchase a new wallet from their site or an authorized reseller to ensure you get the warranty.
Trezor One uses a pin and passphrase for security, while KeepKey uses a pin and recovery phrase.
You can access KeepKey by buying the cold wallet from a trusted source and downloading KeepKey client from their official page. You'll easily access all its features when you complete the setup.