Kraken is perhaps the most appealing crypto broker for beginner investors. It's one of the biggest exchanges on the market and brings a lot of impressive features to users. However, what is most appealing about the Kraken exchange is the security. It has the best security protocols in the industry and does its best to try and protect its customers. While it might not compete with the newer exchanges in terms of features, for a simple experience with top-notch security, few can beat it. Our Kraken review is highly detailed, so get on board to learn what it provides!
Introduction to Kraken Exchange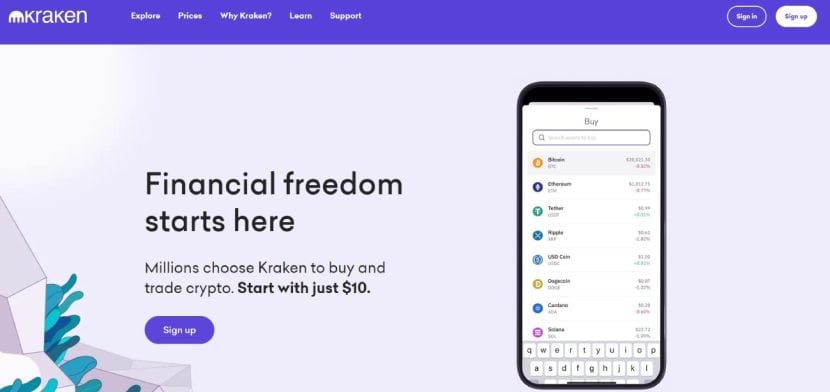 Kraken is a centralized exchange, so some of the benefits of decentralized exchanges don't exist. It provides some excellent staking choices, providing the ability to create a passive income. As a centralized platform, it has regulatory licenses, giving users plenty of protection.
Kraken provides almost 200 crypto options, which is a solid choice. While there are providers with a deeper roster, it still covers the most prominent cryptos. It's a minor disappointment not to see a native token, but it's the same at most centralized exchanges.
Our Kraken exchange review ensures we cover every aspect of the site. As a result, traders can discover everything it has to offer. Anyone looking to start trading can learn the full story with us!
| | |
| --- | --- |
| Founded date | 2011 |
| Native Token | No |
| Listed Cryptocurrency | 150+ |
| Trading Pairs | 1,000+ |
| Supported Fiat Currencies | 10+ including GBP, USD, EUR, AUD and CAD |
| Supported Countries | 200+ |
| Deposit Fees | Yes |
| Transaction Fees | Between 0.0% and 0.26% |
| Withdrawal Fees | Yes |
| Application | Yes |
| Customer Support | Live chat, social media, help center |
Kraken Crypto Features
Traders can stake their crypto
Offers over 100 crypto choices
Solid fee options are available
Users can download a high-quality mobile app
Number of Cryptocurrencies Supported
BTC
ETH
XRP
BCH
ADA
BAT
BNB
& 150+ more
Earn

Kraken provides some fantastic staking options for users. Although it doesn't hit the yield heights of some decentralized exchanges, some excellent returns are still available. Our Kraken exchange review looks over all passive income opportunities, ensuring traders can find the best option for their needs.
Customer Service
The customer service at Kraken exchange is superb. Traders have access to 24/7 live chat, a fantastic help center, and many social media channels. So, whenever there's an issue, it's easy to get help to resolve the problem. It's great to see, as some sites leave customer service as an afterthought, which diminishes the quality of the platform.
Hardware Compatible
Kraken provides the opportunity for both mobile and desktop users. So, it covers most hardware for accessing the platform. Additionally, traders can connect their Web3 wallet to the Kraken exchange. So, it offers the opportunity for more control and agency over funds.
SPV or Full Node
Kraken has SPV for transactions.
Who is Kraken Crypto Exchange Best Suited For?
The Kraken exchange is available for all users. However, it's one of the best sites for new traders. With it being so user-friendly for beginners, it would be easy to assume it doesn't offer high-level features. However, Kraken Pro offers some superb options, meaning experienced users can also get plenty from the site.
Kraken Crypto Pros & Cons
Pros
Kraken Pro provides a better selection of fees
Staking is available on certain cryptos
Provides a great choice of prominent coins
An excellent platform for beginner traders
Cons
The Kraken exchange isn't decentralized
It's not available across the whole of the US
Services Offered by Kraken Crypto Exchange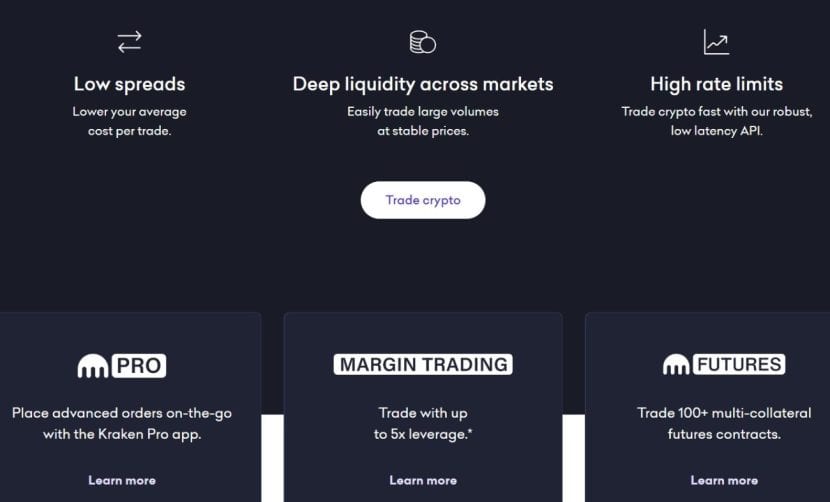 Kraken has some excellent features available to users, although it doesn't quite stand up to operators with a decentralized network. However, traders can still positively interact with crypto, our Kraken exchange review provides an efficient rundown of what's on offer.
There's a solid selection of trading options with Kraken. Although it's not as high as sites like KuCoin, Coinbase, or Binance, it still offers a good roster of coins. Traders can pick from over 150 cryptocurrencies, providing some impressive options. Fees are a bit of a mixed bag, with low-volume trades costing much more than bigger ones. However, users who use Kraken Exchange Pro can get access to reduced costs.
Passive income is a possibility with Kraken. Our Kraken review covers all extra ways to create funds. Traders can stake funds, making covering potential losses from volatility easier. The yields aren't as high as at other sites, but some still hit above 20%. So, while it won't create massive amounts of passive income, some great opportunities are still available.
Kraken exchange doesn't offer a native token. It's a drawback, as this can often be a way to create extra profit opportunities. So, no token means no way to increase staking yield or reduce fees. It is a drawback to Kraken, and it would improve the experience by adding a native coin.
How to Create an Account?
Kraken makes it easy to start trading. As probably the most beginner-friendly exchange on the market, it's no surprise to see it being easy to use. It offers many ways to begin, with both mobile and desktop offering simple starting points. Our Kraken review provides simple steps to creating an account.
Step 1: Navigate to the Kraken exchange
Step 2: Desktop users should click the create account button
Step 3: If trading on mobile, find the app on the correct app store
Step 4: Load the app up and either create an account or log in
Step 5: Provide the relevant details to create an account
Step 6: Go through KYC and start trading with Kraken
As our Kraken exchange review points out, it's a centralized exchange. As a result, KYC is a requirement to create an account. It does remove some of the benefits of crypto, particularly the benefits of anonymity.
How to Proceed with a Transaction?
Kraken is so simple for traders to use it's made its name as a beginner-friendly platform. We have closely examined how to start trading to help users begin with Kraken.
Step 1: Click explore on the menu at the top
Step 2: Select the appropriate trade option
Step 3: Choose which crypto to exchange
Step 4: Decide on how much to trade and calculate the fees
Step 5: Fund the account and complete the trade
Using these steps makes it easy to begin trading with the Kraken exchange.
How to Make a Deposit?
Depositing Kraken is easy to complete. With many exchanges refusing to provide the option to complete the process, it's positive to see it available. Users who want to make a deposit at Kraken can do so with the following steps:
Step 1: Open the Kraken menu
Step 2: Choose the correct fiat deposit method
Step 3: Select the amount of fiat to deposit
Step 4: Check the funds are correct and complete the process
It's a straightforward process, ensuring Kraken users can easily fund their accounts.
How to Make a Withdrawal?
It's also easy to withdraw at Kraken. Users must pay fees on fiat withdrawals, but it's standard industry practice at most sites. To complete the process, users can just follow these steps:
Step 1: Make sure there are enough fiat funds, potentially through a crypto exchange
Step 2: Choose the amount to withdraw
Step 3: Select the payment account and complete the process
There is sometimes a wait for the withdrawal to process, but it's rarely longer than a week.
Payment Methods

The payment options at Kraken are excellent. Traders can select from a solid range of cryptocurrencies, numbering more than 150 options. It also provides over 65 fiat options and plenty of offramp methods to simplify fiat exchanges.
Kraken Crypto Exchange Supported Tokens
Kraken provides over 150 cryptocurrencies, which is an above-average selection. It caters to new users and experienced traders, offering everything from popular coins to newer altcoins. Having access to such a wide range of options ensures users can carry out research to pick the most suitable investments. A snapshot of what's on offer is below:
BTC
ETH
LTC
USDC
ATOM
KAVA
DOT
ADA
Despite this being a relatively small show of what Kraken offers, it still shows the depth of choice the site has available.
Is Kraken Crypto Exchange Safe and Legit?
There are plenty of big-name operators in the crypto world, but Kraken exchange stands out for one main reason. In the whole time it's been on the market, Kraken is one of the few brokers that has never been the victim of a hack. It's extremely impressive and helps traders to have complete trust in it.
Of course, Kraken does have regulations and licenses in place, which adds some extra trust to users. In our Kraken exchange review, it became clear to us the site took the safety of its customers seriously. There's SSL encryption from Google and a top-class security team. It is proud of its no-hack status and does everything possible to retain that accolade.
Of course, traders must still be responsible for their own security. Using 2FA protocols and protecting passwords are just two ways users can retain their own safety.
Security
The Kraken exchange carries out several tasks to keep high levels of security. Firstly, it has a high budget for its security team. One of the most impressive aspects is how much Kraken invests in its security. It understands users won't trust the site if it's not secure, so a substantial sum goes into protecting customers yearly.
The second way it looks to protect users is through its fund storage. Over 90% of funds remain in cold storage, and the Kraken servers even have armed guards! It's one of the tightest security protocols for any crypto broker in the industry.
Kraken also covers any loss of funds. So, if there is an unlikely hack, traders can claim their funds back. It makes it an excellent overall option.
User Interface
Kraken has an excellent interface. It's user-friendly and has a logical layout. Trades are the first option, and less common choices such as education and support appear further down. It keeps the screen clean, which is vital for mobile device trading.
In our Kraken exchange review, traders can find simple guides to starting up on different platforms.
How to Use Kraken Crypto Exchange on Android & iOS?
Mobile trading is simple with Kraken. Users can easily access the apps without any barriers. Our step-by-step guide ensures traders can go from nothing to trading in minutes!
Step 1: Load up the app store or Play store, or click get the app on the Kraken mobile site
Step 2: On the stores, search for the Kraken app
Step 3: Either log in or create an account
Step 4: Select how to begin trading
Step 5: Make a deposit and purchase some crypto
While the app is the best way to trade on mobile, a mobile browser site is available. So, all mobile users can enjoy their favored method of trading.
How to Use Kraken Crypto Exchange on Desktop?
While the mobile app is simple to use, the desktop version is even more accessible. As the traditional trading method, the desktop site offers easy access to all areas of Kraken. Our guide allows traders to enjoy a straightforward entry into the world of the Kraken exchange.
Step 1: Load up the desktop computer
Step 2: Open the web browser and navigate to the Kraken site
Step 3: Either create an account or log into an existing one
Step 4: Choose the best market to trade in
Step 5: Pick the most suitable cryptocurrency and decide how much to exchange
Step 6: Wait for the trade to complete and for it to land in the wallet
Trading with Kraken is as simple as possible, perfect for beginner users.
Backup & Restore
Traders must always be ready to create a backup. It's a critical aspect of any use of digital information. Although Kraken doesn't allow connections equal to a decentralized site, traders can still use crypto wallets in some form. So, it is essential to ensure backups are part of the trading process. Although each wallet will have specific instructions relating to its own protocols, the general approach will be relatively similar.
Metamask users can follow these instructions to create a backup:
Step 1: Open the general menu
Step 2: Enter the settings area
Step 3: Look for the security section and enter
Step 4: Choose the protect the wallet option
Step 5: This will now take users through a backup wizard
While it isn't challenging to complete this action, traders must still ensure they do so regularly. It will make any fund recoveries easier and protects beyond the standard site security.
Troubleshooting
Even the most user-friendly crypto exchange will have moments where troubleshooting is required. As a result, our Kraken exchange review has created a selection of the most common issues.
Traders struggling with their browsers can take several steps to resolve the issue. If the page won't load, the first step is to open it in private mode. Opening in private mode removes all cookies and clears the cache. As a result, if the page opens properly, it's an issue with the cookies or cache, so traders know to clear them in their standard mode. If it doesn't work after this, Kraken recommends uninstalling browser extensions.
If there's an issue with the trading platform, there's a simple trick to work out if it's a user or Kraken problem. If the error code is 8xx, the problem is at Kraken's end. If the error code is 9xx, the problem is at the user's end. So, it makes it easy to determine whether users must solve the problem themselves.
Other issues can occur, but Kraken has an excellent support center, so getting help with any troubleshooting is simple.
Kraken Crypto Exchange Alternatives
Kraken exchange is relatively well-known, but there are other choices on the market. We have spent time comparing Kraken with other exchanges in our detailed review. It provides the information needed to decide on the best exchange. So, look through our comparisons to learn which platform offers the best service.
Kraken Crypto Exchange Vs. SwissBorg Exchange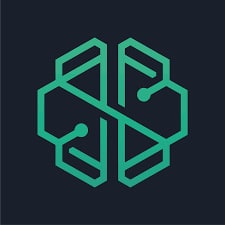 While Kraken is an entirely centralized platform, SwissBorg sits halfway between centralized and decentralized. So, the two sites have some slight differences. Kraken doesn't provide as much freedom as SwissBorg, but both sites require traders to complete KYC. So, regarding anonymity, both sites have little difference between them.
The fees at Kraken are lower than SwissBorg, which instantly helps it to stand out. However, when it comes to earning options, SwissBorg stands ahead. Fiat deposits are along the same lines at both sites, But SwissBorg allows for more control of funds. One area where Kraken provides more choice is platforms. Users can only use mobile at SwissBorg, although this is due to increased levels of security.
Kraken is a solid exchange, but SwissBorg is superior on the whole. However, desktop users and beginners will prefer what Kraken offers.
Kraken Crypto Exchange Vs. Binance Exchange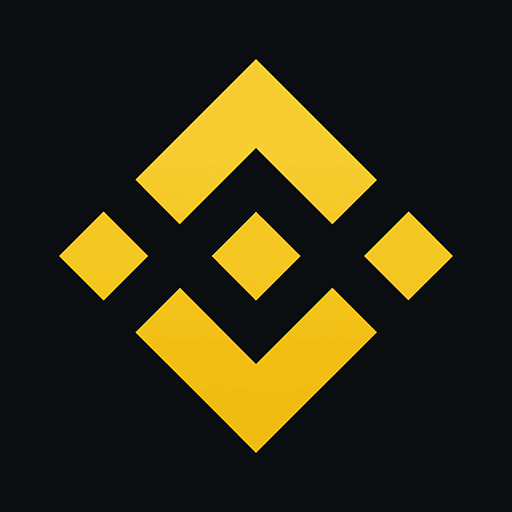 Kraken and Binance are incredibly similar in a variety of ways. There are solid staking options, the ability to withdraw with fiat, and a positive selection of cryptocurrencies. However, Binance does sneak ahead on the whole.
The native token at Binance is the first big difference. Kraken doesn't have a native token, so users can't claim the benefits they bring. There is also a more extensive choice of cryptos at Binance, which offers traders some better options.
Each site requires KYC from customers, so there's no chance for anonymity. Overall, there is little between the two sites, but the greater choice level helps Binance stand out.
Final Thoughts
Kraken is one of the top crypto exchanges for a reason. It provides users impressive crypto choices, excellent staking options, and a fiat offramp. As a result, it's a fantastic exchange for traders to try out.
It's perfect for beginners, with Kraken offering one of the easiest startups of any trading platform. Additionally, it has the highest security levels in the industry. Kraken has never had a hack, so it currently has the best safety rating. Of course, it doesn't mean malicious users will never hack it, but it shows Kraken values its customers' security.
Overall, Kraken is a high-quality crypto site and is perfect for beginners. It might not offer enough for experienced traders, but it's an excellent option for users just starting out.
Q&A Session
In this section, Will Wood will address your inquiries and the most common questions regarding Kraken Exchange and offer guidance to newcomers in the field. Feel free to submit your questions through our contact form, and we will strive to respond within 48 hours.