Although it's often called SwissBorg exchange, it's actually more than just an exchange. It provides users with a complete crypto wealth management platform, offering innovative features no other trading ecosystem offers. As a result, SwissBorg is one of the most exciting additions to the world of crypto trading and holding.
With low fees, impressive yield options, and native token control, it's one of the most exciting opportunities for crypto users.
Introduction to SwissBorg Exchange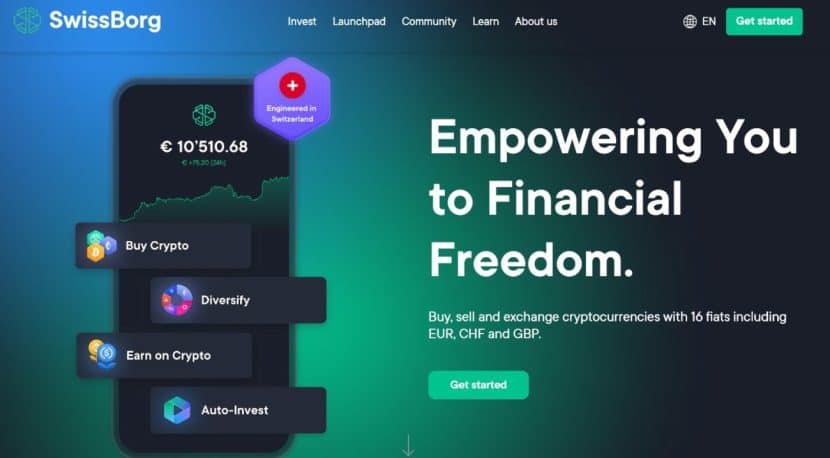 SwissBorg isn't just a crypto exchange, it provides traders the opportunity to manage their entire crypto portfolio on a single platform. While it's not wholly decentralized as it has government regulation, the platform itself has decentralized governance.
SwissBorg provides the opportunity for members to trade, earn yield, and try investment thematics. As a result, it's one of the most exciting platforms around for crypto users. The cryptocurrency selection is comprehensive and includes a native SwissBorg token, so there are some fantastic options. The security is also top-notch, with funds using cold storage to protect customers. The native token also offers some agency to users.
Our SwissBorg exchange review extensively covers the most crucial features and provides readers with an in-depth look at what it offers. So, sit under the learning tree with our expert eye on this impressive exchange. Anyone looking to start trading should check our SwissBorg review first to ensure they have all the details!
| | |
| --- | --- |
| Founded date | 2017 |
| Native Token | Yes |
| Listed Cryptocurrency | 54 |
| Trading Pairs | 2,945 |
| Supported Fiat Currencies | 16 including GBP, USD, EUR, and CAD |
| Supported Countries | 115 |
| Deposit Fees | Only gas fees |
| Transaction Fees | Between 0% and 1% |
| Withdrawal Fees | Yes |
| Application | Yes |
| Customer Support | Request form, Discord, help center |
SwissBorg Crypto Features
Crypto to fiat trades
Yield farming
Native token
Maximum trade fee limits
Number of Cryptocurrencies Supported
BTC
ETH
USDT
XRP
BNB
& 50+ more
Earn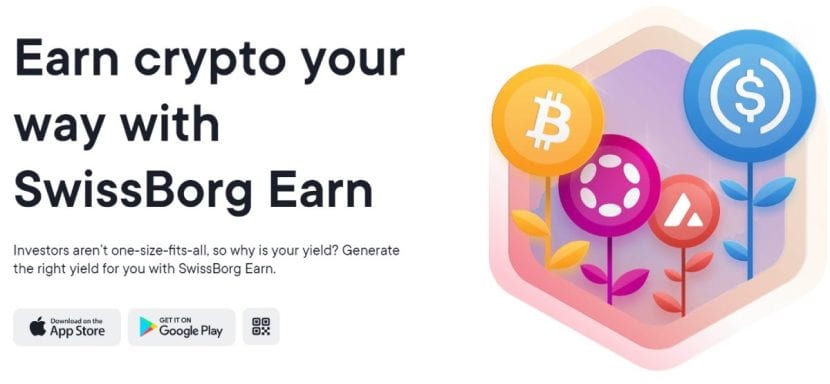 There's a solid range of ways to earn with SwissBorg. Our SwissBorg exchange review found trading, staking, and token governance all available at SwissBorg exchange. As a result, it offers one of the most comprehensive earning selections on the market.
Customer Service
Traders can get in touch with SwissBorg through a contact form. Here, there's usually a 24-hour turnaround, but it can sometimes be different if the site is busy. There are also many social media accounts, including an active Discord community, and a help center.
Hardware Compatible
Mobile access is available at SwissBorg exchange. The reason it's mobile-only is due to a vote during the early years of the exchange. As mobile devices are generally more secure than computers, SwissBorg users chose to stick to mobile only.
SPV or Full Node
It depends on the wallet the user connects. However, typically SwissBorg will use full node for staking options to verify the transaction completely.
Who is SwissBorg Crypto Exchange Best Suited For?
It provides a fantastic selection of cryptos, along with some excellent passive income opportunities. It might be slightly complex for a beginner users, but intermediate traders and above will find many benefits from SwissBorg.
SwissBorg Crypto Pros & Cons
Pros
Has a maximum trade fee for all crypto
Potential for passive income creation with the platform
Provides governance opportunities with the native token
Has a regulatory license from Estonia and France
Cons
No live chat for customer support
It's difficult to reach the advantages the higher volume trades offer
Services Offered by SwissBorg Crypto Exchange

We've closely examined everything SwissBorg offers traders and collated it in our SwissBorg exchange review. There's a superb collection of methods to create a passive income while also providing the ability to grab faster profits through trading.
The obvious first feature is trading with SwissBorg. The fees are about average for the market, but it's nice to see maximum exchange costs in place. For example, a BTC trade has a maximum fee of 0.0036 BTC, regardless of how high the trade goes. So, if a trader exchanged 36 BTC, it would be 0.01%, well below the market average.
SwissBorg also offers some excellent passive income features. The native token is an impressive way to earn, with it providing staking options to users. Additionally, traders who hold the native token can also make decisions on how SwissBorg uses it. So, traders can vote on whether tokens will be burned off to help maintain the value or go towards network maintenance. It's an excellent feature that gives users more agency over their funds.
SwissBorg also provides yields on all other stakeable assets. It helps increase the potential for profit with the site, particularly with some impressive gains available. The thematic investment tool is an innovative addition. Here, it allows investors to focus solely on specific themes. For example, gamers can purely trade on gaming assets. It's unique to the market and offers a new way to interact with crypto.
How to Create an Account?
SwissBorg makes it relatively simple for users to create an account. Because it's a mobile-only platform, traders must use their mobile devices to sign up. However, it's still possible to access the site through the desktop website. Most decentralized exchanges don't require KYC, but it's not the case with SwissBorg, as it has Estonia and France regulations. Our guide offers simple steps to create an account:
Step 1: Navigate to the SwissBorg website
Step 2: If on a desktop scan the QR code with a mobile device
Step 3: If already on mobile, use the link to enter the correct app store
Step 4: Complete the registration process, including KYC
Step 5: Connect a wallet or fiat account and begin trading
Unfortunately, the KYC process takes some shine off the SwissBorg exchange, but the overall procedure for creating an account is relatively fast.
How to Proceed with a Transaction?
Once traders have connected to SwissBorg, it's time to start trading. Fortunately, it's not a challenge to get up and running, particularly for new users. In our SwissBorg exchange review, we have collated a simple guide to help users make their first trades.
Step 1: Tap on the invest button
Step 2: On the drop-down menu, click buy crypto
Step 3: Choose how much to buy or sell
Step 4: Confirm the exchange
There's a small amount of time for the trade to complete, but the amount will be available as soon as it finishes. Traders can buy or sell through the buy crypto option, providing the opportunity for trades both ways.
How to Make a Deposit?
Users don't make a deposit as such with SwissBorg exchange. Instead, they connect a banking card and can make crypto purchases through it. As a result, traders can fund their crypto wallets, and add to their holding.
How to Make a Withdrawal?
Withdrawals work in the opposite manner to deposits. Users must exchange their crypto for fiat and then pay it back onto their bank card. An exchange can sometimes take a while to convert back to fiat, so users must know there's a wait. However, on the whole, it's a relatively fast process.
Of course, it's not the same procedure for staked crypto funds. Users must either wait for the staking time to complete or pay a break fee to end the process early. After completing this, the withdrawal will be available. Traders have to be aware ending a staking period early can cause losses, so they should only do it when completely vital.
Payment Methods
Traders can use both crypto and fiat at SwissBorg. There are 54 cryptos and 16 fiat currencies, so users can easily switch between the appropriate option. It allows investors to use crypto wallets and bank cards to make payments.
SwissBorg Crypto Exchange Supported Tokens

There are 54 cryptocurrencies in place at the SwissBorg exchange, which is a solid selection. It doesn't cover as many options as other sites, but the most prominent names are in place. Of course, with so many cryptocurrencies available, it would be challenging to cover all possibilities, but SwissBorg does an excellent job of covering the most essential options. A selection of available choices is as follows:
BTC
ETH
CHSB
USDC
XRP
MATIC
USDT
DOT
LINK
AVAX
Of course, this is just a small selection of what's on offer. SwissBorg provides a complete rundown on its site.
Is SwissBorg Crypto Exchange Safe and Legit?
Our SwissBorg review found the site to be extremely safe and secure. Although it has anonymous operators, they have a strong track record, so it's unlikely to be a problem. It has regulatory licenses in place, ensuring protection for players relating to crypto operations.
There are no current complaints against SwissBorg, which is an excellent sign, but as it's regulated, it means there's a legal recourse to ensure the site behaves fairly. There is superb security in place, with a valid SSL certificate and cold storage on wallets. With users connecting their wallets, it also adds an extra layer as users retain agency over their own funds.
These factors ensure traders remain protected as long as they remain vigilant with their security keys.
Security
We found SwissBorg to have fantastic security for users. The whole premise of the platform is to provide a secure experience. As a result, trades are mobile-only due to higher protection levels. Additionally, the app has 2FA in place, so users have higher levels of protection when investing. It makes a hack much more complex and ensures funds are safer.
The site also allows users to be part of governance decisions. So, anyone who holds the native token can vote on their usage. It adds an extra layer of protection to the SwissBorg token's value, helping traders limit the negative impact of volatility.
User Interface
SwissBorg provides an easy-to-use interface. All areas are available through the menu, ensuring navigation is simple. All buttons are fully responsive, so there's no waiting around after tapping an option. It ensures errors are less common, as traders won't click the wrong button out of frustration.
Our guide makes it easy to find the different aspects of the site so beginners can easily get up and running.
How to Use Crypto Exchange on Android & iOS
After creating an account, it's simple to start with SwissBorg. Our guide provides the most relevant steps to start trading. So, beginner investors should take a look to ensure they don't suffer any problems.
Open the app on the relevant mobile device
Traders must ensure they fulfill KYC and connect a crypto wallet
Navigate to the appropriate section; trading or staking are the most common
Choose the required crypto and carry out the desired actions
It's a simple process that ensures traders can get simple access. With it being a purely mobile platform, it's easy for the more modern user to start.
How to Use Crypto Exchange on a Desktop
There's no desktop version of the site. Anyone who wants to use SwissBorg will have to go through the mobile app.
Backup & Restore
All backups have to be through the wallet rather than the exchange. So, creating a backup isn't the responsibility of SwissBorg. As a result, traders must carry out the process themselves through the wallet. A one-size-fits-all guide is impossible because each wallet has different settings and protocols. However, investors can still get an idea of the process with a specific guide.
Users who are using Metamask can connect their wallet with the following steps:
Open the Metamask wallet menu
Navigate to the settings section
Open the security page within the settings section
Click on the link to protect the wallet
Select the protect the wallet option
This creates a backup and ensures users have more peace of mind. Despite this, it's still critical for traders to check the specific instructions for their wallets, as there may be slight differences in how they work.
Troubleshooting
Even the simplest platforms have common issues which crop up. SwissBorg is no different. With Decentralized platforms having a few extra steps to a standard exchange, it can throw up some problems for new users. So, we've covered the most common issues to help traders get started.
One of the biggest issues traders see is crypto not appearing in their wallets. Fortunately, most of the time, this has a simple solution. Instead of panicking, users must check on the blockchain to see if it has hit the confirmation threshold. If it hasn't, investors must wait for it to happen, and the crypto will land. Each transaction will have a different requirement for blockchain confirmations, with more substantial transactions having a higher amount.
If card payments bounce back, the most common error is naming issues. So, traders must check the card is in their name. As the site conforms to KYC protocols, users cannot use funds from someone else to make trades. Additionally, business cards and prepaid cards are not accepted.
These are the most common issues, but users can find a more comprehensive list at the SwissBorg site.
SwissBorg Crypto Exchange Alternatives
Of course, SwissBorg isn't the only exchange in the industry. Crypto users have a substantial selection available now, which is a significant positive. So, we have compared SwissBorg to some of the top platforms on the market.
SwissBorg Crypto Exchange Vs. Kraken Exchange
SwissBorg is almost the middle point between an exchange like Kraken and a completely decentralized platform. As a result, there are some interesting differences between the two sites. Firstly, Kraken doesn't have as much freedom as SwissBorg. Although both sites still have KYC, SwissBorg is slightly less restrictive. As a result, traders have to rely more on personal responsibility when using SwissBorg.
Costs are similar at both sites, although Kraken has slightly smaller fees, making it preferable from a financial point of view. However, the staking options at SwissBorg are superior. Users can also retain control of their funds using a wallet at SwissBorg, although the fiat deposits work similarly at both sites. Kraken offers a desktop site, which SwissBorg doesn't, so PC users may have to use Kraken out of necessity.
On the whole, there's nothing wrong with Kraken, but SwissBorg is a superior option for crypto users.
SwissBorg Crypto Exchange Vs. Trader Joe Exchange
Trader Joe has more similarities with SwissBorg than Kraken, but the main difference is it's completely decentralized. As a result, it offers more freedom but also more personal responsibility. SwissBorg has higher fees, but it also has a maximum fee. So, there's the potential for high-volume traders to benefit from this if they make substantial exchanges.
The service at both sites is relatively similar. Staking, wallet connections, and multiple investments are all available. SwissBorg also has its own wallet, which is a plus. Both sites provide a native token, so there's the potential for pooling and staking with it. However, SwissBorg is mobile-only, which could hinder some traders.
Final Thoughts
SwissBorg is an excellent crypto exchange with superb features. It provides more benefits to higher volume traders, but there are still some benefits to beginner users. The staking and multiple currency pairs offer chances to earn, with staking providing passive income opportunities. Additionally, SwissBorg has a thematics feature, which is perfect for anyone looking to focus on a specific investment tactic.
Although the site has no desktop option, the mobile app is fantastic, making sure it's accessible to anyone with a mobile device. It increases safety without limiting functionality. As a result, SwissBorg is perfect for a more modern audience, particularly the blockchain community.
SwissBorg provides easy access to crypto trading, which ensures users across the globe have access. With excellent features, it's an exchange well worth checking out!
Q&A Session