Welcome to our in-depth review of Bitpanda Exchange, a leading platform in the European Economic Area (EEA), that provides a seamless and secure way to trade cryptocurrencies. In this comprehensive article, we will delve into the features, services, and user experience offered by this multi-billion dollar firm. Let's dive in!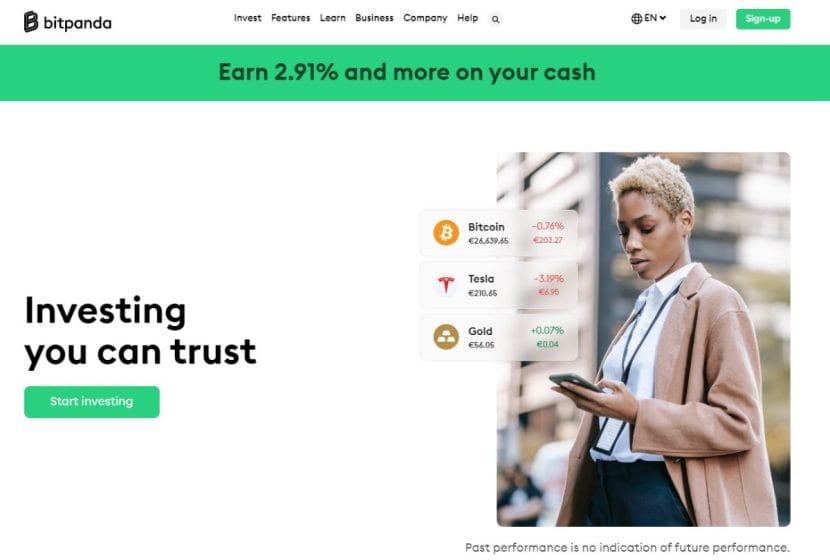 Bitpanda Pros & Cons
Pros
Wide Range of Cryptocurrencies: You can find an extensive selection of over 80 cryptocurrencies, ranging from major coins like BTC and ETH to stable coins like USDT and USDC, and more
User-Friendly Interface: The platform boasts an intuitive interface designed to cater to beginners and experienced traders. It simplifies the process of navigating through the platform and executing transactions, making it effortless for users of all levels of expertise
Secure and Regulated: They prioritize security, implementing robust measures to protect user funds and personal information. The exchange is also regulated, adding an extra layer of trust and credibility
Payment Options: Exchange supports multiple payment methods, including bank transfers, credit/debit cards, and various e-wallets, providing users with convenient ways to deposit and withdraw funds
Fiat Gateway: Seamlessly converting fiat currency to cryptocurrencies and vice versa simplifies the trading process, making it accessible to a broader audience.
Instant Transactions: The platform facilitates quick and seamless transactions, allowing users to execute trades promptly without delays
Mobile App: The mobile app offers a convenient way for users to access their accounts, manage their portfolios, and execute trades on the go
Cons
Limited Geographic Availability: Services may not be available in all countries, limiting access for potential users in certain regions
Limited Support for Altcoins: While they offer a wide range of cryptocurrencies, the selection of some lesser-known altcoins may be limited compared to other exchanges. We noted during this research that some popular assets like BNB, BUSD, and DAI were not listed on the exchange
Fees: The trading fees can be higher compared to some other platforms, which may affect the overall profitability for frequent traders. In addition to network fees, users pay an extra 1.49% premium for buying BTC, yet some platforms like
Customer Support: Some users have reported issues with customer support response times, indicating room for improvement in this area
Withdrawal Limits: The platform imposes withdrawal limits for certain account verification levels, which may restrict larger withdrawals for some users
Lack of Margin Trading: Unlike some other exchanges, they do not offer margin trading, limiting options for traders seeking leveraged positions
Bitpanda Overview
Bitpanda is a highly esteemed cryptocurrency exchange and digital asset platform that offers a secure and streamlined process for buying, selling, and trading a wide range of cryptocurrencies. As of writing this, Bitpanda caters to over 3 million users in at least 80 countries. What sets them apart from its peers is its user-friendly interface, which caters to both novice and experienced traders. The platform offers an extensive array of cryptocurrencies such as Bitcoin (BTC), Ethereum (ETH), and Ripple (XRP), as well as other asset classes, including stocks, ETFs, metals, and commodities, which provide ample opportunities for users to diversify their portfolios. With robust security measures, user funds and personal information are safe from potential cyber threats. Moreover, the exchange is regulated by the Austrian Financial Market Authority (FMA), which further enhances its reputation as a trustworthy and reliable platform. The exchange supports a range of payment methods, including bank transfers, credit/debit cards, and various e-wallet options, allowing users to deposit and withdraw funds conveniently. The platform's seamless fiat gateway makes converting fiat currency to cryptocurrencies and vice versa a breeze, streamlining the trading process. Bitpanda's mobile app is an added convenience, enabling users to manage their portfolios and execute trades on-the-go.
Background
Bitpanda debuted in the cryptocurrency market in 2014, formed by Eric Demuth, Paul Klanschek, and Christian Trummer. The Austrian Financial Market Authority (FMA) regulates and authorizes the platform, ensuring compliance with severe financial regulations and providing customers with a secure trading environment. It accepts a wide range of cryptocurrencies, giving traders access to prominent digital assets such as Bitcoin (BTC), Litecoin (LTC), Ethereum (ETH), Dogecoin (DOGE), Ripple (XRP), and many others. Furthermore, the exchange caters to a global audience by providing its services in different languages, including English, German, Spanish, French, and Italian, allowing for smooth communication and accessibility for users from all over the world.
Reputation
Bitpanda has built a strong reputation as a reliable and trustworthy cryptocurrency exchange ever since it was launched in 2014. As of writing this, it had a Trustpilot rating of 4.1 out of 5 stars, with reviews from over 8,000 people. 77% of these users gave it a 5 star rating, citing ease of use, speed, user friendliness, security, and responsive customer care as some of the reasons behind their rating. There were a few complaints about the sluggishness of the customer care team in verifying KYC documents and inaccurate answers from the same department when users had a challenge. On the Google Store, it scored a rating of 3.5 from 3,6645 votes and 4.7 in the iOS App Store with over 13,000 reviews. The company has zero history of fraud. It has remained committed to best industry practices and delivering top notch services to the crypto community.
Bitpanda License
The Austrian Financial Market Authority (FMA) is in charge of supervising the operations of the cryptocurrency exchange. The fact that the exchange has been granted a license by the FMA provides users with an additional measure of confidence and assurance. Compliance with regulatory requirements guarantees that the platform will adhere to stringent guidelines to safeguard user cash and maintain compliance with best practices in the industry.
Security Features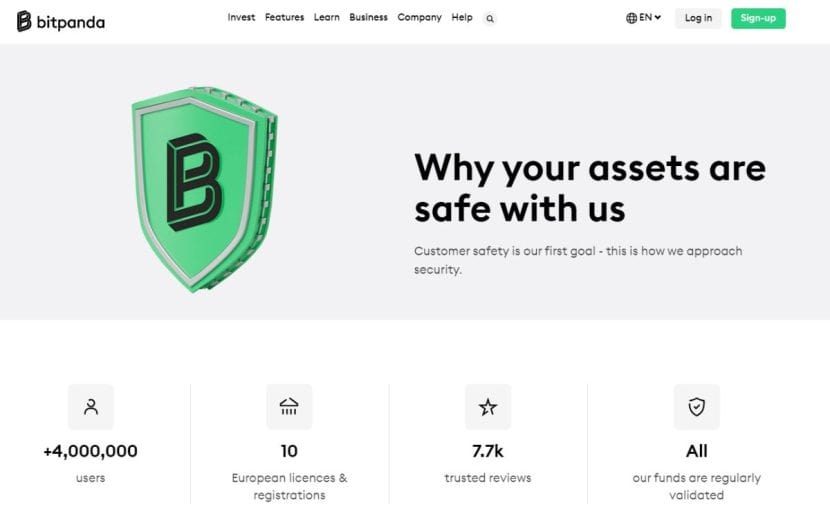 Bitpanda is known for its strong focus on security and uses state-of-the-art technology to ensure the safety of its users' funds. Here are some notable security features of the platform.
Two-Factor Authentication (2FA): The platform allows users to implement two-factor authentication, which adds an extra degree of security to their accounts. 2FA helps defend against unauthorized access even if login credentials are compromised by requiring a second form of verification, such as a one-time code texted to a mobile device.
State-of-the-Art Servers: The platform uses cutting-edge servers that are outfitted with strong security features. These servers are constantly checked and updated to provide peak performance and security against cyberattacks.
Strong API Applications: The platform offers a robust Application Programming Interface (API) that enables seamless integration with third-party applications. The API is designed with security in mind, allowing developers to access specific functionalities while maintaining strict access controls to safeguard user data.
Secure Offline Wallets: The platform utilizes secure offline wallets, also known as cold wallets, to store the majority of user funds. These wallets are kept offline and disconnected from the internet, providing an extra layer of protection against potential hacking attempts.
Secure Data Encryption: The exchange employs robust encryption methods to safeguard user data, including personal information and financial details. Encryption ensures that sensitive data remains protected from potential breaches or cyberattacks.
SSL/TLS Protocol: The platform implements Secure Socket Layer (SSL) and Transport Layer Security (TLS) protocols to establish a secure connection between users' devices and the exchange's servers. This encryption ensures that all data transmitted during transactions remains private and protected.
Regulatory Compliance: As a regulated platform under the Austrian Financial Market Authority (FMA), Bitpanda follows stringent regulatory standards. This includes adhering to anti-money laundering (AML) and know-your-customer (KYC) procedures to prevent illicit activities and enhance user security.
Multi-Signature Wallets: The platform employs multi-signature wallets for additional security. This means that multiple private keys are required to authorize transactions, reducing the risk of unauthorized transfers.
Activity Monitoring: The platform actively monitors user activity to detect and prevent suspicious behavior. Any unusual or potentially harmful activities are flagged and investigated promptly.
Secure Password Policies: The platform enforces strong password policies to ensure that users create robust passwords for their accounts. This measure helps prevent unauthorized access due to weak or easily guessable passwords.
Session management: By letting users see the browsers and devices they are signed into, the platform gives consumers more control over their accounts. You can sign out of suspicious devices using this feature.
Reputation of Owners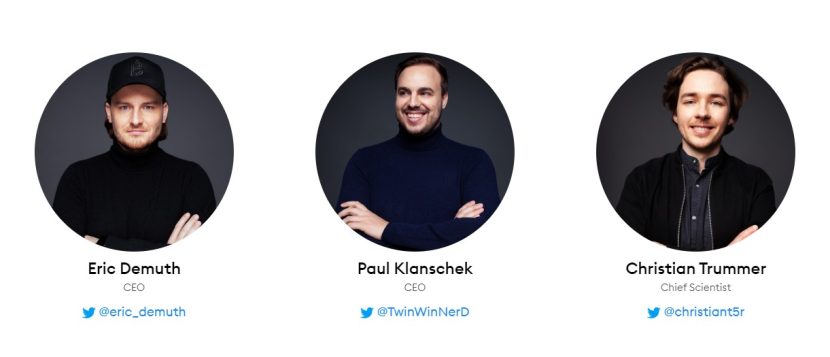 The founders of Bitpanda, Eric Demuth, Paul Klanschek, and Christian Trummer, are well-known and respected figures in the cryptocurrency industry. Their strong reputation and expertise have contributed to the trustworthiness and success of the exchange. Eric Demuth, the CEO of the company, has an interesting background. Before assuming his role as CEO, he was a naval engineer. However, he made the bold decision to pursue further education and returned to school. He successfully completed his economics studies at both the Vienna University of Economics and Business and the London School of Economics and Political Science. This unique combination of engineering and economics knowledge likely brings a valuable perspective to his leadership in the company. Paul Klanschek, the co-founder of the company, brings a unique skill set to his role. Having previously been a professional poker player, he possesses strong strategic thinking abilities. This background has equipped him with valuable skills that contribute to his successful management of the company. Before joining Bitpanda, the Chief Technology Officer of the exchange gained valuable experience as the lead software engineer at MRM Systems GmbH from 2006 to 2010. This prior role at MRM Systems GmbH provided a strong foundation for their current position at Bitpanda.
Complaints Received
While it is true that no platform is completely immune to negative feedback, The platform has generally been well-received by its users. However, there have been some instances where users have raised concerns about the platform. To investigate these issues, we conducted a thorough analysis of comments and reviews left on Trustpilot, the Google Play Store, and the App Store. Upon careful examination, we found that the majority of grievances were related to payment issues, particularly with regards to withdrawing funds. Our research revealed that some clients attempted to cash out amounts that were below the minimum required limits or failed to provide the necessary Know Your Customer (KYC) documents for verification. Additionally, some users expressed frustration with the slow pace of KYC verification, which led to delays in receiving their funds. Furthermore, we discovered that there were instances where individuals lost funds due to scams, mistakenly believing they were dealing with the exchange. This is a common issue in the cryptocurrency world, and Bitpanda has taken steps to educate its users on how to identify and avoid potential scams. Despite these challenges, the Bitpanda support team demonstrated a strong commitment to their clients by responding to their concerns and offering solutions whenever possible. Overall, while there have been some issues with the platform, Bitpanda has shown a willingness to address these concerns and provide a safe and reliable service to its users.
Reliability
Bitpanda's track record of consistent and reliable service has earned the platform a high level of trust among its user base. Its stable performance and seamless trading experience contribute to its reputation as a dependable exchange. Here are the main factors that are cornerstones to the reliability of this platform:
Trustworthy Reputation: The platform has established itself as a reputable cryptocurrency exchange among users and experts alike. With its positive reputation and track record, it has managed to attract over 3 million customers. This high level of trust is a testament to the platform's reliability in handling digital assets.
Strong Security Measures: Ensuring the safety of user funds is of utmost importance to Bitpanda, and they take extensive measures to guarantee it. One such measure is the use of advanced technology to secure their offline wallets, which significantly minimizes the risk of hacking and theft. Furthermore, it is fully compliant with the Anti-Money Laundering Directive (AML5), which further strengthens the security protocols in place. This is a testament to Bitpanda's dedication to creating a safe and trustworthy platform for its users.
Variety of Payment Methods: The platform offers a range of payment methods to cater to the diverse needs of its users. This ensures flexibility when it comes to funding their accounts and making withdrawals. Users can choose from a variety of options, including fiat currencies and various payment providers, making it convenient for them to manage their transactions on the platform.
Customer Support: The platform recognizes the criticality of customer support. They provide assistance via email and lay emphasis on delivering timely and dependable service to their users. By doing so the company endeavors to establish a favorable user experience, guaranteeing that any concerns or inquiries are handled effectively.
User Experience
Bitpanda stands out as an exceptional trading platform that caters to traders of all levels with its user-friendly interface and intuitive navigation. Its comprehensive features and ease of use contribute to a positive user experience, making it a top choice for those looking to buy and sell cryptocurrencies. The platform's simplicity is striking, allowing users to purchase and sell cryptocurrencies at the current market price without having to analyze charts or market data, ensuring that users can make informed decisions with ease. Moreover, Bitpanda's wallet offers unparalleled flexibility in funding accounts and making withdrawals, giving users the freedom to choose the payment method that works best for them. The platform's fees are transparent and clearly stated, providing you with a clear understanding of the costs associated with their transactions. This level of transparency is a valuable feature as it enables users to make informed decisions when it comes to managing their digital assets. One of the most significant strengths of the platform is its fast and competent customer support via email. The platform's 24/7 support team is always available to answer inquiries submitted through the support ticket system. Security is a top priority on the the platform, with state-of-the-art technology used to store funds in secure offline wallets. This gives users peace of mind, knowing that their funds are safe from potential cyber threats. Our experience was indeed smooth throughout this research.
Payment Methods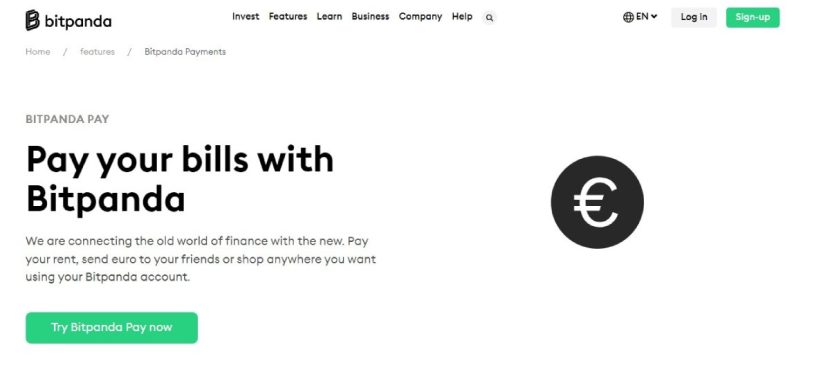 The platform supports various payment methods, making it convenient for users to deposit and withdraw funds. Here is a list of accepted methods:
Mastercard and Visa credit and debit cards
Bank transfers, including SEPA transfers, EPS transfers, and Giropay
E-wallets such as Neteller and Skrill
The platform accepts over 300 cryptocurrencies, ranging from Bitcoin and Ethereum to less known coins like DigitalBits, LimeWire, and Voxel.
Bitpanda EUR wallet to a third-party bank account
Customer Support
The platform is committed to providing top-notch customer support to its users. They offer a range of options to ensure prompt and reliable assistance, including email and live chat. Their support team is known for being responsive and helpful, always ready to address any inquiries or issues that may arise. If users encounter any problems or have questions, they can easily contact the Bitpanda support team by sending an email to [email protected]. The support team is available around the clock to provide assistance and ensure users receive prompt help. In addition to email support, the platform offers a convenient contact form on their website. This form allows users to select their specific issue from a comprehensive list of options, including general inquiries, feedback/complaints, and OTC trading. This ensures that users can receive tailored support for their specific needs. It is worth noting that Bitpanda Pro, the advanced trading platform, has its dedicated customer care contacts to cater to the needs of its users. Users can contact Bitpanda Pro customer support via phone or email for assistance with any issues or questions they may have. The support team is multilingual, which means they can assist users in different languages. This is beneficial for users from diverse backgrounds, as it ensures that language barriers are not a hindrance to seeking help. Lastly, to further support their users, crypto exchange maintains a comprehensive knowledge base and frequently asked questions (FAQs) section on their website. This resource provides users with answers to common queries and insights into various aspects of using the platform.
User Interface
The platform has a user-friendly and intuitive interface that is intended to provide users with a seamless and joyful trading experience. It is well-organized and visually appealing, making it simple to browse the platform for both novice and expert traders. The platform's design is straightforward, with key features and functions easily accessible from the main panel. It is built with a focus on simplicity to ensure clients can locate what they need fast and without feeling overwhelmed. When you log in, you are given a detailed account overview that includes your cryptocurrency holdings, transaction history, and account status. This summary provides you with a fast overview of your portfolio and recent operations. The site supports a broad variety of cryptocurrencies, and the user interface makes it simple to select your chosen digital assets. A dropdown menu or search function allows users to quickly locate specific cryptocurrencies to trade. The trading interface offers live charts that illustrate real-time and historical price movements for selected cryptocurrencies. These charts include a variety of tools and indicators, allowing users to do technical analysis and make informed trading decisions. On the platform user interface, placing orders to purchase or sell cryptocurrencies is simple. Users can easily enter the appropriate quantity and price for their transactions, as well as select from several order kinds, such as market orders or limit orders. We were impressed to learn that the platform's user interface is mobile-friendly, offering a consistent experience for consumers accessing the site via smartphones or tablets.
Verification Process
The verification process for a Bitpanda account is designed to ensure compliance with regulatory requirements and enhance the security of user accounts. It involves several steps to verify the user's identity and residency. Here is a general overview of the process:
Basic Verification: The first level of verification, known as the "Starter Level," requires users to provide basic personal information, such as their full name, date of birth, and country of residence. Users may also need to agree to the platform's terms and conditions.
Identity Verification: To upgrade to higher account levels, such as the "Bronze Level" or "Gold Level," users need to complete identity verification. This step involves submitting a government-issued photo ID, such as a passport or driver's license, to confirm their identity.
Proof of Residence: As part of the verification process, users may need to provide a proof of residence document, such as a utility bill or bank statement, to confirm their address.
Selfie Verification: In some cases, Bitpanda may require users to submit a selfie while holding their photo ID and a piece of paper with the current date to prevent identity fraud.
Review and Approval: After submitting the required documents, the platform's verification team will review the information provided. The verification process typically takes a few business days to complete.
It's important to note that the verification process may vary depending on the user's location and the level of verification required by regulatory authorities. Users should follow the instructions provided by the exchange and ensure that all documents submitted are valid and accurate to expedite the verification process.
What Types of Cryptocurrencies Does Bitpanda Offer?
Cryptocurrencies can be categorized into different types based on their formulation or code, application or use case, and functioning. Here are some of the different categories of virtual coins you will find:
Payment Tokens: These are the most common types of cryptocurrencies and are designed to be used as a medium of exchange for goods and services. Examples include Bitcoin (BTC), Litecoin (LTC), Dogecoin (DOGE), and Ripple (XRP).
Utility Tokens: These are tokens that are used to access a specific product or service within a blockchain ecosystem. Examples include Ethereum (ETH) and BNB
Stablecoins: These are cryptocurrencies that are designed to maintain a stable value relative to a specific asset, such as the US dollar. Examples include Tether (USDT) and USD Coin (USDC).
Exchange Tokens: These are tokens that are used to pay for fees on cryptocurrency exchanges. Examples include Bitpanda Ecosystem Token (BEST).
DeFi Tokens: These are tokens that are used within decentralized finance (DeFi) applications, such as lending and borrowing platforms. Examples include Compound (COMP) and Aave (AAVE).
How to Open an Account with Bitpanda?
Step 1: Visit the Bitpanda Exchange official website and click on the green "Sign-Up" button at the top right corner of the page.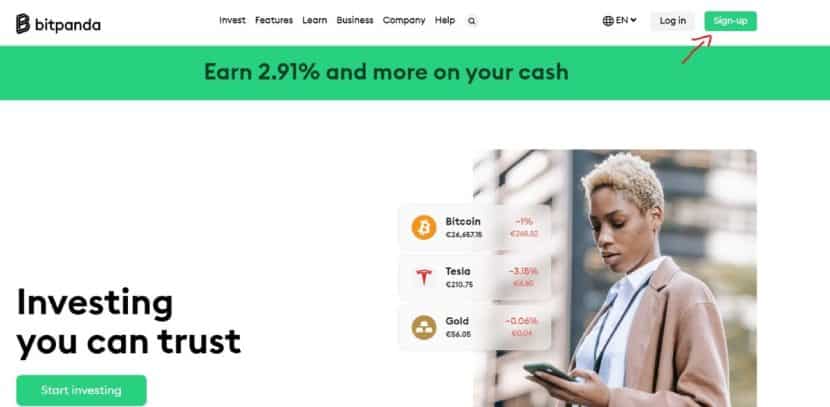 Step 2: The site will perform a security check and redirect you to an account creation form. Fill it out with your name, email address, and a strong password. You will also be required to specify your country. Scroll down to read the terms and conditions, then click on the toggle buttons if you accept the terms and conditions. They should all be green, as seen below. You may ignore the last one if you don't need to receive notifications in your email.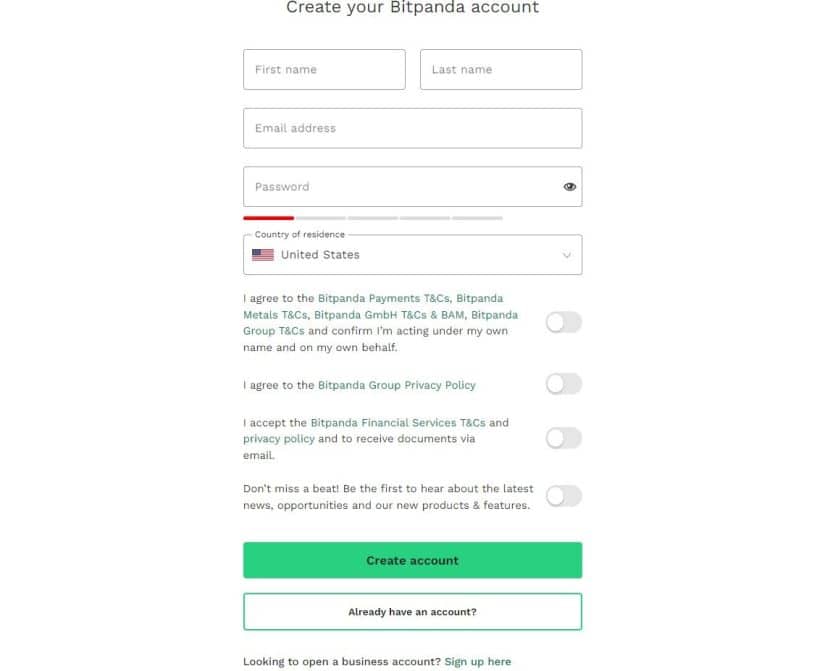 Step 3: Now hit the "Create Account" button. After that, navigate to your email inbox and open the confirmation email sent to you. Lastly, click on the "Confirm my email" button to finalize and complete the account creation process.
Step 4: You're now the latest user of the Bitpanda exchange. Feel free to log into your account and start exploring the different features available. For the best experience, you may be required to verify your account. Don't forget to activate security features like 2FA to neutralize threats that may arise from lost credentials.
Account Types
Starter Level
This is the lowest account status at Bitpanda
This account level only requires users to verify their email
Daily buy/sell limits are 1,000 EUR or equivalent
Monthly buy/sell limits are 7,500 EUR or equivalent
Bronze Level
This is an intermediate account level
This account level requires users to verify their mobile phone number in addition to their email
Daily buy/sell limits are 1,500 EUR
Monthly limits set at 10,000 EUR
Gold Level
Highest and most prestigious account level
Users must pass identity verification
Verification involves submitting a photo government-issued ID through a video call
Daily trading limits are 15,000 EUR
Users can trade up to 300,000 EUR or equivalent monthly
What is Bitpanda Ecosystem Token (BEST)?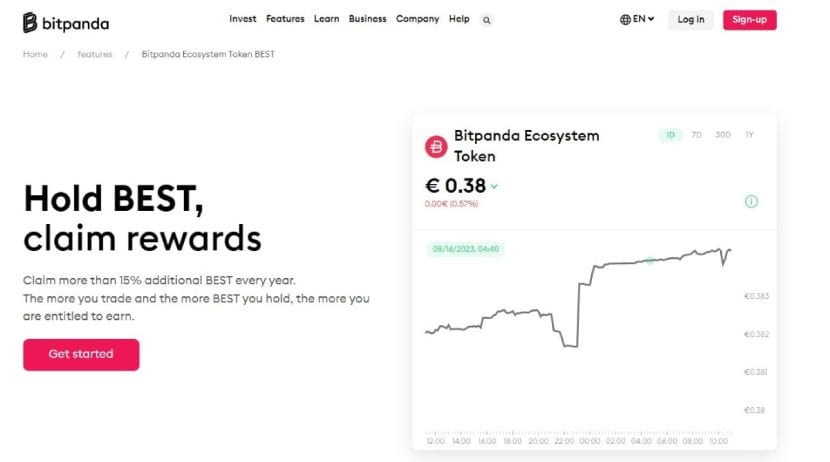 The Bitpanda Ecosystem Token (BEST) is a native token of Bitpanda and the ecosystem as a whole. It was launched in August 2019 through Europe's most successful Initial Exchange Offering (IEO) and has developed rapidly since then. BEST is an Ethereum blockchain-based ERC-20 token. It entitles you to special advantages, privileges, and awards, such as the Bitpanda Loyalty Program. The more BEST users have, the more prizes they may be eligible for. BEST Rewards is a part of Bitpanda's proprietary loyalty program, which is aimed at providing users with more value. You can earn up to 15% more BEST each year, and the more they trade and the more BEST they own, the more they are entitled to. The burn process ensures that the BEST supply becomes scarcer over time. BEST can also be used to invest in the Bitpanda platform. As of this writing, it has a maximum supply cap of $1 billion and a total market cap of approximately $784 million.
Deposits and Withdrawal Options
Fiat: Mastercard, Visa, Sofort, EPS, Giropay, Neteller, Skrill, SEPA transfer
Cryptocurrencies: Bitcoin (BTC), Ethereum (ETH), Dash (DASH), Litecoin (LTC), Bitcoin Cash (BCH), Ripple (XRP, Tether (USDT), BNB (BNB), USD Coin (USDC), Cardano (ADA), Dogecoin (DOGE), Solana (SOL), Tron (TRX), Polygon (MATIC), Polkadot (DOT), Bitcoin Cash (BCH), Avalanche (AVAX), Shiba Inu (SHIB), Chainlink (LINK), Stellar (XLM), Uniswap (UNI), Cosmos (ATOM), Ethereum Classic (ETC), OKB (OKB), Filecoin (FIL), Internet Computer (ICP), Lido DAO (LDO), Hedera (HBAR), Aptos (APT), Arbitrum (ARB), Vechain (VET), NEAR Protocol (NEAR), Quant (QNT), The Graph (GRT), Optimism (OP), Aave (AAVE), Maker (MKR), Algorand (ALGO), Stacks (STX), MultiversX (EGLD), The Sandbox (SAND), EOS (EOS), Theta Network (THETA), Tezos (XYZ), Immutable X (IMX) and more. In total, we identified 326 digital coins
Deposits and Withdrawals Options
Fiat: Mastercard, Visa, Sofort, EPS, Giropay, Neteller, Skrill, SEPA transfer
Cryptocurrencies: Bitcoin (BTC), Ethereum (ETH), Dash (DASH), Litecoin (LTC), Bitcoin Cash (BCH), Ripple (XRP, Tether (USDT), BNB (BNB), USD Coin (USDC), Cardano (ADA), Dogecoin (DOGE), Solana (SOL), Tron (TRX), Polygon (MATIC), Polkadot (DOT), Bitcoin Cash (BCH), Avalanche (AVAX), Shiba Inu (SHIB), Chainlink (LINK), Stellar (XLM), Uniswap (UNI), Cosmos (ATOM), Ethereum Classic (ETC), OKB (OKB), Filecoin (FIL), Internet Computer (ICP), Lido DAO (LDO), Hedera (HBAR), Aptos (APT), Arbitrum (ARB), Vechain (VET), NEAR Protocol (NEAR), Quant (QNT), The Graph (GRT), Optimism (OP), Aave (AAVE), Maker (MKR), Algorand (ALGO), Stacks (STX), MultiversX (EGLD), The Sandbox (SAND), EOS (EOS), Theta Network (THETA), Tezos (XYZ), Immutable X (IMX) and more.
Bitpanda Fees & Commissions
The platform does not charge any commission fees for investing in ETCs (Exchange-Traded Commodities), or stocks. Bitcoin trades spend a commission of 1.49% for buying and selling using regular accounts, while Bitpanda pro accounts part with a maker and taker fee of 0.1% and 0.15%, respectively.
Bitpanda Trading Platform
Bitpanda is a highly user-friendly and intuitive trading platform that offers its users the opportunity to buy, sell, and trade a wide range of cryptocurrencies with ease. The platform is designed with the latest technology and provides real-time market data and interactive charts to help users make informed trading decisions. Upon logging in, users are presented with their personalized account dashboard, where they can view their current cryptocurrency holdings and monitor their trading activities in real-time. To further enhance the trading experience, the platform offers a variety of order types, including market orders and limit orders, which provide users with the flexibility they need to execute trades that meet their specific needs.
Different Trading Options Offered by Bitpanda
Bitpanda offers a variety of trading options for users to invest in different assets. Here are the different trading options:
Cryptocurrencies: You can buy, sell, and swap over 300 cryptocurrencies, including Bitcoin, Ethereum, Dogecoin, and Litecoin
Stocks and ETFs: The platform offers commission-free trading of stocks and ETFs. You can invest in a variety of stocks and ETFs from different markets, including the US, Europe, and Asia
Precious Metals: The exchange allows you to invest in precious metals, including gold, silver, and platinum. The best part is you can invest in Exchange-Traded Commodities (ETCs) without paying any commission fees
Commodities: The platform offers a simple and innovative way to participate in the price movements of commodities without all the financial complexity. Feel free to invest in your preferred commodities, including oil and gas, any time you want
Bitpanda Index Program: Follow the movement of your favorite index in real-time on the exchange platform and trade whenever an opportunity arises
Can I Trade With Leverage on Bitpanda?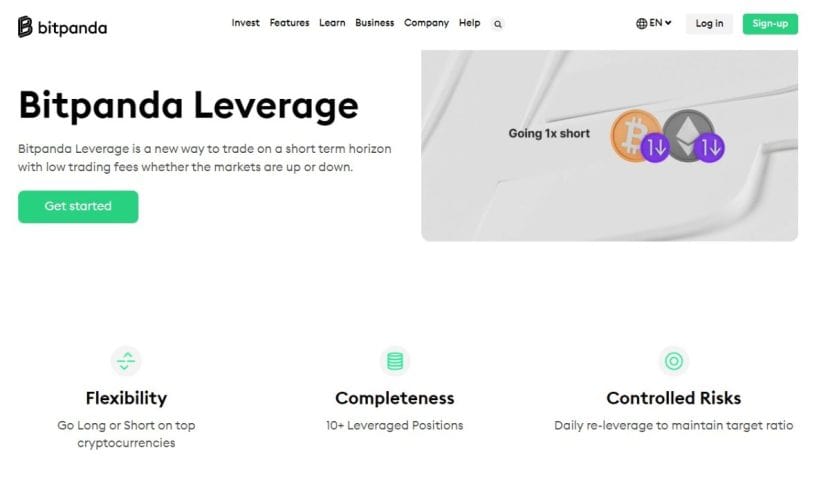 Yes, the platform offers leverage trading for cryptocurrencies through its Bitpanda Leverage feature. This new feature is becoming popular quickly as it offers users flexibility to make money whether the market is going up or down. The buy fee for leveraged trades is 0% while the return fee is only 1%. Here are some key features of leveraged trading at the Bitpanda platform.
Short Positions: Leverage is currently offered for short positions for Bitcoin and Ethereum. Short positions allow users to profit from a decline in the price of an asset.
CFD Trading: The platform Leverage is a CFD (Contract for Differences) product that allows users to potentially profit from price movements of a specified cryptocurrency without owning the underlying asset
Leverage Ratio: Bitpanda Leverage maintains a target leverage ratio of 1.9x for long positions. This means that users can potentially amplify their profits by trading with leverage.
Margin Close Out Protection: Bitpanda Leverage contains a margin close out protection with a trigger of 50% of the initial margin. This means that a position will be automatically closed if a 50% loss has been incurred
Lower fees: For leveraged situations, the buy fee is 0%. When closing leverage positions, a 1% return fee is paid. There will be a daily overnight fee of 0.1% on the leveraged amount
What are the Spreads?
The platform doesn't have a fixed spread schedule. The amount varies based on the prevailing market conditions, including the level of volatility on the market. Although the platform tries to offer narrow spreads, it mentions that unfavorable market conditions could lead it to expand the prevailing spread by up to 0.5% of the amount.
Bitpanda Banking Features
Encryption technologies
Saving plan
Debit Card
Bitpanda pay
Crypto trading
Deposit and withdrawal services
eWallet services
Bitpanda Additional Features
Free Academy
Affiliate Program
OTC Trading Desk
Bitpanda to-go
Bitpanda Plus
Bitpanda Club
Bitpanda Spotlight
Affiliate program
Bitpanda Customer Service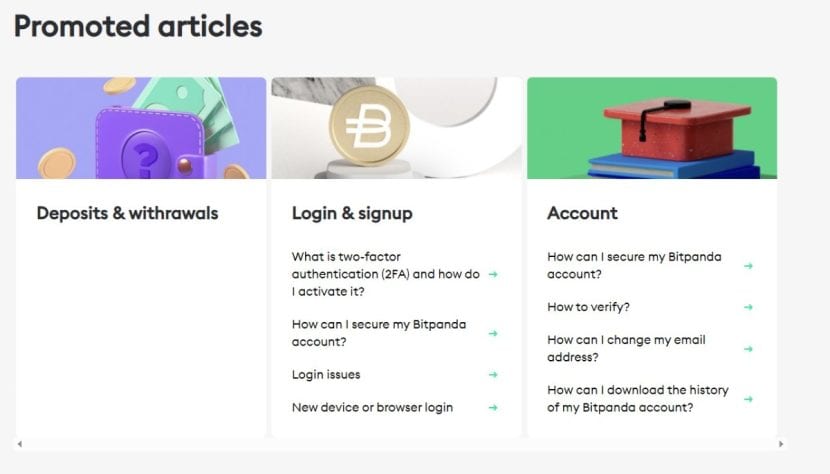 The platform does not offer live chat or phone support. However, users can submit a request through the Helpdesk contact form whenever they need assistance. The contact form allows users to choose the specific issue they need help with, such as general inquiries, feedback/complaints, or OTC trading. Bitpanda Pro customer support is, however, available via both phone and email. Similarly, members of Bitpanda Club receive enhanced support through the Concierge Service, online form, live chat, and callback services. They also have access to success managers who can assist them with their needs.
Prohibited Countries
The exchange does not explicitly list the countries that are prohibited from using its services. However, we established that it's primarily focused on serving countries within the European Economic Area (EEA) and Switzerland. The countries accepted include, Aland Island, Lithuania, Andorra, Luxembourg, Austria, Malta, Belgium, Monaco, Bulgaria, Netherlands, Croatia, Norway, Cyprus, Poland, Czech Republic, Portugal, Denmark, Romania, Estonia, Serbia, Faroe Island, Slovakia, Finland, Slovenia, France, Spain, Germany, Svalbard and Jan Mayen, Greece, Sweden, Guernesey, Switzerland, Holy Sea (Vatican State), Turkey, Hungary, United Arab Emirates, Iceland, United Kingdom, Isle of Man, Italy, Jersey, Latvia and Liechtenstein. If your country is not listed here, it may be best to contact the customer support before signing up.
FAQs