The custodial Bittrex Exchange has been on the market since 2014, with a mobile and desktop friendly interface, it's best suited for active crypto traders since it has one of the lowest trading fees on the market. The exchange is free to use and new and experienced traders can make use of its functionalities.
And answering the following questions:
Who is it best for?
How much does it cost?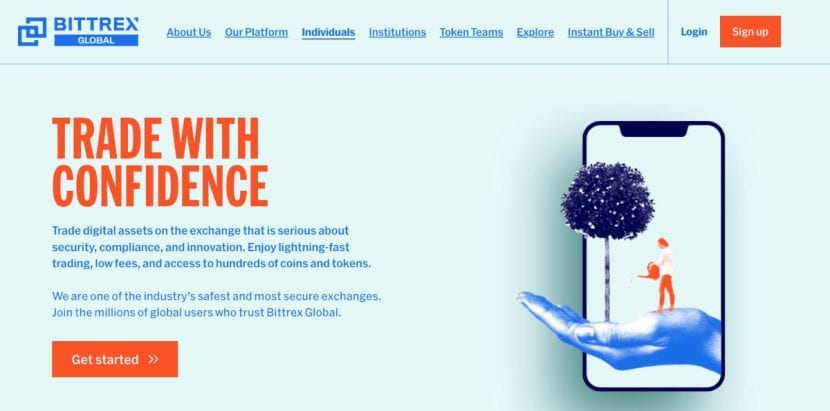 Introduction to Bittrex Exchange
Bittrex Exchange is one of the most popular cryptocurrency trading platforms in the world. It was launched in 2014 by three cybersecurity experts. Bittrex is an ideal platform for buying, trading, storing, and selling cryptocurrencies with great trading fees and low credit card deposits. Bittrex, unfortunately, has applied for bankruptcy protection following an SEC lawsuit but still offers new users mobile and desktop trading with over 137 different cryptocurrencies and an easy user interface to navigate. Overall, Bittrex is a top choice for simply spot trading cryptocurrencies with good security and easy-to-use trading tools, including staking, spot trading, and withdrawing on-chain.
Type of Exchange

Bittrex is a centralized custodial cryptocurrency exchange. Exchange access can be done through a browser or a mobile app on iOS and Android devices.

Price

Free

Fees

0 to $100,000: Maker Fee 0.10%, Taker Fee 0.15%

$100,000 to $1,000,000: Maker Fee 0.05%, Taker Fee 0.10%

$1,000,000 to $10,000,000: Maker Fee 0.03%, Taker Fee 0.08%

$10,000,000 to $60,000,000: Maker Fee 0.00%, Taker Fee 0.05%

$60,000,000 or more: Maker Fee 0.00%, Taker Fee 0.00%

Bittrex Features

Wide range of over 137 cryptocurrencies
Volume trading fee discounts
Educational content on the platform
Token staking on PoS cryptocurrencies
Commission free trading
Instant token buying with fiat payments

Number of Cryptocurrencies Supported

137+

Earn (staking/rewards)

ADA staking with 5.5% APY

Customer Service

The exchange offers more than one way of providing support. This includes a live chat option where users can chat with the Trixie bot. A ZenDesk support section acts as an FAQ or help page. For more serious matters, Bittrex offers a ticketing system.

Hardware Compatible

No

SPV or Full Node

SPV

Who is Bittrex Exchange Best Suited For?

Traders
Bittrex Features
Wide range of over 137 cryptocurrencies
Volume trading fee discounts
Educational content on the platform
Token staking on PoS cryptocurrencies
Commission free trading
Instant token buying with fiat payments
Number of Cryptocurrencies Supported
The exchange supports over 137 different tokens and 694 trading markets. These include BTC, ETH, ADA, USDT,
Earn (staking/rewards)
Bittrex allows traders to earn by staking ADA tokens as a single token. The exchange states it can provide a 5.50% APY on ADA tokens. However, the APY is not guaranteed, and users should read the fine print of the exchange. To stake, users need to hold or transfer ADA tokens to their Bittrex wallet, with rewards paid out in ADA.
Customer Service
The exchange offers more than one way of providing support. This includes a live chat option where users can chat with the Trixie bot. A ZenDesk support section acts as an FAQ or help page. For more serious matters, Bittrex offers a ticketing system.
Hardware Compatible
Our Bittrex exchange review shows that it does not support any other crypto wallet.
SPV or Full Node
Bittrex uses Simplified Payment Verification when making transactions.
Who is Bittrex Exchange Best Suited For?
Bittrex is best used for traders with limited crypto trading knowledge since the exchange has a basic and advanced version. Unfortunately, those who want to access futures or derivatives crypto trading can't do so on the Bittrex exchange. Day traders can benefit from the platform's trading feature, but advanced traders wouldn't consider it.
Bittrex Pros & Cons
To make an entire Bittrex exchange review, here's an overview of the benefits and drawbacks of using the platform:
Pros
Low trading fees
Mobile app
Easy-to-use platform
Cons
Security risks
Limited features
Users don't own their private keys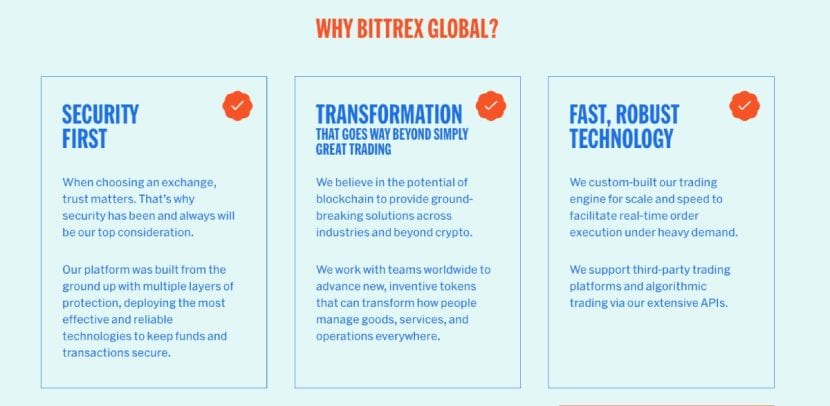 Services Offered by Bittrex Exchange
Bittrex offers services and tools for both regular and institutional traders. Here's a breakdown of what kind of services Bittrex has to offer.
Instant crypto buying
This service allows newbies and novice users to get instant access to crypto trading with just a simple way of payment. It's also called a Buy Order, and users can directly select the amount they want to purchase and use their credit card to make an instant purchase.
Market trading
Bittrex has an active trading market. Users can trade all the tokens with multiple pairings. This, of course, depends on the popularity and liquidity. Bittrex has several trading options, including Limit, Market, Stop Limit, Trailing, and Ladder Limits as trading tools.
Crypto staking
On Bittrex, users who hold Cardano (ADA) tokens can use staking to increase their token holding. The exchange offers a 5.5% APY on ADA tokens. The APY is not guaranteed, and users have to lock the tokens for a period to earn the APY.
Institutional trading
The exchange also has a feature to support institutional investors. They offer OTC prices, faster support, better fees, enterprise wallet, and API integrations.
Token listing
For project developers, Bittrex includes an option to list tokens directly on the exchange. This involves providing liquidity on the market for several pairings and accessing millions of traders across the globe.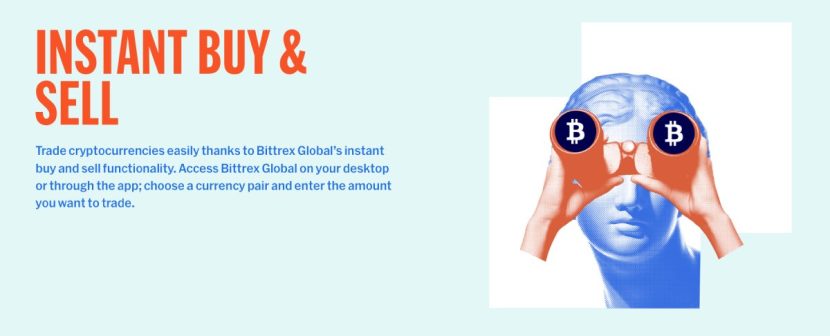 How to Create an Account
To create an account on Bittrex, you must follow a few steps to ensure you're going through all the required verifications. Here's what you need to know:
Step 1: Go to the Bittrex Exchange website
The first thing you need to do is to navigate to the website's URL. Type bittrex.com in your browser search bar and click enter. The site will direct you to the Bittrex Exchange homepage.
Step 2: Click on the "Sign Up" button
Once you're on the website, look for the Sign Up" button on the top right side of the page. Click on this button to proceed with creating your account.
Step 3: Provide your email address and password
After clicking the "Sign Up" button, a new page will open where you must provide the first type of information. To start an account, you must have an email address and a password. The password has to be at least 12 characters long and includes a special symbol, capital, and lowercase letters. Using a secure password is essential to protect your account from unauthorized access.
Step 4: Complete KYC verification
Bittrex is a licensed exchange that includes rigorous security features. You'll have to undergo a strict KYC process, where you'll need to provide the exchange with your full address. The next page will require you to add a copy of your ID or passport and verify your persona by adding a picture of yourself. The final step will require you to answer questions about your source of income, including your work status and source of wealth.
Step 5: Verify your email address
In the meantime, Bittrex will email you to verify that you're the account owner. The email will contain a link that you must click to finalize the verification process.
Step 6: Fund your Bittrex Exchange account
In the final stage of the sign-up process, you'll be required to fund your account with crypto assets or fiat currencies. The next section will provide a detailed overview of how to fund your account.
How to Proceed with a Transaction
Find a market: Check which trade you want to make. Search the market you wish to trade on by typing the token name in the search bar.
Place an order: To place a buy or sell order, you need to type the amount you want to buy in USDT or the token you're buying/selling.
Choose the order type: If you want to execute the order at market value, you need to select that from the list. Otherwise, you can add a stop-loss order that triggers a buy and a sale simultaneously.
Execute the transaction: To make the order final, click on buy to complete a transaction.
How to Make a Deposit
Navigate to the Wallets section.
Once you have successfully created an account, log in to your Bittrex account and navigate to the "Wallets" section of the site. The section is located on the top right section of the navigation menu.
Choose the cryptocurrency you want to deposit.
From the "Deposit" section, you can choose between multiple ways of payment, including cryptocurrencies, Debit or Credit cards, SEPA transfer, and Wire Transfer. For this step-by-step process, click to deposit cryptocurrencies.
Choose a token and generate the address.
Click on Cryptocurrencies, and a new window will appear showing you the types of tokens you can select. Type the token you want to deposit, click on the token, and select Generate new wallet address. A unique address will be generated for the specific token.
Send the cryptocurrency to the deposit address.
Copy the new address on your computer. Head over to your crypto wallet, where you hold other tokens. Paste the wallet address and type the amount you want to deposit. It's essential to ensure you send the correct cryptocurrency to the correct address.
Deposit using a credit card.
To deposit using a credit card, select Credit/Debit card and choose the currency you want to deposit (EUR/USD). A new window will appear where you have to type the amount you want to buy in Fiat and then start adding your card details. This includes name, credit card number, expiration date, and billing info. Tap on approve terms and conditions and click continue.
After you have sent the cryptocurrency, you will need to wait for it to be confirmed by the network. Depending on the cryptocurrency you are depositing, this can take a few minutes to several hours.
How to Make a Withdrawal
To make a withdrawal, you'll need a crypto wallet that supports the tokens and enough credit in your account.
On the top of the navigation tab, click "Wallets" to access the withdrawal section. Then, on the right side menu, click on the "Withdraw" button.
You can choose between cryptocurrencies, Wire transfers, and SEPA transfers from the available methods. Click on the cryptocurrency options to open a new tab to choose the tokens you want to withdraw. Only available tokens will be withdrawable.
Click on the token, and type the amount you want to withdraw. You can click on maximum or type the amount yourself. You'll also need to get your wallet address and paste it into the withdrawal section. Ensure you check that the wallet address is correct before submitting.
You have to confirm the withdrawal by entering your Bittrex account password and clicking the "Withdraw" button. A confirmation email will also verify that you requested the transfer.
Payment Methods
No Bittrex exchange review is complete without a detailed overview of the main payment methods accepted on the platform. Bittrex users can make payments using four main methods, including:
Cryptocurrency deposits and payments
Credit or Debit Card deposits and payments
Wire Transfer deposits
SEPA Transfer deposits and payments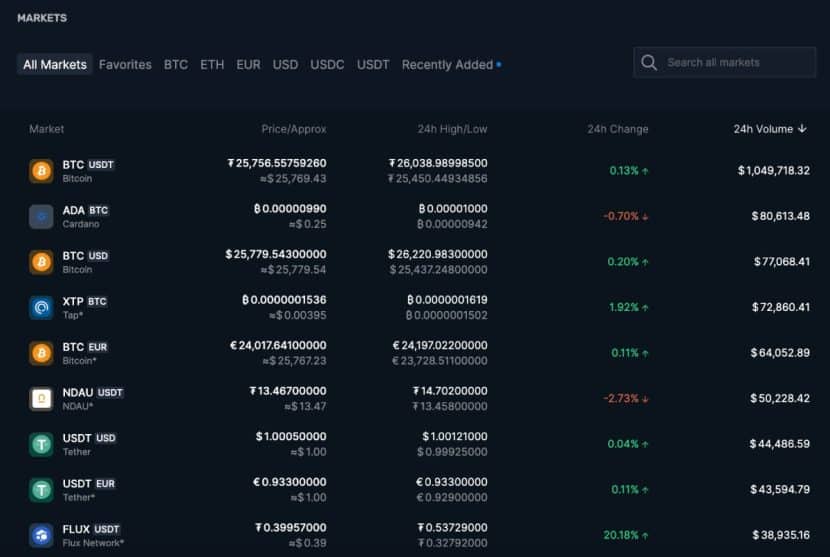 Bittrex Exchange Supported Tokens
Bittrex supports an estimate of 250 tokens over several markets. This means that users can trade the same tokens with different pairings. For example, BTC tokens can be traded on USDT, USD, or ETH.
However, the exchange includes top cryptocurrencies such as Bitcoin, Ethereum, Litecoin, Cardano, Dogecoin, and Shiba Inu. Users can also trade more than 200 altcoins, including Uniswap, SiaCoin, Polygon, NEO, IOTA, Fliecoin, or Fantom. All the tokens that can be received on Bittrex Global can also be stored and then withdrawn or transferred to other crypto wallets.
Is Bittrex Exchange Safe and Legit?
In this Bittrex exchange review, we're making sure you can navigate the crypto space smoothly, including knowing if the exchange is safe and good to use. Unfortunately, Bittrex doesn't have a clean slate. As of 2023, Bittrex has been targeted by the Securities and Exchange Commission (SEC) for operating an unregistered securities exchange. Following a lawsuit by the SEC, Bittrex filed for bankruptcy protection.
That's not the only red flag of Bittrex. There have been several phishing scam websites similar to Bittrex, and people were scammed out of their money. While this has nothing to do with how Bittrex manages its platform, it shows that they're unwilling to take extra measures and prevent phishing websites.
While Bittrex is a legitimate entity that follows KYC rules and doesn't allow users to deposit without verification, their payment practices and SEC issues make them less credible.
Security
Exchange security is not well received, especially since Bittrex's security features have caused users to lose $1 million in Bitcoin holdings. Even so, the exchange uses a few security features such as encryption, cold storage, and added security levels with multi-way identification. However, Bittrex's platform is still fragile and doesn't share the private keys with the token holders – which is an added security risk.
For the remainder of the features, Bittrex uses password encryption and SSL certificates to protect accounts and users's IP addresses and information from unwanted access.
In the account section, users can opt to enable Two-Factor Authentication by storing a unique access code on their mobile device. Only then will they be able to log into the account. This doesn't allow users to access the account with other methods, such as SIM hacking, which caused a previous wallet hack. Fortunately, Bittrex keeps all tokens in cold storage, which means that there are added security layers to a user's account. Cold storage means wallets aren't connected to the internet and are more difficult to hack – almost impossible.
User Interface
Bittrex Exchange has a simple-to-understand layout, which makes navigating the exchange a breeze. Its user interface is easy to understand for everyone. One of the main advantages is that it has an uncluttered dashboard and welcome screen. At times, it even feels too simple for what it offers; however, given the limited number of features, Bittrex did a good job ensuring access to its features is accessible.
The main dashboard features multiple trading markets, especially the more popular ones. It has a carousel with trending trades and a simple, instant buy section.
Additionally, all sections of the websites are well divided into separate pages. Every page is well described and makes it easy for users to navigate to what they want. For example, the "Wallets" page includes Deposits and Withdrawals and the ability to stake ADA tokens. Moreover, the trading screen allows users to use multiple tools for Technical Analysis and access several trades. The benefit of using the trade option is that the entire layout is familiar, which helps users understand its layout much easier. Overall, the User Interface is well thought out and easy to navigate for both novice and advanced users.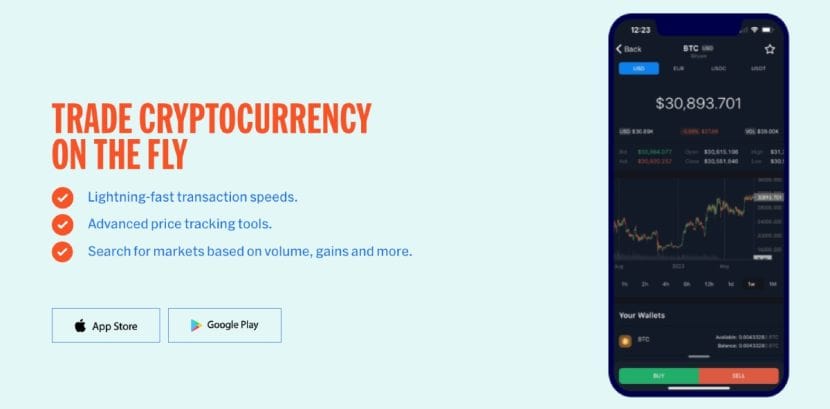 How to Use Crypto Exchange on Android & iOS
Bittrex Exchange is available for Android and iOS devices. This means that you can trade and access your crypto holding on Bittrex on the go. Here's how you get started with the exchange's mobile app.
Download the app
Open the Google Play store or App Store to download the Bittrex app. You need to search for Bittrex Global or access the app store from the official Bittrex website. Avoid opening the app from other links to prevent scams.
Sign-In or Sign-Up
If you already have an account, you can sign in using your email or password, or you can do it using FaceID. However, if you're new to Bittrex, click the Sign-Up button and go through the sign-up process. This will require you to provide an email, password, address and complete KYC processing.
Start Trading
Once you're in the account, you can start trading. The user interface of the mobile app is easy to navigate. At the bottom of the screen, Bittrex has a navigation tab with Trading Markets, Orders, Instant Buy, Holdings, and Settings. To start trading, click Markets, search for the pair you want to trade in the search bar and place an order.
Trading orders
Bittrex offers the same trading functions as the desktop version. You can type the amount you want to buy or sell and place a Market, Limit, or Stop Loss order. In the Orders section, Bittrex allows you to see your open orders, the PnL and close or refund a trade.
Buying and Withdrawing
Users can easily buy crypto using their credit card in the Instant Buy section. You must type the fiat amount in Euro or USD and add your credit card details. If you want to see your assets, click on Holdings. Withdrawals can be made from the same section but by clicking the token and requesting a withdrawal.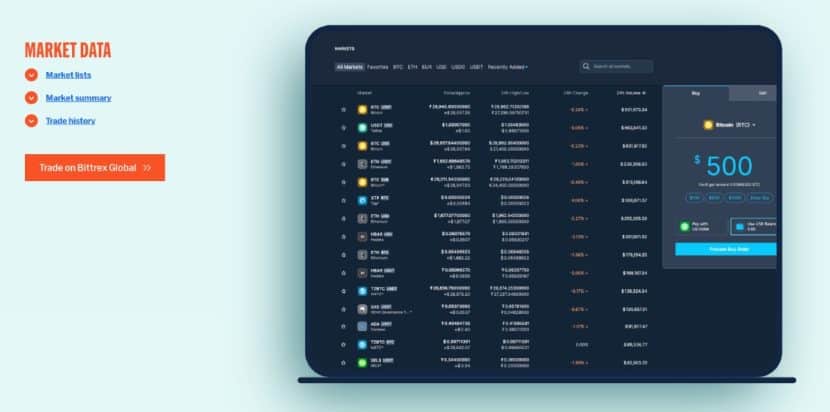 How to Use Crypto Exchange on Desktop
Bittrex's desktop version can be accessed from any browser. Unfortunately, there's no downloadable client version of the exchange.
To access the exchange's interface, go to any of the available browsers (Chrome, Safari, or Firefox) and type in the URL of the website link.
You can fund your account by going to the main screen, typing the amount you want to deposit, and then adding your credit card details to make the purchase. Alternatively, you can also deposit using crypto or bank transfers and get USD or tokens, which you can exchange on the market.
To start trading, you need to find which markets are available. You can do that by staying on the home page, viewing trending markets, or searching for them. Additionally, if you click on Explore on the top side of the page, you can navigate and search through all the trades available.
Place a trade by opening the market, typing the amount you want to buy or sell, and choosing the type of order. On limit orders, you choose at what price you want to trade, while on market orders, your trade gets instantly executed.
You can check the amount of tokens you hold by clicking on the "Wallets" tab. That will open the payment section for deposits or withdrawals, and you'll also see all your active holdings.
To adjust your profile, click "Account" and change any security or account features. You can change the passwords, enable 2FA, or track account activity.
Backup & Restore
As a centralized custodial exchange, users cannot access their private keys. Instead, the exchange has control over its assets. Thus, you cannot download any account backups or private keys from the exchange since that's not an option.
The only way to restore your account is to click on the forgot password and go through the processes of retrieving your account. This involves verifying such as email, name, and personal details. Bittrex will send recovery mail to your registered address.
Troubleshooting
Troubleshooting on Bittrex is extremely straightforward, and some of the main common reasons are Forgetting your password or exchange issues.
To recover a password, users have to click on the Forget Password link and then add the registered email address to their account. Bittrex will send a recovery email that might require users to provide additional details, such as a new password or KYC features.
For other account-based issues related to the exchange's functionality, users can submit a ticket. To do that, click on Support and select "Submit a Request." A new screen will open with options to choose the type of issue you are facing and a message with the issue. You can also attach any print screen or files to back up your claim to help expedite the process.
Bittrex Exchange Alternatives
Can you access Bittrex, or do you want a better platform to deposit and trade crypto? This exchange review section shows similarities and differences between Bittrex and other crypto exchange platforms.
Bittrex Exchange Vs Coinbase Exchange
There are a lot of differences between Bittrex and Coinbase. While Bittrex has had its fair share of hacks and has applied for bankruptcy protection, Coinbase is much better situated and is listed as a publicly listed company. That shows that Coinbase is better positioned as a trusted company that offers self-custody compared to a custodial wallet offered by Bittrex. On the other hand, Bittrex has better fees for credit card deposits at 3%, while Coinbase charges 3.99% for crypto deposits. On the other hand, Coinbase offers more tools and features. During Bittrex's review, we found that users can only trade and store tokens with some tools; on Coinbase, users can access the same features and stake tokens and stablecoins, trade and store NFTs, and also access future and margin trading. Moreover, Coinbase allows institutional buyers to purchase and manage larger buys through OTC services. What stands out on Bittrex is the low trading fees, compared to Coinbase's high 30-day requirement to fit into the lowest bracket.
Bittrex Exchange Vs. Binance Exchange
Binance is one of the leading cryptocurrency exchanges that's partly regulated but offers services across the globe. The platform has the highest trading volume, and even though it's been scrutinized in the past, it still holds market capital. When depositing using credit cards, Binance charges a fee of 2%, while on Bittrex, users have to pay 3%. Both exchanges have a mobile app, but Binance offers additional features such as staking, futures trading, derivatives, margin trading, and NFTs. Additionally, users can stake both altcoins and stablecoins, while on Bittrex, only Cardano trading is allowed. Trading fees are much better; however, on Bittrex, after reaching $60 million in trades per 30 days, users pay no maker fees, while on Binance, users still pay 1%. Binance is not completely legal in the US and operates a decentralized exchange, while Bittrex can be used in the US. When comparing the two, the balance shifts in favor of Binance for the number of added tools and features it offers to traders.
Final Thoughts
Bittrex crypto exchange is a good trading tool that offers low trading fees for crypto traders. WIth some security threats, and a SEC settlement, Bittrex isn't a go to platform to keep loads of tokens, but makes trading easier especially since fiat deposits are low at 3% per transactions and features over 137 different tokens. Bittrex isn't in the same league as Binance or Coinbase, but as it launched in 2014, by a number of cyber security experts, it still holds some cloud in the industry even though it's liquidity is below par.
Q&A Session
In this section, Vlad Hategan will address your inquiries and the most common questions regarding Bittrex's legality, how trustworthy Bittrex is, whether it's available to US citizens, and offer guidance to newcomers in the field. Feel free to submit your questions through our contact form, and we will strive to respond within 48 hours.