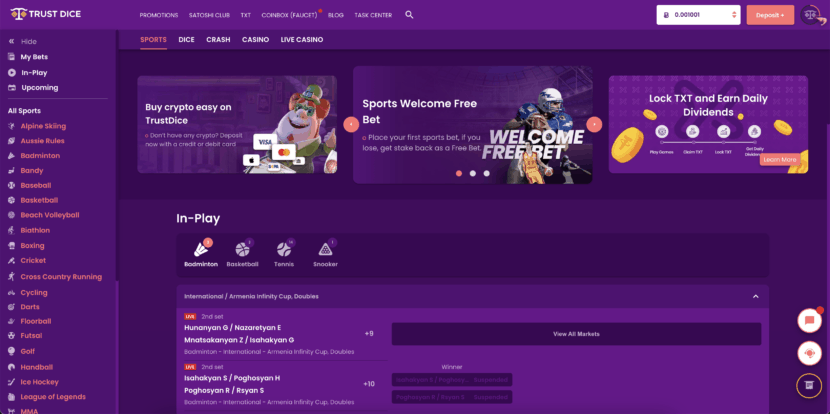 Pros
Massive range of events
Working bitcoin faucet
Great design
Good privacy & security
Cons
Slow support
In-play betting is buggy
Poor odds
Privacy and security
8/10
Established
2018
Min bet
$5.05
Max win
Not shown
Currencies

:
BTC
EOS
ETH
USDT
TrustDice is relatively new to the crypto gambling world, launching back in 2018. Since then, it's embraced the whole industry, with not only a sportsbook but also a casino and dice games.
The relaxed KYC allows you to remain anonymous at TrustDice – which makes up for some of its flaws. The max bet is quite high making TrustDice a great option for high roller crypto betting.
User experience
TrustDice's sportsbook is functional enough. However, there are some bugs like
Sometimes play markets stay visible but unavailable for betting after the game has finished.
The betslip covers your balance so you can't check how much you have to bet when deciding your stake.
Max bet is not shown anywhere.
Selection names and odds are sometimes cut off so you can't see them in full.
Outright selections are displayed in random order. So if you want to bet on who will win golf's US Masters there will be 75 names to look through, not ordered by odds or alphabetically by name or by age or any order you could make sense of.
Same for lists of tournaments. For example, there are 6 men's golf tournaments listed not ordered by date (in fact the dates are not even displayed) or alphabetically or any way we can figure out.
That being said, the site looks good on mobile as well as a desktop and if you can put up with these bugs and glitches you certainly can get your bets on.
Mobile App
Presently, TrustDice does not have a mobile app. However, players can access the web version of this sportsbook on any device ranging from mobile phones to tablets and personal computers. TrustDice sportsbook's website is optimized for seamless navigation and gives the same user experience irrespective of your device.
Odds
Sportsbook's overround: 7.07%.
50:50 equivalent: 1.87.
The overround is fairly high and gets even higher when you look at more obscure markets.
Range of bets
Range of sports, leagues and events: Great range of events and leagues, even having more obscure events such as cross country running, stock car racing and badminton.
Range of bet types per event: There's a good variety of bets per event on big events, but on smaller events there are virtually no selections other than outright winner.
Live betting
While TrustDice does have an in-play selection of bets, it's pretty buggy and markets will just show as suspended for long periods of time. There are also events that will show as in-play but have in fact ended. This is a major drawback if you're an in-play bettor.
eSports
eSports, known as electronic sports, continues gaining traction and acceptance in the crypto betting industry. With eSports betting on TrustDice, players can place bets on the supposed outcome of an event or a game and win money if the wager is successful.
TrustDice provides players with a fair and safe betting experience on all games and events. Some eSports games that players can bet on include Arena of Valor, eFootball, Dota 2, League of Legends, Call of Duty, Overwatch, etc.
Transactions
Unique deposit addresses: Available by manual request to support.
Confirmations before bet: 1.
Withdrawal time: Very fast, virtually instant.
Player to player transfer: Not available.
If TrustDice gets a lot of withdrawal requests at once for a particular cryptocurrency and they don't have enough in their hot wallet, you could have your withdrawal delayed while they top up it up.
Customer service
Customer service channels available: Live chat.
Speed of replies: Slow. We waited around 15 minutes for replies at times.
Accuracy of replies: Accurate and helpful.
Real life customer service test
Question: Does the sportsbook have a cashout feature available?
Answer
:
Cashout is available on selected events and markets both Pre-Match and Live for Singles and Multi bets.
Response times are erratic, even within a chat session.
Privacy and security
Information required at signup: None, not even an email!
2 factor authentication: Available.
You need to add an email address if you wish to claim free tokens from the task center and faucets.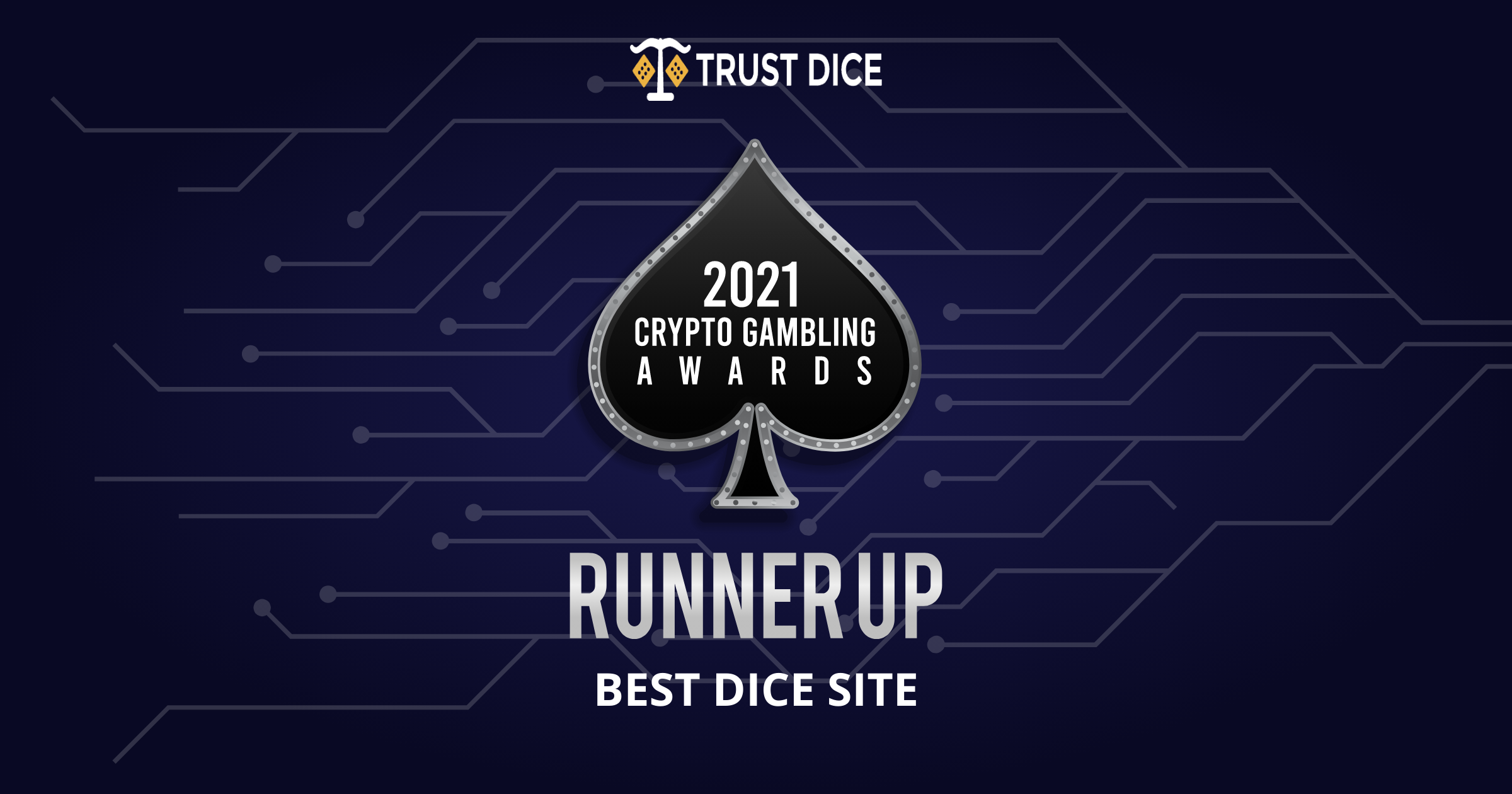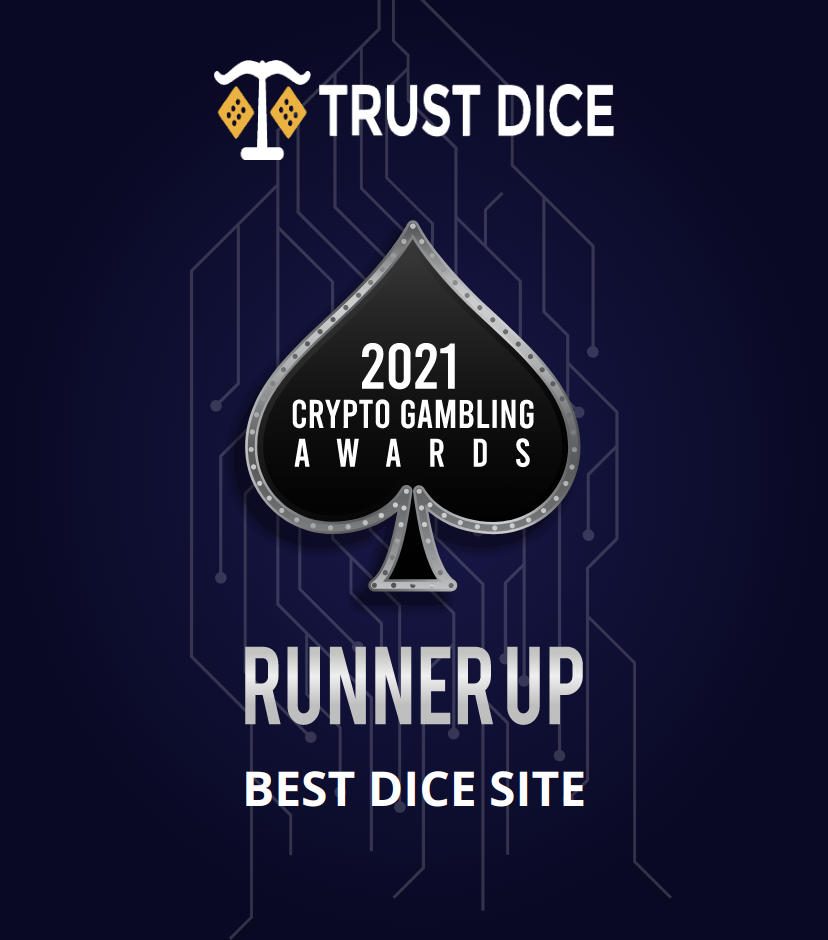 Geo-targeting
TrustDice does not block any bettors based on country, just like it should be!
Bonuses
EXCLUSIVE
When new players sign up on TrustDice, they get 100 Satoshis immediately. TrustDice has huge deposit bonuses accruing up to 90,000$/3 BTC and 25 free spins available when making your first 3 deposits.
To get the first deposit bonus, players need to make a minimum deposit of 1,000 JPY/10,000 KRW/ 0.0003 BTC/ 0.005 ETH/ 10 USDT/10 EUR/ 10 USDC. Then, they will get a bonus of 100% of the deposit amount and 25 free spins.
The second deposit bonus can be obtained with a minimum deposit of 1500 JPY/15 EUR/ 15 USDT/ 15 USDC/ 15,000 KRW/ 0.006 ETH/ 0.0004 BTC. An instant bonus worth 75% of your deposit will be credited to your account.
To access the third deposit bonus, make a minimum deposit of 2,000 JPY/ 20,000 KRW/ 20 EUR/ 0.0005 BTC/ 0.008 ETH/ 20 USDT/ 20 USDC. Immediately, you will receive a bonus worth 50% of your deposit in your account.
Existing Customer Promos
TrustDice sportsbook has some recurring customer promotions that allow everyone to make cool winnings. Players can partake in the Dice weekly wagering contest, where the ultimate prize is shared proportionately among the Top 10 players. Another recurring promo is the Free Crypto Faucet, which allows players to win free crypto every 6 hours.
Players on the Satoshi level can claim their rewards every hour. The risk-free first bet helps first-time players reclaim their earnings if they lose their first bet. If first-timers want to wager in the sports betting arena, the match odds should not be less than 1.60.
There are also great crypto casino bonuses and dice bonuses.
Loyalty Program
TrustDice's loyalty program is known as the Satoshi Club. Players can earn level points when they wager a real money bet. As you earn more points, your level increases. Some of the level-up rewards in this loyalty program include free spins, bonuses, cash, cashback points, etc. Players at the Satoshi level will have a personal VIP manager and other premium services.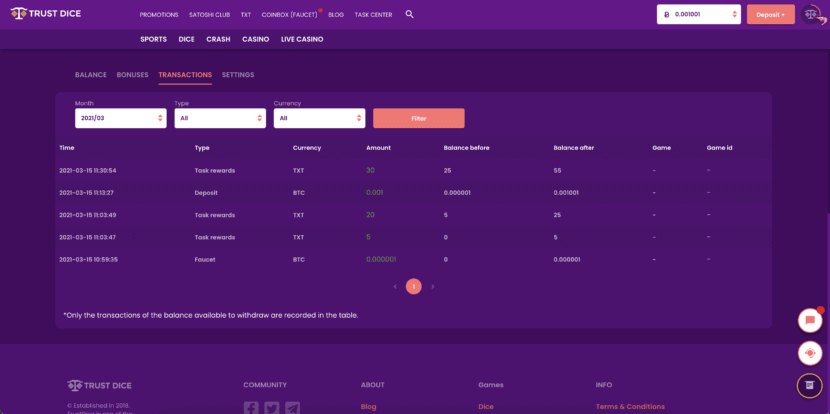 Overall
TrustDice is an average crypto sportsbook. Pre-game betting has a few bugs but is ok. Live betting is worse. Support is slow, but helpful once you get a reply. The max bet is pretty good, and the sportsbook has a cashout feature and it all looks good, which does redeem it.
It is fun to have decent crypto dice bonuses and games and casino bonuses and games available on the same account.

How does TrustDice compare to Other Crypto Sportsbooks?
TrustDice and Cloudbet are two notable names in the crypto-betting industry. Cloudbet has an edge when it comes to Live betting. While you can play live bets on TrustDice, you'll likely encounter bugs, and the market's updates take longer than usual.
Some events on TrustDice might have ended but will be displayed as in-play, making it inconvenient for in-play bettors. In comparison, players will more likely have a better experience on Cloudbet. Players can select from a wide array of games and odds.
The live betting feature on Cloudbet is smooth, and it has fewer bugs when compared to TrustDice. Cloudbet also has a faster response rate than TrustDice when it comes to accessing customer service. You will get instant replies on Cloudbet, but TrustDice takes a few minutes.
While both sportsbooks have interesting bonus packages, TrustDice has more ongoing customer promos than Cloudbet. TrustDice provides players with bonuses for almost every action they take.
When you complete your registration on TrustDice, you get a no-deposit sign-up bonus which is unusual for most crypto casinos. Also, you get a bonus when you log in daily. If you complete a task, another bonus awaits. When you level up on TrustDice, you're rewarded with a bonus and many more.
Regarding Crypto Gambling Awards, TrustDice has a bigger bragging right as the Runner Up in the 2021 Crypto Gambling Awards under the Best Dice Site category. Even though N1Bet is a notable crypto sportsbook, some players might favor TrustDice because of this award.
Both sportsbooks do well regarding security and privacy, but N1Bet has an extra edge. They have a license from the Curacao Government and SSL certificates to ensure all-round encryption. However, N1Bet requires players to undergo KYC after spending some time as members. This is to ascertain the player's identity and understand the nature of their activities. TrustDice does not request KYC from its users.
FAQs
Visit TrustDice