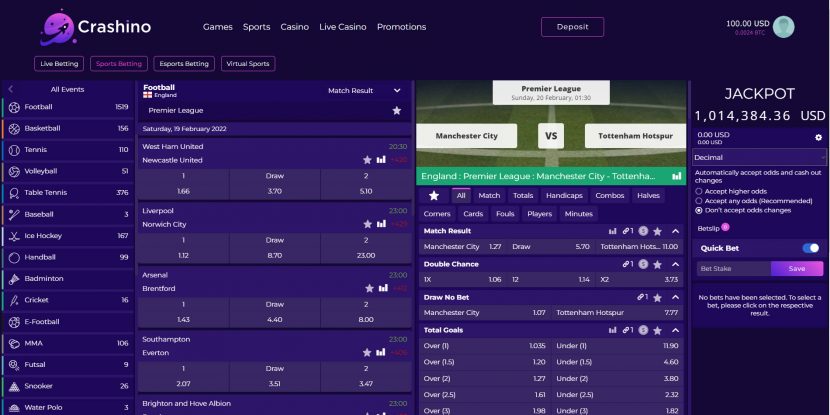 Pros
Good privacy
Simple and easy to use
Great live betting
Good customer service
Cons
Having to play through deposits before withdrawal
High minimum withdrawal
Forced address re-use
Privacy and security
7/10
Established
2021
Min bet
$0.11
Max win
$100,000
Currencies

:
BCH
BTC
DAI
DOGE
ETC
ETH
LTC
SOL
TRX
USDT
Despite Crashino being a new crypto sportsbook (2021), they've taken the initiative to combine the best elements from other sportsbooks into a modern and functional package.
You'll find a good range of sports and esports. Live betting boasts a cashout feature and customer support at Crashino is nothing short of top-notch.
User experience
The sportsbook is well organized and the overall design is fluid and intuitive. The bet slip is well-designed with a quick bet function.
They've gone to extra effort with their live betting. What stood out is the multi-view functionality that allows you to drag up to 3 different live events onto one screen. On mobile, the live match display minimizes as you scroll through the odds which is useful as you can keep an eye on the action. There's also a comprehensive results tab that displays all the results by date.
The dark theme allows for long sessions in total comfort and you'll be pleased by the general aesthetic of the site.
Mobile App
Crashino does not have a standalone app. However, it works fine on all desktop, tablet, and mobile devices. When Crashino is launched on any of these devices, the website is optimized according to the device's specifications. Players can access Crashino sportsbook through their mobile web browser and enjoy a stable experience.
Odds
Sportsbook's overround: 6.4%
50:50 equivalent: 1.88
Crashino's odds are moderate. They offer good value in soccer and basketball, but their edge gets a little larger in tennis, esports and minor sports.
Range of bets
Range of sports, leagues and events: Massive, from squash to chess and everything in between.
Range of bet types per event: Large, but it varies depending on how high-profile the event is. Big soccer games get about 350 plus bet types while NBA games get 15.
Live betting
Crashino's live betting is good. They feature a good range of in-play betting with a large selection of markets. The transactions are smooth and odds changes are quickly updated on the page and bet slip. We're glad to see that they also offer a cash-out feature.
The live betting section at Crashino is well set out and allows you to pick from a single event view or to combine 3 different live events onto a single page. They also boast a daily calendar that makes it easy to find what you're looking for.
But, they fall short on the live match display that doesn't offer enough plays and in-game stats – they say they're working on improving that. They also don't have live streams of live esports which some other sportsbooks offer.
eSports
With eSports becoming more mainstream, it is not strange to find it on Crashino. Here are some of the available tournaments and games for bettors on Crashino.
Tournaments
eSports is home to several tournaments, which makes it a possible force to reckon with in the future when paired with traditional sports. Crashino covers some notable eSports tournaments where sports lovers can bet on their favorite games.
eNBA Tournaments
Lovers of Basketball can wager on some of the top teams and players in the league. eNBA is quickly gaining acceptance in the crypto casino space, so Crashino makes it available to interested fans and bettors.
eFIFA Tournaments
eFIFA is arguably the fastest-growing eSports, owing to its massive number of views and participation.
Call of Duty
Lovers of Call of Duty can play this first-person shooter game on Crashino. Bettors can access exotic firearms and various game modes like Deathmatch, Retrieval, Search and Destroy, etc.
Dota 2
Dota 2 is a captivating strategy game for bettors who want something action-filled and fast-paced. Bettors can stake on their top players and upcoming tournaments.
Transactions
Unique deposit addresses: Not available.
Confirmations before bet: 3.
Withdrawal time: From 10 minutes to 2 hours.
Player to player transfer: Not available.
Crashino imposes a one-time wagering requirement on every deposit before allowing withdrawals. The minimum withdrawal amount is $50 USD or crypto equivalent which is high compared to other crypto sportsbooks.
Customer service
Customer service channels available: Live chat and email.
Speed of replies: Live chat replies instantly 24/7. Our emails took about 12 hours to be replied to.
Accuracy of replies: Very good. Replies were quick and accurate. The staff are knowledgeable and helpful, on the odd occasion where they weren't entirely sure about something they'd ask us to wait a minute while they checked their facts.
Real life customer service test
Question: Is it possible to deposit with one crypto and then request a withdrawal with another crypto?
Answer
:
Kindly note that you can request your withdrawal with any of the available withdrawal 'Currency' options on your 'Withdrawal' section.
Privacy and security
Information required at signup: Email address.
2 factor authentication: Not available.
They indicate that KYC may be carried out on withdrawing players on a risk-based approach. However, we didn't need to complete this process for our withdrawal, but there's a possibility that they'll hold your money until you do.
Geo-targeting
Crashino does not block any bettors based on country, just like it should be!
Bonuses
At Crashino you can boost your winning by a 100% Multi Bonus. The minimum odds per selection are 1.40. All the selections in the multi-bet should have odds over 1.40.
Existing Customer Promos
Crashino sportsbook has lots of promotions that are sometimes rotated. One of the common promotions is the Premier League Risk-Free Bet, which allows players to win back 50% of their wager if they lose their 3+ match combo. The minimum odds and bet amount for this promotion are 1.50+ and 10$, respectively.
Lovers of Basketball can also partake in the 3+1 Free Bet on NBA. This NBA promotion is similar to the Premier League Risk-Free Bet. This NBA promotion provides players with 1.65+ odds and a minimum stake of 10$.
For most of these promotions, one of the important house rules is that they cannot be combined with another promotion. And using multiple accounts is highly prohibited in line with Crashino's general terms and conditions.
How does Crashino compare to Other Crypto Sportsbooks?
Both Crashino and Sportsbet have a good track record for their live betting. Crashino has a wide range of in-play betting with lots of markets to choose from. You can perform transactions quickly and seamlessly, and you would see regular updates to odds changes.
The experience on Sportsbet is quite similar, as players will enjoy excellent betting offerings and constant updates on the available odds. However, Crashino proves inadequate on its live match display as there are insufficient in-game statistics, and live streams for some live esports are unavailable.
Regarding transactions, Crashino and Stake share a crucial joint feature- safety. However, both of them have differences in features like transaction time.
While it takes 10 minutes to a few hours to withdraw on Crashino, the withdrawal time on Stake is almost instantaneous. Players can transfer to one another on Stake, but this feature is absent on Crashino.
The Stake has 2-factor authentication as an extra layer of security and privacy, but it isn't available on Crashino.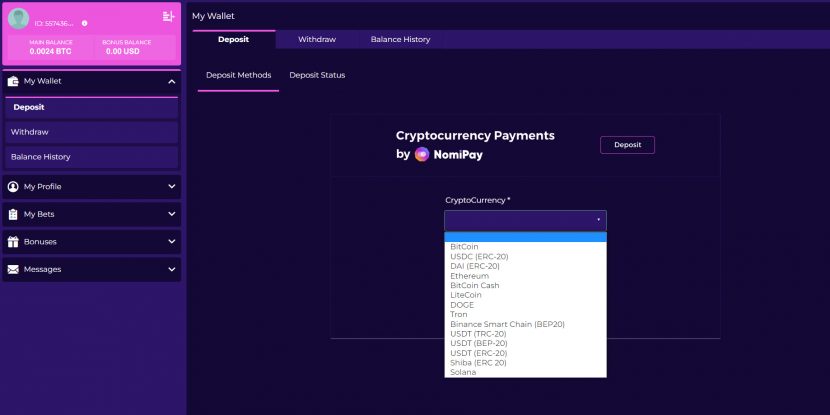 Overall
We're impressed. For a sportsbook that's new to the market, they've delivered a very good crypto betting package. The website is modern and clean with everything working the way it should, particularly the live betting.
With that in mind, give Crashino a go!
Visit Crashino