bettors are geo-blocked. Enable or disable geo-targeting in the settings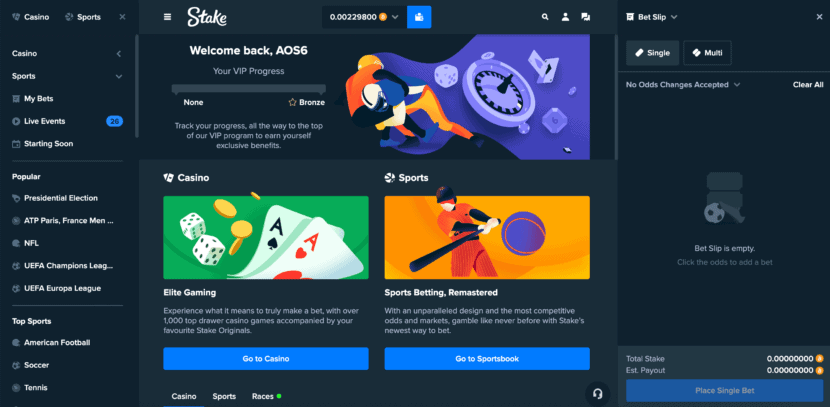 Pros
Good live betting.
Beautiful on all devices.
Simple and easy to use.
Fast deposits and withdrawals.
Cons
Forced address re-use.
High minimum withdrawal.
Privacy and security
8/10
Stake came from the team at Primedice, one of the oldest and most trusted crypto gambling sites. Stake has long been one of the best crypto dice sites and casinos, and now they have added a fantastic sportsbook. Stake is a full-featured dedicated sportsbook, not a casino with a sportsbook squeezed in as an afterthought.
One great feature is the smallest minimum bet in the industry. At the time of writing the minimum bet of 100 satoshis is slightly more than $0.01 USD! This is perfect for testing new betting and staking strategies you are working on. In addition, Stake offers a very large max bet which is commendable.
User experience
The design is beautiful and intuitive on all devices. You will never be confused or left looking for something that is not where you expect it. Everything works and flows perfectly. The dark theme allows for long sessions in total comfort. The community chat – where you can pick your language – is always active and helpful with the sports betting chat kept separate from the casino chat.
Stake runs regular promotions on their site, for example, money-back specials, raffles and a VIP loyalty program. As you progress from bronze to diamond within this program you earn more promotions and benefits, which is a nice touch.
Stake has the equal best user experience of all sportsbooks.
Odds
Sportsbook's overround: 4.8%
50:50 equivalent: 1.91
The odds are good value and competitive. Like everywhere, the live odds have quite a bit more overround built into them than the pre-live odds do.
NFL odds seem to be highly competitive, while the minor sports and more obscure markets do have a bigger edge.
Automated betting with the Stake API
The Stake website is excellent for general sports betting but what if you developed a betting strategy that requires you to place a large number of small bets or to react to information faster than a human can navigate the website? In these situations, you may want to develop a betting bot that places bets on your behalf. Fortunately, Stake has an API that makes it easy to place bets programmatically with only a small amount of code.
Although the Stake API is undocumented and it can be a bit annoying to have to reverse-engineer it from Stake's website since it is the same API that powers stake.com it is extremely powerful and enables automation of anything that can be done manually through the website. With a small amount of code, it should be possible to build some clever betting applications.
Range of bets
Range of sports, leagues and events: Great. A huge range of sports are available.
Range of bet types per event: Huge, over 100 different markets on the big soccer leagues.
Stake has the equal best range of bets of all sportsbooks.
Live betting
The live betting is wonderful. You get a clear detailed scoreboard, real time odds changes and rising/falling odds indicators. The cashout feature is smooth and easy to use.
The coverage is very comprehensive including minor sports and leagues, however we are disappointed by the lack of integrated streams.
Transactions
Unique deposit addresses: Not available.
Confirmations before bet: 1.
Withdrawal time: Instant.
Player to player transfer: Available.
You can deposit with any of the hundreds of cryptos supported by Coinswitch and have it converted to any of the half a dozen main coins of your balance.
We love the max withdrawal button which saves you from having to enter your full balance down to 8 decimal places, although the minimum you can withdraw is 2 m฿, which is high.
Customer service
Customer service channels available: Live chat and community chat.
Speed of replies: Nearly instant.
Accuracy of replies: Good, staff are well trained and knowledgeable.
Real life customer service test
Question: Hi, how many confirmations does a deposit need before I can bet with it?
Answer
:
It depends on a coin you deposit actually.

Kindly check the list below to see how many confirmations is needed for your deposit to be credited to your balance:

BTC: 1 confirmation
ETH: 12 confirmations
LTC: 6 confirmations
DOGE: 6 confirmations
BCH: 2 confirmations
XRP: 1 confirmation
TRX: 1 confirmation
EOS: 1 confirmation
Notes: The agent responded quickly, with an easy to read answer which covered my question.
Privacy and security
Information required at signup: Email address.
2 factor authentication: Available.
Stake has 3 levels of verification:
Level 1: Name, date of birth and address.
Level 2: Proof of identity (passport or driver's license)
Level 3: Source of funds and proof of address
Stake says this is to stop bonus abuse and respect the privacy of the players. They insist this is optional, offering bonus incentives if you do. We haven't ever been asked to provide documents upon withdrawal.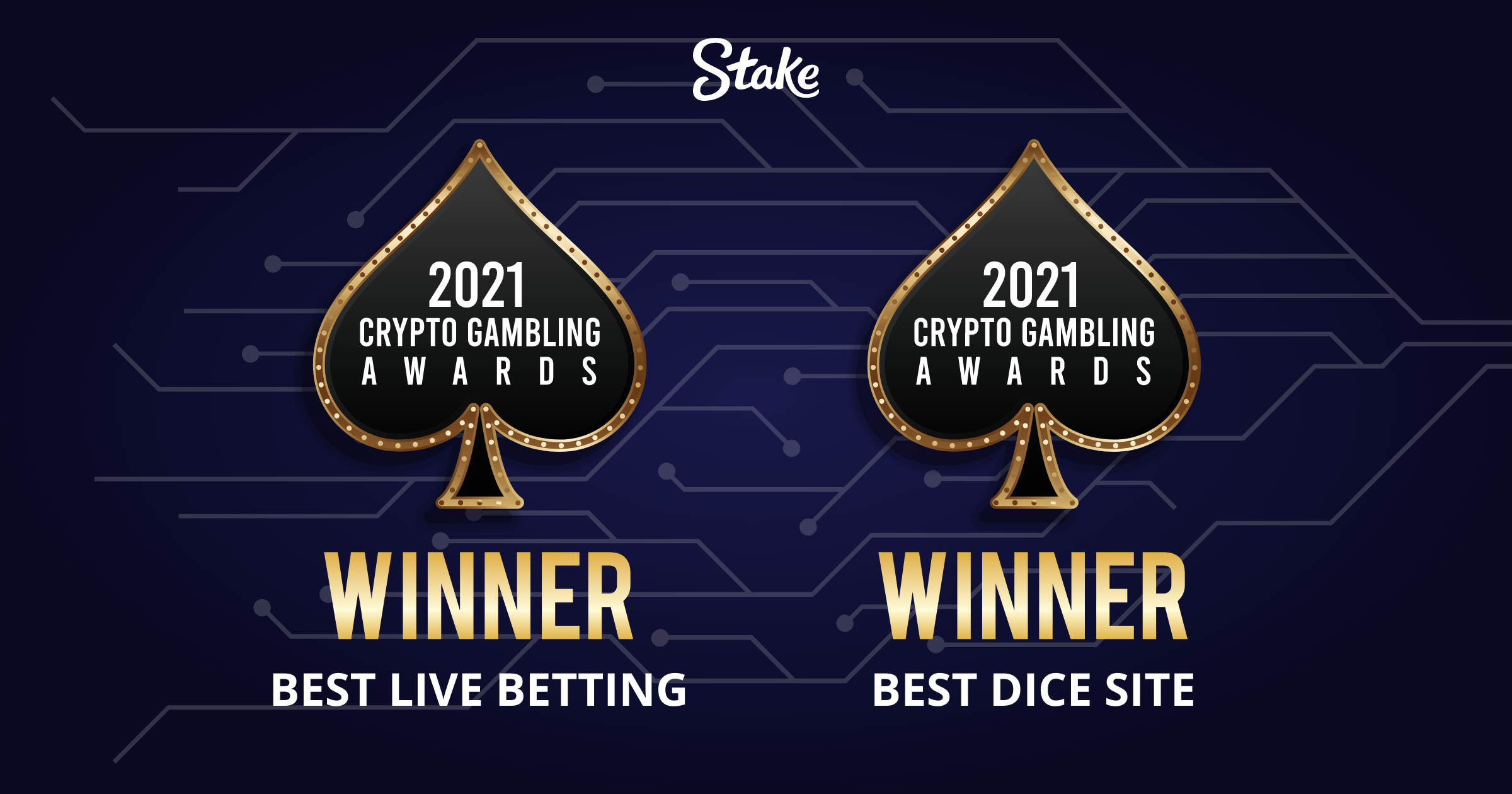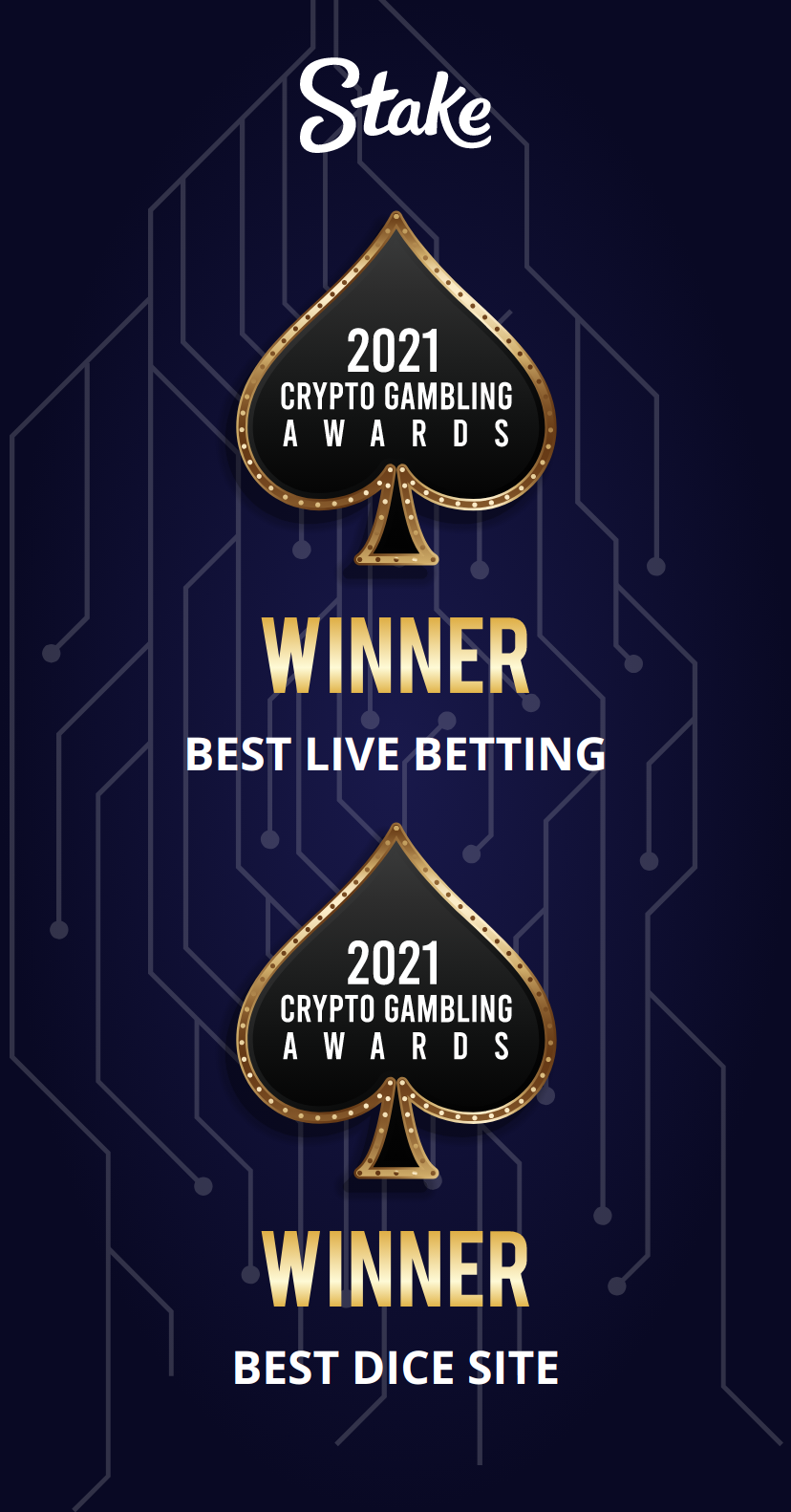 Geo-targeting
Bettors in the following countries are geo-blocked by Stake:
Australia
Cuba
Curaçao
France
Iran (Islamic Republic of)
Italy
Korea (Democratic People's Republic of)
Netherlands
Poland
Portugal
Slovakia
Sudan
Syrian Arab Republic
Venezuela (Bolivarian Republic of)
Czech Republic
United Kingdom of Great Britain and Northern Ireland
United States of America
Bonuses
Stake run a VIP program where you can earn rakeback, weekly & monthly bonuses and level-up bonuses (awarded when you progress up a level).
The bonuses ramp up the higher ranked you get (starting at bronze and ending at diamond). Keeping tabs on your current status is easy using the tracking bar, which is clear and beautifully designed.
The bonuses also increase if you verify your account, although Stake insists this isn't mandatory.
Level 1 verification: 10% extra
Level 2 verification: 12% extra
Level 3 verification: 13% extra
Stake will also add random promotions to your account and notify you via email – always a welcome surprise!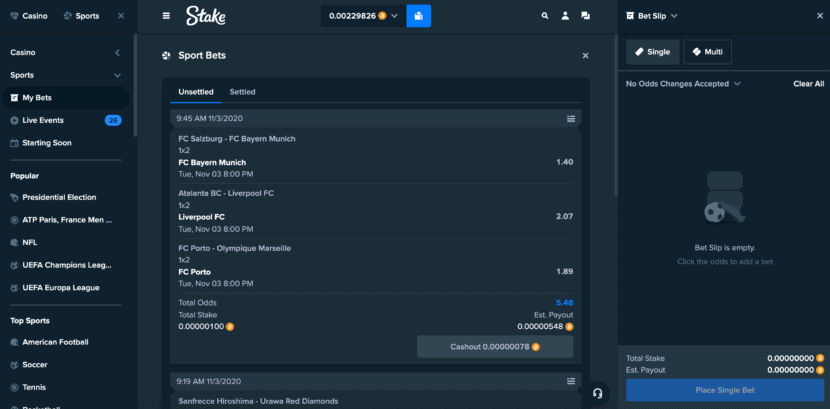 Overall
Stake is a fun sportsbook to bet on with good odds, a great website, tiny minimum bets and large max bets. The sportsbook is close to perfect and as a bonus you get great dice and casino games to play from the same account balance. The overall high quality of operation and how everything just works lets you know you are in good hands and your funds are safe.