FortuneJack sportsbook review
+3
1.5 BTC + 250 Free Spins
Play Now
Currencies
Bitcoin, Tron, Ethereum, Dash, Dogecoin, Zcash, Tether, USDC, Litecoin, Polygon, BUSD
Pros

Lots of Cryptocurrencies available

Licensed and regulated

Generous welcome bonus

Regular promotions
Cons

No fiat payments

Only two languages available (Japanese and English)
FortuneJack is an old crypto casino and dice site with a new sportsbook. Most of what they do well is ruined by a 50% turnover requirement on deposits before you can withdraw your own money. That means if you deposit 100 m฿ you have to bet 50 m฿ before you can withdraw. So only deposit as much as you know you will bet, and if you change your mind, like if the odds change, you are out of luck
User experience
The sportsbook is nice to use on mobile, its simple and uncluttered. Live betting is very good on mobile. We found a couple of bugs like different markets with identical names because the full names are shortened for mobile. for example these 2 markets
UK Politics – General Election 2019 – Most Seats
UK Politics – General Election 2019 – General Election Overall Majority
Are both shortened to
UK Politics
General Election 2019
On desktop it's a bit dark and cluttered. They jam too many options, buttons, menus, toggles, drop downs et cetera into too small an area. Then they make things worse by displaying annoying bright casino adds, making it feel like a full featured sportsbook shoehorned into a small corner of a casino site. You certainly get used it to though.
Navigation is clunky and unintuitive. There is no list of bets with profit and loss, just a list of "transactions". The stake as 1 transaction and the return as another, but only amounts are shown, no bet details and no totals.
Odds
50:50 equivalent: 1.94
The odds are often good but not always.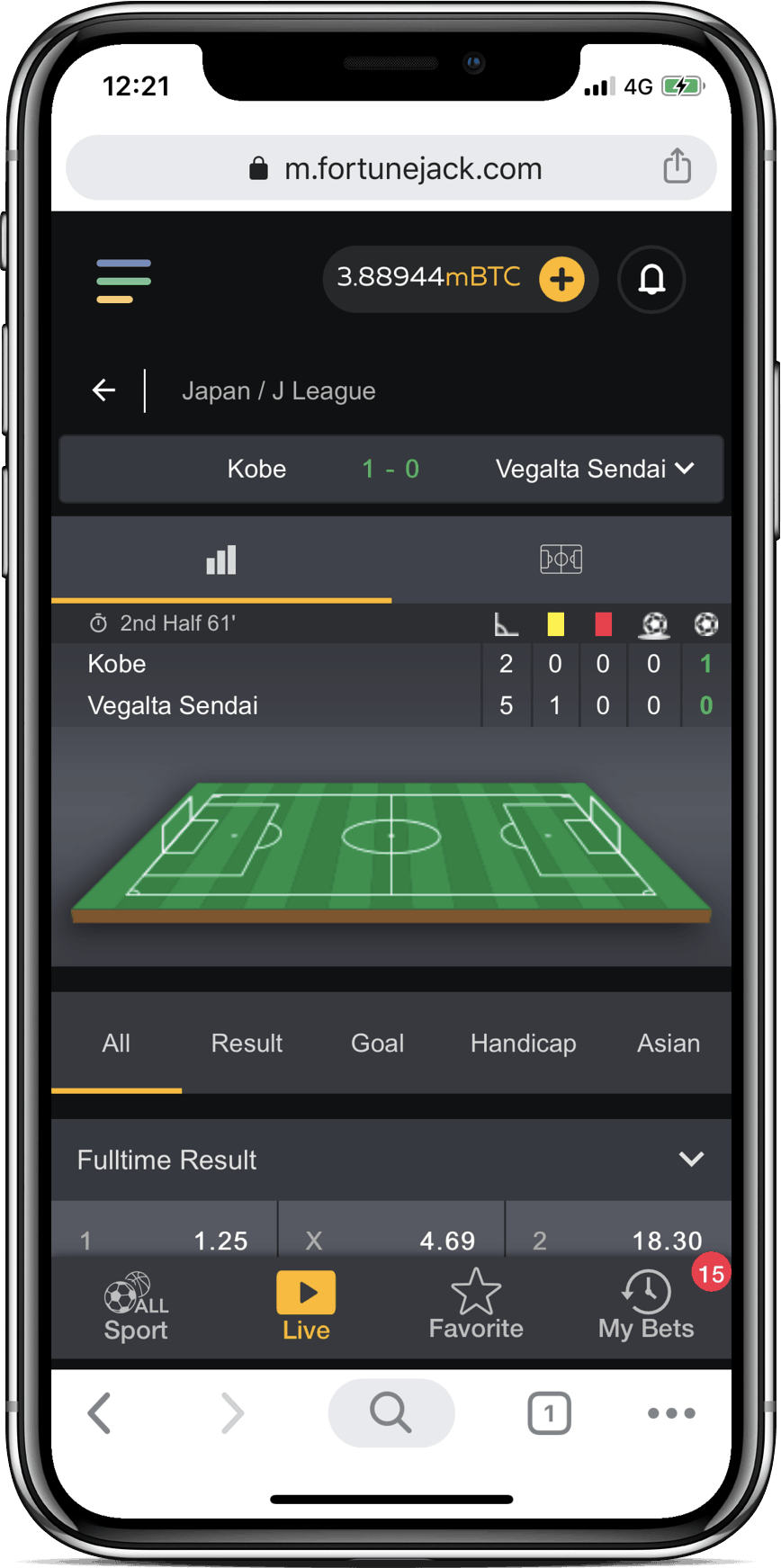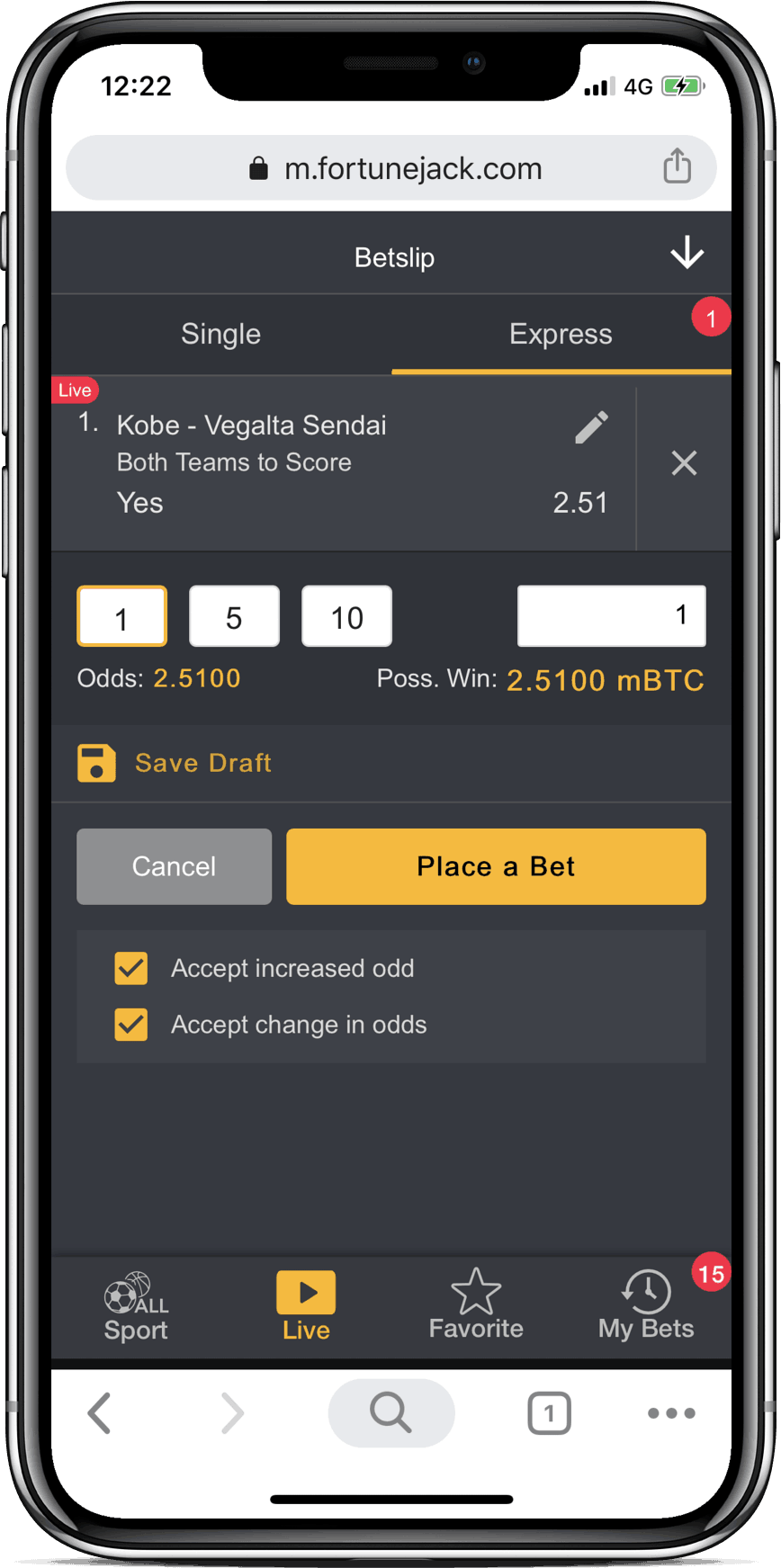 Range of bets
Range of sports, leagues and events: Huge, down to midweek table tennis and water polo.
Range of bet types per event: Huge, on big soccer games you can bet on everything down to 1st half corners handicap.
Live betting
Live betting is comprehensive and full featured. There is no live stream but there are scores and a cash out feature for a huge range of events including obscure soccer leagues.
Transactions
Unique deposit addresses: Available.
Confirmations before bet: 1.
Withdrawal time: Roughly 30 minutes.
Player to player transfer: Not available.
We had transactions show as successful at the time we made them, then they were changed to "failed" with no explanation given. Turns out it was due to the turnover requirement 😡
Although you can deposit, withdraw and maintain your balance in all the currencies listed above, in the sportsbook your bets will be be in bitcoin amounts.
There is a very high 4 m฿ minimum withdrawal.
On a positive note we love the "withdraw all" button rather than having to fill in an exact amount.
Customer service
Customer service channels available: Live chat is hidden in the sportsbook but available around the rest of the site.
Speed of replies: 5 minutes or more.
Accuracy of replies: Pretty good, English may not be their first language and they may not be experts, but they make a good effort and can usually provide the help you need.
Real life customer service test
Question:
In the sportsbook how can I see the max bet on a selection? (support then asked which bet and I gave them one where the odds were 2.11).
Answer:

it should be over 10 BTC
*shouldn't
the max is 47.393 you can bet
Notes: What a train wreck. I spent the next 15 minutes discussing this with support. What she was trying to get at was that the max payout is 10,000 m฿, including your stake. Therefore the max bet at odds of 2.11 is 4739 m฿. She explained it badly and got the decimal place wrong.
That was after waiting more than 30 minutes for the first reply in a live chat.
Privacy and security
Information required at signup: Email and country.
2 factor authentication: Available.
Bonuses
110% first deposit bonus. 100% fourth deposit bonus. 50% bonus on all other deposits. There are also special offers like loss back and free casino spins from time to time.
Overall
FortuneJack have good odds on a huge range of sports and bet types, including feature rich live betting. However the site is not always easy to use and you will have to turn over 50% of your deposit before you can withdraw your own funds.
More by Will Wood

I first started writing professionally in 2015. I initially wrote science fiction novels and historical non-fiction books about British spies.