Sportsbet.io sportsbook review
+5
Spin & Win 5x5000 USDT & NBA Free Bets
Play Now
Currencies
Bitcoin, Ethereum, Tether, Litecoin, Ripple, Tron, Cardano, Dogecoin, Binance, Dash
Pros

Great live betting

Lots of promotions and features

Fast withdrawals

Fantastic mobile app
Cons

No player protections

High minimum withdrawal
Sportsbet.io is an online sportsbook that has been on the market for a significant amount of time. It's become one of the biggest names in the crypto sports betting community, partly due to its dedication to providing high-quality sports betting options. We've pored over every aspect of what Sportsbet.io has to offer to ensure bettors are fully informed. For anyone looking to see if Sportsbet.io is right for them, our review provides everything anyone needs to know. Strap in for the ride and discover the whole Sportsbetio experience.
What is Sportsbet.io?
Sportsbet.io is a crypto sportsbook and casino which provides players with one of the most comprehensive betting selections in the industry. Although we've named it a casino here, the site mainly focuses on sports betting. As a result, players have access to one of the most significant overall betting choices on the market. The betting options at Sportsbet.io are as follows:
Sports Betting
eSports Betting
Virtual Sports Betting
Video Slots
Table Games
Live Casino Games
Players can also claim a range of exciting bonuses when playing at Sportsbetio. While they're more unique than what other sportsbooks offer, they're still interesting and provide some excellent benefits.
Overall, it's a crypto betting site that grabs bettors' attention immediately. With high-quality service and innovative features, this sportsbook has plenty to offer.
See our horse racing crypto betting guide for details on their excellent racing product. They also have an excellent casino which is worth checking out.
Sportsbet.io Key Facts
| Welcome Bonus | Bonus Code | Casino Games | Live Games | Sports Markets | Live Betting | Payment Methods |
| --- | --- | --- | --- | --- | --- | --- |
| No welcome bonus | No bonus codes | Video slots, Roulette, Blackjack. Baccarat, Jackpot Games, LiveRules, eSports, MMA, Boxing, and more Dealer Games | Yes | 30+ sports including NFL, NBA, MLB, NHL, Soccer, Rugby, Aussie | Yes | Bank cards, bank transfers, credit cards, Interac, Pay4Fun and 10+ cryptos |
User experience
The website is very good. Everything looks clean and works as it should, while matches are easy to find and load quickly. The website is very user-friendly and displays a wealth of information. Finding your betting history is easy, and the bet slip looks great and generally works well.
There are a number of promotions and features, such as a price boost or bet builder, which bring Sportsbet's user experience a level above others.
On mobile, Sportsbet is one of the few crypto sportsbooks to have a dedicated app. It's beautiful to look at and runs just as smoothly as the website.
One small complaint is that when you clear a bet from your bet slip (on the desktop) it sometimes reappears repeatedly. We did have to refresh our page a couple of times to ensure the selection did clear for good.
Mobile App
Sportsbet.io has a mobile app available to both iOS and Android players. Initially, it was only available to Android players, but the site released an iOS version later, ensuring all players could enjoy betting on the go. The app is fantastic. It provides fast access to all areas of the site and is fully optimized to scale depending on screen size. For bettors who want to bet away from their computers, Sportsbet is a fantastic option.
A mobile browser site is available if players don't have enough storage to download the app. While it's not quite as fast as the app, it's still a serviceable play method for Sportsbet.
Odds
Sportsbook's overround: 6.15%
50:50 equivalent: 1.88
The most apparent reason to use Sportsbet is for its sports betting options. With Sportsbet gearing its name towards sports bettors, it makes sense this will be the area the site focuses on the most. Our guide ensures players fully understand what to expect when betting on sports at Sportsbet.io.
Betting Odds
The odds are a bit hit-and-miss with Sportsbetio. Some odds allow players to find excellent value, while some are much lower than competitors. It's vital to research which odds offer the best potential payouts, especially for players who want to find the best value.
One factor which players must consider is the bet boosts. Sportsbet.io provides bet boosts occasionally, which can turn poor odds into good odds. Players should look into which bet boosts are a factor when researching odds, as these can turn the tide when choosing a bet.
Live Betting and Streaming
Sportsbet has an excellent live betting system in place. Players can stream certain games, but the available games will vary depending on TV rights and the jurisdiction where bettors reside. They can follow games with live stat screens for games where streaming is unavailable. It's almost like watching a video game; the stats change in real-time. The odds will also update as the game state changes.
There's excellent optimization at Sportsbet, which ensures the bet slip updates quickly. Players don't have to worry about the site freezing when placing a bet. Cashout is also available, perfect for bettors who want to recoup some funds if a bet is going wrong or want to make a safe profit.
Limits
Players have variable limits at Sportsbet. VIP players have much higher limits than standard players. As a result, each player should look at their VIP status to ensure they know their limits. The minimum bet varies between different cryptos, but there is a minimum bet of 0.00001 BTC for Bitcoin. Maximum bets will depend on the bet odds, and the maximum payout Sportsbet enforces. Sportsbet has a minimum deposit amount of 0.00025 BTC.
Sportsbet.io eSports
With eSports growing rapidly, it's become much more available at most of the best crypto sportsbooks. As a result, the Sportsbet.io casino selection for eSports is one of the best around. Here's a small snapshot of what Sportsbet has available.
Tournaments
The fundamental lifeblood of eSports is the various tournaments within its ecosystem. While no eSport has grown as big as the most prominent traditional sports, the level of growth is significant. It may not see parity with traditional sports this decade, but it's a distinct possibility in the future.
eNBA Tournaments
The NBA is one of the most popular sports in the world. As a result, the eNBA has also seen a similar level of popularity. Players can bet on the top teams in the league, just in a virtual setting. Different gamers choose a team, and bettors can check the stats to see the best bet.
eFIFA Tournaments
Similarly to the eNBA, eFIFA tournaments work around soccer. As the most popular sport in the world, it's not a surprise to see it available as an eSport. The top players play through the Premier League and Champions League, with bettors selecting who they think will win. eFIFA tournaments are growing, with some Premier League clubs linking with their eSport teams to promote synergy.
OverWatch
Overwatch is a 6v6 FPS. Full of action and fast battles, this game has plenty of shocks. Bettors who want to enjoy an all-action game should look straight at OverWatch.
Counter-Strike – Global Offensive
Also known as CS:GO, is the granddaddy of online gaming. An offshoot of a classic Half-Life mod, Counter-Strike is a name synonymous with eSports. Top players flock to Counter-Strike, and bettors can enjoy regular tournaments.
Dota 2
For bettors who want strategic battles more than all-out wars, Dota 2 is a perfect choice. Regular tournaments with plenty of statistics are available, making it great for bettors looking to find good value.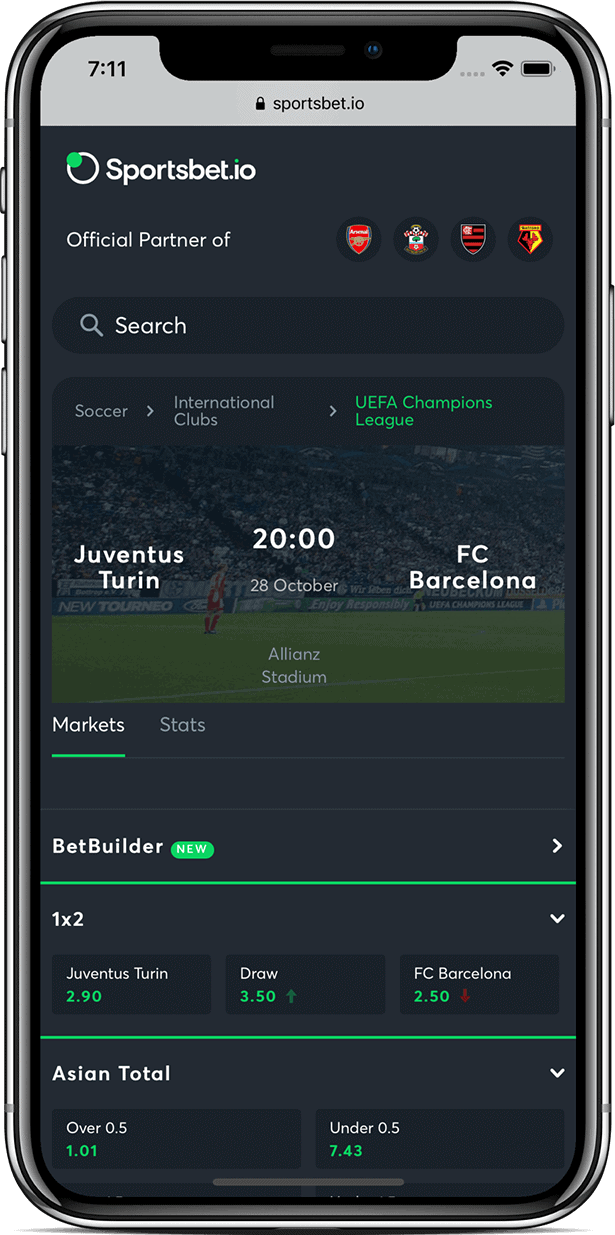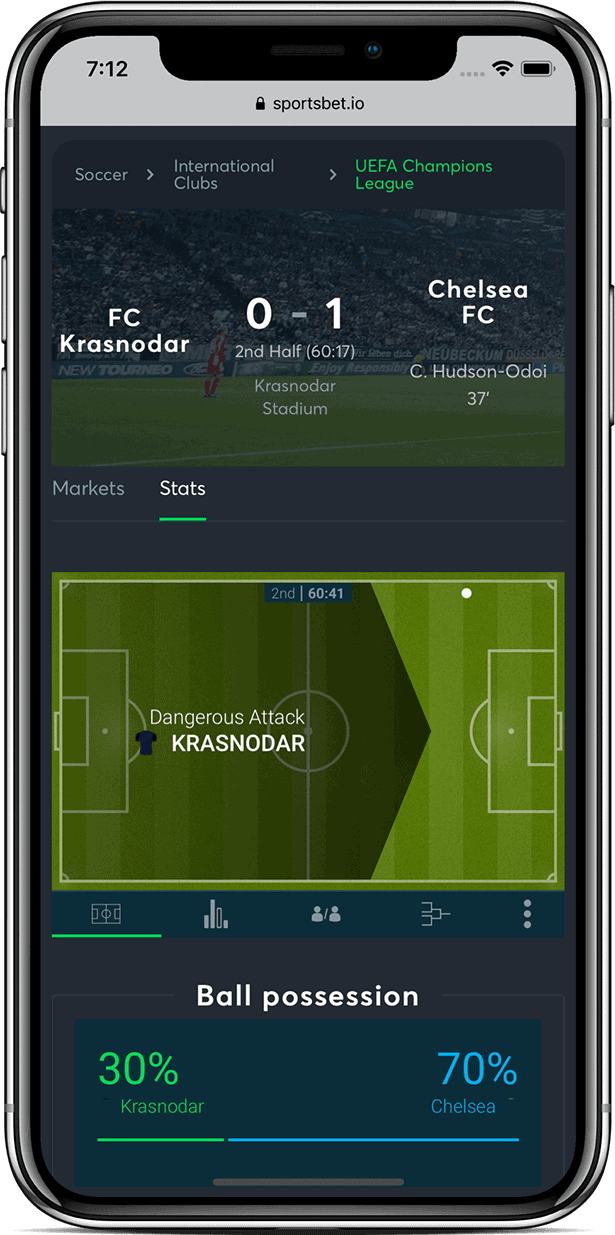 Range of bets
Range of sports, leagues and events: Huge, everything down to Futsal and Volleyball.
Range of bet types per event: Large, but it varies depending on how high profile the event is. NBA games get 37 different bet types, big soccer games get about 75.
Live betting
Sportsbet's live betting is extremely good. The in-depth game stats add extra spice to an already impressive offering. Betting is consistently available, rarely becoming unavailable due to in-game events (like one team scoring).
Live odds changes are handled gracefully by the bet slip. While other live betting platforms feel buggy and unstable Sportsbet's is rock solid and a pleasure to bet on.
Cash-out is available on Sportsbet, which is another string to the sportsbook's bow. The feature seems stable, with transactions and odds changes dealt with well.
Transactions
Unique deposit addresses: Generated automatically.
Confirmations before bet: Instant.
Withdrawal time: Instant.
Player to player transfer: Not available.
The minimum withdrawal of 2 m฿ – approximately $25 – is high compared to other top crypto sportsbooks.
You do need to wait for one confirmation after the deposit in order to make a withdrawal or Euro conversion.
Customer service
Customer service channels available: Live chat and email.
Speed of replies: Live chat replies instantly 24/7. Our emails took about an hour or less to be replied to.
Accuracy of replies: Very good, they may not be experts on all things crypto and sports betting but they are experts on their product and they are helpful and professional.
Real life customer service test
Question:
What happens in tennis bets on match winner if one player retires injured?
Answer:

Notes: This is different from the standard tennis rule so I checked Sportsbet's betting rules and the customer service operator was correct.
Privacy and security
Information required at signup: Email address and date of birth.
2 factor authentication: Available.
Sportsbet customer service suggests that you may need to send a passport scan and proof of address before you can withdraw. This isn't mentioned on sign-up and does drastically reduce the privacy of the website. We didn't need to complete this process for our withdrawal, but there's a possibility that they'll hold your money until you do.
Bonuses
As with most crypto betting sites, Sportsbet.io has a range of promotions available to players. The bonuses offer the option to claim in several ways, ranging from bet boosts to free spins to tournaments. There's a lot on offer with Sportsbet.io casino, so we've closely examined the overall bonuses players can claim. Not only have we researched the bonus itself, but we also make the terms and conditions of each bonus clear. As a result, players can go into each bonus with their eyes completely open.
Welcome Bonus Offer
Unfortunately, this is one area where Sportsbet.io falls down. There's no welcome bonus available with Sportsbet.io casino at the moment. It's likely due to it initially solely being a crypto sportsbook. As such, it doesn't provide the full crypto casino experience. A welcome bonus may be available in the future, but at this moment in time, it's not available.
Existing Customer Promos
Although players can't claim any matched bonuses with Sportsbet.io, there are still plenty of different promotions on offer.
Weekly Soccer Predictions
Players can enter two different soccer prediction games each week. The first game requires players to predict four results, and the second requires predicting six outcomes. In the first game, players can win up to $50 in free bets. The second game has a top prize of $100,000 in USDT. Both games are free to enter, and the prizes have no wagering requirements.
Game of the Week
Each week, Sportsbet chooses a video slot to be the game of the week. When players wager 200 USDT on a game, they will receive 50 free spins valued at 0.2 USDT. The bonus is available through the reward tab, and players can claim it multiple times.
Bet Boosts
Depending on the running tournaments, Sportsbet offers bettors the opportunity to boost their bets. A bet boost will increase the odds on specific bets when players place them, this will then increase the level of payout. While this promotion doesn't benefit everyone, it's excellent if the site applies it to bets players already intended to place.
Tournaments
Players can enter tournaments regularly. Each tournament will work differently, but generally, players must compete against others when playing a specific game. Whoever gets the best score will win an extra prize on top of what the game pays them. Sportsbet.io can run tournaments for both casino games and sporting events. It's vital to check out each tournament's terms and conditions before entering.
Loyalty Program
Sportsbet.io casino runs a loyalty program it calls the Clubhouse. Here players earn points for every bet they place, whether at the sportsbook or the casino. The more bets players place, the more points they earn. As players earn more points, they rise up the levels at the site. Each level provides players with additional rewards. Sportsbet resets the points each month, and players can rise up the ranks again. Rewards are available to claim multiple times, so there is a benefit to having to work back up the rankings.
Other Benefits of the Loyalty Program
Players get a number of advantages as they rise up the Clubhouse standings. Firstly, there's a dedicated VIP manager available. So, any issues players may have can find quick resolutions. It ensures it's much easier to manage the use of the site, especially for players who are high maintenance.
Secondly, the rewards from the clubhouse are wager free. So, whenever players grab a reward for increasing their level, they can claim it immediately. The rewards are also catered individually to each player, making them more worthwhile than generic rewards.
Finally, the bet limits increase when players earn reward points. On top of this, there's also the opportunity to make unlimited deposits and withdrawals. Perfect for players who enjoy making multiple transactions.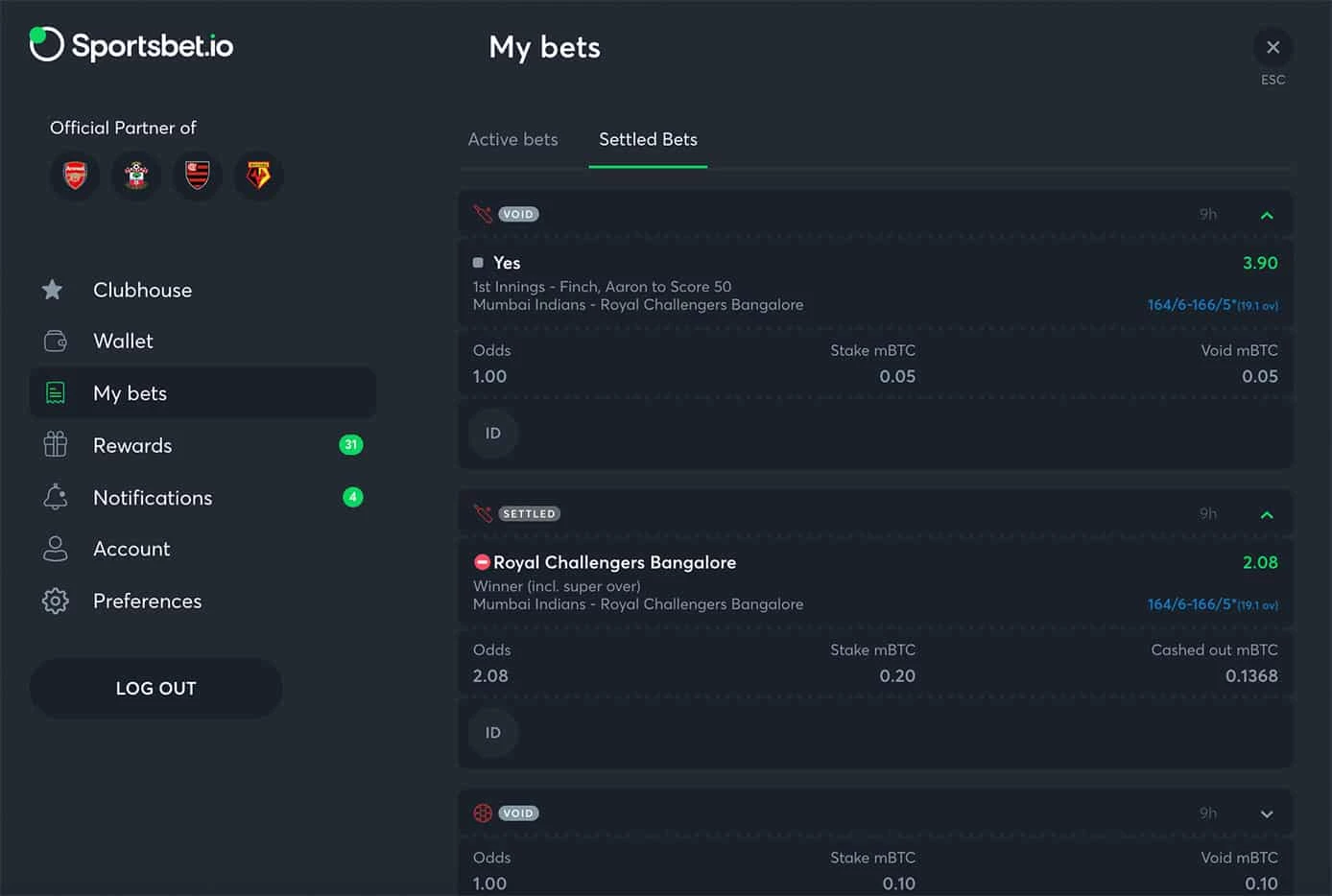 Overall
Overall, Sportsbet.io is a fantastic crypto sportsbook. While there are areas of improvement, it's generally a slick site. Players can enjoy an incredible selection of sports, positive promotions, and top-quality live betting choices.
The odds could be better, but at the same time, they're not bad odds. The bet boosts also removes some of the issues here, as they can make some of the poorer odds much more appealing.
Anyone looking for a quality crypto casino to play at should consider Sportsbet.io crypto casino as one of their top choices.
More by Will Wood

I first started writing professionally in 2015. I initially wrote science fiction novels and historical non-fiction books about British spies.