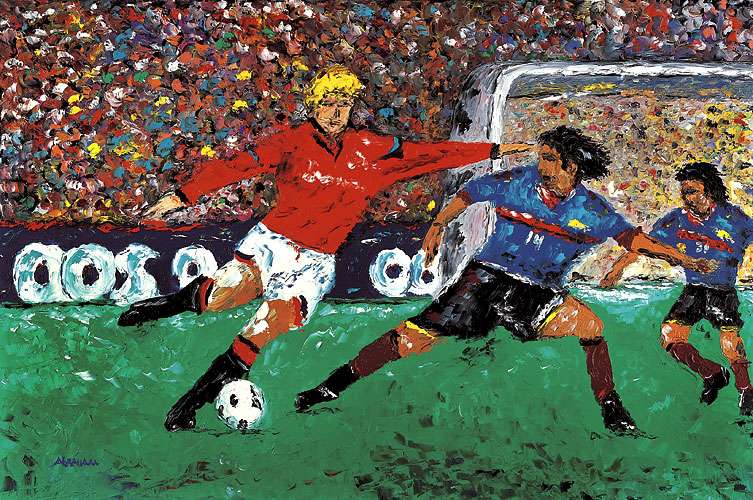 Soccer is the most popular sport in the world to bet on and that popularity is an advantage in itself for bettors. Because soccer betting is so popular it attracts
The best value odds,
The highest bet limits
The biggest range of different betting markets per game.
Where to bet
Who has the best odds?
You can see which crypto sportsbook has the best odds for the bet you want to make on our soccer odds comparisons. You can see which sportsbook has the best odds overall on our best odds sportsbook rankings.
Who has the biggest range of bets?
The 3 crypto sportsbooks with the most betting markets available on English Premier League (EPL) games are:
1xbit 164- markets per game.
Betcoin – 140 markets per game.
Sportsbet – 112 markets per game.
You can bet on things as obscure as
The away team will score 3 goals in a row.
Both goalkeepers will touch the ball in the first 3 minutes.
What will be the score when the 4th goal is kicked?
The home team will go down by 2 goals and win the match.
Ball will enter the net but a goal will not be awarded.
Who has the best live betting?
Sportsbet has the best live betting on Soccer. This is primarily due to the attractive and easy to use live betting interface. The live betting features like live scores and "accept odds changes?" work better on Sportsbet than anywhere else.
Who is the best allround sportsbook?
See our detailed written and video crypto sportsbook reviews for all the top options.
are the best in that order.
Soccer bet types
Apart from the most common sports bet types, there are a few bet types that are unique to soccer. The 2 things that differentiate soccer betting from other sports is that soccer is very low scoring and the draw is a very common result. These differences give rise to the following bet types.
Draw no bet
If you want to pick a team to win and avoid losing if the game is a draw, you can select the "Draw no bet" market. Betting options are Team A or Team B, and if the game is a draw your bet will be refunded.
Correct score
The "Correct score" market is betting on the exact score at full time. It's a highly entertaining bet that can be nail-biting right to the end.
Live betting
Live betting on soccer is different from most other sports. Most other sports have built-in breaks in play such as timeouts, change of innings, or time between rounds. Soccer only has half-time which is a great opportunity to bet live in play but you will also find yourself betting as play is ongoing.
There are a lot of inefficiencies in live markets and therefore a lot of chances to get value bets on and make a profit. Live betting also allows you to trade out of a position you took pre-game as more information becomes available, information like the score or player injuries.
Which leagues to bet on
There are so many different soccer leagues available to bet on that you can't possibly keep up with them all. So how do you decide which league to specialize in?
Of course, you should choose your favorite leagues that you find most entertaining, but if you do specialize in a different league you will soon love it just as much after some big wins on cliffhanger bets! Here are some of the main considerations.
Timezones
Choose leagues that play their games at times that are convenient for you to make late pre-game bets, live bets and watch games live.
Local TV coverage or streaming
Most leagues do not have good online streaming services like US sports do. As such in order to watch games live you are more dependent on your local TV and cable providers. Choose leagues that you can watch.
Range of bets
The more popular the league, the bigger range of different bet types available per game. On smaller leagues, you will only find the 3 most common soccer bets
Match winner – Team A, Team B or The draw.
Handicap – Handicapping the favorite a number of goals.
Total goals – Will over or under a certain number of goals be scored?
In leagues like the English premier league, German Bundesliga, Spanish La Liga and Italian Serie A there is a dizzying array of different bet types per game.
Bet limits
On the major European leagues mentioned above you will be able to bet amounts from 20,000 m฿ to 100,000 m฿ per bet. On the smaller leagues, the max bets are from 1000 m฿ to 5000 m฿.
Can you know more than the odds makers?
Some bettors like to bet on obscure leagues if they think they can be more knowledgeable about that league than the sportsbooks themselves. This is harder than it used to be given most sportsbooks don't set their own odds anymore, they have odds providers.
The ultimate edge is knowing information before the rest of the market does.
How to win
Follow the points on How to be a winning sports bettor
Don't pay attention to media pundits. They are paid to be entertaining, not accurate
Try both pre-game betting and live in-play betting, to find out which suits you better
Get the highest possible payout for every bet by using our odds comparisons