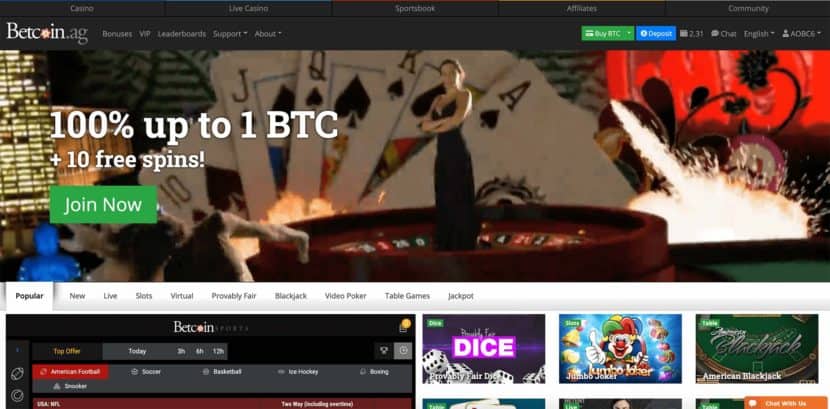 Pros
Good range of cryptos
Good privacy
Good odds
Cons
Bad customer service
Buggy and unreliable
Bad mobile experience
Privacy and security
9/10
What is Betcoin Sportsbook?
Betcoin also excels in the sports betting market with its sportsbook. The sportsbook has thousands of events with competitive odds and a wide variety of wagering options, such as money line, over/under, and prop bets. You may also wager on the overall score and half/quarter/period totals for each player or team.
In addition, there are a variety of parlay bets and "system" bets available to gamblers, the latter of which is based on the outcomes of several bets. Thanks to the beginner-friendly interface, the sportsbook is designed for novice and seasoned sports bettors. When you visit the site, you may choose to see the daily lines or the lines for a certain sport.
This sportsbook offers wagers on a wide variety of sports. You'll definitely be able to uncover a sport that piques your curiosity. The sportsbook has odds on many other leagues and sports, including:
Football
Basketball
American Football
Tennis
Ice Hockey
Boxing
Baseball
Betcoin also offers handball, rugby, volleyball, mixed martial arts, cricket, and motorsports markets. Keep in mind that you may also wager during a live sporting event. Simply select "Live Sportsbook" from the main menu to get started.
The sportsbook's mobile site is excellent, but it really shines on tablets and big smartphones. It effectively reduces the overall size of the interface while maintaining usability of the smaller controls.
Betcoin started out as a Bitcoin-only gambling site but has now expanded to support many more digital currencies. There are no maximums on either deposits or withdrawals on the sportsbook.
The minimum amount that may be deposited or withdrawn in any supported cryptocurrency is currently set at $5. Unlike withdrawals, which take up to 24 hours to complete, deposits are often processed instantly.
On Betcoin, verification is not required, however, it may be necessary if your account is marked as suspicious. In this case, you will be contacted through email and asked to provide identification and a billing address. Live chat operators are available at all times if you have any queries concerning the verification procedure.
Betcoin has many channels of communication for its customers. This includes a round-the-clock live chat feature, email, support tickets, and community tickets. Players may feel safe about their money and personal details being protected by the sportsbook's security measures.
The sportsbook's bulk funds are kept in secure cold storage to reduce the risk of theft. Players may be certain that their money is secure at this site, since it is widely considered to be a reputable and honest online casino.
Overall, BetCoin is a trustworthy cryptocurrency sportsbook that deserves your attention. Keep in mind the potential risks of gambling and proceed with caution while betting.
Interface & User Experience (Already Covered)
BC Sportsbook Odds (Covered)
Range of Bets (Covered)
Live Betting (Covered)
eSports
There is also a section just for enthusiasts of e-sports. Dota 2, Counter-Strike: Global Offensive, and King of Glory are just a few of the prominent e-sports that you may wager on.
Betcoin also has a public chat (trollbox) where a group of veteran gamblers may get together to talk about their latest wagers. The games may be played on a mobile device without installing any additional software. Whether you're looking to bet Bitcoins or fiat, the platform is a great place to do so in the eSports industry.
Betcoin is an ambitious crypto-gambling site, and one of the few sites with a sportsbook and a casino including a live casino and also a Betcoin dice game.
It doesn't have the most aesthetically pleasing website which needs improving – as does their customer service. Having said that, they do offer a wide range of sports and markets at good odds.
Rating: 8.0/10
Crypto Gambling Awards
While Betcoin hasn't been recognized for its top-notch services and website, it's nonetheless one of the best crypto gambling platforms. It offers some of the best features and tools to enhance the gambling experience.
Restricted Countries
Though Betcoin offers its services in most countries worldwide, it's still restricted in some. Some of these countries include the United States of America, Australia, the United Kingdom, Russia, Belarus, Singapore, Ukraine, Portugal, France, and the Netherlands.
Mobile App
While BetCoin does not offer a mobile app, you can still place bets while on the go thanks to a fully functional mobile site. The mobile version of the sportsbook is fantastic, but it really shines on tablets and big smartphones. It effectively reduces the overall size of the interface while maintaining usability of the smaller controls.
Rating: 7.5/10
User experience
Betcoin's sportsbook is a bit clunky and disjointed. There are some frustrating bugs and moments of poor user experience.
The website itself feels a bit messy and overwhelms the bettor with information upon arrival. Individual sports are organised by days, so if you click on basketball you only see the matches that are taking place today. That's fine for sports with regular events (e.g. tennis, soccer etc.) but can make it seem as though they don't have any odds available on less frequent sports, or means major leagues aren't displayed straight away. In our opinion, this isn't the best way to display matches.
The bet slip seems unnecessarily complicated and takes a little while to get your head around. For example, on mobile, the in-play display hides on the bet slip which seems strange.
Odds
Sportsbook's overround: 5.61%
50:50 equivalent: 1.89
Betcoin's odds are good. They tend to have an overround of around 4-5% on most major sports. This does creep up to around 6% on smaller events but is still a respectable edge.
Range of bets
Range of sports, leagues and events: Large. Lots of leagues available across a range of sports.
Range of bet types per event: Large. 130+ markets on major soccer matches, with 40-50 markets on NBA and NFL matches.
Live betting
Betcoin's live betting is not bad except for random bugs. You get live scores and game stats on a wide range of events. The esports live betting is really good, there are live streams with great commentary on all the big leagues.
The game stats are tucked away on the right-hand side and could be a bit more prominent. Having said that, the depth of stats and information given is good.
Transactions
Unique deposit addresses: Available.
Confirmations before bet: 1.
Withdrawal time: Around half an hour.
Player to player transfer: Not available.
Deposits & Withdrawals
Betcoin makes it incredibly easy to fund your account. After signing in, navigate to your dashboard and select the Deposit page to get a list of supported cryptocurrencies. This includes Bitcoin, Ethereum, Tether, Ripple, Litecoin, and Dogecoin.
The next step is to select a cryptocurrency and establish a crypto wallet address. By doing so, a new deposit address will be created, which may be used to receive funds from other wallets.
You may also use a QR code if you want. You may start playing as soon as you copy the address into your bitcoin wallet and deposit the minimum amount.
In addition to taking cryptocurrency deposits directly, the site also offers the option of using a credit card to purchase cryptocurrency. The player's card payment will be converted to its equivalent in cryptocurrency. Remember to verify that your payment meets the site's minimum credit card payment requirement before submitting it.
The first withdrawal is subject to a 24-hour confirmation period as a safety measure. After that, withdrawals will proceed at a much quicker rate. If you're experiencing any issues, submit a ticket.
You will receive an email with a confirmation link. Click this link, and the casino will process your withdrawal request. It might take up to 4 hours to complete multiple withdrawals, depending on the total amount you want to withdraw.
Withdrawals require email confirmation.
There is slight confusion on the withdrawal page, where you have to enter your withdrawal amount in milibits. However, the form asks for your amount in Bitcoin.
Rating: 7.5/10
Customer service
Customer service channels available: Live chat and tickets.
Speed of replies: Live chat responses are instant. Tickets generally take around an hour.
Accuracy of replies: Not great. Staff want to answer as many questions as possible in as short a time as possible, rather than really understanding the customer's request. We were giving incorrect information multiple times. Rather than offering solutions they very often instruct you to create a ticket about the problem.
Real life customer service test
Question: What happens with NHL hockey moneyline bets if the game ends in a draw and is won in overtime or a penalty shootout?
Answer
:
Usually the score is taken in the full time without the overtime. Is you bet on draw you win. If you bet otherwise you lose.
Notes: As well as containing spelling and grammar errors the above answer is incorrect. All Betcoin NHL markets include overtime and the draw is not an option. We made a follow-up question and were ignored with no response at all! We were also given incorrect information on how many confirmation deposits were needed before play.
Privacy and security
Information required at signup: Email address.
2 factor authentication: Available.
Betcoin has the equal best privacy and security of all sportsbooks.
Geo-targeting
Betcoin does not block any bettors based on country, just like it should be!
Bonuses
Welcome Bonus Offer
Betcoin's initial deposit bonus offer consists of three bonuses.
First Deposit Bonus
Betcoin welcomes all new players with a 100% bonus on their first deposit (up to 1 BTC) and one free spin. You need to earn Bronze II VIP status before you can utilize your free spin.
You can use the "Chat With Us" button in the bottom right corner of the page to request your first deposit bonus. When you contact support, inform them that you want to claim your first deposit bonus, and you'll be good to go. It's important to know that you can't utilize this bonus on table games or mobile devices.
Second Deposit Bonus
Betcoin's second deposit bonus is 50% up to 1 BTC and comes with 1 free spin. You'll need to get in touch with the live chat representatives like you did for the initial deposit bonus. You can't use your bonus on table games, and you can't use it when playing on a mobile device.
Third Deposit Bonus
The third deposit bonus—the last of the welcome bonuses—offers a 25% deposit bonus up to 1 BTC and one free spin. You'll need to deposit a total of 4 BTC to qualify for the maximum third bonus of 1 BTC. The third deposit bonus is subject to the same requirements as the first two.
First Deposit Bonus – 100% match bonus (1,000 credits) up to 1 BTC and 1 Free spins
Second Deposit Bonus – 50% match bonus (1,000 credits) up to 1 BTC and 1 Free spins
Third Deposit Bonus – 25% match bonus (1,000 credits) up to 1 BTC – 1 Free spins
Welcome Free Spins
Aside from the first three bonuses, Betcoin also offers another welcome bonus. Betcoin is offering new customers 50 free spins across their first three deposits of any cryptocurrency.
The minimum deposit amount required to get this offer is $25. You'll get 25, 15, and 10 extra spins on your first three deposits, respectively.
In addition, every time you go from Bronze to Silver VIP, you'll get 25 more spins absolutely free! After registering, depositing, and playing at least one spin/hand of a Betsoft game, you may request your free spins by submitting a support ticket.
Existing Customer Promos
Betcoin also provides a variety of extra bonuses and discounts beyond just the deposit bonuses. Here are the available promotions:
Tuesday and Thursday Twitter Free Bets
Starting on March 7th, 2023, the sportsbook will give out at least 1 free bet to anybody who leaves a comment on their Twitter postings on either Tuesdays or Thursdays.
You also need to follow their Twitter page (https://twitter.com/BetcoinAG), like, and retweet the post to be eligible. The promotion may be canceled at any time, and the decision of the management is final.
Betcoin x Bombay LIVE Blackjack Bonus
Playing live blackjack with live dealers from around the world will give you the feeling of being in a genuine casino. The finest casino leaderboard promotion is back, and it's even hotter than ever before, thanks to Betcoin's brand new live blackjack!
In 2020, Bombay Live was introduced with the goal of pioneering the next generation of high-end entertainment at online live casinos. The sportsbook provides that level of comfort straight to your living room, with bonuses of up to $1000 and free play of up to $500.
It's very simple to participate in this offer. Just head on over to the Betcoin.ag Casino and hit the Bombay Live Blackjack button to get started. Prizes totaling $1500 in bitcoin and free bets will be split among the top 20 finishers.
| | |
| --- | --- |
| Position | Free Bet Amount |
| 1st | $200 |
| 2nd | $125 |
| 4-5th | $50 |
| 6-7th | $50 |
| 8-10th | $25 |
| 11-15th | $10 |
| 16-20th | $5 |
PBR Coin
PBR Coins are free coins given out by Betcoin in their surprise boxes and for helping out with various aspects of the platform. In addition to standard casino games, Betcoin will provide a number of unique, free games playable with PBR.
By participating in these games, users may rack up reward points and vie for top spots on the leaderboards. You'll be able to redeem your points for all sorts of cool stuff.
Sportsbook ROI Hall of Fame
Every time a player has the courage to try for the large payouts, the sportsbook rewards them with $100 and a spot in the Sports ROI Hall of Fame. You can always view the highest scores by going to the leaderboards page and choosing ROI in Sports Daily, followed by Daily Hall of Fame.
Loyalty Program
Betcoin's VIP program is multi-tiered, with each tier offering progressively better perks to its members. To progress to higher ranks, you must accumulate status points.
The VIP program is available across all of your preferred gaming options. Poker players and anyone who bets on sports using Bitcoin might potentially win an infinite amount of money. As you progress through the VIP levels, your benefits will increase at an increasingly rapid rate.
Playing casino games or placing bets on sporting events are both valid methods of gaining status points. You'll rack up 0.2 status points for every dollar wagered in the casino, and 0.1 for every dollar wagered on sports.
LEVELS
STATUS POINTS
CASINO
SPORTSBOOK
Master
10000000
0.35% Betback

33% Lossback

0.2% Betback

20% Lossback

Diamond I
5000000
0.32% Betback

30% Lossback

0.18% Betback

18% Lossback

Diamond II
2500000
0.29% Betback

27.5% Lossback

0.16% Betback

16% Lossback

Diamond III
1000000
0.27% Betback

25% Lossback

0.15% Betback

15% Lossback

Ruby I
750000
0.25% Betback

23.3% Lossback

0.14% Betback

14% Lossback

Ruby II
500000
0.23% Betback

21.6% Lossback

0.13% Betback

13% Lossback

Ruby III
250000
0.21% Betback

20% Lossback

0.12% Betback

12% Lossback

Emerald I
200000
0.19% Betback

18.3% Lossback

0.11% Betback

11% Lossback

Emerald II
150000
0.17% Betback

16.6% Lossback

0.1% Betback

10% Lossback

Emerald III
100000
0.15% Betback

15% Lossback

0.09% Betback

9% Lossback

Gold I
80000
0.13% Betback

13.3% Lossback

0.07% Betback

8% Lossback

Gold II
60000
0.11% Betback

11.6% Lossback

0.07% Betback

7% Lossback

Gold III
40000
0.09% Betback

10% Lossback

0.06% Betback

6% Lossback

Silver I
20000
0.07% Betback

8.3% Lossback

0.05% Betback

5% Lossback

Silver II
10000
0.05% Betback

6.6% Lossback

0.04% Betback

4% Lossback

Silver III
5000
0.04% Betback

5% Lossback

0.03% Betback

3% Lossback

Bronze I
2500
0.03% Betback

3.5% Lossback

0.02% Betback

2% Lossback

Bronze II
1000
0.02% Betback

2% Lossback

0.01% Betback

1% Lossback

Bronze III
1
0.01% Betback

1% Lossback

0.01% Betback

0% Lossback
Rating: 8.5/10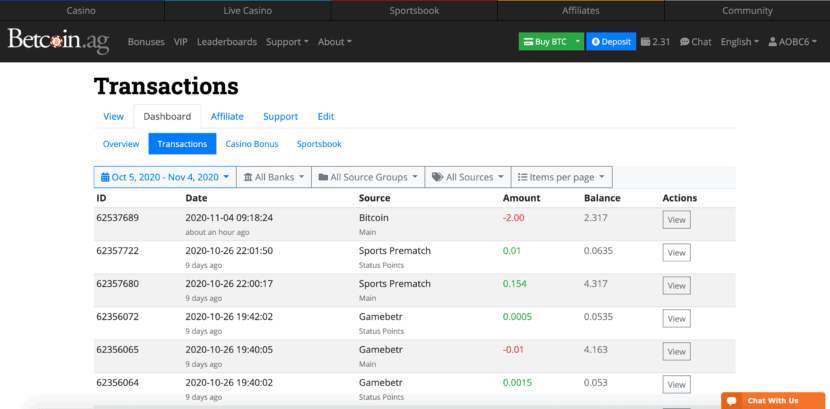 Overall
How Does Betcoin Sportsbook Compare?
Below, we'll discuss how Betcoin Sportsbook stacks up against the competition.
BetFury
Despite starting six years after Betcoin, BetFury Sportsbook has quickly become a popular platform for providing the best online betting experience. With an impressive array of sports and esports games, it offers a thrilling list of leagues and events for users to bet on. Furthermore, it's one of the safest and most secure betting platforms available today, boasting an SSL certificate from CloudFlare in addition to its license from the Curacao Government.
BetFury is a top crypto sportsbook, allowing users to easily make payments using popular digital assets such as BNB, BTC, ETH, USDT, DOGE, TRX, and BTT. Its minimum deposit of 0.00000001 BTC is also relatively low, making it accessible to bettors who prefer to use crypto as their payment method.
BetFury excels in providing an excellent customer experience, outperforming Betcoin in this regard. Its website has a sleek and modern design with a dark-colored background that is not only easy on the eyes but also easy to navigate. Furthermore, BetFury's customer service is top-notch, with fast email replies, live chat support, and a comprehensive FAQ section.
Welcome Offer
Unlike Betcoin, BetFury doesn't offer a welcome bonus for its users. Additionally, while the platform offers a wide range of daily events for its casino players, its Sportsbook users may find the options limited in comparison.
Pros
Extensive game collection
Cashback
Cons
Sportsbet.io
Sportsbet.io may be newer compared to Betcoin, but it's not a newcomer in the industry as it was founded in 2016. Over the years, this sportsbook has established itself as a popular destination for bettors due to its impressive selection of sports. The platform boasts exciting eSport tournaments such as eFIFA and eNBA, making it a haven for gaming enthusiasts. Additionally, Sportsbet.io supports cryptocurrencies, making its payment options not only secure but also attractive to those who prefer to use digital assets.
Like Betcoin, Sportsbet.io is licensed by the Curacao Gaming Platform, ensuring a safe and secure platform for users. It supports a wide range of payment options, including bank cards, bank transfers, and credit cards, giving users the flexibility to choose their preferred payment method. What's more, Sportsbet.io supports over ten cryptocurrencies allowing users to bet with ease using digital assets. With a minimum deposit of 0.00001 BTC, sports bettors can easily use crypto to place their bets on the platform.
Compared to Betcoin, Sportsbet.io offers a superior user interface and customer experience. Its well-designed website effortlessly captures all its offerings, making it user-friendly. The website also supports multiple languages such as English, Spanish, Portuguese, French, German, Turkish, and more. In addition to its website, Sportsbet.io offers a mobile app for both iOS and Android users. Users can also benefit from Sportsbet.io's help centre, which provides a comprehensive FAQ section. If further assistance is needed, sports bettors can easily make enquiries via the live chat and email support options.
Pros
Supports several payment options(including cryptocurrencies)
Great user interface
Offers mobile app
Cons
Selection of favorite games and sports betting odds may be inferior to other platforms
Expert Verdict
At Betcoin casino you can indulge in a wide range of fun gambling all from one deposit, however, you can indulge in better quality offerings of all those types of gambling elsewhere.
Betting with Betcoin is a decent experience, but many higher-ranked crypto sportsbooks on this site are simply better.
FAQs
Visit Betcoin
Sportsbook walk-through
More crypto gambling videos