With its high-octane pace of play, global broadcast coverage and daily schedule of elite action, tennis is truly primed for betting.
But for those just starting out, the breadth of markets, complexity of surfaces and variety of formats can make it a confusing beast. So we thought it was important to break it all down and serve up a tennis betting guide – all designed to help you win more crypto!
Tennis bet types
Winner
The winner, or moneyline, simply refers to picking who will win a match. In tennis, this normally means selecting the winner of a head-to-head men's singles or women's singles match. But at certain tournaments, you can also bet on men's doubles, women's doubles or mixed doubles matches.
Games handicap
The games handicap market refers to the difference between the total games won by each player during the course of a match.
So, if the selection is Djokovic +4.5, and Djokovic wins 7-6, 6-4, 6-4. That means Djokovic has won 5 more games than his opponent so you have a winning bet.
This is a good bet type to consider if you think that a player is going to perform better than expected, but you're not entirely confident they're going to win. Games handicap betting like spread betting in other sports – effectively giving the underdog a head start, or an even playing field if you like.
If the handicap amount is set correctly, the player who performs better than expected will be the winning bet – and this provides a wealth of opportunity from a betting perspective.
Total games
The Total Games market is tennis' equivalent to the over/under goals or points line in soccer and other sports.
Sportsbooks set a line for how many total games might be played during the entire match, and you decide if the actual number of games will go over or under that number.
With men's tennis matches lasting anything between 3 and 5 sets and women's either 2 or 3 sets, there is a vast scope for value.
Parlay
Tennis matches often have a clear favourite. And odds as short as 1.10 – sometimes even lower – are commonplace when it comes to top players facing low-ranked opponents in the early rounds of a tournament.
Of course, you can back Federer or Djokovic to beat a distant outsider – it's a relatively safe bet. But let's put that in perspective: you'd need to stake 100 m฿ just to make a profit of 10 m฿. And if the unthinkable occurs, you'll wind up in a massive hole! So, in terms of weighing up the risk versus reward, some single-match betting picks are hardly worth bothering with.
This is where the parlay comes in. In the early rounds of a tennis tournament, aim to select a handful of top-ranked players and combine them into a multiple bet. Five top players at average odds of 1.20 will cruise through their matches more often than not – and in that example, your bet would pay out a profit of 149 m฿ on top of your 100 m฿ stake.
Live betting
Tennis is made for live betting. And it's no surprise it has become one of the most popular sports to bet on in the play, with a host of sportsbooks including our top-ranked sites offering live streaming coverage for certain events.
The flow of a tennis match is very stop-start, with regular breaks between games, and mini delays between points. This ensures that in-play markets are always functioning, but also fluctuating, and the momentum of a match can shift dramatically in a short time.
Popular markets include the winner of the current set in-running, the current game, and even the next point.
In men's tennis breaking serve is paramount to the match's end result. so breaks cause significant odds swings. Women's tennis is less dependent on the serve, so much so it makes the outcomes less predictable overall.
Different surfaces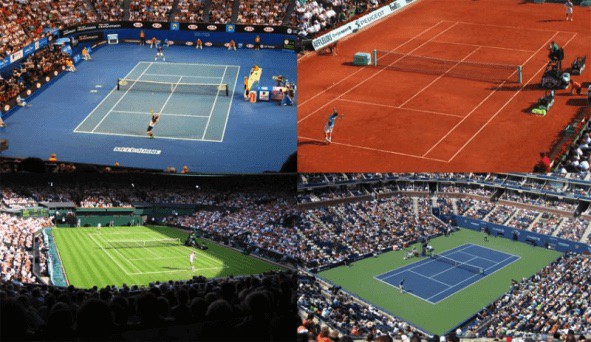 Tennis is one of the only sports performed at the highest level across markedly different playing surfaces. And when considering your betting approach, you must take into account that each surface can drastically affect the type of tennis that is being played – and the type of player who will win.
The ball reacts very differently on each of the 3 surfaces, so the technical strengths, weaknesses and training backgrounds of the opposing players can play a major role in the outcome of the match. This means these factors should also play a major role in your betting choices.
Hard courts
The chosen surface for the majority of pro tour events and 2 of tennis' 4 grand slam tournaments – the Australian Open and US Open – hard courts bring fewer variables compared to the other surfaces.
They're designed to provide a more consistent bounce, offer players good footing and provide a super-fast playing environment.
These factors combined mean there are fewer underdog victories on hard courts than on grass or clay, as the more talented, more athletic player is invariably rewarded.
One further thing to bear in mind is that indoor hard courts play even faster than outdoor hard courts. So indoor hard court events, like the annual ATP World Finals, tend to stack the odds in favour of a big server.
When weighing up your bets during a hard court tournament, you should take advantage of the ability to assess the outcome more because of a) the fewer variables and b) the fact the surface is so widely used on the tour so there's more form data available.
Clay courts
The clay court environment brings the most variables of any tennis surface, and as such tournaments played on clay tend to throw up a greater percentage of underdog victories.
The roughness of the clay surface generates a lot of friction when the ball bounces off the ground. This results in a slower bounce, but also a higher bounce – reducing the overall speed of play.
This means that while powerful, hard-hitting players rule on hard and grass courts, their advantage is hugely diluted on clay. 14 of the world's top 15 men's players hold their serve less often on clay, and the amount of aces per game is just 0.35 on clay, compared to 0.53 on hard court and 0.61 on grass.
As regularly seen at the French Open, the slowness of clay courts also makes for some marathon matches, benefiting players who are better conditioned and have a track record of succeeding in long, arduous battles. When researching your next bet on clay, be sure to check each player's 5-set record.
Another thing to consider is the training background of a player. Clay courts are much more widespread in countries such as Spain, Italy, Argentina, Portugal and Brazil, making players from those countries more comfortable on the trickiest surface in the sport.
Grass courts
The grass is the least-used surface but is nonetheless important because it hosts Wimbledon, the most prestigious of the 4 grand slam events.
Grass surfaces are the fastest and most inconsistent on the tour. With the ball skidding quickly and low off the deck and sometimes doing so in random directions, grass courts are advantageous for big servers.
Consequently, breaks of serve are very hard to come by on grass, so you get more sets going deep in total games and a disproportionate number of sets decided by tiebreaks.
Due to the quick and skiddy conditions, rallies are shorter and on average a match will take less energy out of a player. So conditioning and mobility are not such big factors.
Playing styles
Similarly to boxing, with southpaw/orthodox, and MMA with the varying primary fight styles, tennis players tend to adopt a certain distinct style of play, and that is an important factor when weighing up your bets.
Most elite players fit into 1 of the following styles:-
Serve-volley
These guys hit it hard from the serve and typically race forward to the net in an attempt to kill the point quickly with a volley. On the times they don't come to the net right away, you can assume they're looking to pounce at the earliest opportunity, usually within the first few exchanges of a rally. They are most successful on grass courts because the low, inconsistent bounce makes big serves more difficult to return. They are less likely to be successful on clay courts, or any surface that is conducive to long rallies. Modern examples of an archetypical serve-volley style are the likes of Feliciano Lopez, Nick Kyrgios and Ivo Karlovic.
Baseliner
Baseliners like to be in control and dictate play from the back of the court. They rely on the strength of their groundstrokes to move opponents around the court which opens up space for them to aggressively go for winners. The most compelling example of a modern baseliner is 'The King of Clay' Rafael Nadal.
Counterpuncher
Also sometimes referred to as a pusher, these are defensive specialists. The modus operandi here is to stay at the point while allowing your opponent to attack and anticipating where on the court they will attack.
A counterpuncher knows how to play the percentages and chooses their shot selection accordingly. They know 70% of points won in tennis are from errors, so they will never make one. They are less concerned with hitting winners and will win most of their points because they wear opponents down until they make an error.
Counterpunchers are usually fast and have good court coverage, for example, Andy Murray as featured above. Their style is most effective on hard courts.
How to win
Consider form and track record on the specific surface.
Check out the rankings – the ATP and WTA rankings offer a standardised marker of quality for your research purposes.
Follow the points on how to be a winning sports bettor.
Don't pay attention to media pundits. They are paid to be entertaining, not accurate.
Try both pre-game betting and live in-play betting, to find out which suits you better.
Get the highest possible payout for every bet by using odds comparisons on BitOdds.com