Top Sports Betting Apps
BC.Game – Best Overall Betting App Sportsbook
888Starz – Best for Sports Bonus Wagering
Sportsbet.io – Best for Live Betting
BetOBet – Best for Android Bettors
Coinplay – Best for Cryptocurrency Choice
Bettors using our toplist can instantly access the best crypto betting sites with mobile apps. It's the easiest way to discover an excellent selection of sports betting mobile apps.
Sports Betting Apps Reviewed
1. BC.Game – Best Overall Betting App Sportsbook
BC.Game is, without a shadow of a doubt, a phenomenal crypto sportsbook. It provides everything bettors could ask for. With a huge range of sports betting options, excellent bonuses, and a superb user interface, BC.Game ensures sports bettors can easily enjoy a top-class betting experience. With an excellent mobile app, it provides instant access to crypto betting to all players.
Beyond the mobile app, one of the most appealing aspects of this site is the daily bonus wheel. Each day bettors can spin the wheel, which will award some free crypto, typically low-value amounts but can hit as high as 1 BTC. All bonus wheel spins are wager-free, so bettors can bet with a low budget. The sports betting options are comprehensive for events and markets, ensuring a high level of choice for crypto players.
Bettors looking for anonymous play have some complications at BC.Game. Generally, punters can play without completing KYC here, but the site does reserve the right to ask players to go through KYC. It's typically only in the event of suspicious behaviour, but it is something to still be aware is possible.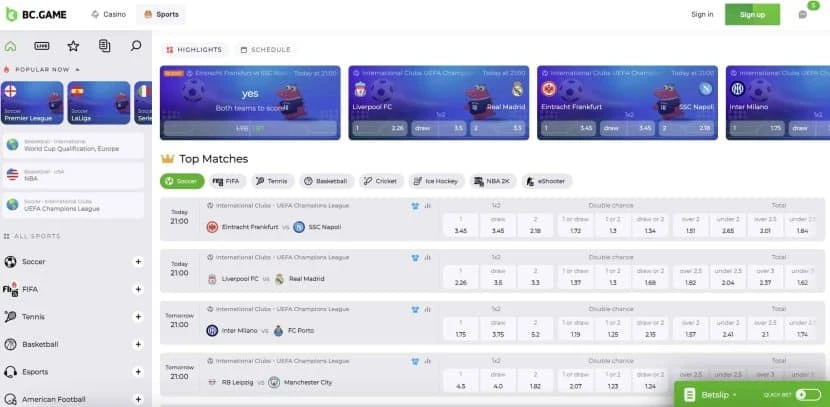 | | | | |
| --- | --- | --- | --- |
| Crypto Bonus | Wagering Requirement | Minimum Deposit | Available Currencies |
| Daily wheel spin up to 1 BTC | N/A | $10 | 14 |
Pros
Up to 1 BTC available daily on the bonus wheel
Daily bonus has no wagering requirements
Players have an excellent choice of cryptos
Fantastic sports betting markets available
Cons
No promotions specific to sports betting
2. 888Starz – Best for Sports Bonus Wagering
The welcome bonus at 888Starz is a 100% matched bonus up to $150. However, what makes it impressive is the low wagering. Bettors only have to wager 5x the bonus amount, which makes it more achievable than many other promotions. Bettors also have an excellent mobile app available, which is accessible for both Android and iOS players. It ensures the vast majority of the market can enjoy 888Starz on mobile.
In addition to the bonus options, 888Starz has some superb sports betting selections. Plenty of sports are available, with a wide range of markets for each event. It allows bettors the flexibility to find the most suitable bet.
There is a KYC policy at 888Starz, however, it doesn't enforce it constantly. Bettors can avoid a KYC as long as their behaviour isn't suspicious. It means there's no guarantee of anonymous play, but a KYC check isn't certain.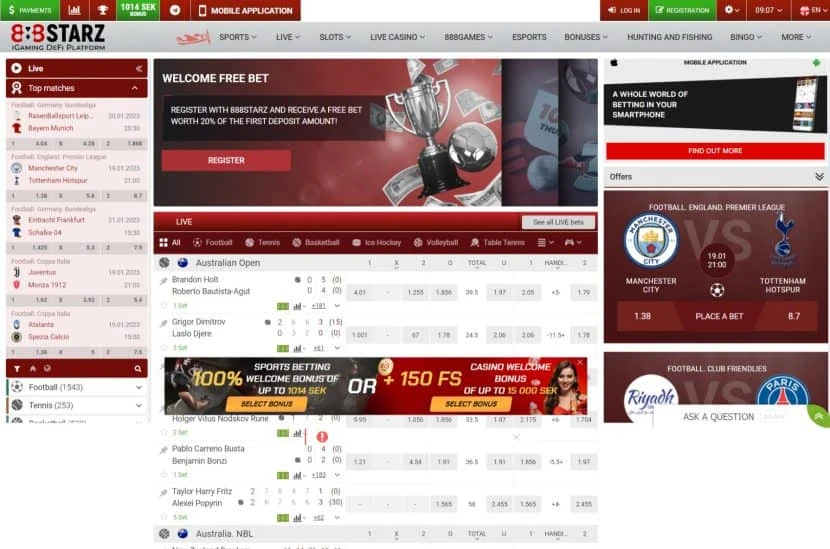 | | | | |
| --- | --- | --- | --- |
| Crypto Bonus | Wagering Requirement | Minimum Deposit | Available Currencies |
| 100% up to $150 | 5x | 0.0000001 BTC | 9 |
Pros
App is available for both Android and iOS
Sports welcome bonus has low wagering requirements
A 100% matched sports betting bonus is available
Low crypto minimum deposit
Cons
There's a lot of room for improvement with the live chat
3. Sportsbet.io – Best for Live Betting
Sportsbet.io is a crypto betting site focusing on sports betting. While it offers some casino games, sports are where it expends most of its energy. As a result, it's not a surprise to see fantastic sports and betting markets available here. Bettors can enjoy some of the top sports and best markets to place bets. Live betting is a big part of its market choice, with an incredible interface to boot. With a fully functional mobile app alongside these options, it makes it an excellent site for crypto sports bettors.
Although it doesn't provide a standard welcome bonus, plenty of regular promotions are still available with Sportsbet.io. It features weekly games, bets boosts and tournaments. Each promotion has a direct link to sports betting, making it more appealing to sports bettors.
Unfortunately, KYC is a requirement with Sportsbet.io. Although bettors can sign up without completing the process, it does reserve the right to ask for personal information. Typically it comes into force for large deposits and withdrawals, but it can happen at any time.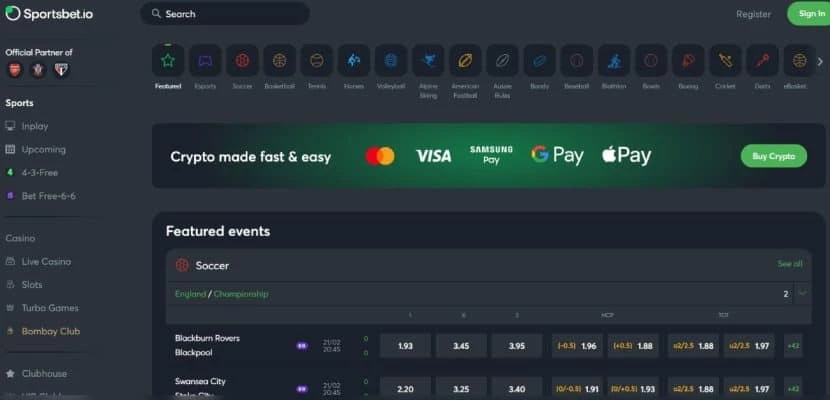 | | | | |
| --- | --- | --- | --- |
| Crypto Bonus | Wagering Requirement | Minimum Deposit | Available Currencies |
| No welcome bonus | N/A | 0.00002 BTC | 6 |
Pros
App available for both Android and iOS bettors
Good choice of sports and live betting
Excellent customer support is available
Superb eSports betting choices
Cons
No welcome bonus available
4. BetOBet – Best for Android Bettors
Android players have access to one of the best mobile apps on the market with BetOBet. It's easy to use, fully optimized and provides fast access to all site areas. It's a superb app with just one minor downfall. It's only available on Android, so iOS bettors must bet using a mobile browser. The welcome bonus at BetOBet is truly excellent, with bettors able to claim up to $100 as a 100% matched bonus. With just 10x wagering, it's an excellent overall welcome package, especially as many sports betting sites ignore crypto sports bettors.
BetOnBet has a solid range of betting options. Bettors can wager on many sports, including eSports, and have access to live betting. It ensures bettors can find the most suitable bet for them with ease. There are also additional promotions, including acca insurance and free bets.
Although bettors don't have to complete KYC to sign up with BetOnBet, the site can still request proof of identity. It means there is no guarantee of anonymity when playing here.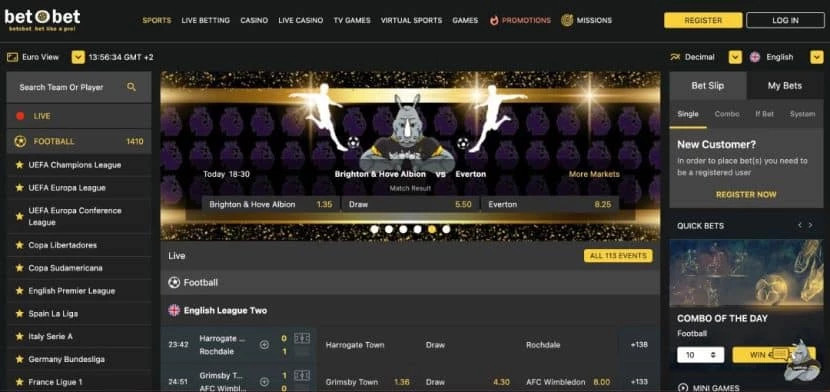 | | | | |
| --- | --- | --- | --- |
| Crypto Bonus | Wagering Requirement | Minimum Deposit | Available Currencies |
| 100% up to $100 | 10x | $10 | 7 |
Pros
Fantastic mobile app with superb interface
Plenty of regular betting promotions available
A decent selection of cryptocurrencies
Good choice of sports, eSports and live betting
Cons
App only available for Android bettors
5. Coinplay – Best for Cryptocurrency Choice
Coinplay makes it easy for bettors to pick a cryptocurrency. It has a significant selection of cryptos available, making it fantastic for anyone with an extensive portfolio. Of course, it's more than just its crypto selection: bettors also have access to a fantastic mobile betting app. It allows players to play on the go, which is perfect for anyone who enjoys mobile sports betting. The app's wonderful design allows users to navigate the site without frustrations.
Coinplay also features some excellent bonuses and promotions. The welcome bonus is the standout, with 5,000 USDT available on the first deposit and then three further deposit bonuses. There is a minor downside, as the wagering is 40x, which is quite significant.
The KYC policy is a grey area as bettors don't have to complete it on creation of an account. However, there is always a possibility of Coinplay requesting KYC, as it states in its terms and conditions it reserves the right to ask for proof of identity at any time.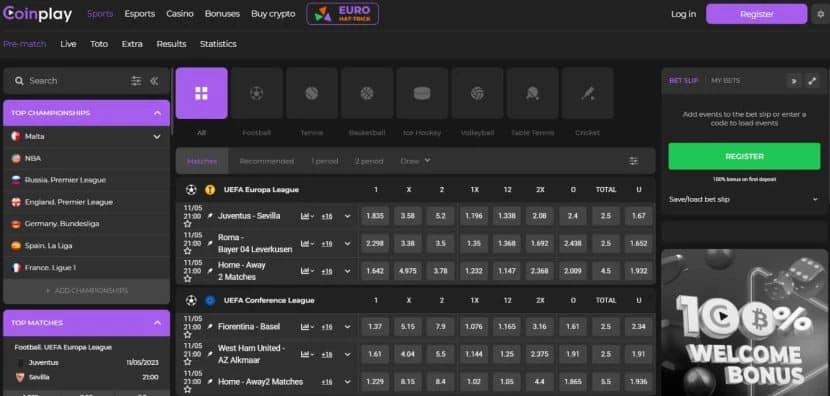 | | | | |
| --- | --- | --- | --- |
| Crypto Bonus | Wagering Requirement | Minimum Deposit | Available Currencies |
| 100% up to 5,000 USDT | 40x | 0.001 BTC | 22 |
Pros
Excellent welcome bonus
Superb choice of cryptocurrencies
Plenty of additional promotions
Fantastic eSports betting options
Cons
Doesn't allow fiat currencies at all
Mobile Sportsbooks Basics
Bettors who play at crypto sportsbooks will most likely be aware of mobile sportsbooks. However, for beginners without experience with a mobile betting site, our guide makes it easy to understand what's on offer. So stick with us to become a mobile betting expert!
What is a mobile sportsbook app?
A mobile sportsbook app is an application users install on their mobile devices. It's typically a smartphone, but a tablet can also be used. The app allows users to access the crypto sportsbook directly through their mobile devices, meaning users don't have to go through a third party, such as a mobile browser, to log into their crypto account.
What can a user do with/on a mobile sportsbook app?
It depends on the apps. However, most users can access every feature of their chosen sportsbook. So, if live betting or streaming is available, the app will facilitate this. Mobile apps tend to have higher optimization levels than mobile browser sites. The reasoning behind this is the app is developed exclusively for the sportsbook, whereas the development of a browser focuses on running multiple different pages.
The obvious answer is bettors can access their sports betting accounts and place bets. But the truth is a mobile betting app provides a complete mobile experience for crypto sports bettors.
How does a Mobile Sportsbook App Differ from a Web-Based Sportsbook?
The installation process is the most prevalent difference between a mobile sportsbook app and a web-based sportsbook. To use a mobile sportsbook app, bettors must install a program on their mobile device. When using a web-based sportsbook, bettors can access the site through their mobile browser. However, looking deeper into what each option offers players, there are far more significant differences than just an installation process.
Firstly, the accessibility of each option has both positives and negatives. While it's much easier to get up and running with a web-based sportsbook, an app provides better accessibility once the app is in place. In addition, because it's optimized, the app will load much faster and is simpler to use than the mobile browser. This is because it is explicitly developed for the sportsbook, so each section is tailor-made to handle the sportsbook features. The superior overall accessibility also ties into the user experience. While web-based sportsbooks still provide a good service, the app allows for minor improvements which may not be possible in a browser. An example is streaming: the app can offer a superior streaming service because the development can focus purely on it, whereas with a mobile browser app, it's a service available through the browser, so it isn't as well polished.
The overall functionality of the sportsbook is also better through the app. But, again, it's because it is developed purely to offer access to the betting site. So, it can focus on specific aspects which aren't possible with a mobile browser.
Pros and Cons
Pros
The mobile app provides a faster experience due to its higher levels of optimization
When using the app, bettors have a smoother interface with superior response times
The app can provide access to more features due to its development having a specific focus
Cons
Bettors have to install the app to their device to use it
Get Started with the Best Sports Betting Apps
Bettors should be aware these steps are purely for creating an account with a mobile app. Players can create an account outside of the app and then download and use the app at a later date if they so wish.
Use our toplist to find the most suitable sports betting site with a mobile app
Follow the in-app instructions to create an account
Enter the details the sportsbook requests to sign up
If KYC is in place, provide the documents the sportsbook requires to confirm the player's identity
Deposit to the site using the account page and a crypto wallet
Choose a suitable bet, set a stake and start playing
Bettors can wager on all bets the sportsbook usually provides. So, moneyline bets, outrights, futures, live betting, and parlays are all available with a mobile app. Gamblers won't miss any features when using a mobile sports betting app.
How to Download and Install Mobile Sportsbooks
Many bettors aren't fully aware of how they can install mobile apps on their devices. With iOS and Android options available at most crypto betting sites featuring mobile apps, it allows most of the market access to available apps. After finding an appropriate crypto mobile site, bettors must learn how to download and install the apps to their devices.
Downloading mobile sportsbook apps on iOS
iOS works slightly differently from Android. It's not entirely as free, so installing an app can be more challenging. However, most crypto sportsbooks make it simple for bettors to find their desired app. On the mobile browser page for each site, there will be a link to the App Store. Bettors can click the link and be taken directly to the download page.
This will open the App Store and start the download process. It will instantly install and provide simple instructions to bettors. Some links will work as a direct download but are scarce on iOS devices. Bettors should never install an app unless it's directly from the betting site or is an official app available through the App Store. Installing from third parties can lead to security issues.
Downloading mobile sportsbook apps on Android
It's more simple on Android. Bettors can download the app through the Play Store or the sportsbook. Each option will take bettors through the process, with instructions at each stage. Similar to iOS, bettors shouldn't download an app unless it is directly from the site. Third-party apps don't guarantee safety and security, so bettors should ensure they only download from official sources.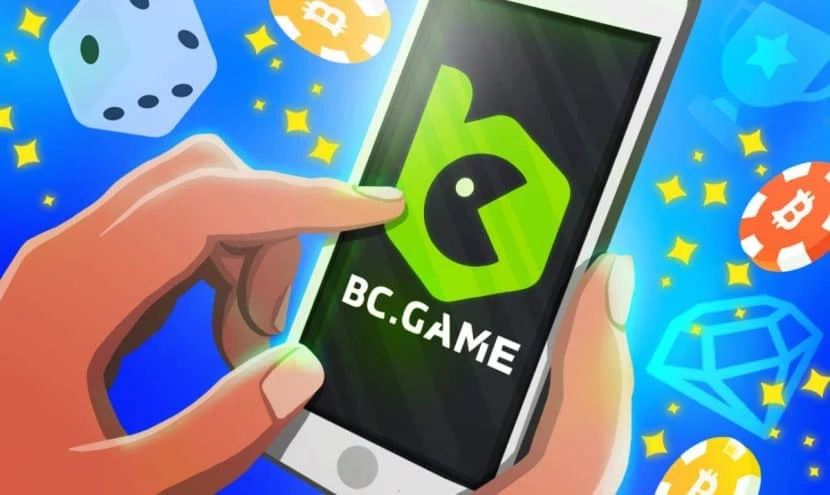 What to Look for in Sports Betting Apps
There are many different factors bettors must take into account when selecting a sports betting app. With each app offering a different set of features, finding the most suitable app can be difficult. However, we've compiled a list of the most vital factors players must consider. With this list, bettors can understand precisely what to look for when choosing their mobile crypto betting app.
Accepting Cryptocurrencies
For crypto bettors, this is the most vital factor. If the app doesn't allow crypto payments, what's the point? Players should always check to ensure cryptocurrencies are available before creating an account. Additionally, crypto players should also ensure their chosen crypto is available. If it's not in place, it means bettors cannot start playing without making exchanges.
Mobile Speed
Fast access to a mobile app is vital for sports bettors. It becomes particularly relevant regarding in-play betting. If bettors can't access the market page swiftly, they may miss out on their chosen bets. But, of course, it's not just for fans of live betting. It will become unusable if the app doesn't respond quickly to commands. It's also critical to check if the device works well on older devices. An older device may struggle to operate the app efficiently, hindering the betting process, even though it's not the app's fault.
Welcome Offers
Claiming welcome offers is a massive part of online casinos. Crypto casinos are no different, but not all apps allow bettors to access their sportsbook welcome offers. As a result, it's critical to ensure the app offers complete access to a site's welcome bonuses. Of course, not all bettors care about claiming a welcome bonus, but for players who want it, it's vital to ensure it's available.
Promotions
The promotions at a crypto casino come under a similar umbrella to the welcome offers. However, it's slightly different in terms of what it provides. The reload bonuses will be essentially the same as the welcome offers, but the VIP scheme may work differently. Not all apps allow bettors to enter the VIP scheme, so bettors who want rewards for their loyalty must ensure it's part of the app.
Wide Sports Selection
A wide sports selection is one of the most critical aspects of a crypto sports betting app. Even bettors who only intend to bet on a single sport having access to multiple sports is vital. Although many sports bettors focus on a singular sport, the ability to make a change when the time is right is imperative. Therefore, a wide selection of sports is necessary, whether due to a bad streak or just the desire for something different.
Competitive Betting Odds
Without competitive betting odds, making a profit is challenging. So, bettors have to search for the best odds to increase their chances of success. Of course, some sites will provide odds boosts on specific promotions, which can improve the quality of the odds. So, bettors should consider them when determining which odds are the best.
App Interface
Being able to navigate around the app simply is critical for bettors. Who would want controls akin to a nuclear submarine just to place a bet? Check the app interface before signing up by looking at a friend's app or reading reviews. Then it will make it easier to decide if the app provides a user-friendly experience.
Flexible Payment Options
Accessing cryptocurrency is vital for bettors, but flexibility is also critical. For example, some bettors may want to be able to use fiat payments on occasion, in those situations, flexible payment options are essential. Or, for pure crypto players, having the opportunity to make payouts with different cryptos may also be a requirement. Therefore, bettors should check on the available options before downloading the app.
Apps Security & Support
It should go without saying, but security and support are vital. If the app isn't safe, player data isn't safe. On top of that, with poor quality support, bettors can't get a resolution for any issues. So ensuring they are both high quality will help protect players.
Bonuses on Mobile Sports Betting Apps
Bonuses are a critical aspect of playing on a mobile betting app. Crypto players can boost their bankroll and approach sporting events with a clear strategy when using a bonus. They can help to enhance a betting experience, but there are some aspects bettors must be clear about when claiming them.
Bonus Options
Bettors can claim different forms of bonuses when playing on crypto betting apps. Each bonus has specific factors, making it more or less desirable for individual players.
Sign-Up Bonuses
A sign-up bonus is available when players first sign up to a site. It offers the ability to add an instant boost to a bankroll. These tend to be the largest bonuses sites provide, although they can sometimes offer various perks.
Deposit Bonuses
Also known as reload bonuses, these provide bettors with additional funds when making further deposits. Although not relevant to sportsbooks, these can also offer free spins to players who enjoy casino games.
Free Bets
The most common bonus for sportsbook bettors. Free bets are available for a variety of reasons, such as regular promotions, as a deposit bonus, and as part of parlay insurance. Bettors can claim free bets through many different sportsbooks and create additional funds for successful bettors.
Terms and Conditions
The T&Cs for bonuses are a critical aspect. If they're unfair, they can make bonuses pointless to claim. In addition, bettors must consider the wagering requirements, how long bettors have to complete wagering, and who can claim a bonus. All of these aspects can impact how positive a bonus is.
As a result, bettors should always check the terms before claiming a bonus.
The Benefits of Using Crypto
Bettors have many benefits when choosing to use crypto over fiat currency. But unfortunately, not everyone knows the benefits, so it's essential to understand the reasons for selecting the crypto revolution.
Fiat Value is Diminishing
The value of fiat is consistently diminishing. Not just in material terms but relating to what it offers consumers. Bettors can get more out of using crypto than they can out of using fiat currency. With the material value of fiat also falling, there's a lot less available to bettors in the long term when using fiat.
Higher Privacy
Cryptocurrency has much higher levels of privacy. Even if a crypto betting site has KYC requirements, crypto still allows bettors to retain financial privacy. So, banks can't track what players do with their funds, even if the crypto sportsbook knows who they are.
Fewer Geographical Restrictions
Many crypto sportsbooks have restrictions on where bettors can play. Playing with crypto allows bettors to remove these restrictions, as there are no location tags on crypto payments. Additionally, overseas transfer costs can make playing in certain jurisdictions unfeasible. Crypto eliminates this issue as gas fees are much lower than foreign transfers.
Rapid Payouts and Higher Limits
Crypto payouts are significantly faster than fiat payouts. Even the slowest crypto payout has a completion time much lower than the quickest fiat payout. So, bettors have access to their funds much sooner. Additionally, there are higher limits for crypto transactions, so bettors can make higher deposits and withdrawals.
Financial Independence
Bettors aren't beholden to banks or governments when using crypto. As a result, crypto provides a greater degree of financial independence to players. In addition, it makes it a much more palatable payment method, especially in areas under stringent government regulations.
Low Fees
The fees for transfers are a lot lower with crypto than fiat. As a result, bettors can keep far more of their winnings when making a withdrawal. If bettors run with a fine profit margin, it increases the possibility of success.
Better Bonuses
Crypto bonuses provide significantly higher payouts to players. With some bonuses as high as 7 BTC, no fiat bonus can compete with this. Even high-roller bonuses pale in comparison to the biggest crypto bonuses.
The Drawbacks of using Crypto
Crypto isn't perfect. It has its drawbacks which can provide issues for players. Although the benefits outweigh the weaknesses, in our opinion, it's still vital to cover all aspects of crypto, even if they're slightly negative.
Lack of Regulation
Crypto doesn't have regulations in the same fashion as other payment methods. Although this facilitates some of the benefits of crypto, such as higher levels of privacy, it also brings some negatives. Bettors don't have as much protection, and there is a greater risk of unscrupulous operators. However, as long as bettors stick to trustworthy sites, such as the ones we recommend, it somewhat reduces the risk.
No Chargebacks
Crypto payments are forever. So, bettors can't carry out a chargeback if they're unhappy with a transaction. However, it provides slightly more risk to bettors, as chargebacks can be an essential protection method against poor quality service.
Volatility
Crypto is highly volatile. It means bettors can make losses if the value of crypto falls, even if they've managed to increase their holding through successful bets. As a result, bettors have to be sensible when timing their buying and selling. However, crypto volatility can also lead to increases in value, even if a player has lost some of their crypto. So, it can be a positive as well as a negative.
Types of Bets and Wagering Options on Sports Betting Apps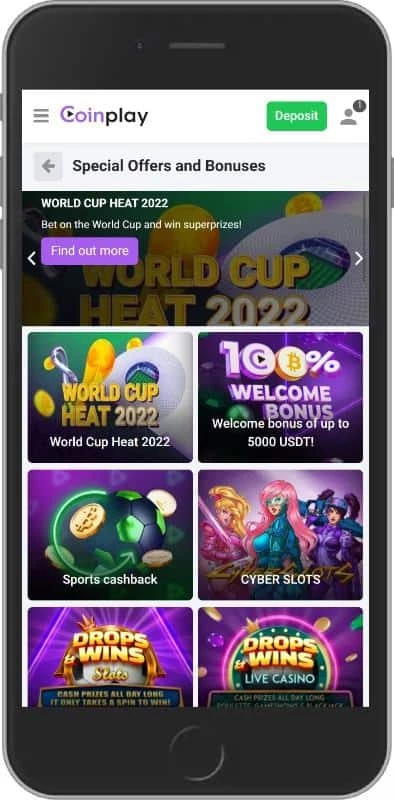 Knowing which bets are available can be difficult for bettors. However, our guide makes it simple for bettors to understand what each betting selection means and some additional bonus details.
Moneyline
The moneyline is the most common bet players will see. It's a bet on the outcome of a single game. It allows bettors to bet on the winner or loser, or if it will be a tie depending on the sport.
Point Spread
The point spread is also known as a handicap bet. It's when bettors wager on the outcome of an event but place a handicap on one of the teams. Bettors can choose the favorite or the underdog, with a positive handicap on the underdog and a negative handicap on the favorite. An example might look like this:
Favorite -2.5
Underdog +2.5
So, a bet on the favorite would take 2.5 points away from their final total. The bet would win if they still had enough points to win the game after this. Betting on the underdog carries out the same process but adds 2.5 points to their total.
Over/Under (Totals)
An over/under bet is a wager on different stats within the game. So, a bet on a soccer game could see bettors wagering on if there will be over 2.5 corners in each half. An over/under bet can relate to almost any stat within a game, so bettors have many options.
Parlays
A parlay is a wager on multiple bets in a single collection. It is appealing because it combines the odds of each bet to provide a higher total payout. However, it also means each bet has to win, or the parlay will lose. So, with higher risk comes higher rewards. Bettors can mitigate the risk slightly by creating every possible combination, like in a Heinz bet, but it will increase the cost.
Teasers
Teaser bets are most often available on football. It works similarly to a point spread bet but decreases the spread. So, instead of a -4.5 handicap, it might be -2.5. However, it will also reduce the odds. As a result, it has a lower risk and a lower reward.
Proposition Bets
A prop bet is similar to a bet on the over/under market. It allows bettors to wager on any individual part of a sporting event.
Derivatives
A derivative wager comes from other odds in a game. So, bettors may wager on the points spread for the second half. The sportsbook will compile the wager's odds using the odds for the whole game. So, a derivative bet will come from a prop bet which takes a cue from the entire event's odds.
Futures
Futures bets are wagers for an event which is going to happen in the future, which makes sense due to the name. A futures bet could be the winner of the Stanley Cup or NBA playoffs. Some sportsbooks call futures bets outrights.
Calculating Odds
Sportsbooks calculate odds using the probability of an event taking place. It will decide which outcomes are most likely, using all available stats, and then provide odds on each outcome. The odds will have a house edge built-in, allowing the sportsbook to give each option while making a profit.
Placing Bets
Bettors can easily place each bet using their sportsbook app. Each bet will be available on the betting page of the app. Once bettors have chosen their bet, they must set a stake and click the submit button. It will then ask bettors to confirm they want to place the bet. After selecting yes, bettors can then place their bet.
Tips and Strategies for Maximizing the Potential of Sports Betting Apps
Bettors can use many strategies to increase their chances of success with a sports betting app. With our guide, it becomes simpler for bettors to approach betting strategically.
Set a Budget
Bettors should always set a budget. It allows bettors to maintain control over betting at all times. There are two ways to set a budget. Firstly, bettors can set their budget using tools within the app. If the tools are available, they should be able to set deposit, withdrawal, and stake limits. Secondly, players can set their budget by only depositing a certain amount if the tools aren't available.
A budget is vital to ensure users can control their finances when betting.
Research Stats and Data
Stats and data are critical aspects of gaining betting success. Past results and player form help to provide a statistical analysis, which can lead bettors to the most likely outcome. While it doesn't guarantee a winning bet, it will ensure players can find the best value. Using research is an excellent way to increase the chances of making a profit.
Track Past Betting Performance
Keeping tabs on previous wagers is an excellent way to hone in on successful strategies. Just like analysing the data behind sporting events, the data behind betting performance allows bettors to see which areas they are best at. From there, they can remove the less successful strategies and focus on the aspects with the highest chances of profit.
Use a Betting Strategy
A betting strategy is an excellent method of controlling betting. It allows players to create a format they follow to increase their chances of success. Managing a bankroll and finding good-value areas are two examples of how a strategy can work. Like all other tips, it doesn't guarantee success, but it can increase the chances of it.
Separate your Passion from your Betting
Bettors should remove passion from their betting. To be a success, it has to be an emotionless process. It mainly means two things. Firstly, bettors should attempt to avoid betting on their favorite team. It can lead to poor choices, as most people see their team through rose-tinted spectacles. Secondly, gamblers should avoid getting angry when they have a poor run of form. Becoming annoyed can lead to poor choices, especially if trying to chase any previous losses. Passion can often cloud judgement, so removing it from all betting activity is better.
Don't Chase Losses
In the previous tip, we mentioned chasing losses slightly, but it's worth covering in more detail. Chasing losses causes bettors to make poor decisions as they attempt to make bigger bets to cover bets which went wrong before. However, chasing losses leads to more significant risks, which can cause even more considerable losses. Therefore, players should retain their composure and stick to their strategy.
Conclusion
Sports betting apps provide bettors with a fantastic opportunity to bet on the go. However, with mobile play becoming more popular, it's essential to have quality access to sportsbooks. While some tremendous mobile browser sites are available, mobile apps provide a higher level of service. Bettors should use our guide to find the best sites and discover precisely what's available through them.
After finding the most suitable site, bettors can begin playing. But it's essential to gamble responsibly. Set a budget and stick to it when betting with a crypto betting app. This allows bettors to enjoy sports betting without risking their financial stability.
With our toplist, bettors can easily find the best crypto sports betting apps. In addition, a trustworthy crypto betting site ensures higher levels of security, which ensures bettors only have to deal with the risks associated with betting.
As long as the app is from a trustworthy source, the app is safe and legal to use. As a result, bettors should only download apps from legitimate sources, such as the official website or app store.
All types of sports are available through sports betting apps, from mainstream options such as football, basketball, and soccer to niche sports such as sailing and volleyball. As a result, bettors have access to more sports than ever, making it an excellent way to bet on sports.
Odds work in the same manner as they do on a regular sportsbook. The site weighs up the probability of an event occurring and then calculates the odds. Sports betting apps don't provide different odds to the main sportsbook, so bettors will have the same odds no matter where they bet.
It depends on the app. Some apps will have fees, but only if the sportsbook has fees. Most apps operate without fees, but bettors should check the terms and conditions before signing up.
Withdrawing fees is a simple enough task. Bettors must navigate to their account page, enter the amount they want to remove, and then enter their wallet address. Players must then click the confirm button and wait for the withdrawal to complete. Most sites will process withdrawals instantly, but some will add on processing times.
Each app will vary in what it allows, but most sites operate outside of their license. For example, sites with a Curaçao license are available outside of Curacao. So, bettors must check the terms and conditions to see where they can use the sports betting app.