We don't recommend this operator
Anonibet sportsbook review

Anonibet is the oldest crypto sportsbook still around today.
Anonibet has been providing service pretty much incident free since 2012, and they also added a decent casino a few years ago.
User experience
Anonibet's design and layout are modern, fresh and sharp. On a desktop, it is easy to find what you are looking for and do what you want to do.
The bet slip is a bit crowded and confusing because when you are making 1 single bet it gives you all these options and fields and checkboxes that you can only use if you are making multiple bets. These should not be there until you add more than 1 bet to the betslip, at that time they are useful, and before then they are confusing.
It's bad that in the Anonibet casino everything is denominated in USDs. It's also bad that you have separate wallets for the sportsbook and casino and have to send your money back and forth. On mobile, this was not clear and we were confused when all the casino games told us we had insufficient funds when we knew our balance was big enough.
Also, on mobile, it's harder to navigate to what you are looking for. In Safari on iPhone, the bottom part of the bet slip is not accessible making it impossible to get a bet (pictured below)!
Odds
50:50 equivalent: 1.92
The odds are about average or a bit worse than average.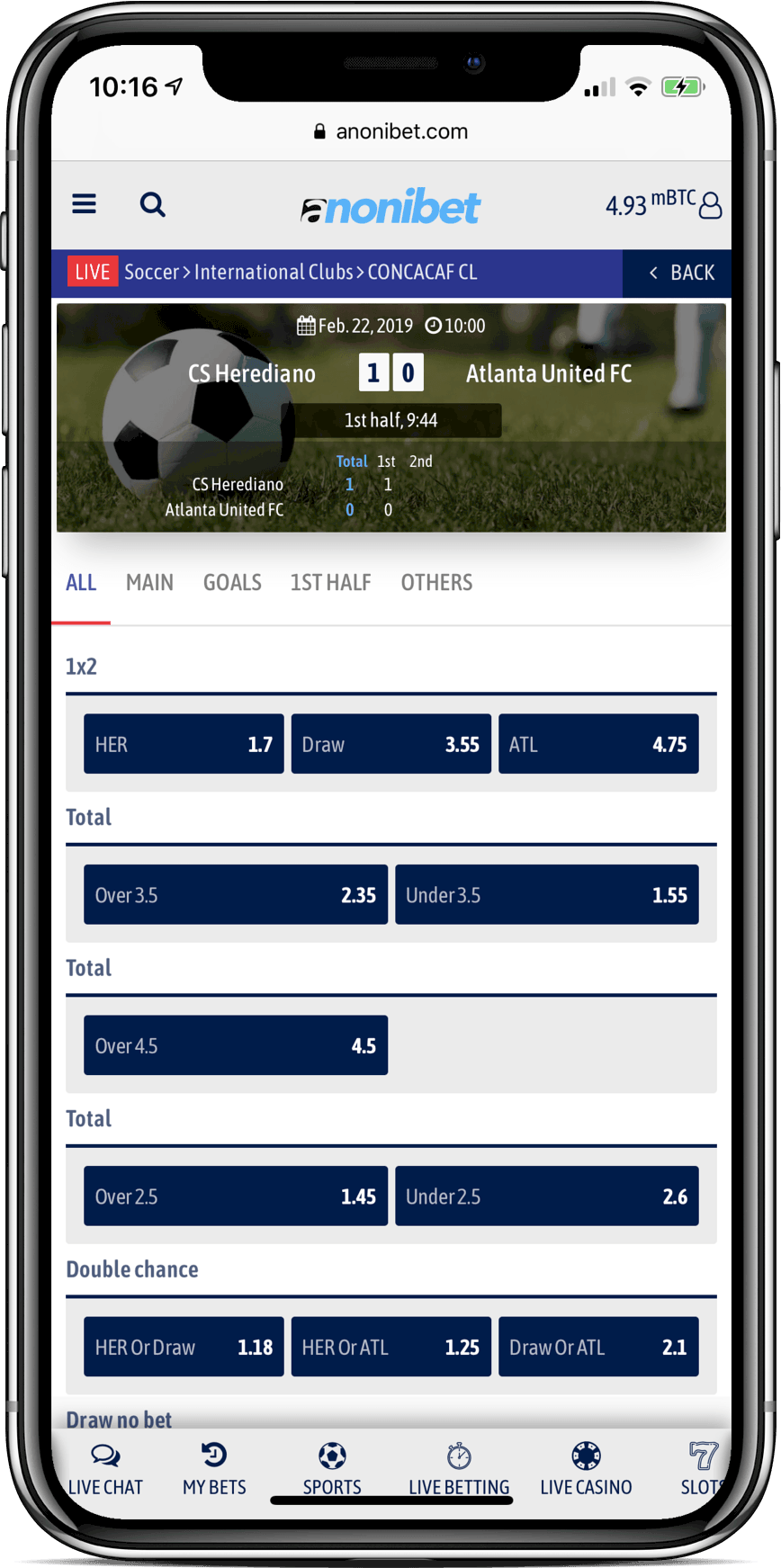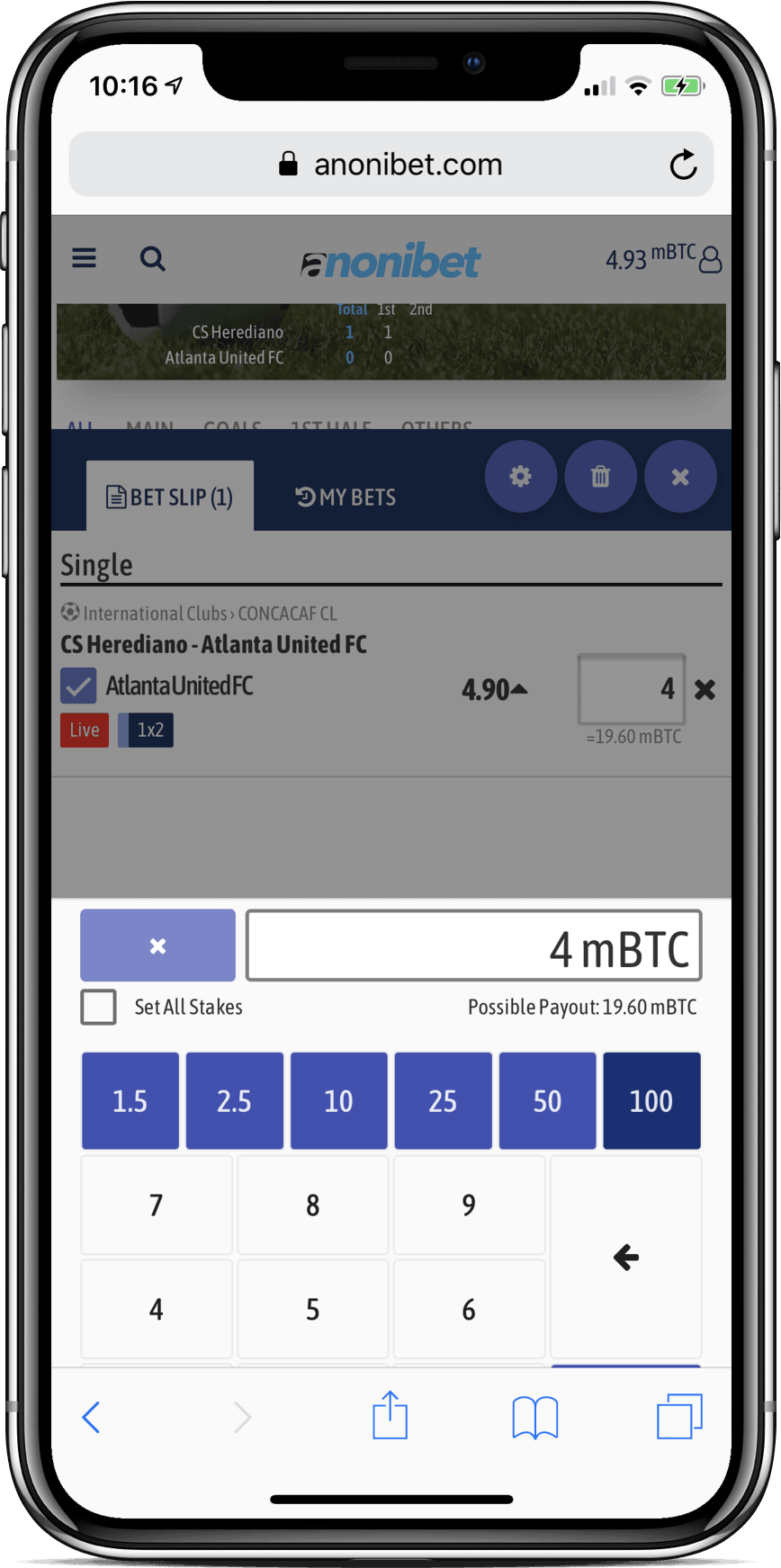 Range of bets
Range of sports, leagues and events: Huge, you can even bet on womens beach volleyball which is always worth watching 😉
Range of bet types per event: There is a large range of different bet types per game, more than you need.
Live betting
Anonibet has an excellent, comprehensive live betting offering. There is a huge range of games from several sports available all with live score and game clock. Getting a bet on works reliably the same as pre-live betting, you don't get bugs with odds changes or bets switching from available to unavailable.
Transactions
Unique deposit addresses: Available.
Confirmations before bet: 1.
Withdrawal time: 3 hours.
Player to player transfer: Not available.
Anonibet has some bizarre deposit practices. They do not give you the deposit address on their website, rather they email it to you (pictured below). Check out these rules

Why on earth would a deposit address have limited validity and why on earth would users lose money deposited to previous addresses?
I have never heard of practices like these on any other crypto betting sites or any crypto service of any type. Something is up here that we don't have an explanation for. There are 3 possible explanations I can think of, from least likely to most likely.
Anonibet wants to profit by taking deposits made after an address's limited validity time.
Anonibet does not handle the funds themselves at all, they have some 3rd party managing all transactions who gave them these strange requirements.
The most likely explanation is that Anonibet does all this based on legal advice they received in order to reduce their legal risk in some jurisdictions.
Customer service
Customer service channels available: There is a live chat and on site contact form, but both are unresponsive!
Speed of replies: Live chat is not always responsive and emails can take a few days to be replied to, if at all.
Accuracy of replies: Good if they reply, its a small team of staff so they know their stuff. Unfortunately they often don't reply at all.
Privacy and security
Information required at signup: Email address.
2 factor authentication: Available.
Bonuses
500% first deposit bonus up to 5000 m฿ paid out incrementally depending on your bets. 10% loss back on some European football leagues, live dealer casino and blackjack games.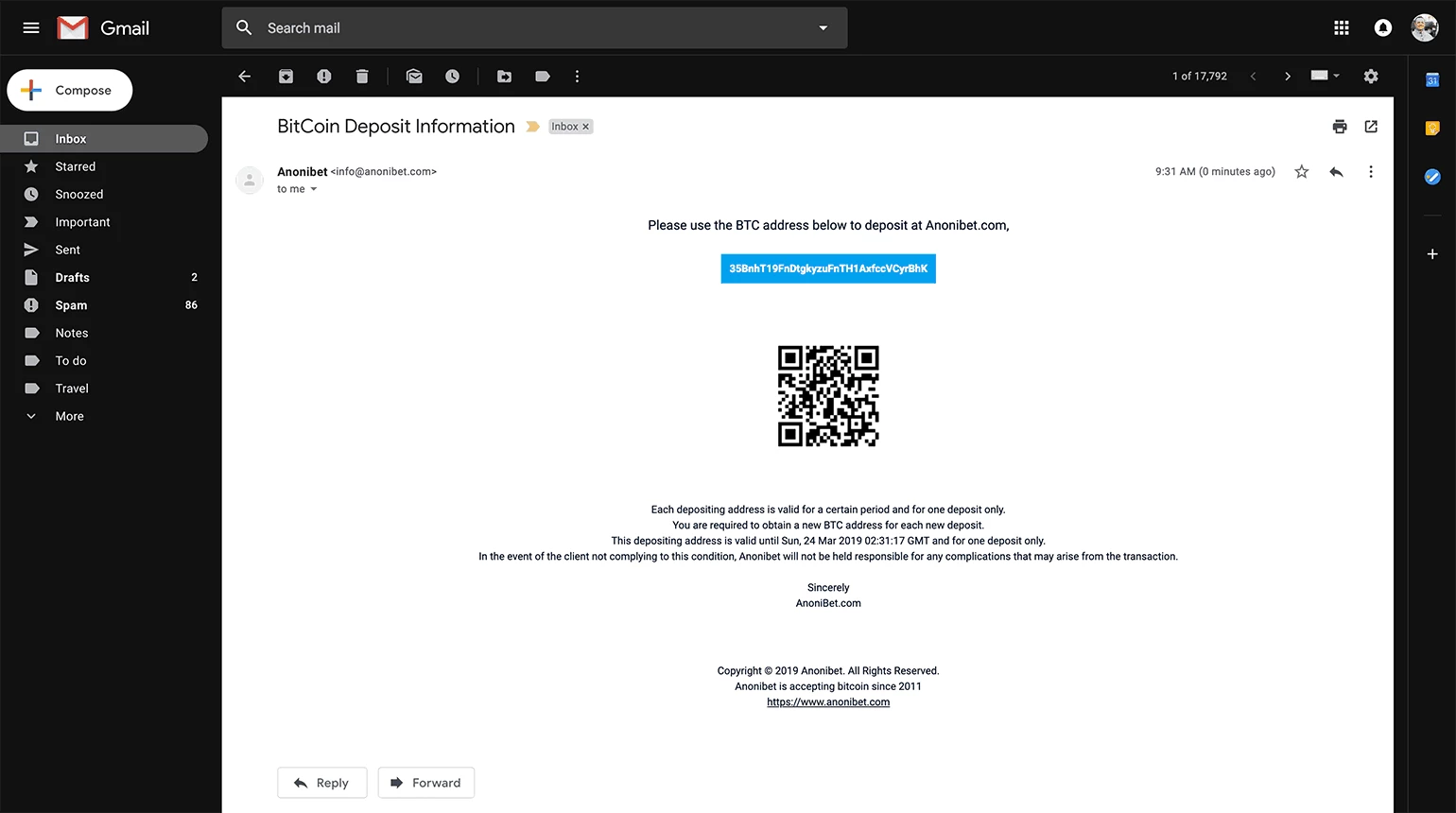 Overall
Anonibet have great live betting and are good to bet with on desktop. However the experience on mobile leaves a lot to be desired, they have weird deposit rules and the odds are just okay.
They are also slow to processes withdrawls and respond to customer service contacts.
More by Will Wood

I first started writing professionally in 2015. I initially wrote science fiction novels and historical non-fiction books about British spies.