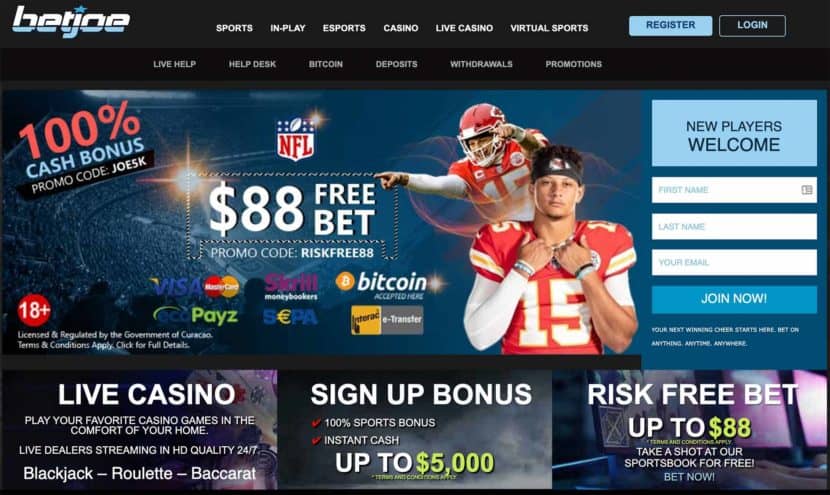 Cons
Low max bet
Poor odds
Slow customer service
Slow withdrawals
Privacy and security
6/10
Established
2017
Min bet
0.07 m฿
Currencies

:
BTC
ETH
LTC
The first impression of BetJOE is how similar it is to Nitrogen and Buff.bet.
When using BetJOE, there are more negatives than positives. However, the experience is still fun in spite of slow withdrawals and customer service responses.
They also offer fiat betting, which you can choose to use upon signing up. Despite offering fiat betting, BetJOE does offer an end-to-end crypto sportsbook. They also offer a casino review.
User experience
BetJOE's site is easy to navigate, although not the most aesthetically pleasing crypto sportsbook. Everything is where you'd expect and the betslip works well.
There are a few bugs, for example we weren't able to view any sports markets at all and were shown the following error message instead: "Cannot display component. Please refresh the page" splashed across the whole screen. Refreshing the page did not change this, but it cleared when we logged in again later.
Odds
Sportsbook's overround: 6.95%
50:50 equivalent: 1.87
The odds are pretty poor. Soccer's overround is between 5% and 6%. Tennis and more minor sports trade with a 7-8% edge. There are better odds available if you shop around.
Range of bets
Range of sports, leagues and events: Medium. Notably they're missing cricket and don't have many minor sports.
Range of bet types per event: Pretty good, 60-80 markets for major soccer matches. A smaller range on esports than other sportsbooks.
Live betting
Placing live bets takes a little longer than some crypto sportsbooks, meaning it's more likely your bet will be rejected as the price changes. Games are rarely suspended for long periods without a valid reason.
Display-wise, BetJOE show a virtual pitch giving information on dangerous attacks and main stats for major sports. Minor sports have a more basic setup with stats just listed numerically rather than in a high-quality graphic. Streams are integrated where possible, especially on esports where you can watch most matches.
There's no cashout feature, making BetJOE's in-play betting basic, but enjoyable nevertheless.
Transactions
Unique deposit addresses: Not available.
Confirmations before bet: 1.
Withdrawal time: 36 hours.
Player to player transfer: Not available.
Minimum withdrawal of $15.
Customer service
Customer service channels available: BetJOE have a "live help" section - but it isn't really live. You have to fill out a form and submit your question. They then get back to you via email when they can.
Speed of replies: 12 - 24 hours.
Accuracy of replies: Average. It feels as though they are copying and pasting answers, rather than actually addressing the issue raised.
Real life customer service test
Question: Hi, what are my options for my first deposit bonus? Also, if I claim it do I have to turnover my initial deposit a number of times?
Answer
:
BetJOE would love to give you BONUS on your future deposits with our current promotions. You can access our menu of current promotions at: https://www.betjoe.com/promotions/

If you claim a BetJOE Promotion, you would have to meet certain requirements. Each BetJOE offer is is unique and has different requirements, you can find the full details by selecting "Full Details" under the promotion of your choice.

You can find more details for rollovers at: https://www.betjoe.com/help/what-is-a-rollover/
Notes: This feels like a stock answer they send back to any question about first deposits and turnovers. They don't directly answer my question, instead they link back to site which is frustrating.
Privacy and security
Information required at signup: Email address and country.
2 factor authentication: Not available.
Despite asking for a country on sign up, verification documents were not requested.
Geo-targeting
BetJOE does not block any bettors based on country, just like it should be!
Bonuses
BetJOE offer two bonus options for first deposits:
100% cash bonus up to $5000. Use promo code JOE5K (12x rollover).
Free bet up to $88. Use promo code RISKFREE88 (8x rollover).
They also have a 50% reload bonus which you can claim by entering the code 50RELOAD (8x rollover).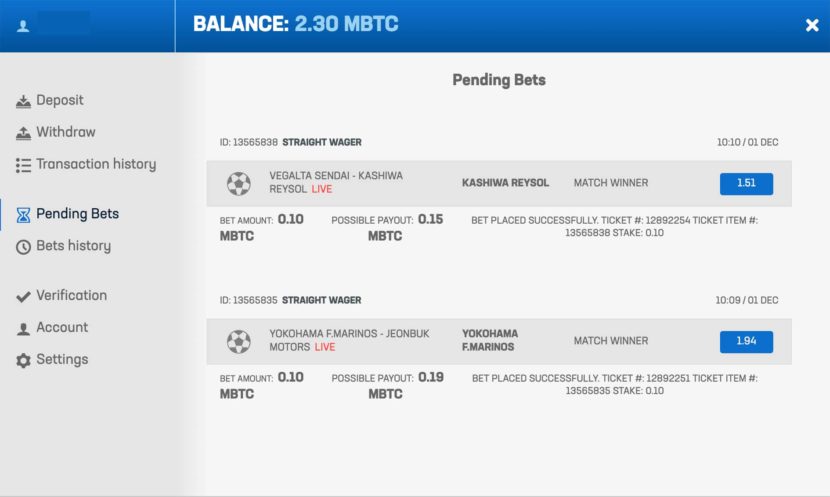 Overall
BetJOE provides a decent betting experience. Its dedicated esports section is good and will draw in esports punters. Sports-wise everything generally works and is fun to play, but there's not too much depth. In-play stats are good but not great. The user experience is good but not great. The odds aren't very good and neither is the customer service.
More sportsbook reviews