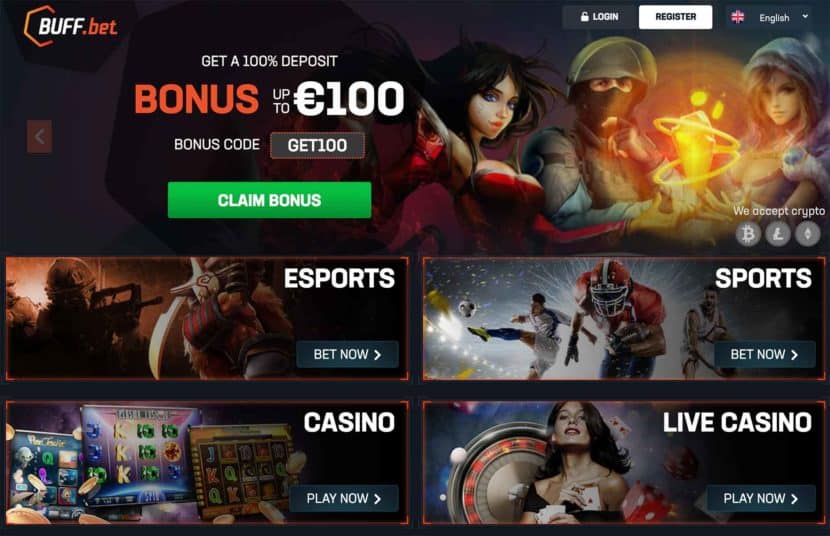 Pros
Good range of sports and leagues
Good odds
Esports specialists
Cons
2x turnover on deposits
Low max bet
Clunky website
Privacy and security
6/10
Buff.bet are a fiat first sportsbook that also have end-to-end crypto accounts.
They offer a solid, yet unspectacular sports betting experience. Everything works and we had no real issues, however you will find better crypto sportsbooks available.
A specialist in esports betting, Buff.bet offers a large range of markets and leagues. The offer the familiar range (CS:GO, DOTA, League of Legends etc.) as well as a nice selection of sports games such as FIFA and Rocket League.
They also offer a casino (review) linked to the same balance as the sportsbook.
User experience
Buff.bet's website is okay. It's not particularly difficult to find a certain match or league you're looking for, however it feels clunky and sometimes slow.
The betslip is functional and shows all the information you would want. However, like the website, it feels sluggish and messy with little interactivity.
All account information and previous bets are easy to find and display well. It would be nice to see an overall profit/loss figure though.
Odds
Sportsbook's overround: 4.71%
50:50 equivalent: 1.91
Buff.bet generally operate at just below a 5% edge for major sports, such as soccer and American football – which is strong. This tends to increase to around 7-8% for the minor sports and leagues.
Their esports markets have an edge of around 6-7%.
Range of bets
Range of sports, leagues and events: Huge, including table tennis, esports, futsal and more.
Range of bet types per event: Good, around 80 markets on big soccer matches.
The range of esports betting is one of the biggest we have seen, and really worth checking out if those are the markets you're looking for.
Live betting
Buff.bet's sports live betting could use improvement. Odds were unavailable for long periods and bets take a while to be processed – often meaning the price changes and your bet is cancelled. The stats displayed on each individual match are awkward to use, or not shown at all for smaller matches.
Their esports offering is better, with more markets available and nice stream integration.
Transactions
Unique deposit addresses: Not available.
Confirmations before bet: Instant.
Withdrawal time: Half an hour.
Player to player transfer: Not available.
You are required to turnover any deposit twice before withdrawal becomes available. For example, if you deposit 1 m฿ you would need to bet 2 m฿ before you could take back any of your money. Very few crypto sportsbooks have such harsh rules in place.
Amounts are denominated in Euros, meaning you have to work out how much that is in crypto. For example, minimum withdrawals are €15. This adds an extra layer of hassle for crypto users.
You can also deposit in fiat.
Customer service
Customer service channels available: Live chat.
Speed of replies: Instant.
Accuracy of replies: Not too bad - staff are generally knowledgable. You do tend to get a lot of responses copy and pasted from the site terms. This makes answers quite dry and long winded.
Real life customer service test
Question:
Without any bonus, would I need to roll over my entire deposit before withdrawal?
Answer
:
8.4.6 You agree that prior to requesting a withdrawal of any deposited funds, you should place bets at least cumulatively equal to two times the amount deposited. This rule applies to each individual deposit you make.

This is rule for deposits without bonus activation.
Privacy and security
Information required at signup: Email address and country.
2 factor authentication: Not available.
Buff.bet does suggest identity verification may be required, in line with anti-money laundering rules. This tends to be used for fiat users, but be aware that this could happen to you.
Geo-targeting
Buff.bet does not block any bettors based on country, just like it should be!
Bonuses
Make your first deposit entering the bonus code below and receive:
GET100 – a 100% bonus up to 100 Euro or any other currency equivalent.
GET125 – a 125% bonus up to 125 Euro or any other currency equivalent.
GET150 – a 150% bonus up to 150 Euro or any other currency equivalent.
FREESHOT – a stake refund up to 25 Euro if your first sports/esports bet loses.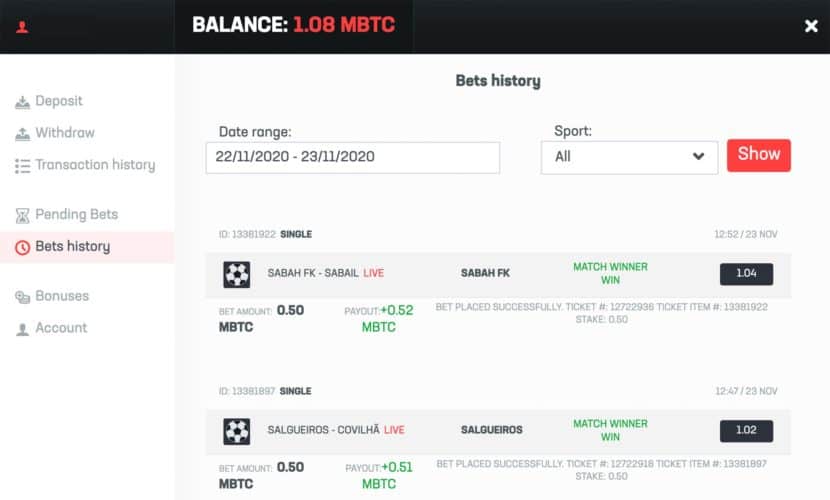 Overall
Buff.bet's sportsbook leaves a lot to be desired. There live betting is disappointing, and having to turnover your deposit 2x before withdrawal becomes available means bettors do have much better options out there.
Having said that, they do pay out quickly on bets and offer a wide range of sports with good odds.
If you are looking for a sportsbook for esports bets, then Buff.bet are a good option as their range of markets and leagues is up there with the best.
More sportsbook reviews