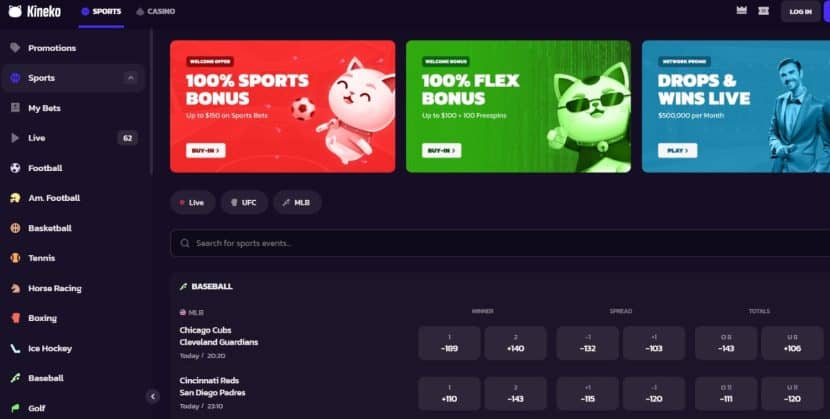 Pros
Multiple crypto payment options
Offers an inbuilt crypto exchange
Competitive odds
Multiple sports betting options
Cons
No 2FA login
Relatively small welcome bonus
Privacy and security
6/10
Currencies

:
BNB
BTC
DOGE
ETH
LTC
SOL
USDC
USDT
Welcome to our Kineko review. Today, we take a look at some of the most important aspects of this cryptocurrency sportsbook, such as the types of wagers available, the odds, the payment options, the rules, and the overall user experience. We also evaluated it in comparison to other prominent players in the industry to see how it stacks up. After reading this assessment of the Kineko operator, you should be able to decide whether or not the bookmaker is suitable for your sports betting needs. Let's get started.
What is Kineko Sportsbook?
Kineko Sportsbook is not your average gambling site. The 2021 Sunseven NV-owned crypto sportsbook strives to take full advantage of Blockchain technology to offer a completely decentralized betting environment. Thanks to its Decentralized Finance (DeFi) approach, users enjoy lightning-speed transactions and competitive fees while wagering on their favorite sports. You can also be sure to find higher-than-average industry odds and a wide selection of sports markets on the website. What's more, the operator is 100% legitimate, with a Curacao license number of 8048/JAZ. Though it was launched to serve a narrow market in the Swiss region, it has quickly expanded to new markets such as Japan, Canada, and Latin America thanks to its fast-growing popularity.
As of writing this, the company offered the website in multiple languages, including Polish, French, and Hindu, enabling it to serve a broad user base. Kineko is worth checking out for punters looking to bet in crypto. Apart from common digital coins like BTC and USDT, it comes with its own native token, token $KNK, powered by the platform's blockchain known as the KKO protocol. KNK gives users the opportunity to earn passive income through staking. This Kineko sportsbook review touches on all the key aspects of the DeFi betting platform to help you understand how the bookie is revolutionizing sports betting. Stay with us to find out about the sports markets available, odds, payment methods, and how you can get started.
User experience
Our first encounter at Kineko was the dark purple-themed background color that gave us an easy time navigating the platform. Its minimalist design and properly organized interface make the website highly user-friendly and intuitive. All buttons are responsive and work effectively without errors. Registration is pretty straightforward. To get started, simply click on the blue "Join Now" button at the top right corner of the header, then fill out the sign-up form. You are only required to submit a unique username, email address, and password. Access the sports betting selection, bets, and promos from the left vertical menu bar. As a DeFi-driven bookie, users can also register through Google or DeFi wallets like Metamask and Phantom.
You will need to first have a fully functional wallet with either of the two providers. You can fund your account using any of the 10+ supported cryptocurrencies upon signing up. You also have the option to purchase your preferred coins using MasterCard, Visa, Apple Pay, and Google Pay. Transactions happen at near-instant speeds, depending on the blockchain in question. Fiat is not allowed, but you have the option to display your balance in respective dollar equivalents for easy decision-making. Although customer support took longer than anticipated to respond to our queries during this Kineko operator review, the answers provided were accurate and useful. It took an average of seven minutes to get connected to a live chat agent. The general experience was superb. Expect regularly updated odds and stats, fast loading times, and a secure betting environment.
Mobile App
Kineko sportsbook doesn't have a mobile app. This should not turn you off. The website is developed using HTML 5, making it highly responsive on all browsers. Unlike mobile apps that may only be available on specific operating systems like iOS or Android, HTML 5 allows users across multiple devices to easily access the website and enjoy a great gaming experience. We tested the website on a Windows PC, MacOS, iOS, Android, and Huawei browsers. In all cases, the website perfectly adjusted to the screen size, adopted the most suitable resolution, and adjusted the icons to fit the screen size perfectly.
Odds
Odds are primarily displayed in the American format. However, you have the option to switch to Decimal, Fractional, Hong Kong, Indonesian, and Malaysian. Once you have selected the sports you are interested in, simply scroll to the footer to change the odds format. Whether you prefer to bet on the match winner, draw, over, under both to score or more, the operator offers competitive odds with high payouts exceeding 90% depending on the sports in question. They can reach as high as 98% in some cases. Popular sports like basketball and football tend to have the highest payout rates.
Range of bets
Kineko offers strong coverage of any sports you could think of. You will enjoy betting whether you are looking for soccer, boxing, tennis, horse racing, golf, cricket, badminton, or handball. We were impressed by the broad range of tournaments from across the world. Basketball lovers can place bets on the FIBA World Cup, International friendly matches, and more. Football enthusiasts have access to the highest number of top tournaments like the Premier League, League One, League Two, Serie A, Bundesliga, Super Cup, and more. The sports betting menu allows you to filter tournaments by country, making it easy to locate whatever you're looking for. Apart from regular sports, Kineko sportsbook takes things a notch higher by allowing users to wager on key international events across the world. By clicking the "Specials" button, on the left vertical menu, you can bet on events such as BBC Sports personality of the year, political events like the US election, and more. In total, the pre-match section comes with more than 25 sports.
Live betting
This Kineko review established that the platform did not have the most advanced live betting features we've come across, but it's perfect for getting the job done. It's pretty straightforward with no sophisticated features, making it suitable for bettors of all levels. There were 95 live betting options ranging from football to tennis, basketball, baseball, cricket, and volleyball while conducting this review. The average payout was 93%. Soccer had the highest payouts, exceeding 95%, followed by basketball, with an average of 94%. You can place single or multi-bets and opt for automatic quote change acceptance. There was no live streaming or bet-builder function at the time of this research. Expect at least 2,500 monthly in-play events, with soccer presenting the most options.
eSports
An attractive eSports section is always a plus when reviewing a sportsbook. Kineko has a good selection of electronic and virtual gambling options. You can wager on popular Dota 2 titles like Bali Major, Dota Pro Circuit, and a wide selection of CS:GO such as RedZone PRO League, Dust2 Brasil Liga, and Gaming Devoted. Some eSports lovers might be disappointed as the bookie leaves out key names like League of Legends and even Starcraft, which was the world's most popular as of writing this. We also noted that, unlike most sportsbooks, Kineko did not have a dedicated page for eSports but rather mixed them with all other sports betting options, making it a little tricky for newcomers to single them out.
Transactions
Your wallet automatically pops up when you log in for the first time. You may retrieve it later by selecting the "Deposit" option, a light blue button in the middle of the header. Customers can choose from various transaction options to guarantee a smooth betting experience. Here is a detailed look:
Deposits
Players with a Kineko account can choose from at least thirteen different cryptocurrencies for making deposits. You have the option of funding your account with some of the most well-known cryptocurrencies, including Bitcoin, Ethereum, Litecoin, and Dogecoin; stablecoins, such as Binance Coin, USD Coin, and USDT; and other less-known tokens, such as SAMO, ROLL, and BONK. The native token of the platform, known as KNK, may also be utilized as a funding mechanism. Deposits of fiat currency are not permitted on this site. You may, however, use your Mastercard, Visa card, Google Pay, or Apple Pay to acquire digital currencies on the inbuilt exchange and then use those coins to place bets. To get started, you only need to select the "Buy Crypto" option on your wallet. The in-house exchange supports more than 30 different international currencies, including the Argentine peso, the Brazilian real, the British pound, the United States dollar, the Australian dollar, the Czech koruna, the Malaysian ringgit, the Euro, the Indian rupee, and the Swiss franc. The exchange calculator will provide you with the current rate before you purchase, allowing you to assess how much fiat currency you need to acquire the desired quantity of cryptocurrency. There are no deposit fees to worry about when playing at this casino. Once you have selected a cryptocurrency, you will receive instructions, including a destination address for sending your coins. The only fees you will be responsible for are those associated with the blockchain. The speed of transactions is affected by both blockchain congestion and the network's overall processing ability. Otherwise, Kineko sportsbook processes all deposits instantly.
Withdrawals
Withdrawing money is as easy as making deposits. However, we realized that we couldn't withdraw funds using our preferred cryptocurrencies. Instead, the withdrawal page would only let us request Bitcoin as payment. If your funds are in another currency, you must first swap them to BTC to withdraw. Similarly, while fiat is allowed for buying digital coins during deposits, the bookmaker's in-built exchange doesn't offer crypto-to-fiat services. Before attempting to submit a withdrawal request, double-check that you have satisfied all of the terms and conditions associated with any bonuses you have utilized, including wagering requirements. To withdraw your money from the Kineko sportsbook, access your wallet by clicking on "Deposit" in the header, then click on "Withdrawal" to continue. At this point, all you need to do is enter your Bitcoin address, determine the total amount of coins you want to withdraw, and send in your request. Once the transaction has been authorized, the funds should be deposited into your account relatively instantly, depending on the speed of the network and other factors, such as the level of blockchain congestion.
Customer service
Kineko Customer Service is excellent and follows through on all promises. If you are having problems with your account or require any other assistance, you may contact the support team using the live chat option. Their support crew usually responds within 10 minutes. During our review, we had an average response time of seven minutes. To begin, scroll down to the bottom and look for the "Live Support" live chat button in the lower right corner of your screen. After clicking it, you must describe your problem in the supplied area and wait for a response. Throughout this evaluation, we addressed several difficulties with the support service and were astounded by the correctness of the responses offered. The personnel are also kind and patient enough to assist you until you are completely content. Unfortunately, live support is not available 24/7. Click the "Home" option on the assistance form to get answers to frequently asked questions. You may browse answers to many difficulties or use the search box to find particular subjects of interest. The bookmaker does not provide email or phone service. Follow Kinekos' social media channels for frequent information on new products and features. The operator has over 5,000 followers on Twitter and over 1,000 followers on Discord. We observed that it only had roughly 40 Instagram followers and no Telegram channel. The website is available in English, Portuguese, Chinese, Russian, Japanese, French, German, Turkish, Hindi, Indonesian, Vietnamese, Korean, Ukrainian, Tahi, Kazakh, Polish, Swedish, Greek, and Arabic.
Privacy and security
When it comes to safety, ownership and licensing are the first things we take into account. The website clearly indicated that it's owned by GamblingTec.com and operated by Sunseven NV under a Curacao license. Regulated operators give customers peace of mind and assurance that they operate within a safe framework. However, we could not verify the licensing information provided by Kineko on the Antillephone License Validation page. This might be due to an expired license. We raised the matter with the support team via the contact page. Unfortunately, they had yet to get back to us by the time we wrote this review.
We will surely update this information once they do. Apart from that, we noticed that all client information is confidential and only transmitted in an encoded manner because the website is SSL-secured. Since digital coins are naturally safe, the fact that the website is a pure crypto sportsbook also contributes to its security. You don't have to share any personal information with the bookie during transactions. Besides, KYC is not mandatory, allowing you to gamble 100% anonymously. The easy availability of customer service means you can always get quick help whenever your account is compromised. We were, however, disappointed to find out that an operator of this magnitude lacked two-factor authentication (2FA). We consider this feature important as it helps neutralize the risks of compromised user credentials by requiring a second authentication before accessing your account. It's crucial to understand that you are ultimately responsible for your account's security. Do not use an insecure internet connection to access your account or share your credentials with anyone.
Geo-targeting
Kineko does not block any bettors based on country, just like it should be!
"Restricted countries" refers to the list of countries or jurisdictions that are explicitly prohibited or restricted from accessing and using the services provided by a crypto casino website. These restrictions are typically outlined in the terms and conditions of the website and are imposed due to legal or regulatory considerations. Attempting to access or use the services from a restricted country may result in account termination, seizure of funds, or other penalties as specified by the website's policies. Kineko's terms and conditions did not mention any restricted countries as of writing this review. As a DeFi-focused operator, the company may have intentionally avoided prohibiting some countries as a way of fully meeting the original tenets of decentralized finance, such as the elimination of national barriers when transacting.
Bonuses
Online casinos employ marketing strategies like bonuses and promotions to draw in new customers and keep regulars coming back. These bonuses add extra fun and value to the gambling experience as a whole. This is what we found at Kineko.
Welcome Bonus Offer
These benefits are given to new players when they sign up for an account. The casino may offer a percentage match on the player's first deposit, or it may offer a flat bonus amount. The welcome bonus is a great way for new players to test out the casino and increase their bankroll. Kineko offers new players a 100% sports bonus up to the value of $150 in crypto. To access this perk, you simply need to sign-up, select the sports bonus buy-in offer, and fund your account. You must deposit a minimum of $20 to activate the bonus and wager at least ten times before cashing out. Keep in mind that the welcome bonus can't be used in conjunction with other promos. It's also limited to one account per family or IP address.
Existing Customer Promos
At a sportsbook, ongoing promos and bonuses are recurrent offers and bonuses that are provided to bettors in addition to the initial sign-up or welcome bonus. These promotions are intended to reward and retain existing clients by offering them additional value and incentives to keep betting on the platform. Here are some examples of ongoing promotions and incentives commonly offered by sportsbooks:
Reload Bonuses
These bonuses are offered when existing customers make subsequent deposits into their betting accounts.
Free Bets
Sportsbooks may offer free bets based on specific criteria, such as placing a certain number of bets or achieving specific outcomes within selected sports events.
Cashback Offers
Some sportsbooks provide cashback offers where bettors receive a percentage of their net losses back as bonus funds.
Enhanced Odds or Price Boosts
Sportsbooks may offer enhanced odds or price boosts on select events or markets to increase the potential winnings for customers should their bets be successful.
Accumulator Bonuses
Accumulator bonuses are designed for customers who enjoy placing multiple bets on the same ticket.
These are just some of the most common promotional terms associated with bookmakers, but individual websites could have different, unique offers. We did not find any existing customers' sportsbook perks at Kineko while conducting this review. The operator, however, runs some amazing seasonal sports offers during major tournaments. We encourage bettors to regularly check the promotions section of the sportsbook's website or subscribe to email notifications to stay informed about the current offers available to them. It's also recommended to review the terms and conditions associated with each promotion to ensure eligibility and understanding of any wagering requirements or restrictions before opting in for bonuses.
Loyalty Program
A sportsbook loyalty program is a reward system that sports betting platforms offer to encourage and thank their devoted customers. It is designed to encourage continuous participation and engagement with the sportsbook's services. Through a loyalty program, bettors can earn points or tiers based on their betting activity, which can be redeemed for various benefits and rewards. Bettors get reward points based on how much they bet. Points are often won in tiers, with rewards getting better as you move up. Users can redeem loyalty points for various benefits such as free bets, cashback, products, exclusive tournaments or events, increased odds, tailored bonuses, quicker withdrawals, and dedicated customer service. Kineko customers get on a VIP path as soon as they place their first wager. Depending on your level on the VIP ladder, you may access some or all of the following benefits:
Level-up Bonuses
Claim level-up perks via the VIP reward box whenever you reach a new VIP level. This includes refills of up to 75% on your new deposits.
Refill
Refills are made up of a bunch of different bonus drops that are unlocked at different times. You can get the bonuses on your refill calendar as cash drops from the VIP awards box, and you don't have to make any bets to get them.
Monthly bonuses
On the first of every month, VIP members can access the Monthly Bonus by redeeming their points at the VIP rewards box. The amount of your monthly bonus is determined by your wagering activity from the previous month, and it rises with each VIP tier you attain.
Weekly bonuses
Every Saturday, you can visit the VIP rewards box to redeem the Weekly Bonus. Each new VIP tier you reach increases the amount of your weekly bonus, which is based on your betting volume over the previous seven days.
Daily bonuses
Once every day, you can access the Daily Bonus in the VIP rewards box. The amount of your daily bonus is determined by your wagering activity over the preceding 24 hours, and it rises with each VIP tier you achieve.
The VIP scheme starts at Bronze, the lowest level, and goes all the way to Legend, the most prestigious cadre. See the table below to understand how it works.
| | | | | | | |
| --- | --- | --- | --- | --- | --- | --- |
| Levels | Bronze | Silver | Gold | Platinum | Diamond | Legend |
| Wager Volumer | $10K | $50K | $100K | $250K | $25M | $1B |
| VIP Promos | ✅ | ✅ | ✅ | ✅ | ✅ | ✅ |
| Casino Rakeback | ✅ | ✅ | ✅ | ✅ | ✅ | ✅ |
| Refills | ✅ | ✅ | ✅ | ✅ | ✅ | ✅ |
| Level-up Bonus | ✅ | ✅ | ✅ | ✅ | ✅ | ✅ |
| Bonus Growth | ✅ | ✅ | ✅ | ✅ | ✅ | ✅ |
| Monthly Bonus | ✅ | ✅ | ✅ | ✅ | ✅ | ✅ |
| Weekly Bonus | | ✅ | ✅ | ✅ | ✅ | ✅ |
| Daily Bonus | | | ✅ | ✅ | ✅ | ✅ |
| VIP Host | | | | | ✅ | ✅ |
| Individual Bonus | | | | | ✅ | ✅ |
How does Kineko compare to Other Sportsbooks?
Kineko vs. Sportsbet.io
Bonuses: Kineko welcomes new punters with a 100% sign-up bonus up to the value of $150. Information on the website also indicates that the bookmaker runs seasonal offers, although there was no ongoing promo as of writing this. Sportsbet.io, on the other hand, doesn't offer welcome bonuses. However, users enjoy several ongoing and seasonal promotions tailored towards different sports. They include Arsenal victory cashback, where you get up to 5% cash rebates every weekend on Arsenal bets; the million dollar challenge; free bets; 100,000 USDT on six successful scores; and more. Both sites offer attractive VIP programs that include cashbacks, dedicated VIP managers to top-tier, loyal clients and uniquely tailored offers.
Sports, Bets, and Odds:

Both sites are legit when it comes to odds. They offer above-industry-average odds and payouts ranging from

0.05 for underdogs to over 0.35. The two sites seem to favor football and basketball lovers more than other sports. This might be because these are the two most popular sports. Sportsbet in particular is highly invested in football, with endorsements for internationally celebrated teams like Arsenal,

Southampton, and Sao Paulo FC. You can also find other interesting bets like hockey, rugby, cricket, boxing, and tennis on both sites. Kineko allows users to bet on special events like politics, music, and any major international event that attracts high attention. In spite of the platform you opt for, you can wager on different forms of eSports.

Payments:

Both platforms prioritize cryptocurrency transactions but have a level of leniency for fiat currency. BTC, USDT, ETH, TRX, LTC, XRP, ADA, DOGE, BNB, BUSD, and TON are all valid cryptocurrencies on Sportsbet.io. The Brazilian Real (BRL), the Japanese Yen (JPY), the Canadian Dollar (CAD), and the Chinese Yuan (CNY) are also supported. However, its rival accepts only cryptocurrency wagers. You can't place bets using fiat money, but you can use your Mastercard, Visa, Google Pay, or Apple Pay to buy digital coins on the platform's in-built exchange. However, this service is only accessible from select countries; please verify that your country's currency is supported before continuing. Both platforms don't charge transaction fees, but you must, of course, settle any fees associated with the network you are using.

User Experience:

You will have a great experience regardless of whether you prefer Sportsbet.io or its competitor. Both sites are user-friendly and highly intuitive. We found them safe, and reliable, both for PC and mobile users. They possess Curacao licenses and are SSL-certified for added player security. In case you run into a problem, you can always reach customer care via the live chat feature. In terms of support, the Kineko support team is slower than its competitor. The live chat is also not available 24/7. Apart from that, the support team at Kineko is as friendly and informative as that at Sportsbet.
Kineko vs. Lucky Block
Bonuses: Lucky Block and Kineko are both crypto-focused operators that use bonuses to entice their users. As of writing this review, the former seemed to have more attractive offers. Upon signing up, players are granted a 200% deposit match reward of up to $10,000. This is more than sixty times the meager $150 offered at Kineko. In terms of ongoing promotions, both operators suggest that they run seasonal offers, although there were no active ones as of this writing. Keep wagering at Kineko until you join the VIP club. Here you will enjoy endless offers ranging from daily, weekly, and monthly rakebacks to free bets and reload bonuses. Lucky Block did not have a loyalty program as of conducting this review.
Sports, Bets, and Odds:

Both sites boast an extensive variety of sports, bets, and odds. Lucky Block, however, takes the lead with at least 42 sports options compared to about 25 choices at Kineko. Apart from popular sports like football, basketball, tennis, and rugby, the two sites also list less-known games like lacrosse and bowls. You can bet on special real-life events like major elections in the US as well as happenings in the entertainment scene, regardless of whether you bet at Lucky Block or its counterpart. We also observed an average payout of 94% across these operators.

Payment:

Lucky Block is a cryptocurrency-only gambling platform, meaning it is not possible to deposit or withdraw using any other form of currency. It also doesn't let you buy cryptocurrency within the app itself. You can use Bitcoin, Ethereum, Litecoin, Bitcoin Cash, Bitcoin Gold, Dogecoin, Litecoin, and LBLOCK (the bookie's native token) to place bets. While its counterpart is also a pure digital coin sportsbook, it has an in-built exchange where users can buy virtual money using accepted fiat currencies. The in-house exchange supports Mastercards, Visa cards, Google Pay, and Apple Pay. Cryptocurrency deposits and withdrawals incur zero costs for both operators.

User Experience:

Bettors will have an almost similar experience on these platforms. Both Kineko and Lucky Block are pure digital coin operators with native blockchains and cryptocurrencies. They come with simple interfaces that are simple and easy to use, even for first-timers. As DeFi centered operators, users are not mandated to submit KYC documents while signing up. Both companies offer easy and fast registration procedures and don't make it mandatory to submit KYC documents while signing up. However, Lucky Block restricts players from over twenty territories, including Malta, Australia, the United Kingdom, and Sweden, while its competitor doesn't mention any restricted nations.

Overall
If you're looking for a gambling site that supports multiple cryptocurrencies and allows you to purchase virtual money on-site, Kineko is a fantastic option. It's safe and easy to use, even for first-timers. We had no problems finding our way around it or making wagers while doing this review. The bookmaker doesn't, however, provide any novel features. We anticipated a smorgasbord of exciting promotions and novel features from a brand-new service provider but found neither. We were also unnerved by the fact that we could not confirm the website's claimed licensing status. While Kineko has a vast selection of sports, its eSports selection was lacking in some major games like League of Legends. However, the registration process, account funding, betting, and withdrawal were all completed without a hitch. Don't think twice about giving Kineko a shot if you're in the market for a new sportsbook. You may kill two birds with one stone, as it also has a crypto casino.
FAQs