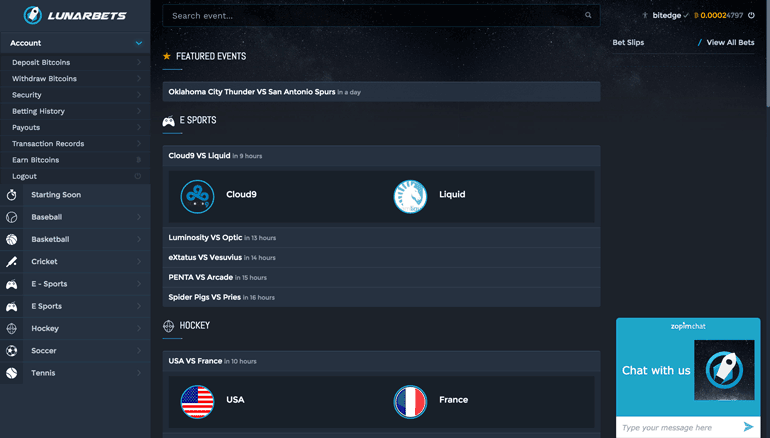 Privacy and security
8/10
Established
2016
Min bet
3 m฿
Currencies

:
BTC
Lunarbets is a pure sports betting experience, there is no casino, dancing monkeys or social media banners to distract you, just a beautiful sportsbook.
Lunarbets still have a few creases to iron out. They are hard core crypto and tech geeks but not sports betting experts.
User experience
This is one of the most visually beautiful and well designed sportsbooks we have ever seen, it's a pleasure to bet on.
The special banners for some games give a real sense of occasion. All the 'My Account' features like your betting history have good detail and are well presented.
Live betting is missing and there are a few little imperfections like mislabeled markets and the copyright year being out of date.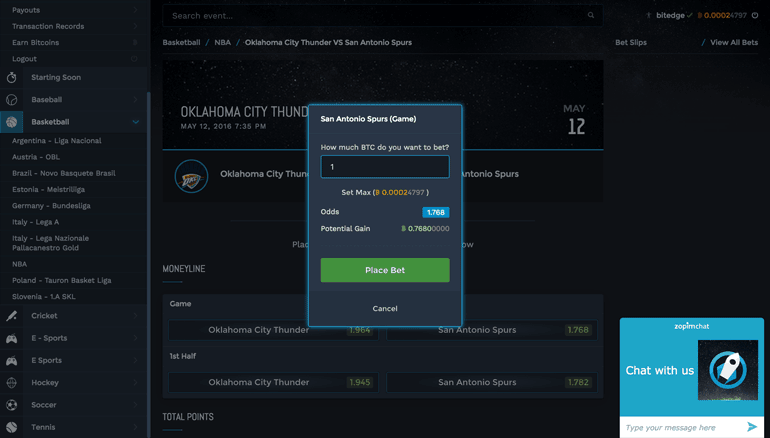 Odds
Sportsbook's overround: 2.43%
50:50 equivalent: 1.952
We have seen the odds at Lunarbets yoyo up and down from great value to terrible. I suspect this was as a result of them being a new sportsbook and refining their risk model but for now the odds are amongst best in the world.
Range of bets
Range of sports, leagues and events: Small. Lunarbets cover every league sometimes but they are often inexplicably absent.
Range of bet types per event: Small, only money line/match winner on most events. A few events have points spread and total points.
Transactions
Unique deposit addresses: Not available.
Confirmations before bet: 3.
Withdrawal time: Instant!
Player to player transfer: Not available.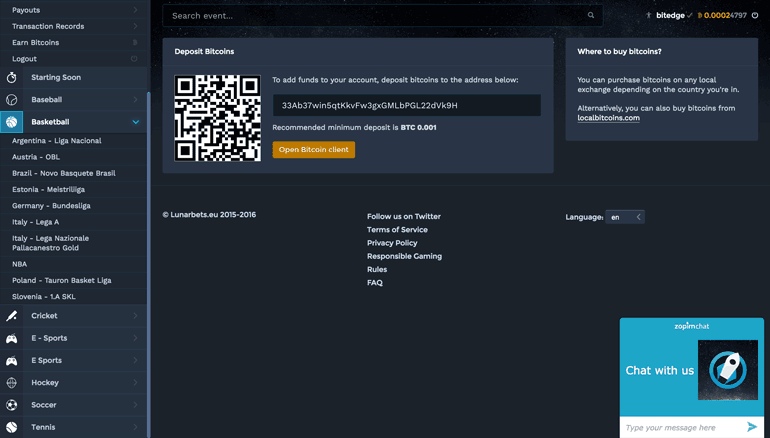 Customer service
Customer service channels available: Live chat only.
Speed of replies: Live chat replies instantly 24/7.
Accuracy of replies: Great, the staff know their stuff and replies are thorough and correct. This is the best live chat support of any sportsbook.
Real life customer service test
Question: What happens to tennis bets if a player retires due to injury?
Answer
:
If a match is not completed because of player retirement or disqualification, all bets on the outcome are still valid and will be based on the official declared winner. All bets on the spread or total will be refunded.
Notes: Perfect response as always from Lunarbets.
Privacy and security
Information required at signup: Email address.
2 factor authentication: Available.
Geo-targeting
Lunarbets does not block any bettors based on country, just like it should be!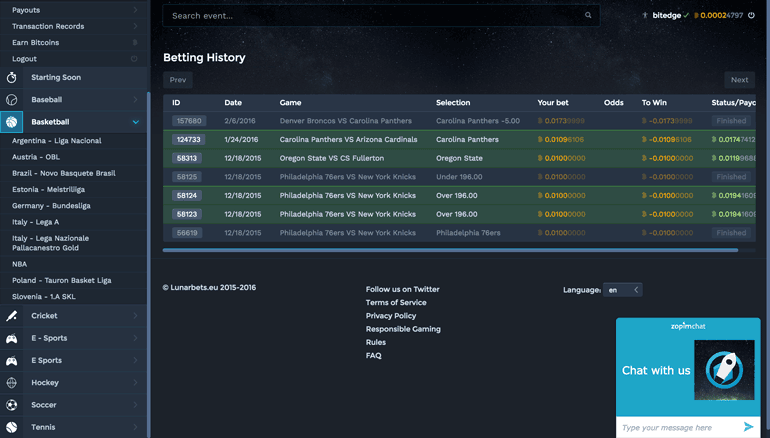 Overall
Lunarbets is a beautiful and fun website to bet on with great odds. They need to be more consistent with the leagues the offer and apply more attention to the sports betting details. If they do that Lunarbets will be one of the best sportsbooks in the world.
More sportsbook reviews
Sportsbook walk-through
More crypto gambling videos