Privacy and security
7/10
MBet is a newer crypto sportsbook with a focus on racing (see our horse racing crypto betting guide). But they also have a full sportsbook.
MBet should not be confused with mBit which is a crypto casino.
User experience
The betting selections on a game and the bet slip are well laid out, simple, clear and intuitive. On the other hand MBet's design is a bit basic and clunky.
There is no way to see the maximum bet.
Sports are listed even when there are no events available to bet on.
The bet history is hard to get an overall profit/loss from.
The side bar menu has an annoying non-standard scrolling action.
Overall it is an easy to use sportsbook.
Odds
50:50 equivalent: 1.86
The odds suck.
Range of bets
Range of sports, leagues and events: Racing is very comprehensive. As for sports you will find everything you need, but some sportsbooks do have more.
Range of bet types per event: The big soccer leagues have a good range of bet types per game, other sports just have the basics (which is probably all you need).
Transactions
Unique deposit addresses: Available.
Confirmations before bet: 1.
Withdrawal time: 10 minutes.
Player to player transfer: Not available.
Customer service
Customer service channels available: Live chat.
Speed of replies: Instant.
Accuracy of replies: Good.
Real life customer service test
Question: Is the racing livestream for global racing or only Australian racing?
Answer
:
The live streams are largely for Australian racing today.
Privacy and security
Information required at signup: Email.
2 factor authentication: Not available.
Geo-targeting
MBet does not block any bettors based on country, just like it should be!
Bonuses
Up to 6000 m฿ paid in 10 m฿ increments over a year, based on your turnover.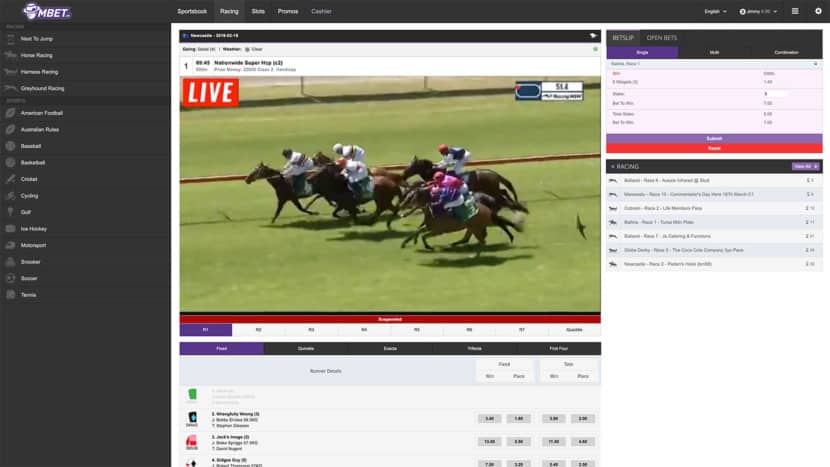 Overall
MBet is one of the best crypto racing books. They are okay for sports other than racing, but the odds are bad.
Here are some suggestions for the sportsbooks we recommend
We have also listed some of the sportsbooks that unfortunately don't meet our standards
More sportsbook reviews
Sportsbook walk-through
More crypto gambling videos