It may come as a surprise, but the Coinbase wallet is a decentralized application. It's a different app to the Coinbase Exchange, so users must understand they will require two apps. It's also a hot wallet, so it doesn't provide any cold storage options, but it has other advantages to help it stand out. As a free software wallet, it's perfect for users with extremely small budgets.
Our Coinbase wallet review covers everything users must know about the wallet, ensuring they are fully informed about the Coinbase wallet app. Get ready to discover all there is to know about storing crypto with this crypto wallet.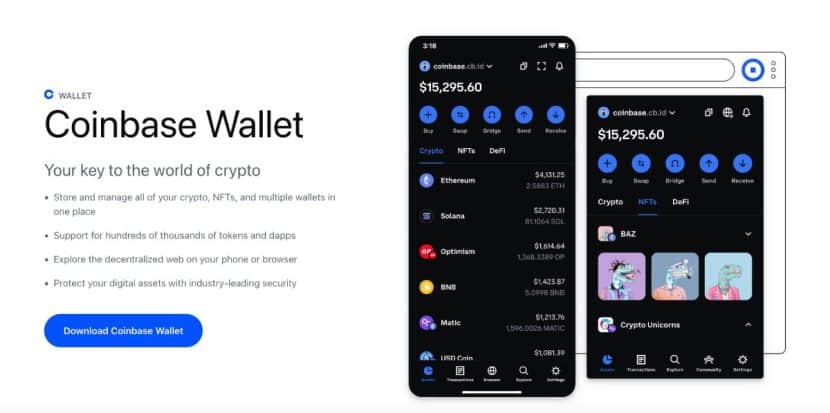 Introduction to Coinbase Wallet
As mentioned, Coinbase and the Coinbase wallet are separate entities. As a result, it can be confusing for some users, primarily as the wallet provides more decentralized features than the centralized exchange. As a result, some of the wallet's features fill up some gaps when using the exchange. So, they're an excellent pair to use in conjunction.
As a hot wallet, it's a non-custodial option. However, it is compatible with hardware wallets, so users can essentially create a Coinbase cold wallet. It offers plenty of impressive features, and using the Coinbase wallet to add extra functionality to an existing hardware wallet is possible. As a result, it fits in well in the sea of crypto wallets available.
Our Coinbase wallet review approaches all of the vital aspects of the software, ensuring users can become almost as knowledgeable as our experts in no time!
Type of Wallet
Software and Non-custodial
Price
Free
Fees
Only gas and exchange fees
Coinbase Features

500+ cryptos supported
Allows for NFT support
Has excellent security in place
Can connect to hardware wallets
Is available on mobile and desktop

Number of Cryptocurrencies Supported
500+
Earn
Users can stake through Coinbase
Customer Service
Live chat, email and social media
Hardware Compatible
Desktop and mobile
SPV or Full Node
SPV
Who Coinbase Wallet Best Suited For?
Beginners and low-budget traders
Coinbase Pros & Cons
Pros
Can connect to the Coinbase exchange
Support for 500+ cryptocurrencies
Is a free download
Provides support for NFTs and DEXs
Cons
Isn't a cold storage wallet
Doesn't have a built-in exchange
Services Offered by Coinbase Wallet
The services for the Coinbase wallet are excellent. As a software wallet, it's generally quite inclusive of other options. With many impressive features, we have taken a close look for our Coinbase wallet review.
One fantastic feature is connecting the wallet to the Coinbase exchange. Although it would be better to be one inclusive app, the connection option is the next best thing. It makes it easy for staking options and increases the functionality of the exchange and the wallet.
It covers a range of cryptos, with 500+ spaces available, but it supports thousands of choices. As a result, there are plenty of options available to users. As a free wallet option, it is an excellent choice for anybody with a tight budget. However, traders looking to connect a hardware wallet can do so, which adds an extra layer of functionality.
The Coinbase wallet also provides NFT support, DEX connections, and airdrop participation.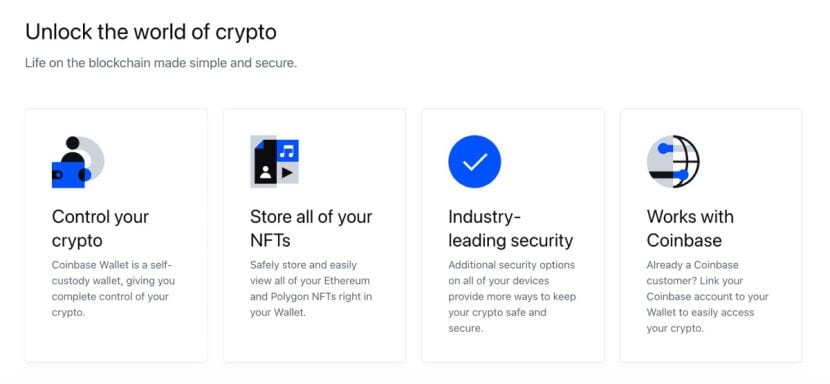 How to Create an Account
Creating an account with the Coinbase wallet is extremely simple. It's a case of downloading the app or browser extension and creating an account. After doing this, users can connect it to their various exchanges and hardware wallets.
How to Proceed with a Transaction
Users don't have to worry too much about completing a transaction. It's just a case of sending the funds. Of course, compatibility with the chosen crypto is a must, but the Coinbase wallet covers many options. So, users must follow these simple steps:
Make sure the exchange and wallet connect
Complete the connection process
Choose the crypto for the exchange
Decide on how much crypto to send
Choose the wallet, note the address, and double-check to ensure it's right
Send the funds and wait for it to complete
Although some exchanges and hardware wallets may have extra steps, the essential process remains unchanged.
How to Make a Deposit
It's simple to complete a deposit with the Coinbase Wallet. Users just have to send their funds to the correct wallet address. After completing this transaction, the funds will be available.
How to Make a Withdrawal
Our Coinbase wallet review also found withdrawals to be simple. Users just have to send their funds to a different wallet address and the transaction will complete.
Coinbase Wallet Supported Tokens
Although the Coinbase wallet can only hold just over 500 cryptos, there's access to thousands of choices. It ensures users can select from the biggest names and smaller choices that provide staking opportunities. Here are some of the most popular options with the Coinbase wallet.
BTC
ETH
LTC
ETC
BNB
BAT
USDC
XRP
TRX
SOL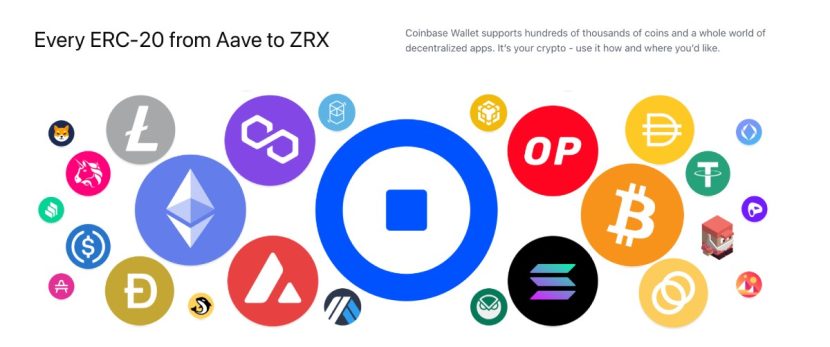 Is Coinbase Wallet Safe and Legit?
Our Coinbase wallet review finds it to be a completely legitimate option. It offers superb security, essential for a cloud wallet, but also has fantastic reviews from customers. It helps to keep a top-class reputation, which is vital in such a crowded market.
Security
The security with the Coinbase wallet is excellent, partly because it has to be. As a cloud wallet, it is vulnerable to cyber-attacks. So, Coinbase has to put high-quality security in place otherwise, it would lead to countless losses of funds.
The ability to connect a hardware wallet adds to the security levels. So, traders can connect their Nano X or Model T and add an extra layer of security to the Coinbase wallet. Of course, this increases the costs, which might not be suitable for low-budget users.
It uses secure connection technology with PINs and 2FA. So, private keys remain protected. It's an excellent overall system, ensuring Coinbase protects users as well as it can.
User Interface
The app has excellent design in place, making it simple for users to navigate. However, there are slight differences in how it looks across mobile and desktop, with the mobile version providing a slightly cleaner design.
How to Use Crypto Wallet on Android & iOS
It's simple to start with the Coinbase wallet. It's a software wallet, so its design leans towards mobile use. Our Coinbase wallet review found it straightforward to go from installing to using the app.
Search the iOS or Android app stores
Find the Coinbase wallet app, download, and install
Either create an account or log in
Begin holding crypto in the relevant wallets
How to Use Crypto Wallet on Desktop
Using the Coinbase wallet on a desktop doesn't take long, either. Traders can have it up and running within a minute.
Search for the Coinbase browser extension
Download and install the app
Load up the page
Create an account or log in
Begin using the wallet
Backup & Restore
Crypto backups are vital, especially as the modern world can change rapidly. So, it's fantastic to see Coinbase offering a backup option for its wallet.
Open up the Coinbase wallet app
Open the settings menu and select "recovery phrase."
Either write down the phrase or save it to storage
It's a rapid process, which makes it simple to back up any funds.
Troubleshooting
There can be many options which cause issues with software wallets. Because they rely on the device to work correctly, users must complete processes to ensure it works correctly. We have taken a close look at the most common problems and solutions.
If the app won't load, Coinbase recommends several solutions. Firstly, users must try the classic solution of turning the device on and off. With mobile devices, other apps may be working in the background, stopping the wallet from working correctly. So, turning it on and off again should eliminate this issue.
If this doesn't work, checking VPN and internet connections is critical. These may impact the app's ability to work, so users must ensure they're working okay. Additionally, if there's no internet connection available, the app cannot work, so it's a vital component.
While these answers should resolve any issues, if there are further problems, Coinbase provides a more detailed troubleshooting guide.
Coinbase Wallet Alternatives
Coinbase is a software wallet, so it doesn't technically compete with hardware wallets. It is compatible with many of them, so it's difficult to compare it with the Ledger or Trezor options. However, there are other software wallets which have valid comparisons.
Coinbase Wallet Vs Exodus Wallet
Exodus is one of the top software wallets on the market. As it has a partnership with Trezor, it provides some of the best security for any digital wallet. As a result, it's in line with what users expect from security, but Coinbase also matches up with quality security.
There's also fantastic customer support, superior to the Coinbase offering. However, Coinbase provides a more extensive selection of available cryptos.
Each wallet provides a solid option to users, so there's very little between each choice. So, users must look at their specific needs before making a selection.
Coinbase Wallet Vs Trust Wallet
Trust Wallet is generally more popular with business users. So, anyone with a business account will gravitate towards it. However, Coinbase provides a better overall choice for standard users.
Although Trust Wallet provides a high-quality experience, it falls short of what's available with Coinbase.
Final Thoughts
As a software wallet, there are various benefits and drawbacks to the Coinbase Wallet. However, one of the most significant advantages is its cost. Users on a small budget can use it without paying much, which isn't the case with some hardware wallets.
However, as it's compatible with several hardware wallets, there's a lot to gain from using both options for anyone with the budget. The Coinbase wallet is a solid choice, offering NFT support and staking options above the standard wallet choices.
Coinbase has excellent security but is still less secure than a cold wallet. So, although it's a high-quality choice, users should still look to add the security benefits of a hardware wallet if possible.
Q&A Session
In this section, Will Wood will address your inquiries and the most common questions regarding Coinbase Wallet and offer guidance to newcomers in the field. Feel free to submit your questions through our contact form, and we will strive to respond within 48 hours.