Pros
Clean, simple display.
Good customer service.
Fast website, great on mobile.
Cons
Game displays in Euros.
3% house edge.
Having to stake deposits before the withdrawal.
Privacy and security 7/10
Cloudbet has a
top crypto sportsbook
and casino, having provided a fun, safe and reliable service since 2013. Cloudbet opened a new arcade section in 2020 which includes eight new games. Within those eight is their dice game, which is one of the best around.
Dice game
Cloudbet offers a top-quality dice game. The gameplay is smooth and glitch-free, with both an auto-play and manual play mode available. Within the automatic game, you can set strategies, for example, you can increase or decrease your bet each time you lose (or win). Additionally, the game uses
Provably Fair technology
so players know they're getting a fair deal. However, a big negative is the house edge being 3% – usually, we see an edge of 1% on dice games. Unfortunately, the in-game currency is displayed as Euros which can make it hard to work out how much Bitcoin you're staking. The high min bets and low max bets are also a shame. Other sites allow bets as low as 1 satoshi and as high as 12 Bitcoin.
Auto betting bot
Cloudbet has a simple and easy-to-use auto-betting bot. Players can tweak the settings to increase or decrease if they win or lose a roll. This allows
dice betting strategies
, like Martingale, to be easily implemented. The bot allows up to 1,000,000 rolls so strategies can be given a long session to give desired results. The overall layout and user experience are great. There's no lag and all actions seem to work as expected. Players can set a slow or fast speed for their rolls, which is a nice touch. However, the betting limits aren't the best. This means it's hard to test strategies with a minimum bet of €0.10. While a max bet of €250 restricts how far you can push the game.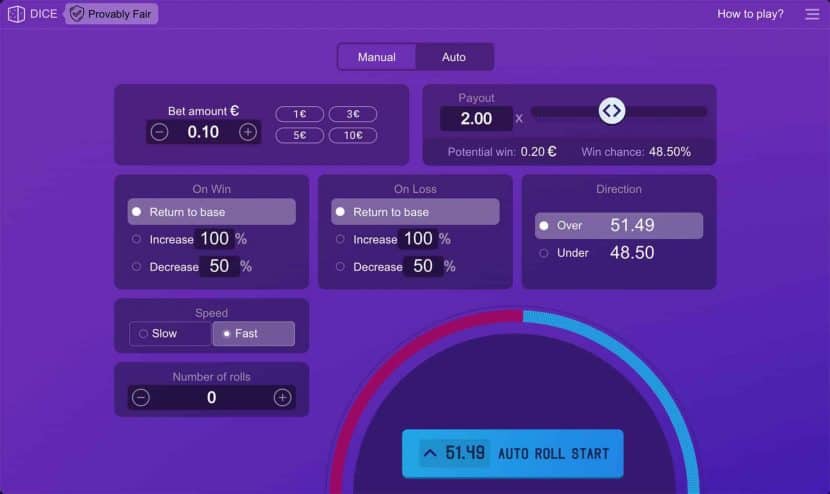 User experience
The design is gorgeous and modern, especially on a mobile device. Everything is where you would expect it to be, laid out beautifully and works perfectly. The site is very fast and ranks among the best crypto dice sites. The dice game display is simple and intuitive – in line with the rest of Cloudbet's games. It's also easy to check the Provably Fair technology, which is shown by clicking the green tick next to each bet within your game history.
Trust
Cloudbet is one of the most trusted crypto gambling sites. They've been running since 2013 and only had one minor incident back in 2014, which was not their fault.
Transactions
Unique deposit addresses
: Available.
Confirmations before play
: 1.
Withdrawal time
: Usually fast. We have received instant withdrawals and we have had to wait up to 9 hours.
Player-to-player transfer
: Not available. Cloudbet won't let you withdraw your money until you have bet an amount equal to your last deposit. This is known as a "1 x play-through requirement" or "1 x turnover requirement". For example, if you deposit 0.001 Bitcoin, then you would need to place bets adding up to a total of 0.001 Bitcoin before you can withdraw. This is frustrating and isn't common at other crypto-dice sites.
Customer service
Customer service channels available
: Live chat.
Speed of replies
: Live chat always replies instantly.
Accuracy of replies
: Very good, staff are well trained and knowledgeable.
Real-life customer service test
Question
: Are there any turnover requirements on my deposits before I can withdraw?
Answer
:
In order to be able to withdraw, you would need to play through your deposits at least once. For example, if you deposit 0.001 Bitcoin, then you would need to place bets adding up to a total of 0.001 Bitcoin.
Cloudbet has the equal best customer service of all dice sites.
Privacy and security
Information required at signup
: Email address and date of birth. You can link your Google or Facebook accounts to sign up.
2-factor authentication
: Available.
Crypto Gambling Awards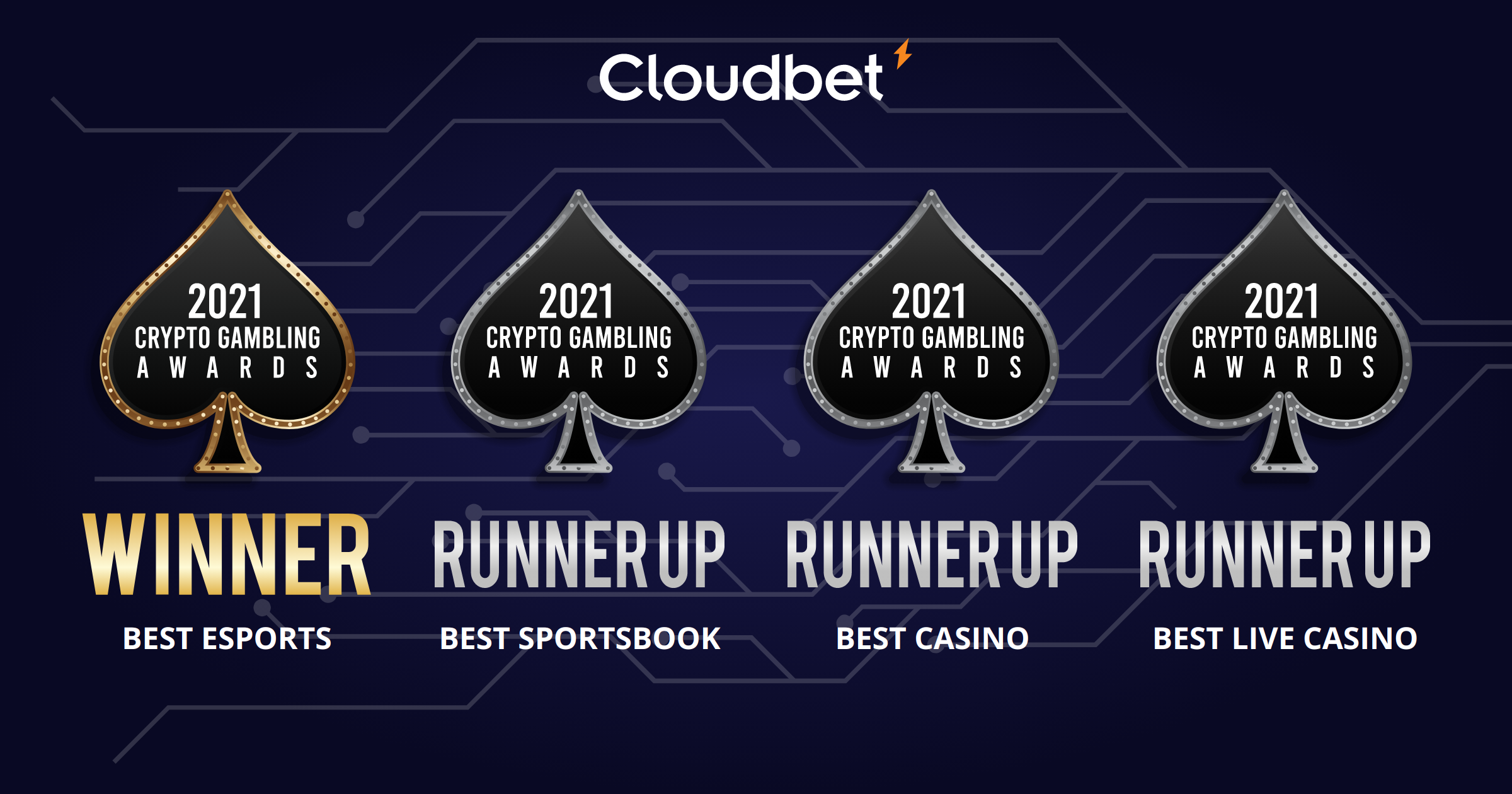 Geo-targeting
Players in the following countries are geo-blocked by Cloudbet:
Hong Kong
Singapore
United Kingdom of Great Britain and Northern Ireland
United States of America
Bonuses
You can only get this bonus here at BitEdge. Make a first deposit of 10 m฿ or equivalent and you will get 88 free spins in the casino! Funds won will have Cloudbet's standard 30X rollover requirement You will also get Cloudbet's standard 100% 1st deposit bonus of up to ฿5 paid in 10 m฿ increments. This is one of the biggest and best bonuses from any crypto dice site!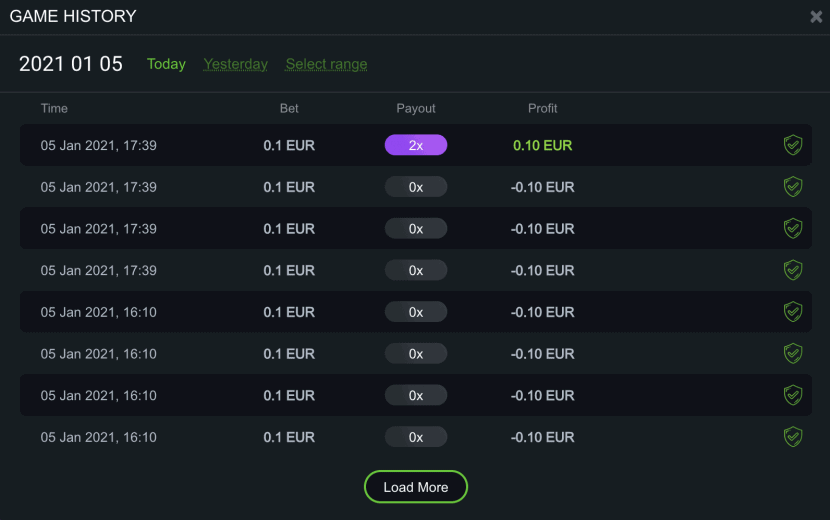 Overall
If you're looking for a dice site we recommend Cloudbet. Despite being a new player in the dice market, they offer a top-class, simple game. As a bonus, you also get one of the
best crypto sportsbooks
and casinos on the same account. However, the house edge of 3% does mean other dice sites – with a 1% edge – are more appealing.