We have tried the native built-in auto-betting bot on several leading crypto dice sites and present them in order of the site's overall ranking.
Cloudbet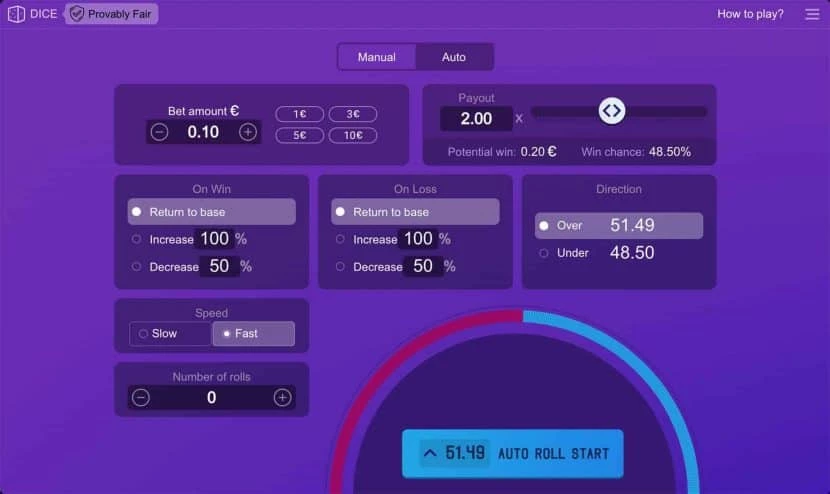 Cloudbet has a simple and easy-to-use auto-betting bot. Players can tweak the settings to increase or decrease if they win or lose a roll. This allows dicing betting strategies, like Martingale, to be easily implemented. The bot allows up to 1,000,000 rolls so strategies can be given a long session to give desired results. The overall layout and user experience are great. There's no lag and all actions seem to work as expected.
Players can set a slow or fast speed for their rolls, which is a nice touch. However, the betting limits aren't the best. This means it's hard to test strategies with a minimum bet of €0.10. While a max bet of €250 restricts how far you can push the game.
Stake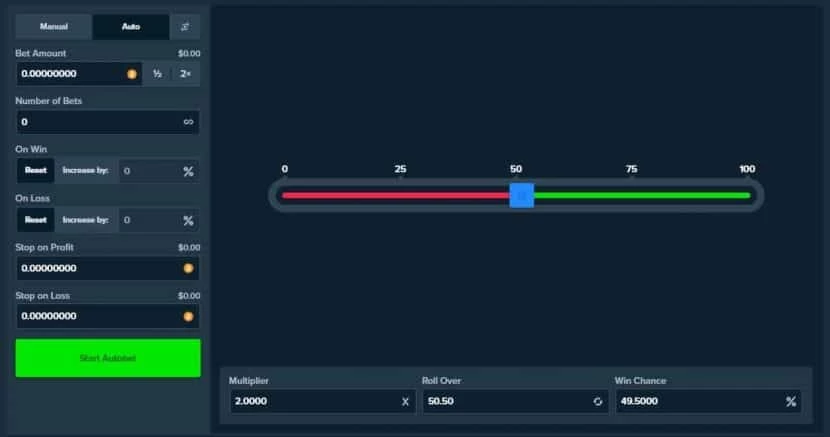 A beautiful clear layout and design is the first thing you notice when opening the Stake auto betting bot. The initial options on offer are pretty standard, with players able to set a rule of increasing or decreasing bet amounts should the roll win or lose. Stop limits on losses and profits are also available.
Stake go on to offer more advanced options, including automated popular betting strategies (Martingale, Delayed Martingale, Paroli, D'Alembert) and the ability to create your own strategy. Allowing for seemingly infinite conditions within each custom strategy means you can tweak your rules until your heart is content. You can even perfect your strategies without much risk by using the extremely low minimum bet of 1 satoshi. Although very similar to the Primedice bot, we've not come across many better ones and recommend you give it a try!
TrustDice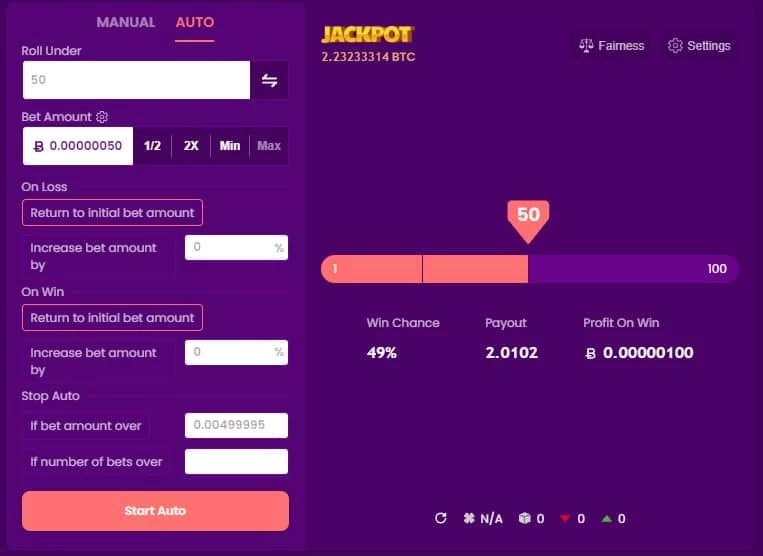 TrustDice has a decent auto-betting bot, giving you a good deal of features to customize your betting strategy. You can adjust how your bet value changes on losing and winning rolls, stop when the bet amount reaches a certain value and once you hit a certain number of bets.
Unfortunately, the auto-betting experience is hampered by the fact that the lowest you can bet is over 5 with a 95% chance of winning. The same goes for betting under, with the cap being under 96 with a 95% chance of a win. This prevents certain strategies from working well, especially if you're after the jackpot.
You also can't set it to keep rolling while you win and stop rolling as soon as you lose.
Primedice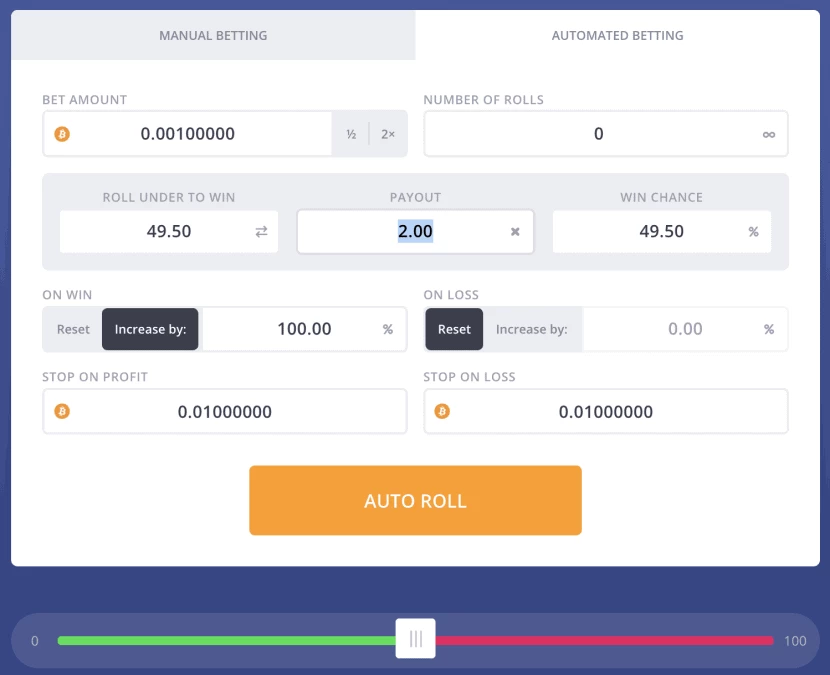 Primedice has one of the best auto-betting bots. Like everything on Primedice, it looks, flows and performs like a dream. It's so intuitive you will not accidentally miss-set options or have any frustrations using it.
I enjoy the option to limit the number of rolls in order to run martingales in chunks of 10 rolls rather than individual rolls. So you can bet a series of 10 rolls at a stake, then if you lose you can bet the next series of 10 rolls at twice the stake until you are up overall or reach your stop loss. This can withstand losing streaks much longer than martingale on individual rolls and when you have a losing chuck of 10 bets you almost never lose the full amount risked (10 loses and 0 wins) like you do when you lose a bet in the normal martingale.
Betcoin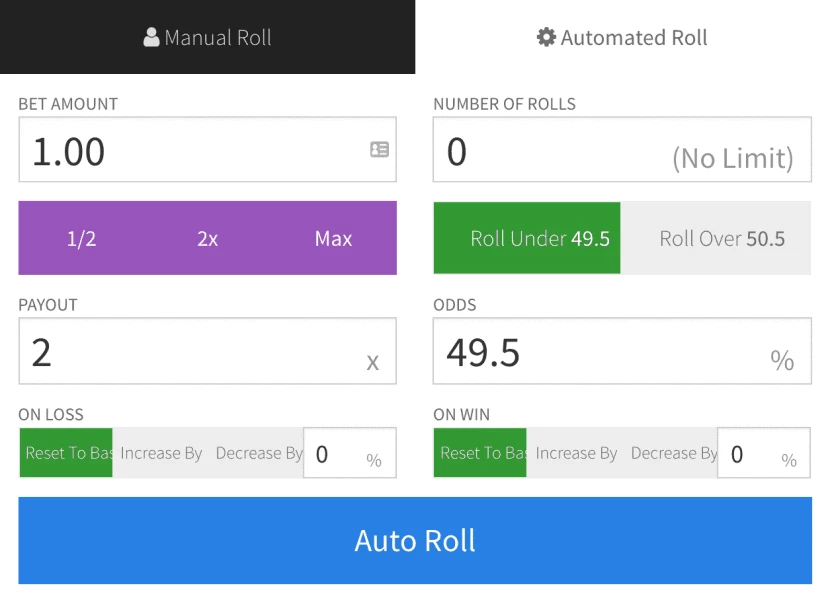 Betcoin dice bot is easy and fun to use. If you are on a desktop make sure you have a wide enough window or zoom out so that you don't get the mobile layout which is frustrating to use on a desktop.
The options and controls are really the same as most of the above. The very low max profit of 1000 m฿ is limiting.
Dice site walk-through
Bitcasino.io Casino
Bitcasino.io Casino Review


Fast transactions

Easy to use
+2
Play Now
Bitsler Casino
Bitsler Casino Review


Great Customer Support

Low fees
+12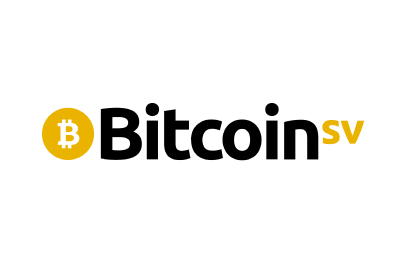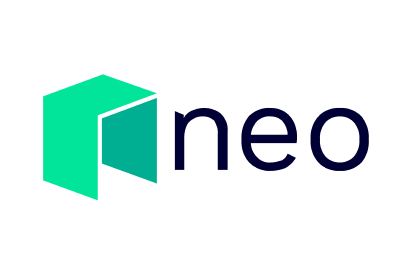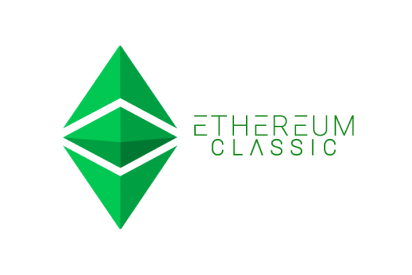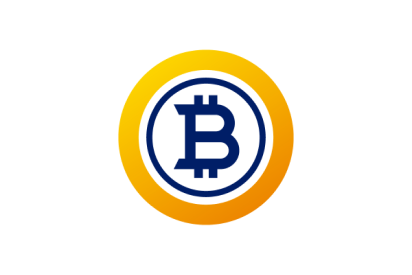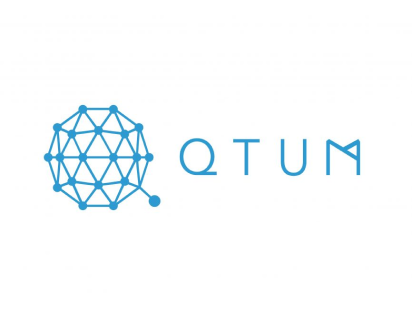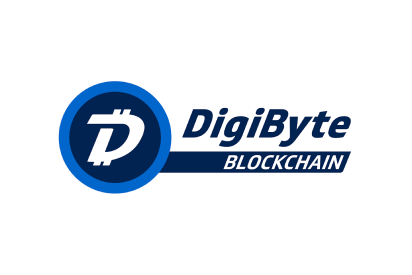 Play Now
ROCKET
ROCKET Review


Dice-focused

Crash Games

Crypto Casino
+1
Play Now