This operator is currently inactive
Pros

Good support

Good sportsbook and binary options

Lifetime profit/loss displayed

Fast withdrawals

Good privacy
Cons

BTC only

Small max bet

Multiple balances
Dice game
BetBTC's dice game is pretty good. You get sliders as well as text input fields to set the bet amount and probability. The result of the roll is displayed in a cool circular graphic which adds fun and excitement.
We like that the lifetime profit or loss is displayed numerically and graphically over time.
The automatic betting bot is very basic, it does not let you automatically change the bet amount after a win or loss.
The max bet is very small at 400 m฿ compared to 10,000 m฿ at the top sites listed here.
User experience
BetBTC is not a website devoted to dice, it's more like a betting exchange with a dice game attached. One example of this is that you have to transfer your own balance between the exchange and dice game which is inconvenient and unnecessary.
All your account options like time zone and transaction history are where you would expect them to be, look good and work well.
Trust
We have no reason not to trust BetBTC but they are a newer dice site. Although their record is short it is unblemished with no cases of hacks, downtime or any dramas.
Transactions
Unique deposit addresses: Not available.
Confirmations before play: 3.
Withdrawal time: Instant!
Player-to-player transfer: Not available.
Customer service
Customer service channels available: On-site ticket system.
Speed of replies: Our tickets took about 15 hours to be replied to.
Accuracy of replies: Very good, most tickets are probably replied to by the owner.
Privacy and security
Information required at signup: None, not even an email address.
2-factor authentication: Available.
Geo-targeting
BetBTC does not block any players based on country, just like it should!
Bonuses
100% first deposit bonus of up to 3000 m฿. The bonus is released into your account gradually depending on your bets. That stops after 365 days or when you make a withdrawal.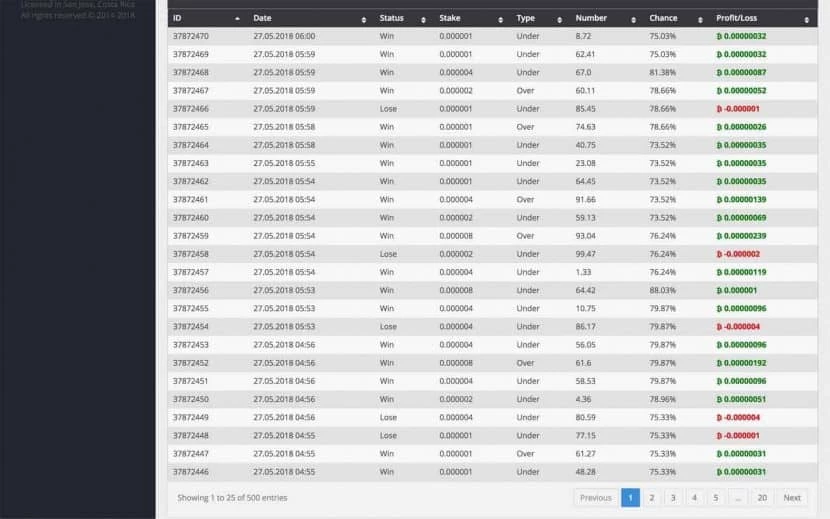 Overall
BetBTC's dice is worth a roll if you are also interested in trying the betting exchange. Other than that the higher-ranked operators on this site offer a better dice experience.
Dice site walk-through