Pros
Beginner-friendly games
High-quality animations and graphics
Can opt to be totally anonymous
Cons
Support is virtually non-existent
Slow to load the site and games
The license validator displays an error
Privacy and security 8/10
Established 2019
Min bet $0.00057
Max win $141,502
Currencies:
BTC
DASH
ETH
LTC
XRP
ZEC
Rocket is a vibrant crypto dice site, and has been around since 2019. At Rocket, you'll be able to enjoy what is possibly the simplest and easiest dice game that you can find on the web.
If you're chasing the max win of 5฿, you're going to want to avoid running into any issues as customer support is totally inadequate.
Dice game
Rocket has the essentials nailed in its games, offering an exciting and refreshing experience.
There are big sliders that make playing at Rocket easy for just about everyone, even if you're totally new to the world of crypto dice; you don't need to be a rocket scientist to figure out how to make it work.
User experience
Rocket has really embraced the 21st century when it comes to its user experience. You can enjoy a simplistic layout and a handful of custom-made games.
All the buttons and features you're looking for are really easy to find, showing that Rocket has put a lot of time into crafting its dice game, and site as a whole.
If you find Rocket to be rather slow, it's not your connection. Rocket suffers from slow load times, which get even worse when creating your account or trying to log in.
Load times aren't the only slow feature of Rocket, with the support responses being equally slow.
Trust
Rocket's games have been verified by iTech Labs, which is one of the most reputable random number generator (RNG) verification companies in the world.
The slight concern is that Rocket claims to be licensed in Curacao under the master license number N.V. #365/JAZ, the validator flags up Rocket.run as an invalid URL.
This could just be where Rocket has updated its URL and not notified the regulators, or it could be indicative of a larger problem.
Transactions
Unique deposit addresses: No.
Confirmations before play: 1.
Withdrawal time: Virtually instant in our experience.
Player-to-player transfer: No.
Customer service
Customer service channels available: Live chat and email.
Speed of replies: Live chat responses are virtually non-existent. Emails took just over a day to receive a response.
Accuracy of replies: Detailed and helpful.
Real-life customer service test
Question: Can I make a player-to-player transfer from my account?Answer:
Thanks for contacting Rocket Support. From your case, I understand that you would like to know whether you can transfer your fund to other accounts. Please correct me if I misunderstood your question. If you have enough balance, you can transfer as you wish to other accounts as you may withdraw your fund. Hope this helps if you have any questions or concerns please feel free to contact us.
You must be level 1 before you can use the live chat feature, but you can get to level 1 with just a few rolls of the dice.
Privacy and security
Information required at signup: Username and email address.
2-factor authentication: Available.
Geo-targeting
Players in the following countries are geo-blocked by Rocket:
Australia
Bonaire, Sint Eustatius and Saba
Curaçao
France
Netherlands
Sint Maarten (Dutch part)
Spain
United Kingdom of Great Britain and Northern Ireland
United States of America
Bonuses
When you create your account at Rocket, you'll get a welcome bonus of 300 Space Dollars, which is around 933 satoshis.
Space Dollars (SPD) is Rocket's own currency that you can use to play its games. You can opt to convert this bonus into another cryptocurrency if you wish.
There are daily missions you can complete to unlock more rewards, level up and access the VIP system. These are calculated in USD for every win you achieve.
Earning SPD as a bonus isn't really that exciting owing to the fact that 1,000 SPD equates to 3,113 satoshis. You can exchange SPD for other currencies at the cashier, which is the only way to cash out this currency.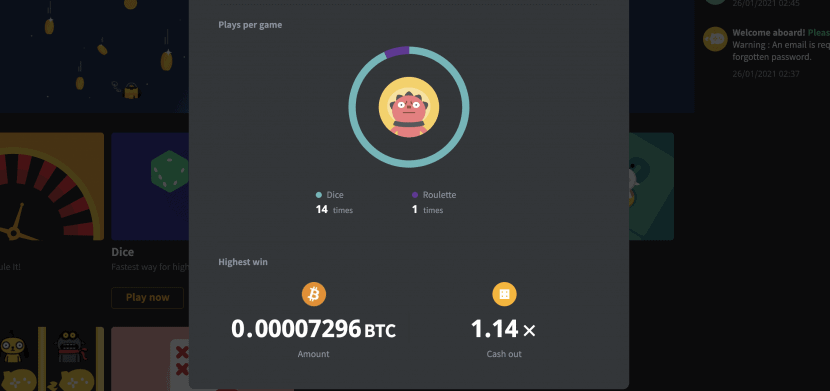 Overall
Rocket is a pretty neat dice site, and has a nice selection of other games for you to try out, should you feel adventurous. The graphics are tidy, but the load time of the site and games can be rather slow, even with the best connection.
Locking the live chat until you reach level 1 is frustrating as a newbie to the platform, but it only takes a few rolls of the dice to make your way to level 1. If you like dice games and a simplistic user interface, Rocket is well worth a punt or two!