There are dozens of popular movies that feature poker as a minor subplot with a couple of scenes showing play. For example films like
Casino Royale
or
Lock, Stock and Two Smoking Barrels.
Films, where poker plays a minor role, are not on this list. We only list films that really are
all about poker
; where poker is a major plot element with large chunks of screen time given to play. These films all have good-seeded torrents available. Also, check out our list of:
A Big Hand for the Little Lady (1966)
Rotten Tomatoes rating 86%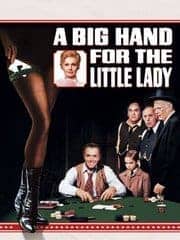 This is surely the most shouty movie ever made. Every male cast member shouts every line the whole way through. It's enough to give you a headache. Henry Fonda is just passing through Laredo Texas when he gets wind of a big poker game going on in the back room of the hotel and his old addiction re-surfaces. Despite his wife's protestations, he puts all their saving on the line and then has a heart attack leaving her to play the big hand for him. A large amount of time dedicated to poker is ruined by the fake "Western rules" by which any player can "win" a pot by betting an amount the opponent can't cover. Lastly, most of the characters are unlikable, mostly because they are always shouting.
Cincinnati Kid (1965)
Rotten Tomatoes rating 85%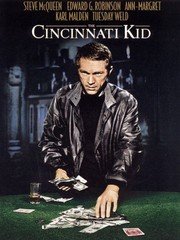 Steve Mcqueen stars in what must be the greatest poker movie, in fact, the greatest gambling movie of all time! Mcqueen is a gambling prodigy who runs good at everything from cock fight betting to the ladies. He rises through the levels of 5 card stud games in depression-era New Orleans from back alleys and basement games to playing with the millionaires. Macqueen is magnetic and charismatic, he refuses to cheat when given the chance and we root for him all the way.
Shade (2003)
Rotten Tomatoes rating 67%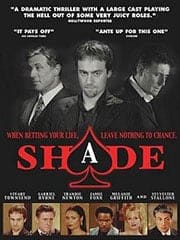 Shade is a neo-noir crime film about poker playing card hustlers, con men and cheats in Los Angeles. It stars Jamie Foxx, Melanie Griffith and Sylvester Stallone, who has never looked or sounded more suave and debonair. Shade is a UK production with interwoven stories and a non-linear timeline. It is one of the best-written and acted films on this list. The story keeps you guessing who is playing who, with plenty of entertaining plot twists and turns. The poker action is mostly a 5-card stud and a 5-card draw.
Maverick (1994)
Rotten Tomatoes rating 67%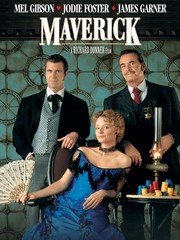 Mel Gibson and Jodie Foster star in this western romantic comedy. If reading that sentence made you cringe you will do a lot of cringing during the film. It does have some redeeming features though, like the stunning scenic backdrops including the grand canyon and Yosemite Valley. As much as you wish you were too cool for this movie you will find yourself giggling and being charmed by the characters. Poker is a major part of the story, 5 card stud and draw in particular. While poker takes up a lot of screen time, with a discussion of tells and cheating, it does not go in depth and is made for the mass audience of poker n00bs.
Rounders (1998)
Rotten Tomatoes rating 65%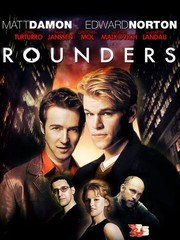 Edward Norton, Matt Damon and John Malkovich star in the greatest modern poker movie there is. Damon and Norton are long-time best friends and poker buddies until Norton winds up in jail and Damon goes bust. After losing all his savings Damon leaves poker and goes legit; taking a law degree, working a regular job and living with a stable girlfriend. When Norton gets out of Jail the 2 have to start playing poker again to pay off Norton's debt to violent mobsters (for which Damon is partly responsible for). What follows is a roller-coaster of no-limit Hold'em.
High Roller: The Stu Ungar Story (2003)
Rotten Tomatoes rating 56%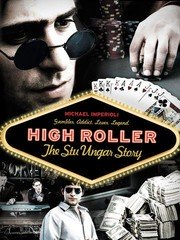 Stu Ungar was the real deal, maybe the greatest gambler of all time. So how did he end up dying alone and in debt in a cheap off-the-strip motel room? This movie shows how in the form of Ungar telling his story to a stranger in that very motel room with flashbacks from his life. From being the son of a bookie to a world champion gin player, cocaine addiction, marriage, winning the world series of poker a record 3 times, more drugs, divorce et cetera. Ugnar's is an amazing true story. The movie lets it down a bit, maybe it's not as enjoyable as it could be because Ungar's character is hard to like, as he was in real life.
The Grand (2007)
Rotten Tomatoes rating 40%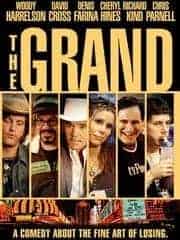 The Grand is the funniest movie on this list, it has an all-star comedy cast including Woody Harrelson, Ray Romano and Jason Alexander as well as real poker stars, Phil Hellmuth, Doyle Brunson, Antonio Esfandiari and Phil Laak. There is a lot of improvised comedy here so more than half the jokes miss the mark but they keep coming thick and fast. The poker featured is all Texas hold'em. Woody Harrelson needs to win a high-stakes poker tournament to save the struggling downtown Las Vegas casino his grandpappy left him. The film also tells the humorous stories of other players in the torment.
Lucky You (2007)
Rotten Tomatoes rating 29%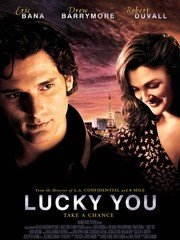 Lucky You tells the story of a Las Vegas professional poker player (Eric Bana) who has daddy issues with his father (Robert Duvall) who is also a Las Vegas professional poker player. Banner's character has some high-risk, self-destructive character traits that he will need to tame to keep his new sweetheart, nice girl Drew Barrymore. He ends up at the final table of the world series of Poker playing heads-up against his father! Wow, what are the odds hey? I mean who would have thought that would happen? The film is painfully forced and clichéd and fails all around. There is a lot of poker in it but low-level stuff is meant for mass audiences. Weirdly Robert Downey Jr has a bit part.
Runner Runner (2013)
Rotten Tomatoes rating 8%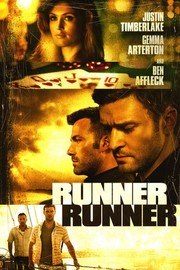 Justin Timberlake is playing online poker to pay his tuition at Princeton University when he loses his bankroll in a statically impossible marathon downswing. He takes this evidence all the way to the poker room's owner (Ben Affleck), a millionaire playboy in Costa Rica who is so impressed he offers Timberlake a job as his right-hand man. The FBI threatened to ruin Timberlake's life unless he cooperates to help them convict Affleck, who gets shadier and shadier as the story unfolds. This is a great plot, much of which was true! Which makes how bad the movie is all the more disappointing. It's just so forced, fake and not believable the whole time.
Deal (2008)
Rotten Tomatoes rating 3%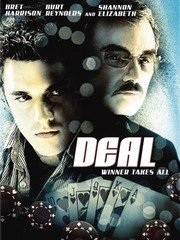 Deal is the most pokery film of all in terms of % of the storyline and screen time that is dedicated to Texas hold'em. It stars real poker pros Antonio Esfandiari, Chris Moneymaker, Greg Raymer and Phil Laak. The Deal is the worst kind of hack job, featuring unbearably obvious and overplayed product placements to the point it is essentially a 90-minute series of bad poker commercials. Burt Reynolds (who looks creepy after way too much plastic surgery) is an old jaded former poker pro who takes a young up-and-comer under his wing with all the obvious cliches of the master/student Hollywood narrative including the inevitable conflict and angry falling out. At the young up-and-comer's first big word title tournament Reynolds makes a comeback for one last shot at glory and they end up playing each other heads up at the final table! Isn't that amazingly unexpected? Wow, what were the odds of that happening?