Thursday Doubles Progressive Bonus
Play Now
Pros

Low Rake

Large range of games and tourneys

Authentic crypto poker OGs
Cons

Slow customer service

Low action outside peak times

BTC only
SwC Poker is an unlicensed crypto poker room where players can access the same game types as regular poker rooms and play anonymously. The platform doesn't charge transaction fees when depositing and withdrawing and is targeted at native cryptocurrency users who like to play poker anonymously without having to share their personal information. With an easy sign-up process that only requires a valid email, players can have a similar experience as playing on GGPoker or PartyPoker.
Over ten game types are available, and players can choose to opt in:
Tournaments
Sit & Gos
Cash Games
With a high rakeback unheard of in regular poker rooms, SwC gives Bitcoin fans a platform to play poker without worrying about identification or sharing their financial information.
Features of SwC Poker
SwC Poker is a popular online poker platform that offers unique features to players. One of its standout features is anonymity, allowing players to enjoy games for real money while maintaining privacy.
The platform has a rakeback program of up to 50% and operates on a no-drop, no-flop policy, meaning no rake is charged if the games don't reach the flop.
SwC Poker only allows Bitcoin transactions, which enhances the platform's flexibility and opens up opportunities for players worldwide.
It hosts multiple games but includes popular ones like Hold'em or Omaha. Additionally, the platform provides a software interface that players can access on PC (Apple & Windows) or mobile. SwC has a dedicated app for Android users, while iOS players can easily join through the mobile browser.
SwC Poker also offers poker skins to customize the gameplay experience, and it is continually improving and updating its platform.
SwC Poker Key Facts
| | | | | | | |
| --- | --- | --- | --- | --- | --- | --- |
| Welcome Bonus | Bonus Code | Casino Games | Live Games | Sports Markets | Live Betting | Payment Methods |
| N/A | N/A | N/A | Yes | N/A | N/A | Bitcoin |
Bonuses & Promos
The promo offer on SwC Poker is outdated. The last promotion was added on April 2023, which included two tournaments with bonus prizes. The promotion is available Thursday night for two tournaments where the best finishes get a bonus prize. The tournaments have a buy-in of 0.001 BTC and a guaranteed prize of 25,000 chips or 0.025 BTC.
To be eligible for the bonus, players must join both A and B tournaments, which run simultaneously. The player that has the best-combined finishes in both tournaments will win the weekly bonus, while the player who wins both tournaments will immediately get the progressive bonus.
From the total prize pool, 50 chips go towards the weekly pool, while ten chips go to the progressive bonus pool. There's no limit on when the tournament promotion will end.
SwC Poker Rewards & Loyalty Program
The loyalty program on SwC Poker comes in the form of rakeback, which can be as high as 50%. Users have to stack up Krill points and increase their rank in the leaderboard to earn higher rakeback each time.
Kiril points are earned every time players enter a hand or join a tournament and are calculated as √(entry fee) * 0.4.
Here's an overview of how much rakeback you can earn based on the amount of Kiril you earn:
1 Kriil earns users the New Seal title = 5% Rakeback
50 Kriil earn users the Baby Seal titles = 5% Rakeback + Access to Chat
500 Kiril earn users the Floundering Seal titles = 8% Rakeback, Choice of Avatar & Chat Color
1,250 Kriil earn users the Young Seal = 10% Rakeback
2,500 Kriil earn users the Daring Seal = 12% Rakeback
5,000 Kriil earn users the Adult Seal = 14% Rakeback
10,000 Kriil earn users the Tricky Seal = 17% Rakeback
20,000 Kriil earn users the Journeyman Seal = 20% Rakeback
50,000 Kriil earn users the Sly Seal = 24% Rakeback
100,000 Kriil earn users the Cunning Seal = 28% Rakeback
200,000 Kriil earn users the Boss Seal = 33% Rakeback
500,000 Kriil earn users the Shrewd Seal = 38% Rakeback
1,000,000 Kriil earn users the Baller Seal = 42% Rakeback
2,000,000 Kriil earn users the Sage Seal = 45% Rakeback
5,000,000 Kriil earn users the Iconic Seal = 47% Rakeback
10,000,000 Kriil earn users the Grandmaster Seal = 50% Rakeback
SwC Poker Games & Tournaments
The platform has an entire suite of different games, including Cash Games, Sit & Go's, and Tournaments.
The variety of games is striking since we haven't seen these many game types in any centralized or decentralized poker rooms. These include.
Hold'Em
Pineapple Hold'em
Short Deck
Omaha
5 Card Omaha
Mixed games
Courchevel
Drawmaha
Stud
Razz
2-7 Tripple Draw
Badugi
Badeucy
Chinese
OFC
Stakes can vary, and players can opt for low to high wagers. The lowest buy-in for a Cash Game is 0.02/0.04 CHIPS, while the highest is 4,000/8,000 chips.
In tournaments, the buy-in can range from free roll tournaments up to 25,000 Chips. Sit&Go's have even higher buy-ins, possibly up to 500,000 Chips.
Deposits & Withdrawals
SwC Poker platform only allows players to make deposits in Bitcoin. The platform doesn't have a minimum BTC amount to deposit. For withdrawals, players must request a minimum of 500 chips for the site to process the transaction. The value of a 1 SwC chip is 0.000001 BTC or a satoshi.
Deposits and withdrawals require one BTC network confirmation, around 10 minutes. Users can sometimes wait even 24 hours, depending on network congestion. For any payments done on the platform, players must pay the BTC network fee, which can vary depending on the time of payment.
SwC Poker Payment Methods
The only accepted payment method is crypto, and players can make deposits using Bitcoin directly on the platform. Other tokens, including Litecoin, Monero, Tether, DAI, Zcash, Ethereum, and Dash, are also available. Altcoin payments are processed through SideShift, which is a no-sign-up crypto exchange that works similarly to an on-chain swap. Players can use the most popular cryptocurrencies to swap to Bitcoin and deposit on SwC.
Mobile Gaming
Poker games can be played from any mobile device. SwC Poker provides access to their interface via their websites. Players can also download a mobile app only developed for Android and access any poker room. Mobile browser access is seamless. There are a few differences between the PC platform and the mobile games, allowing players to play from anywhere – even remotely.
Software
You can download native apps for Android, Mac, and Windows or you can play in the browser, which is the easiest and most convenient option. The main advantage of downloading the client on your computer rather than playing in the browser is that you get great multi-table management in tile or cascading layouts.
The Android app is fine. Its mostly just the big screen version but shrunk down to a smaller screen. This means the options and controls on the tables are a bit cramped and cluttered. Some of the options and features from the big screen versions are missing, for example, customizable table, background and card colors.
You cannot find the Android app in the Play Store, you have to go to the SwC Poker website and download it from there. You might have to change your security settings to install the app but it's easy.
Rake
SwC Poker has a very low rake – 0%-3% of cash games and 2%-6% for tournaments. It's then possible to get up to 50% rakeback through the loyalty program.
SwC Poker has the lowest rake of all poker sites.
Range of Tables
SwC Poker has a massive range of tables, with loads of tables including (but not limited to):
Hold'em: No limit and fixed limit.
Pot limit Omaha: High/low, 5 card and 5 card high/low.
Stud: Fixed limit.
Chinese: Pot limit.
Draw: Fixed limit.
Short Deck: No limit.
Mixed: HORSE, 8-Game, 11-Game and Lowball.
Only the no-limit hold'em tables up to 0.05 m฿/0.1 m฿ have action 24/7. However, a wider range of tables has action at peak times.
SwC Poker has the biggest tournaments of any crypto site. The BIG BTC runs on the last Sunday of every month with a 500 m฿ prize. The Medium BTC runs every Sunday with a 150 m฿ prize. Both are standard no-limit hold'em formats.
SwC Poker has the best range of tables of all poker sites.
Interface & User experience
The poker gaming experience on SwC is effortless. While game graphics aren't some of the best players, the interface is easy to navigate and provides immediate access to all information. Filtering is done correctly, and users can sort through game types, and choose the game formats, the number of players, and the buy-in size.
We liked that SwC highlights games with high stakes or those with high guaranteed prices. Higher Kiril points allow users to customize their avatars to provide a better game experience. All in all, the platform offers all features and even converts buy-ins into BTC to have a better understanding of the prize pool.
Transactions
Unique deposit addresses: Yes.
Confirmations before play: 1.
Withdrawal time: Between 2 and 6 hours.
Player-to-player transfer: Available.
Withdrawals are manually processed so they do take longer.
Customer service
Customer service channels available: Email is the official support channel but you can get basic help in the site-wide chatbox and Twitter.
Speed of replies: Ranging between a few hours and no response.
Accuracy of replies: Good, they are true crypto poker insiders and they really know their stuff.
Privacy and security
Information required at signup: Email address.
2-factor authentication: Available.
Licensing
Casinos and poker platforms should operate under a valid license as it guarantees trust between the payee and the game providers. In online poker, a valid gambling license is the closest players get to ensuring the platform can be trusted and is verified by a third party. Licensed platforms must also follow a set of rules, including anti-money laundering and KYC regulations. SwC Poker doesn't hold a valid gambling license, which means any institution doesn't verify the platform. On the flip side of things, players can deposit and withdraw from the casino anonymously since they're not required to provide any form of identification. All transactions take place on-chain.
Players who opt for decentralized games on SwC Poker want to stay anonymous and only gamble using cryptocurrencies.
Crypto Gambling Awards
Geo-targeting
SwC Poker is not geo-blocking players based on country, just like it should!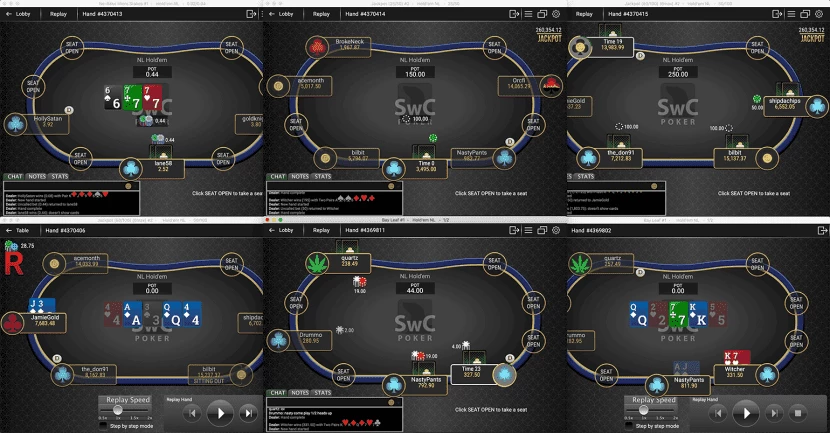 Loyalty program
SwC Poker has a standard loyalty program where you get points for paying table and tournament rake. The more points you have the more rakeback you get, ranging from 5% to 50%.
You also get goodies like freerolls and customizable avatars.
Overall
SwC Poker is a wonderful, hardcore, crypto poker site. It has good software, low rake, some of the biggest tournaments in the industry and a wide range of games.
The other sites listed here also have sportsbooks and casino games. Unless you specifically want those features then their absence on SwC Poker is a positive because it means no distractions, just poker in all its glory!
SwC Poker is the best overall poker site.
Q&A Session
In this section, Vlad Hategan will address your inquiries and the most common questions regarding the tokens used for payment, the rakeback system, and account verification and offer guidance to newcomers in the field. Feel free to submit your questions through our contact form, and we will strive to respond within 48 hours.
SwC will refund players their buy-ins if a tournament is canceled.
No, players don't have to verify their account to play on SwC.
Players can earn higher rakeback on the platform if they play more tournaments. The system is similar to a loyalty program.
The currency used on the platform is SwC Chips, which has a denomination of 1 millibitcoin for every one chip.
The platform works using Bitcoin. Players can deposit BTC or similar cryptocurrencies and register to play poker games.