Pros
Low Rake.
Large range of games and tourneys.
Authentic crypto poker OGs.
Cons
Slow customer service.
Low action outside peak times.
BTC only.
Privacy and security 8/10
SwC Poker is the original and one of the best crypto poker sites – a pure online poker experience. There are no other types of gambling available, so there are no annoying casino ads or emails advertising a sportsbook.
Software
You can download native apps for Android, Mac, and Windows or you can play in the browser, which is the easiest and most convenient option. The main advantage of downloading the client on your computer rather than playing in the browser is that you get great multi-table management in tile or cascading layouts.
The Android app is fine. Its mostly just the big screen version but shrunk down to a smaller screen. This means the options and controls on the tables are a bit cramped and cluttered. Some of the options and features from the big screen versions are missing, for example, customizable table, background and card colors.
You cannot find the Android app in the Play Store, you have to go to the SwC Poker website and download it from there. You might have to change your security settings to install the app but it's easy.
Rake
SwC Poker has a very low rake – 0%-3% of cash games and 2%-6% for tournaments. It's then possible to get up to 50% rakeback through the loyalty program.
SwC Poker has the lowest rake of all poker sites.
Range of Tables
SwC Poker has a massive range of tables, with loads of tables including (but not limited to):
Hold'em: No limit and fixed limit.
Pot limit Omaha: High/low, 5 card and 5 card high/low.
Stud: Fixed limit.
Chinese: Pot limit.
Draw: Fixed limit.
Short Deck: No limit.
Mixed: HORSE, 8-Game, 11-Game and Lowball.
Only the no-limit hold'em tables up to 0.05 m฿/0.1 m฿ have action 24/7. However, a wider range of tables has action at peak times.
SwC Poker has the biggest tournaments of any crypto site. The BIG BTC runs on the last Sunday of every month with a 500 m฿ prize. The Medium BTC runs every Sunday with a 150 m฿ prize. Both are standard no-limit hold'em formats.
SwC Poker has the best range of tables of all poker sites.
User experience
On the tables and in the lobby most things are where you expect them to be and work how you expect them to work.
It can be hard to find the user options and functions you are looking for like the cashier and account settings.
Transactions
Unique deposit addresses: Yes.
Confirmations before play: 1.
Withdrawal time: Between 2 and 6 hours.
Player-to-player transfer: Available.
Withdrawals are manually processed so they do take longer.
Customer service
Customer service channels available: Email is the official support channel but you can get basic help in the site-wide chatbox and Twitter.
Speed of replies: Ranging between a few hours and no response.
Accuracy of replies: Good, they are true crypto poker insiders and they really know their stuff.
Privacy and security
Information required at signup: Email address.
2-factor authentication: Available.
Crypto Gambling Awards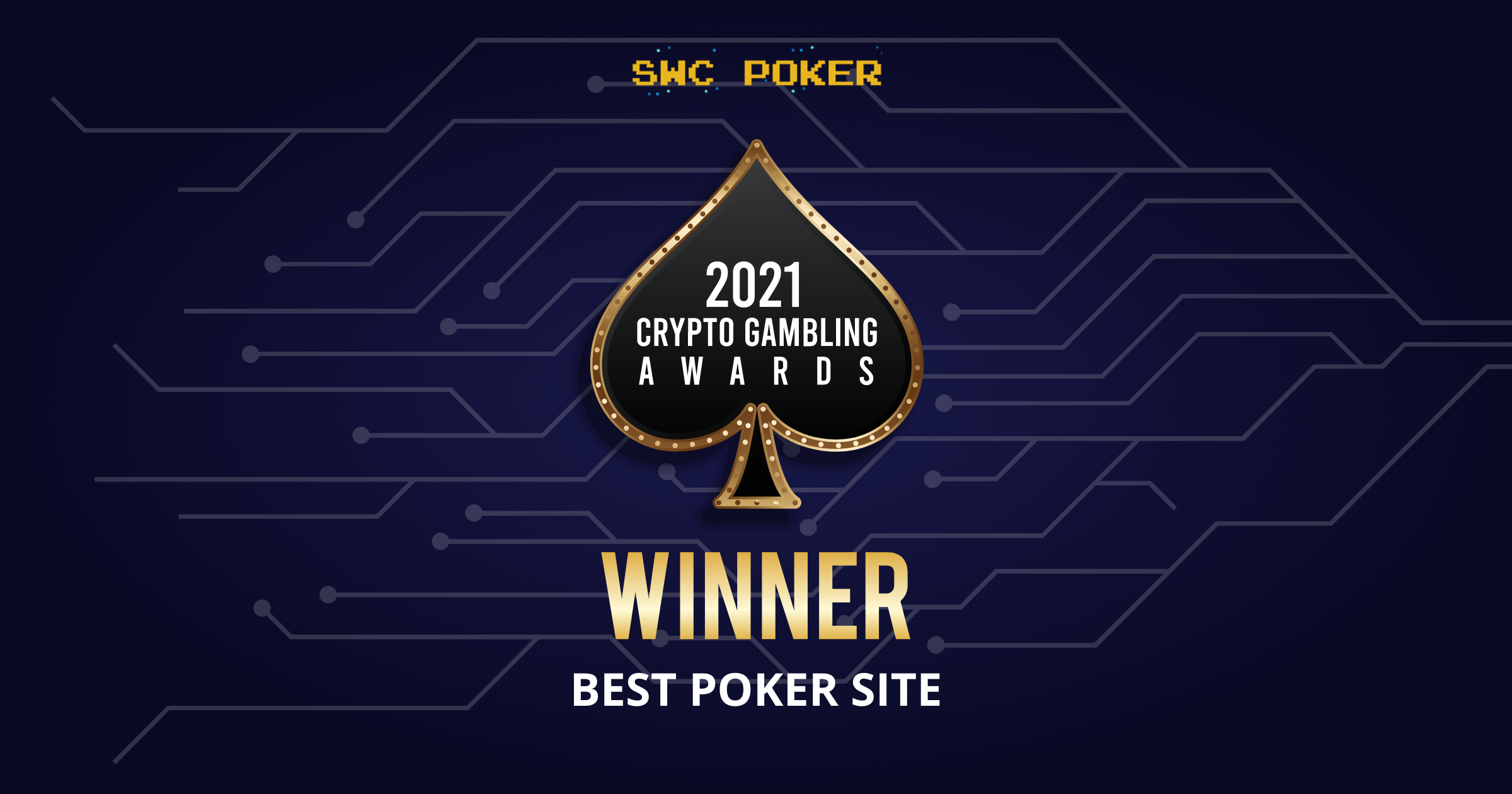 Geo-targeting
SwC Poker is not geo-blocking players based on country, just like it should!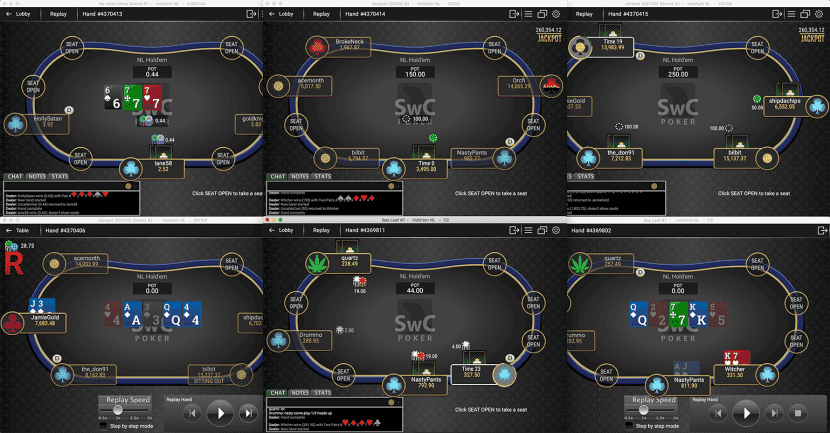 Loyalty program
SwC Poker has a standard loyalty program where you get points for paying table and tournament rake. The more points you have the more rakeback you get, ranging from 5% to 50%.
You also get goodies like freerolls and customizable avatars.
Overall
SwC Poker is a wonderful, hardcore, crypto poker site. It has good software, low rake, some of the biggest tournaments in the industry and a wide range of games.
The other crypto poker sites listed here also have sportsbooks and casino games. Unless you specifically want those features then their absence on SwC Poker is a positive because it means no distractions, just poker in all its glory!
SwC Poker is the best overall poker site.
Poker site walk-through