Bet Builder
Stake has gone the extra mile in anticipation of the World Cup by introducing its latest feature to its World Cup markets. The Bet Builder feature allows bettors to place bets on a number of different markets – essentially racking up a related bets accumulator.
This new feature applies to all World Cup matches and allows bettors to build a 10-leg accumulator. They'll be able to build their bet with the following markets among others:
1×2
1st Goal
Asian total
Handicaps
Double chance
Both teams to score
1×2
This is just a simple bet on the outcome of the match. Either the first-named team to win, a draw or the second-named team to win.
1st Goal
This is a nice and simple one to understand. This is a bet on who will score the first goal. This can be placed on either one of the teams or one of the players.
Asian Totals
This is an over/under market. Here you bet on whether the total number of goals scored will be over or under a certain value. So, you could bet on it being over 2.5 or you could bet on it being under 3.5. There are a lot more options than that available though.
Handicaps
This is a superb way to bet on the favorite and increase the odds while doing so. What it does is apply a handicap to one of the teams in the game. This can be a negative or positive handicap. So you might put a bet on the underdog to win with a +2 handicap. This would add 2 goals to their final score and if this turned the result into a win for the underdog, then your bet would pay out.
Correct Score
This is extremely simple to understand. You place a bet on what you think the correct score will be. This can often offer very good odds, as it's quite a difficult bet to get right.
Double Chance
This is similar to the 1×2 bet, except that this time you place a bet on 2 options. So if you bet on 1 and x, it means you're betting on the first named team to win or a draw. If either of these outcomes takes place, then your bet will win.
First Half/Second Half
Here you place a bet on who you think will be winning at the end of each half. So, if you think that a team is likely to be losing at half-time but then come back to win, you can place a bet on this taking place. If you think a team will dominate from start to finish, then you can place a bet on them to be winning at half-time and full-time.
Both Teams to Score
This is very easy to understand, it's a bet on both teams to score during the match.
Some of the best World Cup odds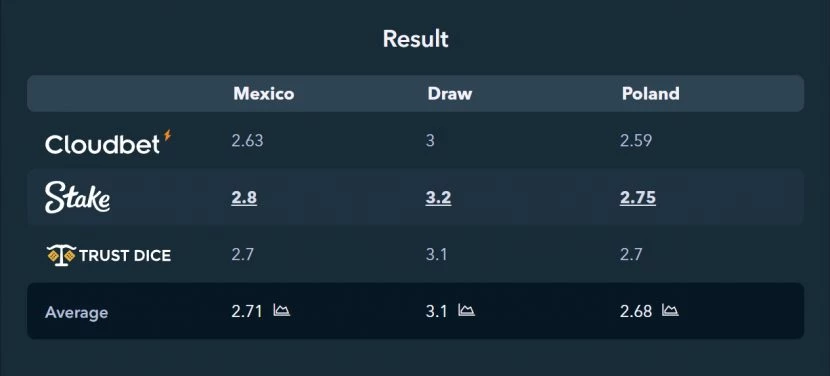 If the bet builder wasn't enough to sway you, then perhaps the fact that Stake offers some of the best World Cup odds out of any crypto sportsbook will. They frequently top the 1×2 odds, handicap and total goals markets on BitOdds.
World Cup promotions
Stake offers exceptional promotions on an abundance of sports including soccer. Be sure to check back regularly for their World Cup promos. This will allow you the opportunity to increase the potential value of any bets that you place.