Bitcoin Cash hasn't had an easy ride; born out of disagreement and subject to infighting its entire life. Nonetheless, bitcoin cash has focused on getting down to business and following Satoshi Nakamoto's vision as a low-cost electronic peer-to-peer cash system.
By remaining true to its values, Bitcoin Cash is quick, cheap, and easy to use, making it one of the best cryptos to bet with!
Bigger blocks mean less waiting!
Having to wait for hours for a transaction to be confirmed is one of Bitcoin's biggest flaws. When Bitcoin Cash was created from a hard fork, it opted to implement bigger blocks meaning more transactions per block.
This translates into less waiting in the mempool for your transaction to get picked up by miners. So, despite the overall block time remaining the same as Bitcoin, Bitcoin Cash can fit more transactions in every block, clearing the backlog faster.
When it comes to confirmation time before you can play, different crypto gambling sites have different rules. Presuming you're included in the next block, thanks to the bigger blocks of Bitcoin Cash, this is how long you'd have to wait at the top crypto gambling sites:
Cloudbet requires 1 confirmation, which is 10 minutes.
Stake requires 2 confirmations, which is 20 minutes.
bitStarz requires 6 confirmations, which is 1 hour.
Most sportsbooks, casinos and dice sites require 1 confirmation, which is 10 minutes away. While it still takes the same time to get confirmations as it does with Bitcoin, you've got a greater chance of being included in the next block without having to pay high fees.
Low fees for everyone
The whole purpose of the Bitcoin Cash fork was to ensure that Bitcoin remained a viable currency, rather than an investment vehicle. As a result, bitcoin cash's fees are at rock bottom. Even if you opt to pay higher than average fees to ensure that your transaction is included in the next block during peak times, you'll still be paying a fraction of the cost compared to Bitcoin.
The average transaction fee for Bitcoin Cash is less than a cent, $0.0058 to be exact. This massive saving on fees leaves more Bitcoin Cash in your pocket so that you've got more to play with. To put this into perspective, the average Bitcoin transaction fee at the time of writing is around $10.
Where can I bet with Bitcoin Cash?
If you want to bet with Bitcoin Cash, we've got you covered. Simply set Bitcoin Cash as your currency of choice and you'll only see sportsbooks that accept it.
To do this go to the top right-hand corner of the website and click the settings icon, or simply click here.


Once you've opened settings, click on the currency drop-down, select Bitcoin Cash, then press okay and save. Now you'll only see sportsbooks that accept Bitcoin Cash.
Cloudbet and Stake are the best crypto sportsbooks, casinos and dice sites that accept Bitcoin Cash. Bitsler is a decent alternative.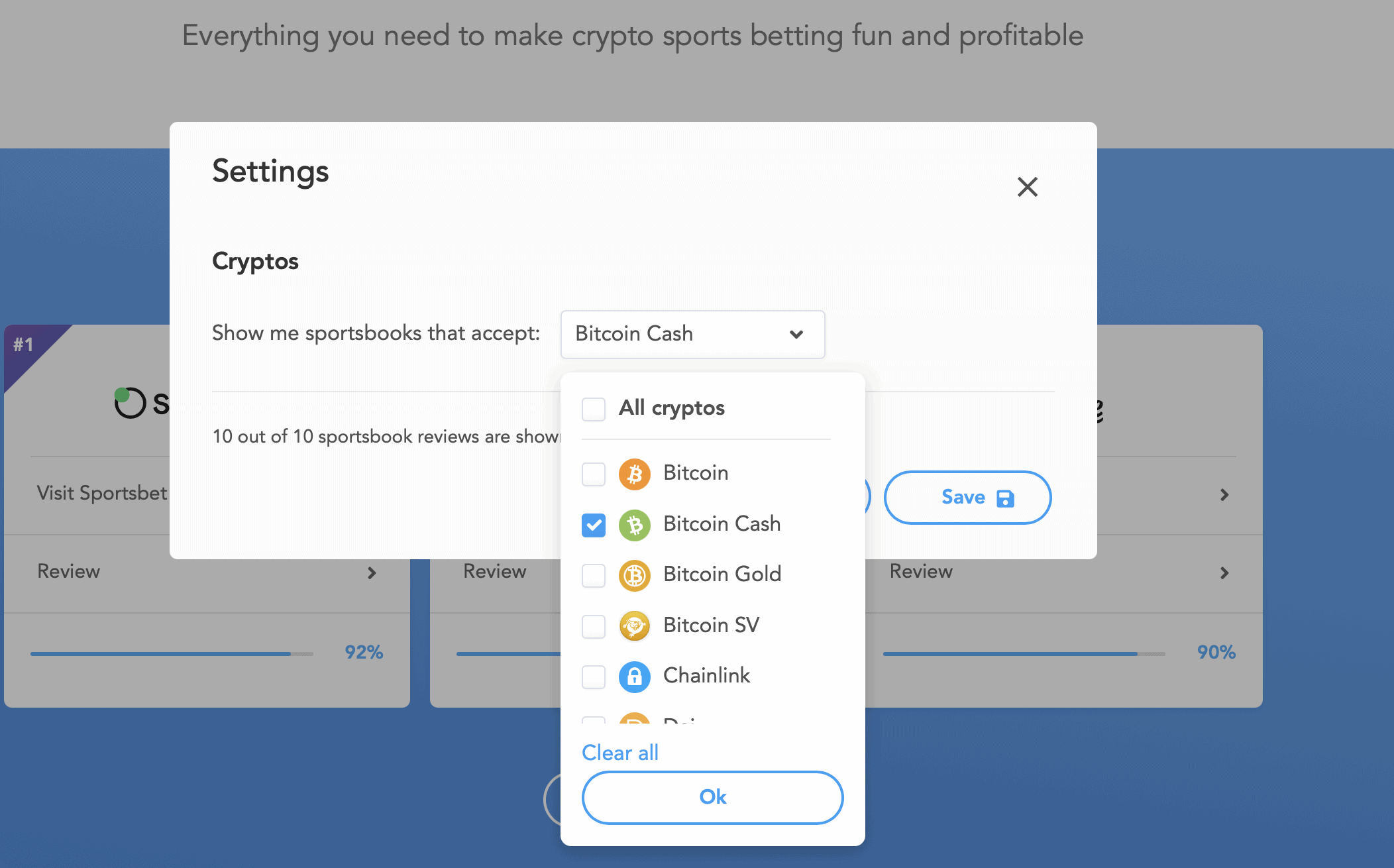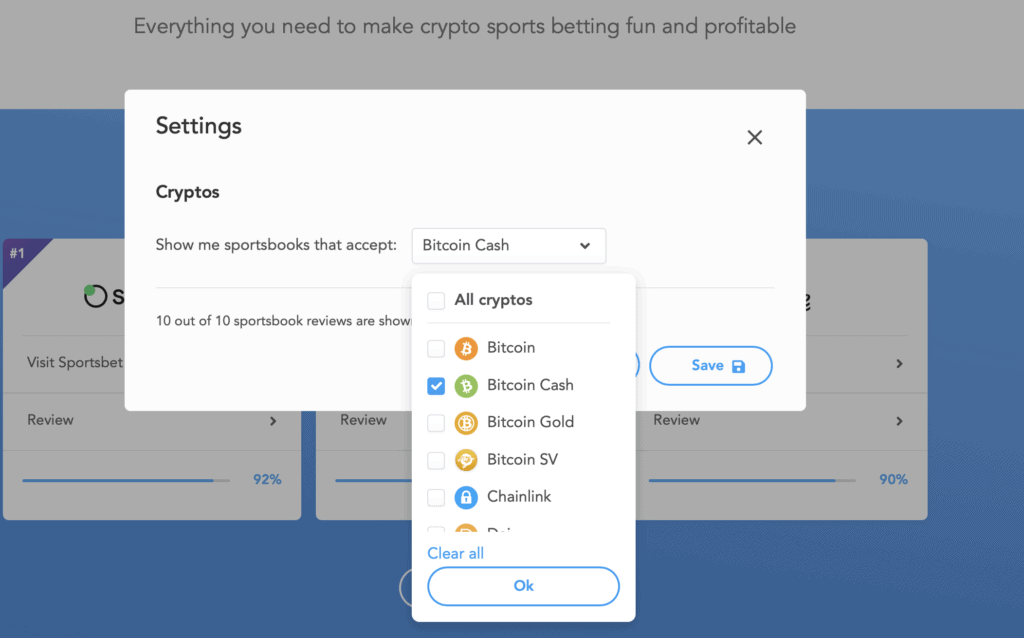 The verdict
Bitcoin Cash has many improvements that make it better than Bitcoin. The low fees are without a doubt the standout feature, making it one of the cheapest cryptocurrencies to transact in. A handful of crypto sportsbooks, casinos and dice sites accept it, so you may be limited in choice. That being said, those that do are some of the best crypto gambling sites.