All figures are accurate at the time of writing. Although exact figures may change slightly over time the concepts remain true.
Lower the edge by odds shopping
In sports betting the house edge is measured by the overround in the odds. As can be seen on the below screenshot from our best odds sportsbook rankings the top 6 crypto sportsbooks listed on our odds comparisons average a 4.38% edge. Sportsbet has the lowest edge at 3.64%.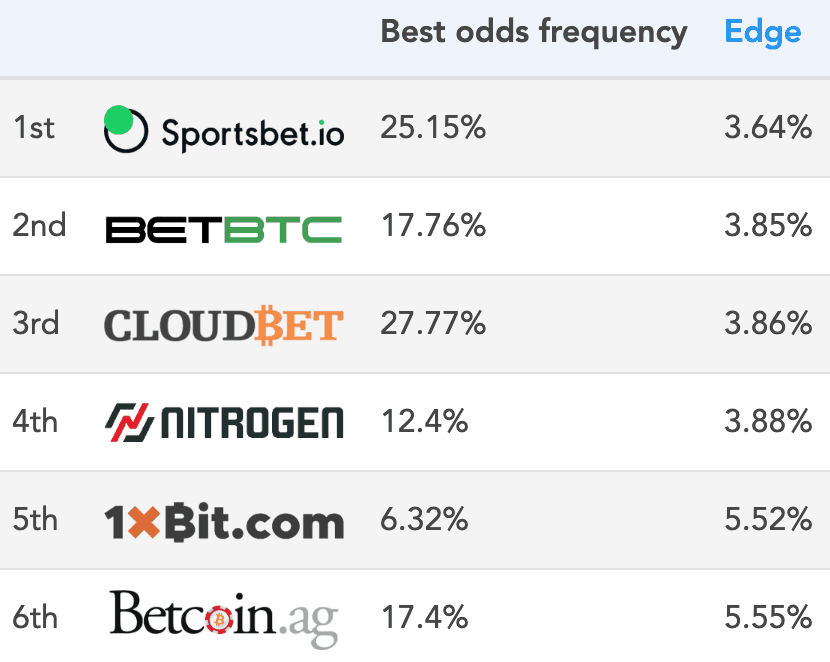 At a random sample of 30 betting markets across 7 soccer leagues, our odds comparisons found that taking the best odds on each bet in the market gave a combined edge of only 1.21%!
We call this the synthetic edge because it is achieved by constructing a synthetic betting market of the best odds offered by multiple sportsbooks. The synthetic house edge of 1.21% is a much better value than you can get with any individual sportsbook. In fact, it's 2.43% better than the best odds crypto sportsbook at the moment.
You can find an example from the UEFA Champions League odds comparison on this link: https://bitodds.com/uefa-champions-league/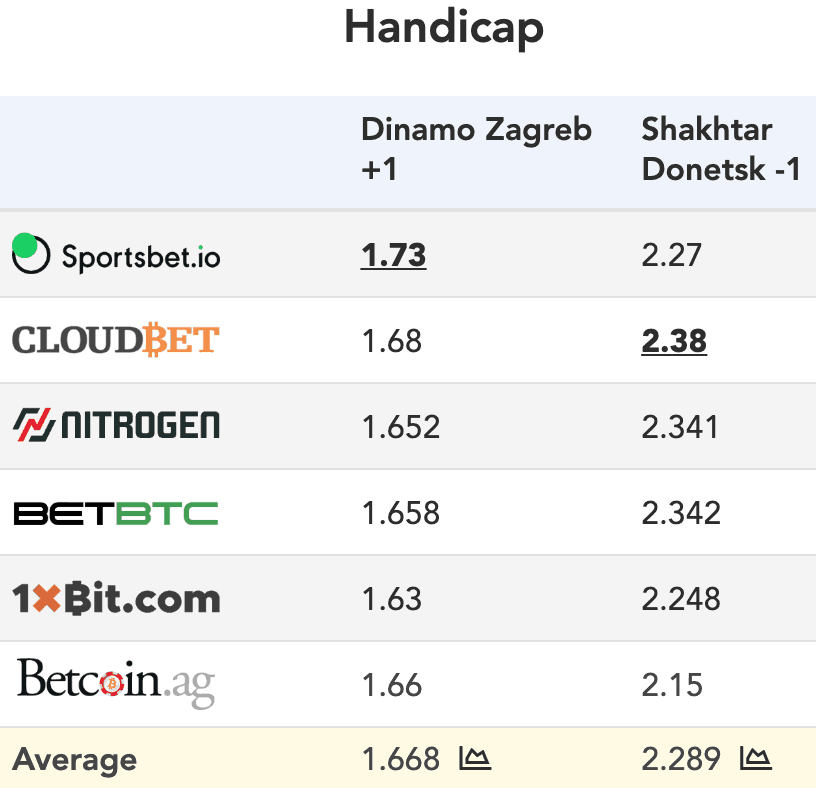 With the overround calculator, we can work out the edge for each sportsbook:
Sportsbet: 1.86%
Cloudbet: 1.54%
Nitrogen: 3.25%
BetBTC: 3.01%
1xBit: 5.83%
Betcoin: 6.75%
Average: 3.64%
But if we work out the house edge on a synthetic market by taking the best odds on both sides we get
Dinamo Zagreb +1: 1.73 (Sportsbet)
Shakhtar Donetsk -1: 2.38 (Cloudbet)
Put that synthetic market into the overround calculator and as per the below image and you get:

A synthetic overround of -0.18%! That means you can bet with an edge in your favor! Impossible to find in any individual sportsbook.
Average 2.43% better odds than the best odds sportsbook
One way to look at this is that even if you bet at the best value sportsbooks, currently Sportsbet, you have to be 3.64% smarter than them to break even. But with our odds comparisons and multiple sportsbooks, you only have to be 1.21% smarter to break even.
Another way to look at this is that if you would make a 4% profit betting against Sportsbet then you would make a 6.43% profit using multiple sportsbooks and our odds comparisons!
It's easy with crypto
With end-to-end crypto sportsbooks, it's quick and easy to open anonymous accounts and move money around. So there is very little inconvenience to lowering the house edge this way.
You don't even need to carry a balance at each sportsbook if you don't want to. You can just deposit the exact amount for each individual bet you want to make and withdraw as soon as your bet is settled. This would be a massive pain with government currency sportsbooks, credit cards and bank accounts, but it's easy with crypto.