Pros
High payout
Simple and easy
Trade the price of cryptos
Cons
BTC only
Limited assets and option types
Limited features, no charts
Privacy and security 9/10
BetBTC has a simple and easy-to-use binary options feature in what is really more of a sportsbetting site (review).
Trading platform
The platform is very bare-bones and basic, but that also makes it easy to use and reliable. There are no charts, no indicators, no dancing monkeys. All you do is pick your option, pick your stake, make your trade, and then watch.
A bet takes six seconds to confirm, after that it's very easy to track as it displays at the bottom of the page, clearly labelled with either green or red highlight to indicate whether it's winning or losing. There's a nice countdown timer as well – alongside the current price and the price you bought or sold it for.
You can only have one trade simultaneously on each asset.
Payout
If the price goes your way, you win 95%. If it goes against you or stays the same you lose 100%.
Range of options
There are
10 minute
60 minute
24 hour
high low binary options on
Bitcoin
Ethereum
XRP
Litecoin
Bitcoin Cash
EOS
Dash
Stellar lumens
NEO
IOTA
User experience
There is no wow factor or fun factor. On the other hand, when there are less things going on, there are less things that can break or go wrong. For example, the simplicity makes navigation easy and the trading and transaction records are very clear and useful.
Elements are not as well laid out on mobile as they are on desktop. The min trade of 1 m฿ is a bit too high.
Transactions
Unique deposit addresses: Available once every 2 hours…strange.
Confirmations before trade: 1.
Withdrawal time: Generally instant – although we have had occasions where it's taken up to 36 hours.
Player-to-player transfer: Not available.
You can only withdraw full m฿ amounts, that means if your balance is 20.9 m฿, you can only withdraw 20 m฿, having to leave 0.9 m฿ (~$11 USD) in your account. This is really not okay, it's your money, and you need to be able to withdraw it.
There is the option to deposit with altcoins, however, you're led to a Changelly widget which will exchange a wide range of alts to Bitcoin. It's a shame you can't deposit anything other the Bitcoin directly, but this is a nice workaround.
Customer service
Customer service channels available: On-site contact form.
Speed of replies: Variable. One ticket took about 15 hours to be replied to, whilst another came back within half an hour and one wasn't responded to.
Accuracy of replies: Very good, most questions seem to be replied to by senior staff.
Privacy and security
Information required at signup: Email only.
2-factor authentication: Available.
Geo-targeting
BetBTC does not block any traders based on country, just like it should be!
Bonuses
100% first deposit bonus of up to 3000 m฿. The bonus is released into your account gradually depending on your bets. That stops after 365 days or when you make a withdrawal.
To earn the first deposit bonus you need to collect 400 loyalty points before making any withdrawal. The amount of points attributed will vary, based on the stake and price score. It kills a lot of the excitement of the welcome bonus as there are too many terms and points to remember. To BetBTC's credit, the terms and formula for the bonus are listed clearly. However, we're not fans of the overcomplicated system.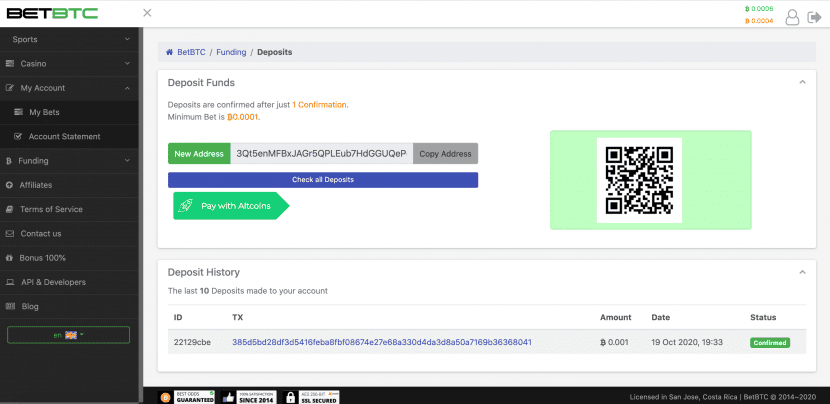 Overall
If you only want to trade high-low binary options between 1 m฿ and 100 m฿ on cryptos, then BetBTC is brilliant.
Broker walk-through