A user-base of 2.8 million people globally.
Boasts $9.9 billion in Total Value Locked
Largest decentralized exchange on the Balance Smart Chain.
The DEX uses the Automated Market Maker model.
Average trading volume of $1.1 billion per day.
Excellent choice for users on the BNB Smart Chain, and have BEP-20 tokens.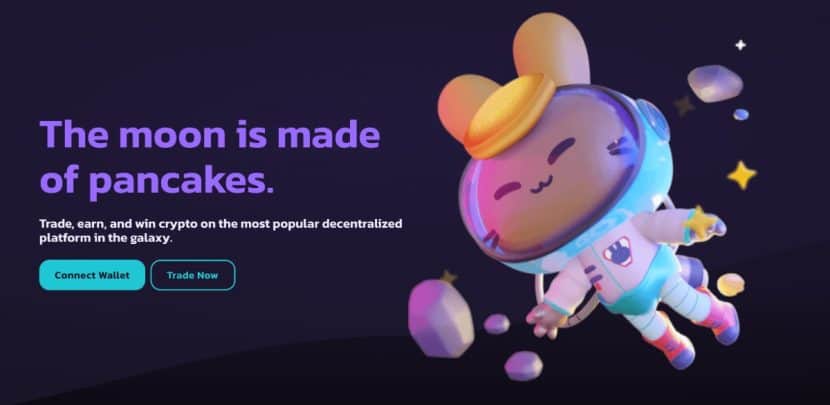 Introduction to PancakeSwap Exchange
'The Moon is Made of Pancakes;' that's the quirky but strongly on-brand tagline you'll find on PancakeSwap's website. Well, PancakeSwap exchange is another blockchain project whose originators aren't known. It was created and launched in 2020 by pseudonymous developers who refer to themselves as chefs. It's currently headquartered in Fukuoka, Japan. The mystery surrounding their identities created intrigue in the crypto community, and coupled with their excellent offerings, resulted in the most popular decentralized exchange. In the three years that they've been operational, they've managed to move from V1, V2 and V3, with each new version offering better features and services to users.
Setting up an account with PancakeSwap is completely free. You simply visit the site, connect one of the accepted wallets and start your transactions. Accepted wallets include: Metamask, Binance Wallet, Coinbase Wallet, Trust Wallet, Wallet Connect, Opera Wallet and Math Wallet Among others. What's more, the Exchange has its native token, CAKE, which has utilities like providing liquidity, Farming, Trading, Governance and Initial Farm Offerings. The exchange is decentralized, which makes it easily accessible in more than 200 countries. While the exchange uses quirky phrases like Pancakes on the moon and Chefs to mean leaders, they're extremely serious about their products and service delivery.In this PancakeSwap Exchange review, we're going to explore everything that sets this exchange apart from others, including the interface, services offered, how to use it, and pros and cons, and more. Let's start.
Type of Exchange
Decentralized Exchange
Price
Free
Fees
0.25% Swapping fees

0.02 Maker Fees

0.07 Taker Fees

Features

Swapping Feature
Different Asset classes
NFT Collection
Liquidity pool
WIN
Affiliate program

Number of Cryptos Supported
972
Earn

Provide liquidity
Perpetual swaps
Yield Farming

Customer Service

Troubleshooting page
Local Telegraph Groups
Twitter page

Hardware Compatible

Ledger Nano X
Ledger Nano S
Trezor Model T
Lattice 1
Keystone Pro

SPV or Full Node
Full node
Who is UniSwap best Suited For

Anonymous crypto traders
People interested in passive income through yield farming
Beginners and intermediate crypto investors

Pros

Intuitive user interface.
Self custody for private keys
Staking, yield farming and liquidity pools available.
3,000+ trading pair options
Easy swapping of BEP2 Tokens
Supports more than 150 tokens
Low trading fees
Frequent security audits for safety

Cons

Does not support tokens that aren't on the BNB Smart Chain
The impermanent asset loss risk in yield farming makes it a volatile investment.
Type of Exchange
PancakeSwap is an automated market maker type of DEX on the Binance Smart Chain. It is actually the most popular decentralized crypto exchange on the BSC chain. It's multiplatform, and you can access it on MacOS, Linux, and Windows.
Price
PancakeSwap is completely free to install and use. Simply connect the wallet and you're good to go.
Fees
While linking your wallet and setting up the exchange are free, there are certain costs you'll encounter when transacting on PancakeSwap. The site is listed as a free exchange, but you'll have to pay a 0.20% fee for transactions, and this is regardless whether you're a maker or taker.
PancakeSwap Features
Its the unique features offered by pancakeswap that makes it the best AMM on the Binance Smart Chain. Let's look more closely to PancakeSwap's features and how to start using them.
Swapping/Trading
The trading and swapping feature on PancakeSwap allows you to trade your coins for others without having to go through a centralized exchange. It's the perfect way to trade and exchange coins without involving a third party. You can make the swap through either the BNB Smart chain, the Ethereum Chain or Aptos.
Initial Farm Offerings
These are known as IFO. They mimic the conventional initial public offerings that companies engage in when they want to fundraise, and allow the public to become part of their shareholders. An IFO is an initial farm offering in full. It is an idea that was preceded by initial coin offerings, and has become an excellent way to raise funds. We found three initial farm offerings in our PancakeSwap Exchange review:
Stake Cake
PancakeSwap IFO
Token Vesting
Predictions / Perpetual Swaps
You can also choose the perpetual swaps feature on the trading section as an alternative way to invest. By making the swap, you're agreeing to buy or sell a particular token non-optionally, and at an unspecified time in the future.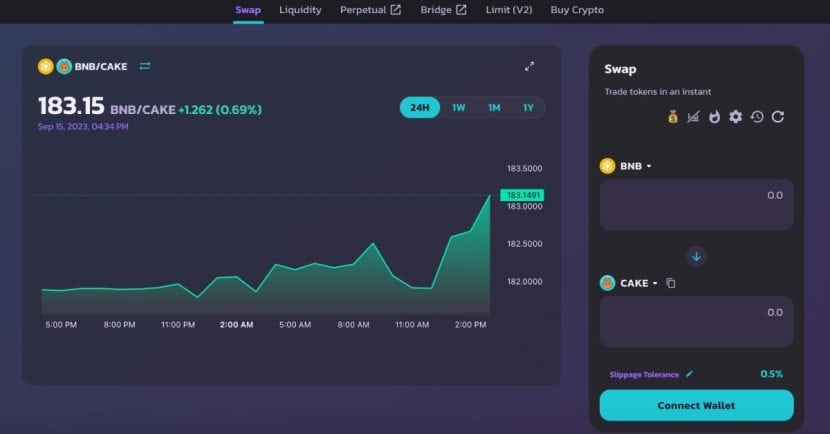 Number of Cryptocurrencies Supported
PancakeSwap currently supports more than 203 cryptocurrencies. Here are some of the most popular ones you'll find on the platform:
Tether
Polka Dot
EOS
Litecoin
Ethereum
Binance Coin
Dogecoin
Tron
Dai
Bitcoin Cash
Cardano
Ripple
Visit the tokens info page and check whether the currencies and tokens you'd like to trade or swap are listed.
Earn
PancakeSwap offers several ways to earn money on the platform. These include CAKE staking, liquidity pools and yield farming.
There are several ways that you can stake your cake and earn rewards. These include lending the tokens to custodial lenders or using decentralized lending protocols. You can also choose between flexible and fixed term lending.
The transaction here is known as adding liquidity to any of the listed token pairs by increasing the amount of either. Adding to the liquidity pool is beneficial as you get back trading fees for the pair, and also get LP or NFT tokens. You can stake these two tokens in farms and earn CAKE rewards in return.
Yield farming is simple as you only deposit your crypto into a dApp and earn interest from it. It is somewhat similar to the conventional financial setup where you earn interest on assets. Many people prefer yield farming to Syrup pools because farming gives better returns. The only challenge is that yield farming comes with a risk of impermanent asset loss.
Customer Service
Another interesting characteristic of PancakeSwap is that they don't have a centralized customer support system. If you're experiencing issues with the system, they expect you to check the troubleshooting page for any error codes. This can be extremely frustrating, especially if the solution to your problem isn't listed on the site. Fortunately, Pancake has DAOs in the form of telegram groups, and you can ask your question there. Note that the admins will never send you direct messages, and prefer to handle queries on the channel.
Hardware Compatible
PancakeSwap is set to work in tandem with other hot and cold wallets, since it doesn't have a custodial function. Therefore, you need to ensure the hardware you're trying to operate it on is compatible. You also need to ensure that you attach a compatible wallet for any transaction to work. Here's a list of all the compatible hardware:
If you want to connect a hardware wallet with PancakeSwap, you'll have to link it to MetaMask first. You can use WalletConnect for seamless connection between the hardware wallet and MetaMask. Here are some hardware wallets that do the job excellently:
Ledger Nano X
Ledger Nano S
Trezor Model T
Lattice 1
Keystone Pro
SPV or Full Node
Most AMMS opt for full node verification systems to safeguard their client's crypto investments. PancakeSwap employs full node validation.
Who is the PancakeSwap Exchange Best Suited For?
PancakeSwap is easier to master and use than most centralized exchanges. Processes like trading and swapping are easy as you only need to connect a wallet to start the process. Therefore, beginners and experts in cryptocurrency trading can use PancakeSwap with ease. Here are other types of investors that should use PancakeSwap:
People who like trading crypto anonymously.
Anyone looking to trade at reasonably lower fees than what's typically charged in the major centralized exchanges.
Anyone interested in earning from their crypto through yield farming, iInitial farm offering investors and NFT collectors
People interested in daily Lotteries
Additionally, there's a learn page where you can learn how to participate in all the activities provided by the exchange.
PancakeSwap Pros & Cons
Pros
Simple and very intuitive user interface.
You own your wallet, and control its private keys, which makes it close to impossible to compromise your crypto assets.
Staking, yield farming and liquidity pools available.
3,000+ trading pair options
Easy swapping of BEP2 Tokens
Supports more than 150 tokens
Trading fees is lower than what other CEXs and DEXs typically charge
You don't need an account with any centralized exchange to transact on PancakeSwap.
Frequent security audits to safeguard peoples' crypto assets.
Staking and yield returns excellent compared to competitor sites.
Cons
Does not support tokens that aren't on the BNB Smart Chain
The impermanent asset loss risk in yield farming makes it a volatile investment.
Services Offered by PancakeSwap Exchange
PancakeSwap has steadily increased the services they offer to their clients over the time they've been active. You can access these amazing services from the DEX:
NFT Trading
There's an NFT Marketplace where you can buy, sell and explore unique digital assets. Some of the most popular NFTs in the marketplace include PancakeSwap's own NFTs, Bunnies and Squadies. Here are other non-fungible tokens listed on the DEX:
Little Ghosts: this is a collection of about 10,000 randomly generated IT in unique colors and rarities. You can also get rewards for holding them.
MoonPets: These are cute little puppy designs that resemble different dog breeds including Beagles, Terriers, Boxers, and Golden Retrievers among others.
Others include Gamester Apes, Shit Punks, Born Bad Boys, Bullish, Lucky and Hiccup. You can check out the entire collection on the NFT marketplace and invest in a few.
Token Listing
PancakeSwap also allows you to list your tokens on the exchange and access their 2.5 million users. Your token has to meet certain criteria to be listed, but it's a straightforward and uncomplicated process.
Flip Token
This is a new token that's a collection of several tokens. You can trade with the flip token or use it in yield farming.
Syrup Pools
These are created by the developers, also known as chefs. They're Automated Market Makers where you can deposit different tokens from the BNB chain.
The DEX also keeps adding new and innovative services and products. They regularly update their products and services page to include new consumers.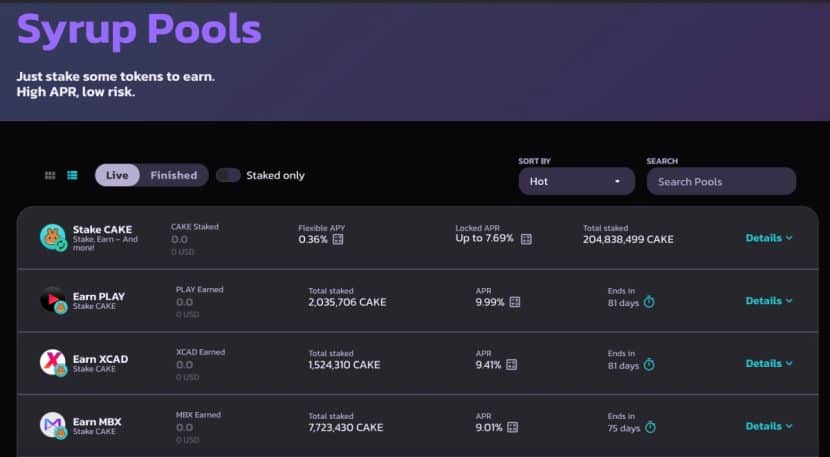 How to Create an Account
PancakeSwap is a decentralized exchange, which means they don't focus heavily on identity and KYC. The only way to work with their platform is by connecting it with one of their supported wallets. Here's a step-by-step process:
Start any wallet that supports the Binance Smart Chain. Some of the most popular binance smart chain wallets include Binance Smart Chain Wallet itself, Metamask, Trust Wallet, Trust Wallet, Math Wallet, Ledger Nano X, Ellipal Titan, among others. For this example, we can use Metamask.
Install the MetaMask extension in the chrome browser application.
Once the system is fully installed, create a new wallet. You can log in if you already have a wallet.
Visit the PancakeSwap website and click on the tab that says connect waller at the top right hand side of the wallet.
A pop up with all the wallet options you can install will show up. For this example, we picked Metamask.
If you have the Metamask extension up and running, the system should redirect you to the next step in the process. If not, the page will tell you that the wallet isn't installed.
Follow the prompts until your metamask is linked to PancakeSwap, then, you can start enjoying swaps, trades and other benefits.
How to Proceed with a Transaction
Transactions using PancakeSwap are more straightforward than other platforms even for beginners. Transactions like depositing, buying and selling only work when your PancakeSwap account is connected to a wallet.
How to Make a Deposit
Making a deposit into PancakeSwap is simply adding liquidity into the existing tokens. You can follow these simple steps to make it happen:
Make sure your wallet is connected to PancakeSwap. If you haven't made the connection, check the compatible wallets and add one.
Click on the 'Trade' menu at the top of the page, from the trade menu, you can select liquidity.
The liquidity page will give you several options. Choose 'Add Liquidity' and then, choose a token pair you want to work with.
You have to deposit both tokens into the pool at a ratio that PancakeSwap will determine for you. Make sure that you have both in your wallet.
Once you complete the transaction, you'll receive LP Tokens that you can stake in farms and earn CAKE.
How to Make a Withdrawal
Making a withdrawal from PancakeSwap is also known as Unstaking. Here you remove the CAKE that you have staked from the pool. Here are the simple steps to follow:
Open the PancakeSwap site and ensure your wallet is connected.
In the menu option, choose 'Trade'. It'll take you to the Liquidity page, and show you all the token pairs whose liquidity you've added. Here, you'll be unstaking instead of adding liquidity.
Click the minus or 'Remove' button and wait for the page to load options. It will open the 'Unstake' menu, where you get to choose the amount of CAKE tokens you want to withdraw.
After choosing, you have to confirm the decision to unstake your coins again. This will complete the withdrawal process.
Payment Methods
All transactions on PancakeSwap are routed through the wallet you've connected to it. This means that if for example, you're using a MetaMask wallet, your withdrawal methods will be those compatible with that wallet. Also, PancakeSwap doesn't allow direct Fiat Withdrawals.
PancakeSwap Exchange Supported Tokens
Here's a summary of the most popular tokens supported by PancakeSwap: Dao Maker, Modefi Token, ChainLink Token, PancakeSwap Token, ZeroSwap Token, Dork Lord Token, P2P Taxi Token and orbit chain among others.
Is PancakeSwap Exchange Safe and Legit?
PancakeSwap has been proven to be very safe for transactions. First, the platform will not hold your tokens, since that's an arrangement between you and your wallet. They also perform frequent security audits to enhance safety and catch any attempts to compromise assets on the platform. The fact that it's a legitimate decentralized marketplace on BNB Smartchain, and is also listed on Coin Market Cap also proves that its a safe and legit way to transact.
Security
The team that came up with the idea of PancakeSwap wanted to ensure that even though transactions were decentralized, the safety of the consumers and their crypto was constantly upheld. Therefore, you can expect to find the following security features on PancakeSwap:
Web Address Authentication: when you click on the link to access the site, it automatically tells you to confirm that you're on their website. This is meant to help you ensure you haven't logged onto a phishing site or scam page, which is a common security risk with cryptocurrency exchanges.
SSL Encryption: SSL protocol encryption is a simple and effective way to ensure that all information contained on a website is safely encrypted and out of the reach of scammers and hackers.
Bug Bounty: the other benefit of open source projects like PancakeSwap is that it allows people to keep auditing and improving the code. Therefore, you can improve any flaws and bugs that you find on the platform.
Audits: Slowmist and Certix always perform audits on PancakeSwap to ensure it doesn't have any unsolved security threats.
Two-Factor Authentication: This is a two-tier system that allows users to verify they're the ones using the account on two channels, like email and phone. It lowers the chances of someone hacking into their system, and taking off with their crypto.
Cold Storage: 95% of the currency is now held in cold storage to minimize potential loss should the site get hacked.
PancakeSwap has only suffered one hacking, through their DNS service provider, and they resolved the weakness that led to the problem.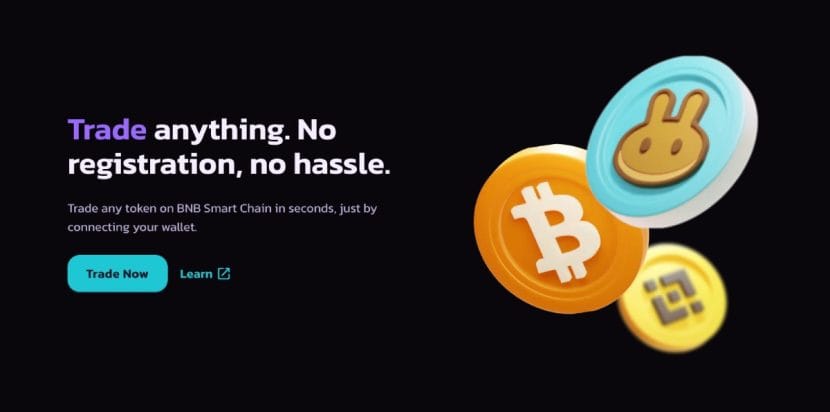 User Interface
The most pleasant thing about PancakeSwap is the minimalism of its user interface and ease of operation. You only need to link a wallet to start transacting. You don't need to download or buy any subscription to start operating on the exchange. Other aspects of the user interface include:
Language: PancakeSwap is available in English, Chinese, Japanese, Spanish, Indonesian, Portuguese, Russian, Vietnamese, Turkish, French and Italian.
Accessibility: PancakeSwap is available in almost all countries with the following few exceptions: North Korea, Cuba, Iran, Belarus, Sudan and Syria.
Site Map: The left side of the website's margin has details about all the products they offer. You can click on features like Revenue Sharing, Yield Farming, Cake Bridging and others to access the features.
Other features that make PancakeSwap a unique and user-friendly interface is the use of quirky phrases that make the otherwise complex transactions easier and fun.
How to Use PancakeSwap Exchange on Android & iOS
Unfortunately, Pancakeswap exchanges doesn't have an Android or iOS application. Therefore, the only way you can use the site on your mobile device is by visiting the main website. The mobile version of the site is reasonably intuitive, and you can make your transactions the same way you do when operating on PC.
How to Use PancakeSwap Exchange on Desktop
Pancakeswap works best on PC. here are the steps that you can follow to set up and use PancakeSwap on your desktop:
Visit the website on your desktop to get started.
Click on connect your wallet on the upper right hand corner. This is the only signup procedure you'll need. We recommend that you use your MetaMask wallet for the best experience.
Follow the prompts to complete the linking. Once it's complete, your system will be ready to go.
Backup & Restore
It's important to note that when dealing with decentralized exchanges, it's always your responsibility to secure your private keys. Any mistakes in the backup and restoration process automatically means putting your crypto in jeopardy. Backing up the private keys helps you avoid total crypto.
Backing Up Your CAKE Wallet
As mentioned, PancakeSwap works when combined with a wallet. This means that you'll be performing backup on the wallet where you store the crypto. Some of the wallets you can use with PancakeSwap include: Binance Chain, Ledger, MetaMask, BitPay, BitKip, CoinBase and Coin98. Here's how to backup a MetaMask wallet:
Open the MetaMask wallet and navigate to the menu icon on the top left side of the page.
Click on the menu to reveal the settings. Choose 'settings'
Under the settings, you'll find the security and privacy.
Click on privacy and security, and opt to backup your wallet.
The system will guide you on the steps to follow in backing up your wallet.
Once the process is complete, you will receive a secret phrase with 12 words. Keep the phrase secure on a piece of paper, or by backing it up in the cloud. Ensure that no one can access it.
The process is similar for most hot wallets. The key is ensuring nobody else can access your keys.
Restoring Your CAKE Wallet
You can follow these steps to restore your CAKE wallet:
You'll need your secret phrase to perform this action. Download a new MetaMask app from the google PlayStore or the Apple store, and wait for the app to install.
Click on the app icon to open it. Instead of creating a new wallet, you'll click on the option to import an existing wallet.
The system will give you a series of prompts to help you recover the seed phrase. Enter each of the 12 words that you backed up in a separate box.
The system will ask you to set up a new password for the old wallet. Once you're all set and you regain access to the site, you can easily reconnect it with PancakeSwap and access all services.
Troubleshooting
As mentioned, PancakeSwap doesn't have live chat or email support to reach out to when you have issues with your tokens. However, you can still visit their informational pages for guidance on issues you don't understand. Here are solutions to some of the most common recurring problems on PancakeSwap:
The exchange keeps telling me 'Insufficient output amount'
This problem is caused by trading tokens having low liquidity. You can resolve the issue by trying the transaction with a smaller amount. You could also log out and repeat the transaction later, when the liquidity will have changed. Increasing the slippage tolerance is another trick that works excellently.
You can't see winnings in your wallet
It's also common to have issues with winnings reflecting in the account because they're logged differently by the system. They're internal transactions, and the best way to verify they've taken place is in the internal transactions.
The Pancake Router has Expired
You cannot complete any transactions when the router has expired. The problem emanates from one of the tokens you're swapping. The solution is to start the transaction again, and complete it as soon as you generate it.
PancakeSwap Exchange Alternatives
PancakeSwap is a decentralized exchange, which means that its ideal placement in the marketplace is the DEX ecosystem. Let's compare it with two other popular DEXs, Uniswap and SushiSwap and see how it fares.
PancakeSwap Exchange Vs Uniswap Exchange
Uniswap was launched in 2018, and is the brainchild of a former Mechanical Engineer at Siemens. It currently has a user base of 4.5million users, which is more than PancakeSwap's user base. Here's a brief comparison between Uniswap and PancakeSwap:
| | |
| --- | --- |
| PancakeSwap Exchange | Uniswap Exchange |
| 2.5 Million users | 4.5 Million users |
| 73.1 Million 24hr volume average | $327 Million 24hr volume average |
| 203 cryptocurrencies | 1254 Cryptocurrencies |
| 513 trading pairs | 2,400 Trading Pairs |
| 200+ Countries | 200+ countries |
| Allowed in US and Canada | Allowed in the US and Canada |
| No Mobile Apps | Android and iOS app present |
| NFT marketplace present | NFT Marketplace also available |
| Training through PancakeSwap Learn | Info and training through FAQs and Blog |
| No fiat currencies | No Fiat Currencies |
| Non-custodial | Self-custodial |
UniSwap is evidently bigger and better established in the marketplace when compared to PancakeSwap. However, the two have some unique features you'll not find on both platforms, which is why you should give both a try.
PancakeSwap Exchange Vs SushiSwap Exchange
SushiSwap Exchange came into the scene in 2020. It's the brainchild of two pseudonymous owners, Chef Nomi and OX Maki. The DEX is headquartered in Tokyo, Japan. Currently, it has a user base of approximately 198,000 people, which means it's much smaller than PancakeSwap. Here's a summative comparison between PancakeSwap and SushiSwap.
| | |
| --- | --- |
| PancakeSwap | SushiSwap |
| 2.5 Million users | 198K Million users |
| 73.1 Million 24hr volume average | $11.13 Million 24hr volume average |
| 203 cryptocurrencies | 187 Cryptocurrencies |
| 513 trading pairs | 228 Trading Pairs |
| 200+ Countries | 200+ countries |
| Allowed in US and Canada | Allowed in the US and Canada |
| No Mobile Apps | No Mobile App |
| NFT marketplace present | NFT Marketplace also available |
| Training through PancakeSwap Learn | Info and training through FAQs |
| No fiat currencies | No Fiat Currencies |
| Non-custodial | Self-custodial |
Final Thoughts
PancakeSwap is ranked among the best decentralized exchanges in the market. Their recent launch of version 3 is an indication that they're expanding, and making accommodations to further improve service delivery among users. Despite the challenges it has faced, including hacking attempts, the platform remains steadfast in ensuring their users get the best customer support. We'd definitely recommend using the Decentralized exchange.
Q&A Session
In this section, Millicent Ngugi will address your inquiries and the most common questions regarding PancakeSwap Review and offer guidance to newcomers in the field. Feel free to submit your questions through our contact form, and we will strive to respond within 48 hours.