Decentralized exchange with a $3.2Billion total value locked
30 million active users on the platform.
858 Coins and 1507 trading pairs
Uses proof of stake consensus with EIP 1559
70 listed cryptocurrencies and 3,000 other assets
Regulated by renowned financial authorities like FAC and FINRA
Platform governed by UNI holders in proportion to the amount of UNI they hold.
Open source software licensed under GPL
Free to install and start trading, and comes with a Uniswap wallet
Introduction to Uniswap Exchange
Uniswap Exchange was launched in 2018 by a former Mechanical Engineer in Siemens. The exchange has its headquarters in Brooklyn, New York, and is one of the most trusted Decentralized tokens. Currently, it has a user base of more than 30 million users, and an average 24-hour volume of $125 million. The major difference between Uniswap and other competitors in the same market space is that even though it's completely decentralized and users are always in charge of their crypto assets, the site's management has an open approach to issues connected with the Uniswap ecosystem.
Setting up an account with Uniswap is simple as it only needs you to connect one of the four accepted wallets, Uniswap's native wallet, MetaMask Wallet, CoinBase wallet and Wallet Connect. Once you've connected a wallet, you can use it to swap tokens, participate in the NFT marketplace, swap and even participate in governance. Uniswap is the mother exchange from which PancakeSwap forked, and the most wildly successful DeFi Protocols. All others including ShibaSwap, SushiSwap and PancakeSwap have borrowed a lot of software and ideas from Uniswap. In this Uniswap Exchange review we want to find out what these special features that inspire every other DEX to model their products in line with Uniswap. We'll explore the price, features, ways to earn, user experience, and more. Let's start.
Type of Exchange
Decentralized Exchange
Price
Free
Fees
V3 has three fee tiers:
Features

Swapping Feature
Different Asset classes
NFT Collection
Liquidity pool
DAO
App Building Platform

Number of Cryptos Supported
Earn

Deposit ERC-20 token pairs in the concentrated liquidity pools
Earn yield on UNI tokens

Customer Service

Email
FAQs
Uniswap Help Center

Hardware Compatible
SPV or Full Node
Full node
Who is Uniswap best Suited For
Both beginners and experts in Decentralized Exchange functions
Pros and Cons
Pros

Most popular DEX
Smart contracts for cheaper and faster asset trade
858 listed cryptos and 1521 trading pairs
Very high liquidity
Safe and secure trading platform
Decentralized platform governance
No registration needed
Supports 4 Crypto wallets

Cons

No fiat currencies accepted
Gas fees
Risk of impermanent asset loss
Type of Exchange
Uniswap is an automated market maker type of decentralized exchange based on the Ethereum blockchain. It's available on desktop, and you can also download an android and iOS App.
Price
You can access the browser version free from your desktop. However, the mobile app costs $4.49 on APK downloads.
Fees
You'll pay one of the following fees when transacting on version 3 of the Uniswap Exchange. Note that all these fees are for the liquidity pools. The crypto exchange introduced multiple fee tiers to decouple total liquidity from price impact and protect traders from unnecessary losses.
Other fees include the bitcoin withdrawal fees, which is 0.00053BTC per withdrawal.
Uniswap Features
Uniswap has all the standard features common in decentralized exchanges. These include:
Various Asset Classes
Uniswap users are exposed to a wide array of asset classes. These include:
Stable Coins: you can access stablecoins like Dai, USD Coin and Tether on the platform.
Wrapped Coins: It's not possible to list coins like Bitcoin and Litecoin on Uniswap because they're not supported by the ethereum blockchain. However, there's wrapped bitcoin, wrapped Litecoin and others. wBTC serves the purpose that Bitcoin would have served on that blockchain.
NFTs: Non-fungible tokes are a popular asset class in DEXs. Uniswap has an NFT aggregator that makes it easy to buy and sell the tokens in marketplaces such as OpenSea, SudoSwap and LooksRare.
Ethereum: This is the primary currency that runs the DEX. It's a key asset to have since the entire DEX runs on the Ethereum Network.
Swapping
During our Uniswap review, we found that you can swap your cryptocurrency for others on the decentralized exchange. The feature allows you to deposit one token and get another from the selection of supported ones on the platform, at a reasonable fee.
NFT Marketplace
You can buy NFTs of your choice on the Uniswap NFT aggregator. Some of the currently trending NFT collections include: Bored Ape Yacht Club, Crypto Punks, De Gods, Nouns, Azuki, and Pudgy Penguins.

Liquidity Pools
This is a platform where you can earn passive income by staking pairs of select cryptocurrencies. Here are the top ten pools where you can provide liquidity and get excellent returns:
Pool Percentage
USDC/ETH 0.05%
WBTC/ETH 0.3%
DAI/USDC 0.01%
WBTC/ETH 0.05%
FRAX/USDC 0.05%
ETH/SETH2 0.01%
USDC/ETH 0.3%
DAI/USDC 0.05%
wstETH/ETH 0.01%
ETH/USDT 0.3%
Number of Cryptocurrencies Supported
Uniswap supports hundreds of cryptocurrencies on the ERC-20 network. Here are some of the most popular supported cryptocurrencies: Ethereum, Basic Attention Token, Uniswap, Wrapped Ether, Wrapped Bitcoin, Uniswap, USD Coin, Dai, Tether. Enjin +100 others
Earn
We found two main ways that you can earn interest or a passive income during our uniswap exchange review: Depositing ERC-20 token pairs in the concentrated liquidity pools, and earning yield in your UNI tokens.
Depositing ERC-20 Pairs in the Concentrated Liquidity Pools
This is a feature that has been introduced in Uniswap version three. It allows the people providing liquidity to determine the price range for their liquidity. You can participate by selecting their pair of ERC-20 tokens you want to provide as liquidity, and depositing them into the pool. It creates a new order where asset prices aren't distributed across the price spectrum, and people can choose a specific price range within which they'll provide their liquidity. Ideally, it creates a cone-shaped liquidity pool as opposed to the plateau-shaped one in previous versions of Uniswap, and there's more liquidity at some price points than others. In this arrangement, the LPs maximize the use of their assets and make it easy to earn more from the assets. The model is beneficial as it minimizes slippage for all the trades within the specific ranges.
Earning Yield on UNI Tokens
This is a second way to earn passive income on the platform. Since UNI token doesn't have an in-built staking mechanism, you have to lend it to get the returns. You could also consider putting your UNI tokens in Binance earn, which will help you accumulate interest over time. OKX simple earn will also help you make some interest with your UNI tokens.
Customer Service
Version 3 of Uniswap has a very elaborate help center to address issues affecting users. The categories covered include:
Uniswap Web App
Buying Crypto
Providing Liquidity
Networks
NFTs
Uniswap Wallet
UniswapX
General
You can also use the 'Submit a Request' option to send any special requests to Uniswap labs. There's also a Live Chat function on the page. While it's operated by a Bot, it gives very accurate and useful information on a wide array of topics. You can also catch up with Uniswap on their twitter and LinkedIn accounts and get news on the latest developments on the platform.
Hardware Compatible
One of the best features of decentralized exchanges is that they don't store your crypto, and instead allow you to store it in self-custodial hot wallets, and also hardware wallets. Here are some of the hardware wallets we found compatible during our Uniswap exchange review:
Trezor Model T
Ledger Nano X
Uniswap is also easy to download and install on a variety of devices. Windows PCs and Macbooks are compatible. You can also access the website on your Android or iOS device.
SPV or Full Node
Uniswap offers full node validation and anyone running an Ethereum node can directly interact with the contracts.
Who is Uniswap Exchange Best Suited For?
Uniswap is the perfect place for seasoned traders that simply want to access the wonderful exchange and earn features on a Decentralized exchange. It is also a great starting point for anyone new in crypto, but has already established that they want to trade and invest anonymously.
Uniswap Pros & Cons
Pros
Most popular DEX
Smart contracts for cheaper and faster asset trade
858 listed cryptos and 1521 trading pairs
Very high liquidity
Safe and secure trading platform
Decentralized platform governance
No registration needed
Supports 4 Crypto wallets
Cons
No fiat currencies accepted
Gas fees
Risk of impermanent asset loss
Services Offered by Uniswap Exchange
Uniswap offers a wide array of services to crypto traders and investors. Here are some of the top services to expect from the exchange:
Swapping tokens
You can connect one of the accepted wallets and use the DEX to swap your tokens for any other token as long as it's listed on the site and you have enough balance to make the trade. The swapping function is very straightforward and user-friendly. Once you click on swap, it presents you with these stable coin options: WETH, DAI, USDC, USDT, ETH, and WBTC, and you pick what you already have in your wallet. Then, there's a drop down list of all the tokens you can swap the above stable coins with. It automatically calculates how much of the new crypto you'll receive when you put in the crypto amount.
For example, if you wanted to swap 5000 Dai for Aave, you simply put in 5000 at the top and the system calculates how much Aave you'll get back, which in this case is 92.257 AAVE. The system also informs you about the fees you'll pay for the swap-in this case, 0.150%.
Buying and selling NFTs
The DEX has an aggregator that allows users to see and interact with NFTs from the most popular marketplaces. Here are some of the listings we found during our Uniswap exchange review, with the number of NFT listings also included:
Mutant Ape Yacht Club 410 listings
Azuki 263 listings
Bored Ape Yacht Club 269 listings
DeGods 115 listings
Nouns 7 listings
You can explore the listings and collect the ideal NFTs for you.
Providing liquidity in yield pools
You can also earn passive income by providing liquidity in any of the listed pools. Simply choose the pools or token pairs that you want to add liquidity to and lock your crypto in them. Version three of Uniswap has really improved on this service because it's now possible to hold one token in a pair when providing liquidity as long as certain terms and conditions have been met. What's more, you can even migrate your V2 liquidity positions to V3.
You can follow these simple steps to create an account with Uniswap exchange:
Visit the Uniswap website homepage on your desktop computer. From the Uniswap protocol page, you can choose to launch the app at the top left hand corner.
The app interface will launch and invite you to get started by connecting a wallet. The accepted wallets include Uniswap Wallet, MetaMask, Wallet Connect and Coinbase Wallet.
Once you successfully link a wallet, you can start swap, explore tokens and become a liquidity provider on the platform. Buying UNI tokens will also give you a chance to participate in governance decisions.
How to Proceed with a Transaction
The steps that you follow when transacting depends on the type of transaction. For example, you can follow these simple steps when making a token swap.
Connect your wallet to Uniswap after opening the Uniswap interface.
Choose the token you have and would like to swap for another on the exchange and indicate the amount.
Choose the token you want in the space below the token you're swapping.
The system will automatically calculate how much tokens you should receive for the amount you're giving, and also the transaction fees.
How to Make a Deposit
Since Uniswap is decentralized, it doesn't directly hold your crypto tokens, which means you cannot deposit tokens into it. However, you can stake or hold your token pairs in one of the liquidity pools on the site by following these steps:
Make sure you've connected one of the four accepted wallets on Uniswap before proceeding with the transaction.
Click on 'Pools' at the top of the page. The interface with the liquidity pools will open. Here, you can choose 'Add Liquidity'
The system will prompt you to select a pair and provide a drop down list with all the alternatives.
It'll also show you how much you're likely to earn when you choose the free tier. You can also choose from one of the four earning tier categories, depending on the nature of your token pair.
You can set the price range and complete the transaction.
Your position will appear at the bottom of the page.
How to Make a Withdrawal
It's not possible to make a withdrawal from Uniswap since it doesn't hold your crypto. However, you can remove your tokens from the liquidity pools. Here's the process to follow:
Make sure your wallet is connected before visiting Uniswap's interface and selecting Pool.
The exchange will display all your positions in the pool. You can select the one you'd like to withdraw from.
Click remove
You might have to confirm the decision with your wallet, especially if it's the first time you're making the transaction.
Payment Methods
Deposit Methods: Uniswap is a decentralized exchange, which means that most of the payment methods completely deviate from the centralized channels. Firstly, it doesn't accept any fiat deposits, and you need to have a functional entry level exchange like a wallet with some cryptocurrencies. You can only deposit your crypto, perform swaps and other transactions from the wallet.
Withdrawal Methods: All your withdrawals will be routed through the wallet you've connected to Uniswap and in crypto. The fees charged depend on the wallet and network. There are no Fiat withdrawal methods on Uniswap.
Uniswap Exchange Supported Tokens
Here are some of the top ten tokens on Uniswap and their utility in the DeFi marketplace.
| | |
| --- | --- |
| Token | Utility |
| Ether (ETH) | Acts as a native currency on the Uniswap exchange since its based on Ethereum's blockchain. |
| PePe (PEPE) | Used for automatic liquidity generation on the network |
| Perpetual Protocol (PERP) | Providing income to people that stake it in the liquidity pools. |
| ChainLink Token (LINK) | Powering universally connected smart contracts and enabling blockchain access to real world data. |
| Uniswap (UNI) | Enabling holders to make governing decisions on the Uniswap platform. |
| Maker (MKR) | Paired with other tokens to serve as an automatic market maker. |
| ApeCoin (APE) | Used to facilitate swap transactions with other cryptocurrencies |
| Tether (USDT) | Used as a steady currency to get in and out of cryptocurrency trades while avoiding losses |
| Wrapped Bitcoin (WBTC) | Allows applications and smart contracts on ethereum blockchain to interact with crypto backed by bitcoin reserves. |
| USD Coin (USDC) | Hedging against volatility in crypto transactions. |
This is a small list of the tokens supported by Uniswap, there are more than 800 others listed on the site, and you can access and explore them by clicking the 'Tokens' link at the top of the page.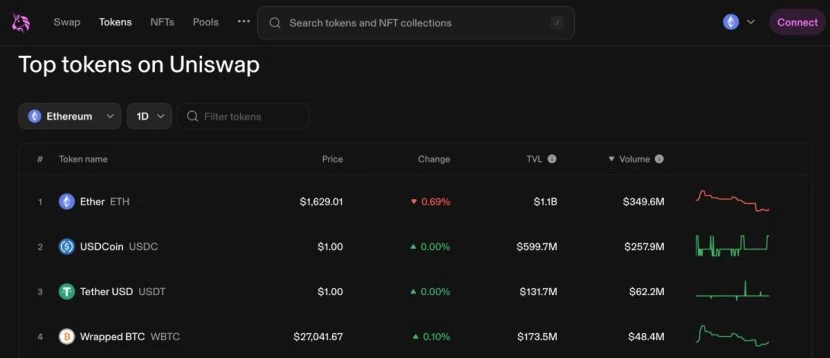 Is Uniswap Exchange Safe and Legit?
Yes, according to our objective Uniswap exchange review, this is one of the safest and most legitimate decentralized exchanges. However, it does carry the risks inherent in all decentralized exchanges. Consensys regularly audits Uniswap to ensure its safe from attacks and loss of crypto.
Security
Uniswap has come up with various measures to secure users' assets. First, the platform doesn't hold your crypto, which means that the safety of your crypto depends on the safety of the network and the measures you take to protect your assets.
Encryption and Authentication: The correct web address for Uniswap is https://uniswap.org. You can always check to ensure that you're on this site and not some duplicate scam page. Also the SSL encryption on the website ensures that data shared on the site stays encrypted.
Two Factor Authentication: You can set up two factor authentication by linking the wallet you've added to uniswap with an authenticator application. This will ensure that you're always alerted when there's activity on the app.
Cold Storage: Uniswap doesn't hold your tokens, and you're supposed to maintain their custody in one of the connected wallets. You can secure your assets further by sending them to a cold or hardware wallet like Ledger or Trezor.
User Interface
Uniswap has one of the simplest and easiest user interfaces to work with. It's simplistic and well-laid out. You can easily go through the steps needed to set up an account, from choosing a wallet to connect and exploring the various features without any challenge. There are also many documents and articles to provide guidance on how to use the exchange on the site.
How to Use Crypto Exchange on Android & iOS
Uniswap doesn't have an app because it wouldn't work well with the privacy requirements for a decentralized exchange. However, you can still access the site and launch the app from a mobile browser. Follow these simple steps:
Open the browser on your android or iOS device and search for Uniswap protocol's website.
Once the website has loaded, you can choose to launch the app.
It will redirect to the app where you can connect your wallet and carry out all your transactions with ease.
How to Use Crypto Exchange on Desktop
The process of using Uniswap on a desktop computer is also quite simple. Just follow these steps:
Open the browser on your PC. Chrome browser is one of the easiest to work with because of the ease of adding wallet extensions.
Search for the Uniswap protocol and visit the website.
Once on the site, you can choose to launch the app
Add your wallet once the app launches, and you'll be ready to perform all other transactions.
Backup & Restore
Decentralized exchanges have fewer security threats for your crypto assets than other types of wallets. However, this doesn't mean you shouldn't be cautious. It's best to learn how to backup and restore your wallet in case of an attack or loss of access.
Backup Steps
When setting up your wallet for the first time, the system will give you a set of phrases that should act as your seed phrase. The number of words depends on the wallet. For example, MetaMask gives you 24 phrases.
When you get the phrases, carefully write them down on paper or back them up on Google drive and make sure nobody can access them.
By storing these phrases, you'll have backed up your wallet and safeguarded your crypto.
Restore Steps
Visit the Uniswap protocol page and choose to launch the app.
Once the app is fully launched, it will ask you to connect a wallet. Since you've lost access to your wallet, you can choose to install a new wallet.
After downloading the wallet extension, it will ask whether you want to create a new wallet or import an existing one.
Choose to 'import' wallet. Here, you have to retrieve all the keyphrases that you backed up and provide them in the spaces provided. Ensure they're spelled correctly.
Once the system verifies the phrases, you regain access to your wallet and start your transactions.
Troubleshooting
Like all other DEXs, Uniswap gets its share of challenges. Here are some of the most common troubleshooting issues and possible resolutions.
The Uniswap web App Isn't Loading
Try and refresh it on your PC or perform a hard refresh. You can also restart your device and check to see whether you'll manage to access the website. Also, check whether your internet might have issues.
I accidentally sent funds to the wrong wallet
The only instance where you can recover the funds is when you know the owner of the address and can message them. If not, it's possible you'll not get the tokens back, and there's very little Uniswap can do to help. As a precaution, always double-check the address before sending your crypto.
My tokens aren't showing up in my wallet
This happens when people mistakenly perform an Approve transaction instead of a swap. You can return to the swap page and select the token pair once again, and click on swap. It could also be that your wallet didn't add the token, and in this case, you have to add the token address.
The Help Center has more troubleshooting tips for users.
Uniswap Exchange Alternatives
Uniswap is among the older and wildly successful decentralized exchanges on the ethereum blockchain. However, despite the fact that it has some of the most innovative features that other DEXs have copied over the years, it also comes with its share of shortcomings. Here are some alternatives to consider.
Uniswap Exchange Vs Coinbase Exchange
Coinbase was launched in 2012, and is the second most popular exchange in terms of user base and trade volume. Both are decentralized exchanges on the Ethereum Network. Coinbase offers more than 250 cryptocurrencies and thousands of other tokens, including all ERC-20 tokens. Here's a side by side comparison of the two exchanges.
| | |
| --- | --- |
| Uniswap | CoinBase |
| 30 million users | 108 million users |
| $327.4 million 24hr trade volume | $449.3 million 24 hr trade volume |
| 800+ Cryptos | 248 Cryptos |
| 1557 trading pairs | 591 trading pairs |
| Accepted in 200+ countries | Accepted in 200+ countries |
| Operates in the US and Canada | Operates in the US |
| No Mobile App | Has a Mobile App |
| Has an NFT marketplace | Has an NFT marketplace |
| Has the Uniswap help center | Has the Coinbase help center |
| No fiat currencies | Allows fiat currencies |
| Non-custodial | Non-custodial |
Uniswap Exchange Vs Binance Exchange
Binance is the largest and most popular cryptocurrency exchange by both user base and trade volume. It was launched in 2017, and has its headquarters in singapore. The biggest difference between Binance and Uniswap is that Binance is a Centralized Exchange while Uniswap is a DEX. Here's a side by side comparison of the two.
| | |
| --- | --- |
| Uniswap | Binance |
| 30 million users | 128 million users |
| $327.4 million 24hr trade volume | $2.7 Billion 24 hour volume |
| 800+ Cryptos | 363 cryptos |
| 1557 trading pairs | 1359 trading pairs |
| Accepted in 200+ countries | Accepted in 200+ countries |
| Operates in the US and Canada | Has a separate site for the US |
| No Mobile App | Has a Mobile App |
| Has an NFT marketplace | Has an NFT marketplace |
| Has the Uniswap help center | Has the Binance Academy |
| No fiat currencies | Allows fiat currencies |
| Non-custodial | Has a custodial wallet |
Binance is an excellent alternative place to start your crypto trading career. It is centralized, and doesn't come with the risks that face DEXs. However, it involves KYC protocols and will not be the best option for traders who like their anonymity.
Final Thoughts
Uniswap is an excellent place to start your journey in DEX trading and transactions. It is secure, has a wide array of trading and investment options and carries all the tokens you can think of investing in. It also comes with the inherent risks associated with DEXs, which is why you should understand them and safeguard your crypto first. All in all, our Uniswap exchange review concluded that it's is an excellent place to handle your beginner, intermediate or established crypto investments.
Uniswap is a safe exchange because your crypto is never stored in the exchange, but in your wallet. You have full control of the private keys and can use a cold wallet to keep your assets secure.
Yes, Uniswap has its headquarters in Brooklyn, New York, and its primary users are from the US.
The UniSwap blockchain is hosted on the ethereum platform, and having ethereum makes your transactions simpler.
It might cost 0.05, 0.30 or 0.1 depending on your tier.