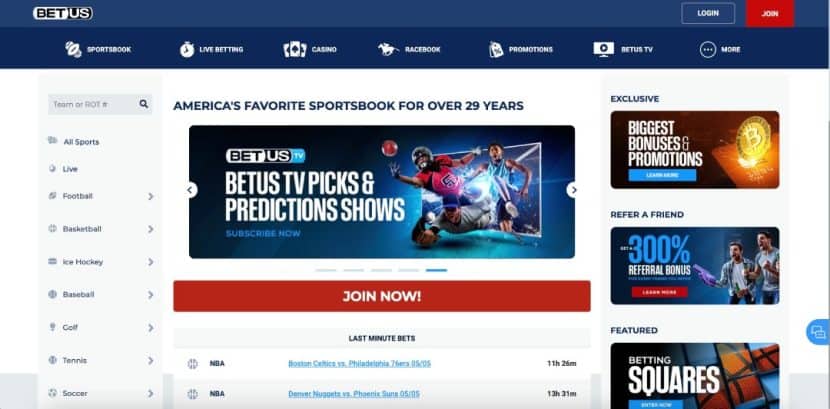 Pros
Big choice of different welcome bonuses
Large selection of sports and markets
Most popular cryptocurrencies available
Fast payouts on withdrawals
Cons
A minimum withdrawal amount of $50
Privacy and security
8/10
What is BetUS Sportsbook?
BetUS has a fantastic range of different betting choices. Players can access one of the most comprehensive sportsbooks in the crypto space. Many sports and eSports are available, making it excellent for bettors looking for good value. It also features a crypto casino, so there's access to casino games. Bettors can enjoy betting on the following choices:
Sports betting
eSports betting
Live sports betting
Video Slots
Table games
Live casino games
It's no surprise to see such a significant selection of betting options with BetUS. It's been on the market for almost 30 years, so it could move forwards whenever a new betting choice appears.
User experience
The interface at BetUS is straightforward. Bettors can access every area of the site purely through the menu bar at the top of the page. It ensures players can find the section they want with a single click. All terms and conditions and legal information are available at the bottom of the page. So, bettors who are looking for further details are still able to find what they require.
The site has complete optimization, so there are no delays between clicking a menu option and the site loading. For bettors who enjoy live betting, having such fast response times is a huge positive.
Mobile App
Unfortunately, there's no mobile app available at BetUS currently.
Odds
Sportsbook's overround: Football/Soccer: <5%
The odds at BetUS are on the better side of the scale. The overround for soccer betting is below 5%, which makes it acceptable for the market. However, bettors should be aware each individual event will have a different overrround. So, checking each event to ensure the odds are good value is critical.
There are currently no bet boosts with BetUS, so parlays and prop bets can't get an odds boost. It means the overround is the only indicator of whether each bet provides good value.
Range of bets
The market options at BetUS Sportsbook are generally excellent. Each sporting event provides a number of different markets, as well as parlay options. However, one area some players may feel is frustrating is how it sets out the markets. Different tabs separate the markets, so bettors without experience may find it challenging to find the bet they want. The sport choice is fantastic at BetUS. Players can bet on almost everything here. From popular sports to niche options, it's available. Of course, the eSports choice also covers plenty of different games, so modern players have a good choice also. Bettors can also play at a crypto casino, so the option is there if they want something different to sports betting.
Live betting
The live betting at BetUS is, on the whole, superb. Many bettors don't understand how in-play betting can increase bet value. If a game is already underway, the game state changes rapidly. Often, it can change before a sportsbook can amend the odds. So, if bettors can react faster than the sportsbook, they can find fantastic value in live games.
One area where BetUS falls behind some competitors is its lack of live streaming. It doesn't allow bettors to stream events while they are underway. However, it makes up for this with an excellent BetUS TV service. It provides insights and tips on different events, which allows bettors to increase their knowledge. Many of the best crypto sportsbooks don't offer a service like this, so it's a unique selling point which helps BetUS to stand out.
eSports
The eSports choice is superb at BetUS. Bettors can access a section purely for eSports events. It has the same treatment as traditional sports. So, soccer games are available in the same manner as eSports. It's good to see eSports getting similar respect, as many sportsbooks treat it as an afterthought. Many of the most popular eSport events are available at BetUS, so fans of the medium can access excellent choices.
It also makes sure there's a solid market selection. Part of successful betting is having access to a range of markets. BetUS ensures bettors can find good value due to a good range of markets.
Transactions
BetUS has a solid selection of cryptocurrencies for bettors. One downside is the low number of options, but it features four of the most popular cryptos. As a result, most bettors should be able to access BetUS Sportsbook with few issues. So, although a small selection, it still covers most of the market. The four available cryptos are as follows:
Bitcoin
Litecoin
Ethereum
Bitcoin Cash
There are no fees for crypto deposits or withdrawals. Obviously, this is a significant positive, as sites adding processing fees eat into potential profits. In addition, BetUs processes withdrawals instantly, so bettors don't have to wait additional time to access winnings. Of course, sometimes the blockchain can be busy, which sometimes takes up to two hours to withdraw winnings.
One slight downside is the $50 minimum withdrawal amount. For some bettors, having a withdrawal amount so much higher than the minimum deposit can be prohibitive. However, it's a small downside, so BetUS is worth 8/10 for its transactions.
Customer service
The customer support at BetUS Sportsbook is excellent. The first factor which stands out is the live chat. It's available to bettors 24/7. With players worldwide, it's vital to have a live chat open at all times. Adding languages other than English would be nice, but it's still a superb live chat. The FAQ at BetUS is also excellent, providing detailed answers to a range of questions. Bettors who prefer typing in detail can get in touch through email, which is perfect for complicated issues. Finally, a phone number is available, perfect for bettors who prefer to speak rather than type. While researching our BetUS sportsbook review, we found the customer support to achieve an 8/10 rating.
Privacy and security
The safety at BetUS is industry standard. It has licensing from the Government of Curacao, which is always positive from the outset. So, bettors have protection from unfair business practices, which sites without a license cannot offer. It also has an SSL from Cloudflare, one of the best providers on the market. Data has full encryption, so player information has complete protection.
Unfortunately, BetUS doesn't provide 2FA logins. So, it doesn't get a perfect score for privacy and security. Despite this, it's a minor drawback for an overall excellent site. Bettors can feel utterly safe with BetUS, so as long as they are careful with their login details, they shouldn't suffer from any issues. An 8/10 is a fair rating for the privacy and security at BetUS.
Crypto Gambling Awards
BetUS doesn't have any crypto gambling awards currently. It's possible it won them in the past but doesn't currently showcase them, but as of now, there are no details about any awards.
Geo-targeting
BetUS does not block any bettors based on country, just like it should be!
There are very few countries on the restricted territory list for BetUS. It's always good to see a small proportion of countries on these lists, so BetUS ensures a significant number of players can access the site. As a result, the following countries cannot access BetUS:
Netherlands
Costa Rica
Panamá
Curaçao
Germany
France
Philippines
UK
Belgium
Ukraine.
Bonuses
What's impressive about the bonuses at BetUS is the sheer choice on offer. Bettors can choose from five different welcome bonuses. With two fiat and three crypto options, it's one of the most impressive selections. It also features additional promotions and a loyalty scheme.
Welcome Bonus Offer
The crypto welcome bonus choices are as follows:
A 150% sport up to $3,750 and 50% casino up to $1,250 matched bonus. Players have to use the code JOIN200 to claim the bonus. The sports bonus has 15x wagering requirements, and the casino bonus has 30x wagering requirements.
A 100% sports bonus of up to $2,500 with 10x wagering requirements using the code SU100CRYPT.
A 250% casino bonus up to $5,000 with 40x wagering requirements using the code CAS250.
Bettors can also claim fiat welcome bonuses, which provide similar options.
Existing Customer Promos
BetUS Sportsbook offers a regular rotation of bonuses. Bettors can claim cash and reload bonuses, claim daily promotions and enter tournaments. It makes it one of the best bonus selections in the industry. The addition of crypto bonuses ensures crypto players aren't left out.
Loyalty Program
Bettors earn points with every bet at BetUS. While completing our BetUS Sportsbook review, we found the loyalty scheme offers bettors plenty of benefits. Free bets, extra cash, higher bonuses, and exclusive tournaments are just some of the benefits BetUS offers.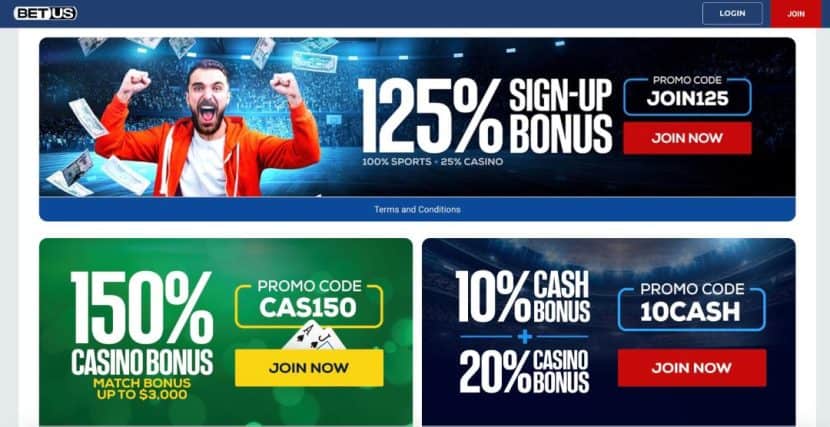 Overall
How does BetUS compare to Stake and BC.Game?
With almost 30 years of experience, it's only fitting to compare BetUS to some of the biggest operators on the market. We have put it up against Stake and BC.Game to discover if it can compete with the top crypto betting sites for sports bettors.
Stake brings in vast numbers of players every year. Part of this is due to its reputation for quality service and plenty of choice. In terms of betting options, Stake and BetUS have similar options. Both the sportsbook and crypto casino options are along the same lines. However, one area where BetUS stands ahead is crypto bonuses. Stake offers some solid bonuses but is not at the same level as the ones BetUS provides. However, when it comes to cryptocurrency choice, Stake is miles ahead.
BC.Game is a similar story. There isn't much difference between each site regarding betting options. In fact, the only option BC.Game stands out for is provably fair games. It also provides a better selection of cryptocurrencies, although not by as much of a distance as Stake. Bonuses are superior with BetUS, although BC.Game does offer free crypto bonuses. Low-budget players would prefer BC.Game, but high-budget players may get more out of BetUS.
Interested in finding more platforms similar to this? Here are a few suggestions:
BetUS Expert Verdict
BetUS may feel like a newcomer to some crypto players, but make no mistake, this is an established site with a fantastic reputation. Bettors can enjoy a superb range of sports options, excellent betting markets, and solid casino games. The promotions are also ideal for crypto players, making it an even more impressive offering.
Although it's not a perfect site, the issues are generally minor. So, bettors won't find too many problems when betting with BetUS. The loyalty scheme is superb and caters for sports bettors. Newcomers to the crypto sports betting scene can find excellent options with BetUS.