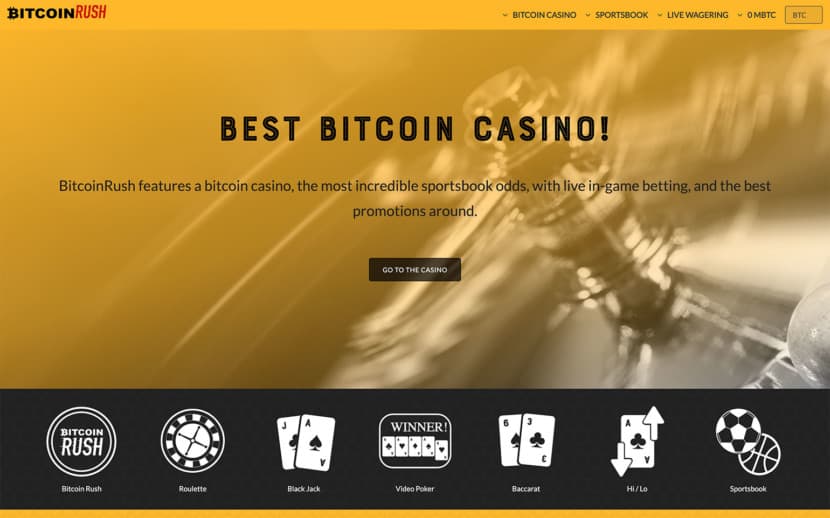 Cons
Slow bet payouts
Small range of bets
Limited live betting
Bad customer service
Bad website experience
BTC only
Privacy and security
9/10
Established
2013
Min bet
0.1 m฿
Currencies

:
BTC
Bitcoin Rush (previously known as cascasinobitco.in) is one of the few remaining OG crypto sportsbooks from 2013. They have a "colorful history" including an ICO with an 86% return.
Investors lost money, probably not from being ripped off (unless Bitcoin Rush underreported profit) but rather because the product is not good.
User experience
There are a lot of small issues here, things like these for example
Bet settlement is slow, our tennis bet took more than 12 hours to be paid out.
Event times are listed in US eastern time, not the users' local time.
There are notifications to bet on the FIFA World Cup, 7 months after it finished.
There is no way to see what the max bet is.
Log in and log out bugs.
Pages are often slow to load.
There are links around the site to bet on sports that have no games listed for betting. For example, links to American football during the offseason when there are no American Football games.
All soccer games, that's several hundred, load in one huge list on one page rather than being divided into leagues. This means the page is slow to load and it's hard to find the game you are looking for.
Some pages got stuck as just blank white screens.
Customer service does not respond promptly, or sometimes not at all.
We noticed all that in our first couple of hours using the site!
Odds
Sportsbook's overround: 2.5%
50:50 equivalent: 1.95
The odds are really good! That is the main reason you might use Bitcoin Rush.
Range of bets
Range of sports, leagues and events: Only major sports and leagues are included, for example there is no esports or golf betting.
Range of bet types per event: There are only, at most, 3 bet types per event. Generally that will be money line/match winner, spread/handicap and totals.
Live betting
Bitcoin Rush's live betting is disappointing. Only NFL, NBA and tennis are available for live betting. There are no scores, live stream, or cashout options.
The odds are not updated by the website, you have to refresh the page to see the current odds.
Transactions
Unique deposit addresses: Available.
Confirmations before bet: 1.
Withdrawal time: 3 hours.
Player to player transfer: Not available.
Customer service
Customer service channels available: Email only.
Speed of replies: So far our question has not been replied to...
Accuracy of replies: If they reply its good, they are a relatively small team so they are knowledgeable, they are also real crypto users.
Real life customer service test
Question: The Bitcoin Rush homepage has 4 coins including litecoin. When I am logged in I can see the other 3 available but not litecoin. Is litecoin supported? If it is how can I use it?
Notes: No answer for days 🙁
Privacy and security
Information required at signup: None, not even an email.
2 factor authentication: Available.
Geo-targeting
Bitcoin Rush does not block any bettors based on country, just like it should be!
Bonuses
The Bitcoin Rush VIP program gives you 0.1% cash back on all your bets, wining and losing. The cashback can go even higher if you bet a lot and move to higher tiers in the VIP program. This effectively makes the odds even better than they already are!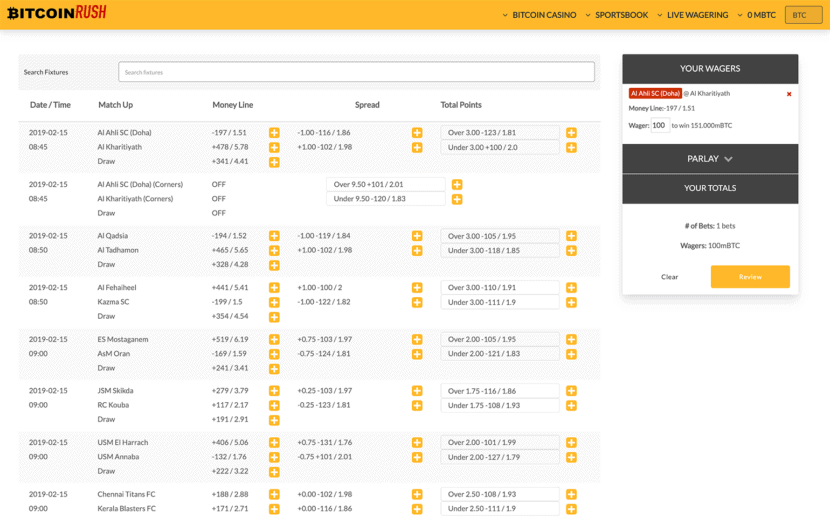 Overall
Bitcoin Rush have kept themselves relevant by having good odds while working just about well enough to be useable. If a higher ranked sportsbook matches or beats their odds you will have more fun and a better all round experience there.
More sportsbook reviews
Sportsbook walk-through
More crypto gambling videos