Coinbet24 no longer offer a sportsbook. See recommended sportsbooks here.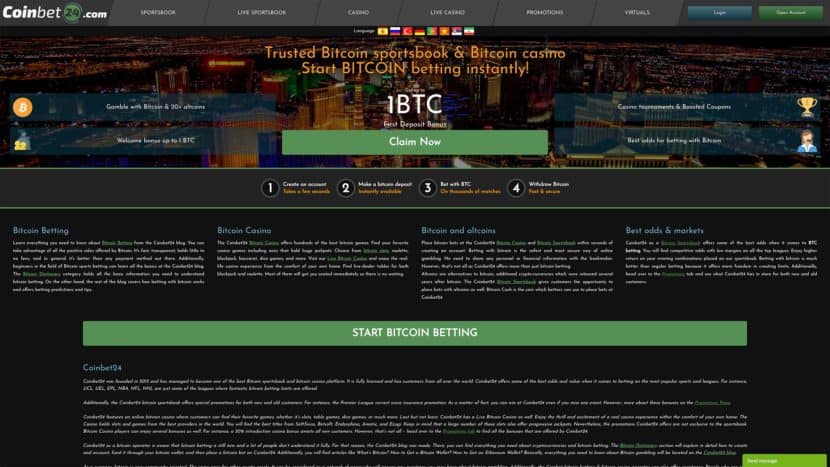 Pros
Good support.
Long time operator with integrity.
Cons
Clunky barebones website.
Too large min bet.
Small range of bets.
Only Bitcoin and Bitcoin Cash accepted.
Privacy and security
7/10
Coinbet24 are a middle-tier crypto sportsbook with a casino. If you want to bet with them you can, and it will be fine. However, the higher-ranked sportsbooks listed here are better in most ways.
User experience
Coinbet24's biggest weakness is the clunky and unattractive design and layout. There are paragraphs of small text everywhere and background images are so prominent they distract from the foreground. On mobile elements are jammed up against the edge of the screen making them hard to click.
When you view your list of bets you can't tell which bet is what, they are just timestamps, IDs and amounts. You have to click through to expand each bet on its own page to know what it is, which makes the list view pretty useless.
After you make a bet it stays in your bet slip and you have to manually clear it every time, or else when you go to make your next bet the site will try to make a multi-bet with the new bet and the old bet.
This site seems to have been built as a desktop sportsbook and it functions okay as such. If you venture away from that by using a mobile or the casino you will find bugs.
Odds
Sportsbook's overround: 5.25%
50:50 equivalent: 1.9
The odds are a bit lower than industry average.
Range of bets
Range of sports, leagues and events: Smaller than average. No esports.
Range of bet types per event: Small. Only the most popular bet types, even on big events.
Live betting
Live betting is present and functional but lacks all but the most basic features. There are no stats, no cash out, no live streams and not much fun.
Transactions
Unique deposit addresses: Yes.
Confirmations before bet: 1.
Withdrawal time: 4 hours.
Player to player transfer: No.
Customer service
Customer service channels available: On site ticket system. It's a live chat box but it's never manned so you have to leave a message.
Speed of replies: Coinbet24 reply quickly.
Accuracy of replies: Good. I get the feeling they are a small team and everyone knows the product well.
Privacy and security
Information required at signup: Email address, country and date of birth.
2 factor authentication: Not available.
Geo-targeting
Bettors in the United Kingdom of Great Britain and Northern Ireland are geo-blocked by Coinbet24.
Bonuses
EXCLUSIVE
You can only get this 10 Euro free bet here at BitEdge!
If your first bet of 10 Euros or more loses, then 10 Euros will be credited back to your account within 24 hours.
Those bonus funds will have to be turned over 3 times at odds of 1.5 or higher before they can be withdrawn. When we say "10 Euros" that is 10 Euros worth of crypto.
You will also get 10 free spins if you verify your phone number as the general welcome bonus.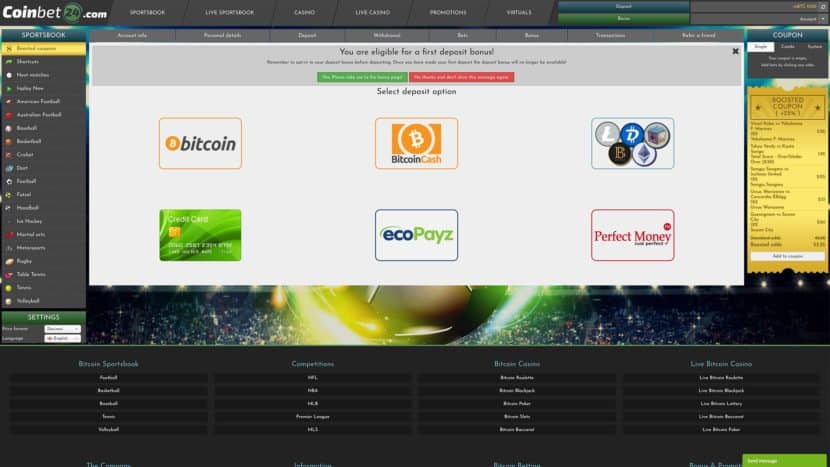 Overall
Coinbet24 gets credit for being a reliable and honest operator for over 5 years. However, their website is outmatched by the top-ranked sportsbook here.
More sportsbook reviews