We don't recommend this operator
CryptoBet sportsbook review

Pros

Good esports betting

Good mobile app (Android only)
Cons

Crypto converted to USD

Poor odds

High minimum withdrawal

Customer service slow to respond
CryptoBet isn't an end-to-end crypto sportsbook. Crypto deposits are automatically converted into USD, which is why we've given them such a low score. We'd always prefer to use end-to-end crypto sportsbooks.
CryptoBet is a relatively new sportsbook, offering a massive range of bets on a wide selection of sports and leagues. They also offer a casino (review).
Esports has its own dedicated section, with a broad selection of games and markets available to bet on.
The website and general experience is good but still a bit rough around the edges. The mobile app is better and removes a few of the issues on desktop, but is only available on Android.
User experience
The website is user friendly and offers simple navigation between leagues and matches. We like CryptoBet's layout and were able to adapt immediately – the sign of a good website.
Some features don't work – for example you can change the default display odds from match result to handicap, totals or double chance. This works on some sports (soccer and tennis for example), but not on others (esports and basketball).
The bet slip is clear and well laid out. Although it does block off a large portion of the site on the sports section. While you are able to drag and move it around, we found it was regularly in the way and could be integrated in a smarter way. We did encounter some errors which were hard to understand. In one instance a bet wouldn't place and simple said "Ordinary Denied!" in red letters – whatever that means…
Odds
Sportsbook's overround: 6.38%
50:50 equivalent: 1.88
As with most crypto sportsbooks, CryptoBet's edge gets larger as the sports get more obscure. Premier League soccer has an edge of just over 5%, NFL has around 6% and minor sports like chess have around 8%.
The value on offer isn't great, and there is better available.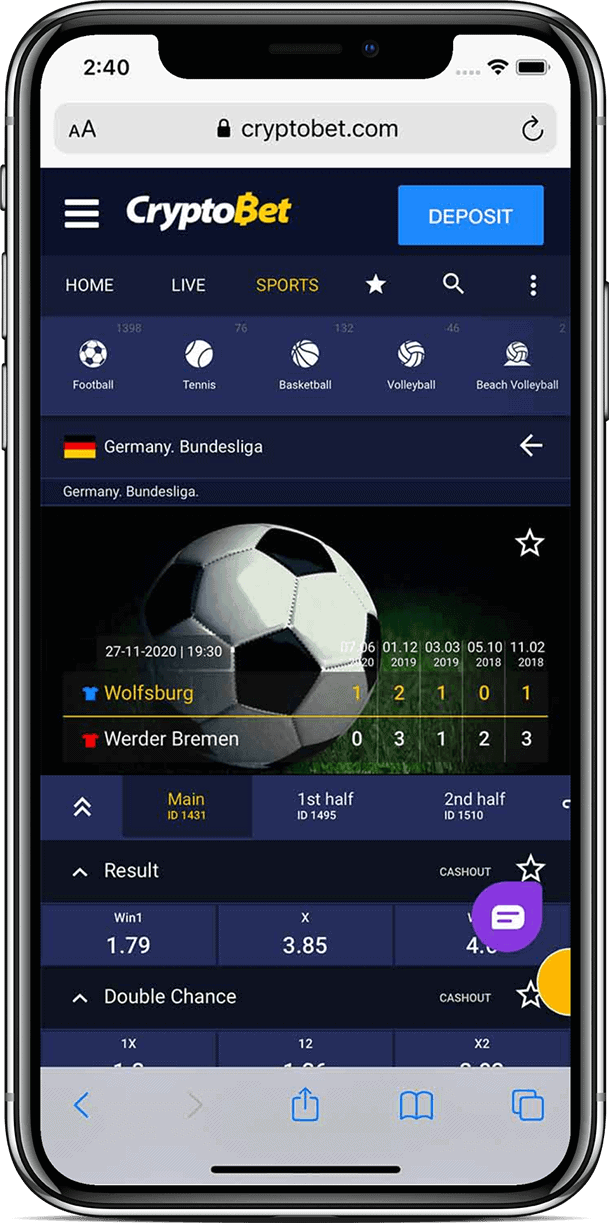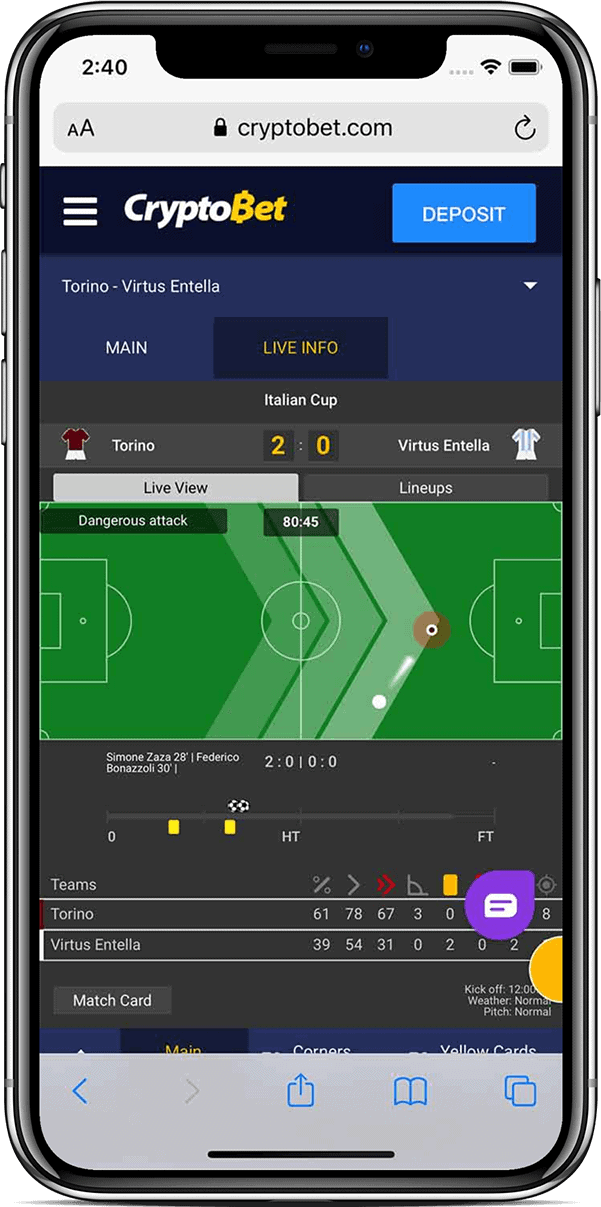 Range of bets
Range of sports, leagues and events: Huge – including chess, biathlon, surfing and the next James Bond…
Range of bet types per event: Massive – over 1000 markets for Premier League matches!
Live betting
CryptoBet have a nice Live TV feature which shows you clearly which games are being streamed at any time. The in-game stats are nicely displayed and are detailed enough to give bettors a good idea of the state of play, without being overwhelming.
A dedicated esports section is a bonus and gives esports punters a reason to use CryptoBet.
Unfortunately there is no cashout feature.
Transactions
Unique deposit addresses: Available.
Confirmations before bet: 1.
Withdrawal time: A few hours or more.
Player to player transfer: Not available.
When you deposit your crypto is converted to USD. You can deposit in the following cryptocurrencies; BNB, BTC, BCH, DASH, DOGE, ETH, LTC, XMR, NEO, USDT and USDC. Despite being able to deposit in these currencies, USD is the only supported currency on the site itself.
The minimum withdrawal is the equivalent to $25, which is extremely high. Withdrawals are processed daily between 03:00 and 15:00 UTC time, so are a bit slower to reach your wallet than other crypto sportsbooks.
Customer service
Customer service channels available: Chat and ticket system.
Speed of replies: Slow – typically around 1 -2 hours.
Accuracy of replies: Good. We were given information, with links to the terms so you can read more and double check.
Real life customer service test
Question:

Answer:

In case a match ends in a tie, your money will be refunded. You will find more information about this visiting our "Sports Betting Rules" section on the footer of our website.
Privacy and security
Information required at signup: Email address.
2 factor authentication: Available.
CryptoBet require your name and date of birth before you are allowed to withdraw. They don't ask for scans of documents, instead just asking you to enter the details without proof.
Bonuses
1st Deposit Bonus: Players will receive a 100% bonus, up to a maximum of 1 Bitcoin (minimum 5 m฿), and 20 free spins to be used at Roman Empire. This bonus has a 40x rollover requirement
2nd Deposit Bonus: Players will receive a 50% bonus credited to their account, up to a maximum of $10,000, and 15 free spins to be used at Atlantis World. This bonus has a 40x rollover requirement.
3rd Deposit Bonus: Players will receive a 35% bonus credited to their account, up to a maximum of $10,000, and 10 free spins to be used at Presto. This bonus has a 40x rollover requirement.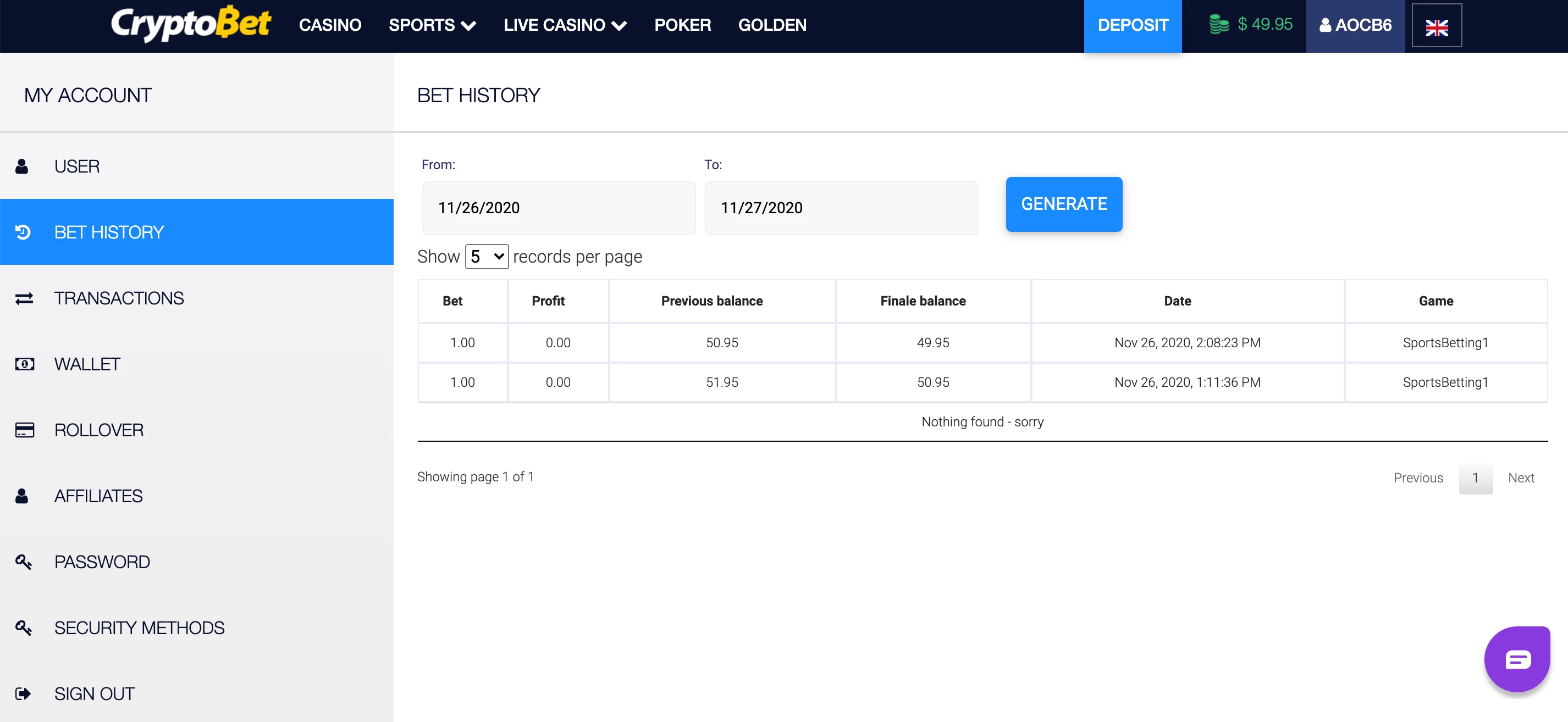 Overall
As CryptoBet isn't an end-to-end crypto sportsbook, we can't recommend using them. The score given reflects that.
That aside, an esports bettor would have a lot of fun on CryptoBet. The range of leagues and markets available surpasses a lot of other crypto sportsbooks.
A sports bettor could find a more user friendly sportsbook to use though. The website isn't quite up to speed, and there are others with more features and promotions. Additionally, the slow customer service and withdrawal times can be frustrating.
More by Will Wood

I first started writing professionally in 2015. I initially wrote science fiction novels and historical non-fiction books about British spies.