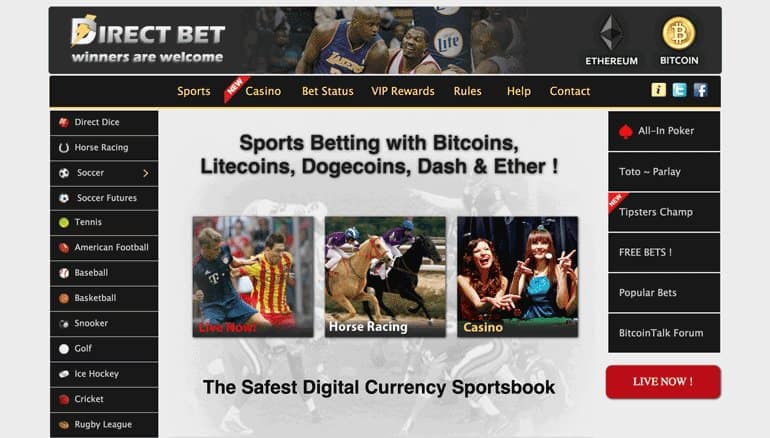 Privacy and security
10/10
Established
2014
Min bet
No minumum
Directbet are an innovative sportsbook who use the advantages of crypto to enable betting with no account.
Instead of having an account balance to bet from you select your bet and are presented with a unique bitcoin address to send your stake to. You also nominate a bitcoin address which Directbet will send the winnings to immediately after the event.
This is less convenient than having an account but it does reduce the amount of trust you have to place in the sportsbook and increases your privacy and security. Directbet can never steal your balance and your account cannot be hacked, because there is no account.
We do not find the advantages of accountless betting justifies the loss of convenience, mainly because we trust the top crypto sportsbooks listed on this site.
Some people see it differently and Directbet have gained a loyal following and a lot of trust in the crypto community thanks to a long run of honest and trouble free operation.
DirectBet offer casino and dice games but the no account model does not suit the rapid betting that you want with these games.
User experience
The website is poorly designed and unattractive although it functions well. For example all available tennis games are simply listed one after the other over hundreds of lines rather than organized by men's, women's, doubles, tournament name, or anything.
The maximum bets are smaller than average.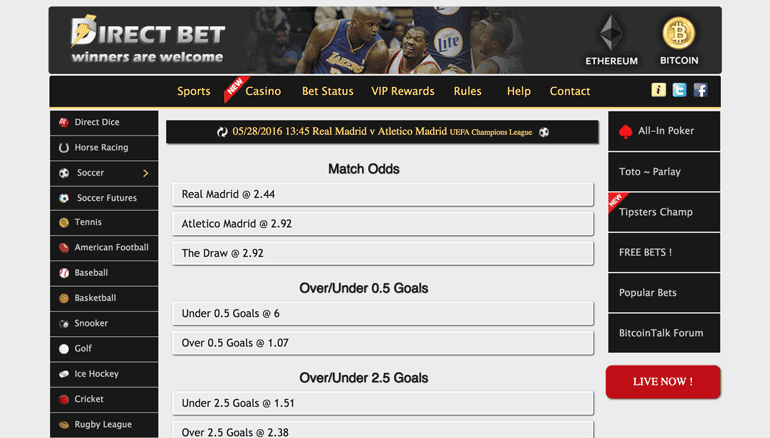 Odds
Sportsbook's overround: 5.63%
50:50 equivalent: 1.893
Directbet's odds are bad, and they should feel bad.
Range of bets
Range of sports, leagues and events: Huge! Minnows like snooker, handball and Australian rules football are covered as well as horse racing which is rare in cryptoland.
Range of bet types per event: Small to medium. For example NBA games have 7 bet types which is below average.
Transactions
Unique deposit addresses: Unique address for every bet.
Confirmations before bet: Instant, the transaction is the bet!
Withdrawal time: Instant!
Player to player transfer: You could put someone else's address as the payout address for your bet.
Customer service
Customer service channels available: Email only, although they are also helpful in their Bitcointalk forum thread.
Speed of replies: 2 - 12 hours
Accuracy of replies: Good. It seems like the people who actually run the site are answering the support emails.
Real life customer service test
Question: What happens with NHL hockey moneyline bets if the game ends in a draw and is won in overtime or in a penalty shootout?
Answer
:
All bets on "Regular Time" will be settled on the result at the end of regular time, excluding overtime. All bets on "Moneyline" will be settled at the result at the end of regular time including "overtime and any shootouts that may be played.
Notes: The answer is awkwardly worded and Directbet don't have a "Regular time" market on NHL events, they call what customer service is refering to "60 minute line".
Privacy and security
Information required at signup: None, there is no sign up.
Are funds verifiable on the blockchain? Yes, the bets are on the blockchain.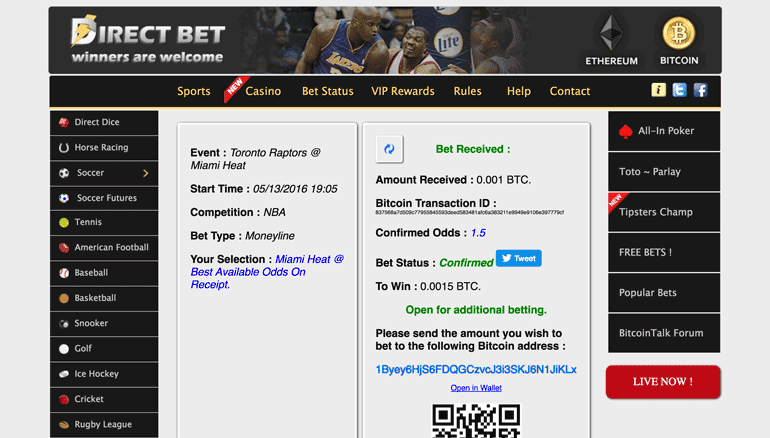 Geo-targeting
DirectBet does not block any bettors based on country, just like it should be!
Overall
Directbet's model is an intermediate step between the legacy centralized sportsbook model and the next wave of services that will take full advantage of the blockchain and give us 0% house edge, provably fair and trustless betting.
For us to recommended Directbet they would need to have good odds and a nice website, they don't.
More sportsbook reviews
Sportsbook walk-through
More crypto gambling videos