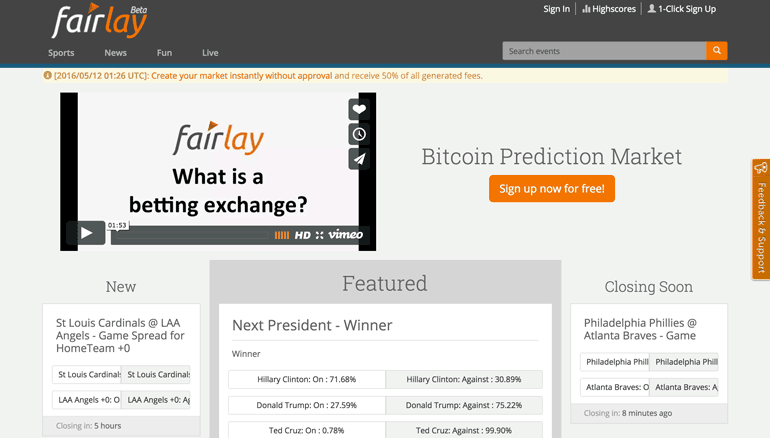 Privacy and security
8/10
Established
2014
Min bet
5 m฿
Fairlay is a crypto betting exchange. The essence of a betting exchange is that you don't bet against the house, you bet against other users.
Fairlay sets up the market, matches bettors against each other and pays out the winner with the losers' money. For this they take a 2% commission from the winner which is equivalent to a 1% house edge; much lower than other sportsbooks.
Their site takes a bit of getting used to and has some room for improvement. If you have used other betting exchanges before you will figure it out.
Fairlay does have a dice game but… well, let's just say you wouldn't go there for the dice. The other good crypto betting exchanges are 1xbit and BetBTC.
User experience
The site is unrefined and underdeveloped, it needs the attention of a user experience engineer and a designer.
Some features found at the best betting exchanges are missing, for example you can't change the odds on an unmatched bet, you have to cancel it and make a new one.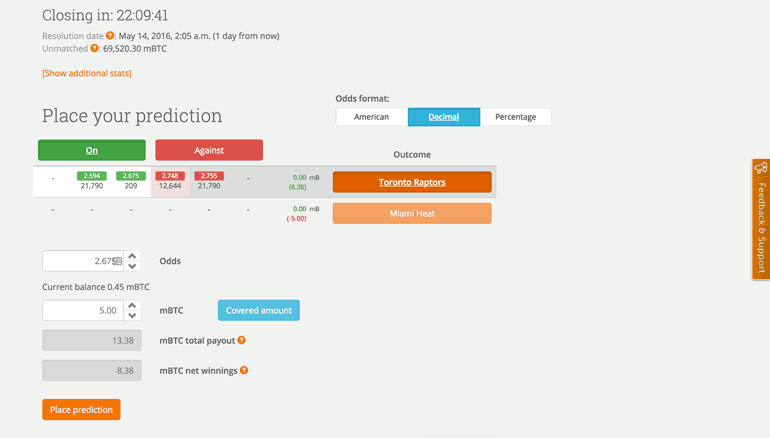 Odds
Sportsbook's overround: 2.62%
50:50 equivalent: 1.95
In markets with less liquidy betting large amounts will cause slippage making the odds worse. Being a betting exchange you do have the option to post your own odds and hope other users match them. This is really cool but requires patience.
Range of bets
Range of sports, leagues and events: Smallish range of sports but they do have more news and entertainment markets for betting on things like elections and awards than anyone else.
Range of bet types per event: Small, normally just moneyline/match winner. On the biggest leagues you might find points spread and total points markets.
Transactions
Unique deposit addresses: Not available.
Confirmations before bet: 1
Withdrawal time: Instant!
Player to player transfer: Not available.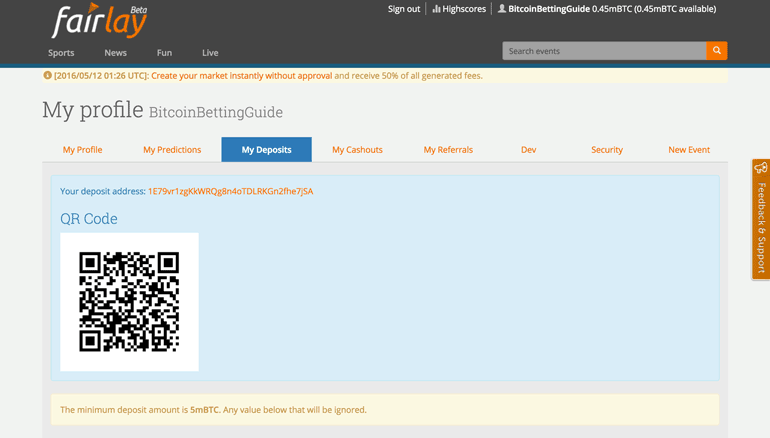 Customer service
Customer service channels available: Email only.
Speed of replies: Our emails were replied to in around 3 hours.
Accuracy of replies: Very good, staff are knowledgeable and well trained.
Privacy and security
Information required at signup: Email address.
2 factor authentication: Not available.
Are funds verifiable on the blockchain? Fairlay do publish their cold wallet address but we do not see that it proves much.
1EVrCZ3ahUucq3jvAqTTPTZe1tySniXuWi
Fairlay say
"this is just the first step and a real time proof of reserves is planned"
We are glad to see this kind of effort and hope to see more crypto sportsbooks make player funds verifiable on the blockchain.
Geo-targeting
Fairlay does not block any bettors based on country, just like it should be!
Bonuses
At the moment there is no commision charged on sports bets!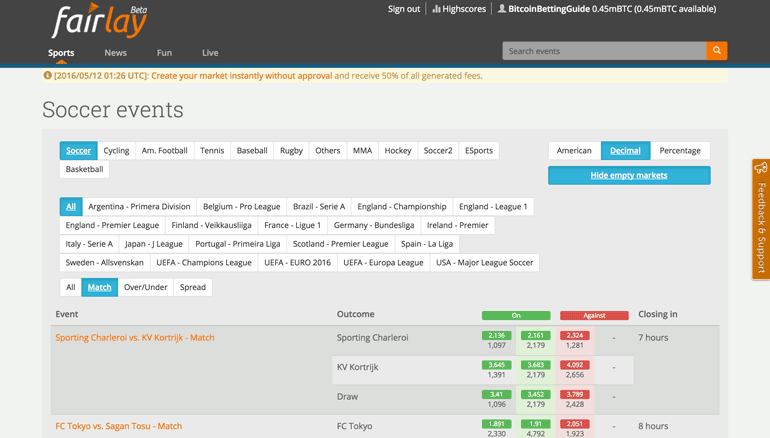 Overall
Getting great odds is the most important thing to becoming a long-term profitable sports better, much more important than web design or a signup bonus. Because of Fairlay's great odds, they have to be part of the conversation despite their usability shortcomings.
However, if you want an easy, smooth and fun betting experience check the higher-ranked sportsbooks on this site.
Here are some suggestions for the sportsbooks we recommend
We have also listed some of the sportsbooks that unfortunately don't meet our standards
More sportsbook reviews