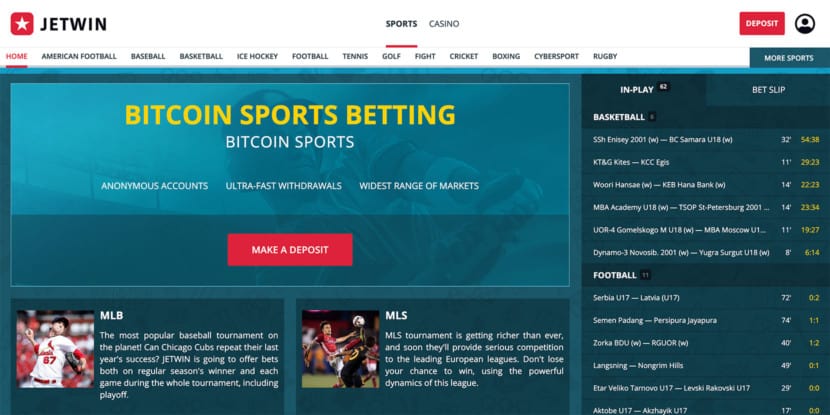 Privacy and security
5/10
Established
2014
Min bet
฿0.0002
Jetwin has shown questionable competency or integrity and is not recommended.
Issues include customer reports of cancelling legit winning bets, Jetwin demanding users send in know-your-customer docs before allowing withdrawals, inexplicable domain changes, and a dash of incompetence.
Apart from this section and the ratings we will leave the review as it was.
Jetwin provides betting on a large range of sports with a decent user experience on a simple website. The best thing we can say about it is everything works.
Instant, anonymous sign-up (however they are known to demand docs later).
Instant deposit.
Instant 100% deposit bonus up to 0.5 BTC
Intuitive bet slip, bet placing and tracking system.
Instant withdraws.
It all flows and runs well. For example, finally, someone has given us a "withdraw full balance" button instead of making us enter 8 decimal places manually and then giving an error when we were supposed to round down for the miner's fee. On Jetwin just press withdraw full balance, one click and done.
One complaint is that navigating to the bet you want is not as easy as it could be. There is a large number of bet types available on each event but they are not ordered by popularity or alphabetically. I can't work out how they are ordered so finding the bet you want can take some time and scrolling.
When you do find it Jetwin offers good odds with 50/50s of 1.93. You can see how they compare to all the top crypto sportsbooks on our odds comparisons.
Jetwins Casino and live casino are clunky and feel like a quick duck tape job of sticking a casino on the side of a sportsbook rather than a fully integrated and well-designed casino and sportsbook experience like Sportsbet and Cloudbet offer.
Geo-targeting
Jetwin does not block any bettors based on country, just like it should be!
Overall
Jetwin has not improved its site for years in an environment where there are a handful of great quality and trustworthy operators we can choose from.
Here are some suggestions for the sportsbooks we recommend
We have also listed some of the sportsbooks that unfortunately don't meet our standards
More sportsbook reviews