This operator is currently inactive
OneHash sportsbook review

Pros

Good privacy
Cons

No fixed odds

No live betting

Small range of bets

Slow bet resulting

Variable customer service accuracy
OneHash is the biggest crypto mutual betting service. That means all bets on a market go into a pool, then OneHash takes 5.3% of the pool as their cut, then distributes the other 94.7% to the winners.
This means there are no fixed odds, you don't know how much your payout will be until betting has closed at the start of the event. It also means there is no live betting.
Mutual betting is not as good for the bettor as fixed odds unless the pool provider only takes a tiny cut from the pool, it would need to be less than 2%.
OneHash does allow for no-account betting but if you make more than 1 bet it's easier to have an account. They also have a great dice game review and binary options.
User experience
OneHash has a clear, open and attractive design although it is a bit too busy.
The differences caused by the mutual betting model take a bit of getting used to. For example, OneHash displays the pool total, number of bets and average bet for each market. When you go to make a bet without an account there is nowhere to put your stake because you send your stake as a transaction.
Regular sportbook users are not used to any of that, but you can manage.
The standard at all sportsbooks is to list events in time order. On OneHash you have the option to do that but by default, events are displayed as square cards, ordered by popularity, which we don't like.
Bet resulting is slow, it took five hours for our German Bundesliga bet to get paid out. One Indian Premier League cricket bet we had took four days to be settled. We chased the customer service teams on multiple occasions but were told they would get back to us as soon as possible. No one did ever get back, and four days to settle a bet isn't acceptable.
Odds
50:50 equivalent: 1.9
The good thing about OneHash's odds are that there is the same overround of 5.3% on all betting markets. Including obscure bet types in small events that are a long way in the future. On most sportsbooks those would be given a higher overround.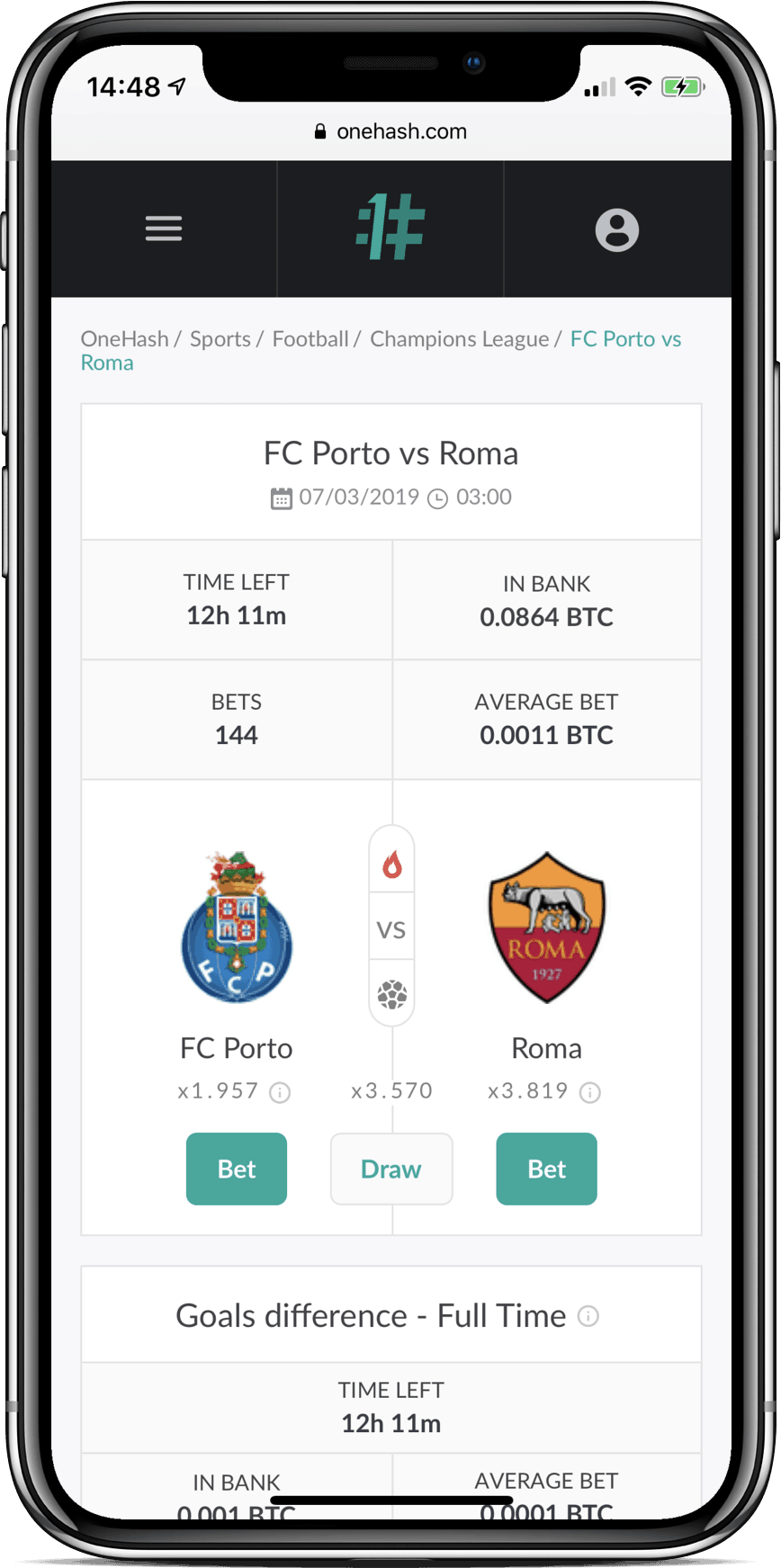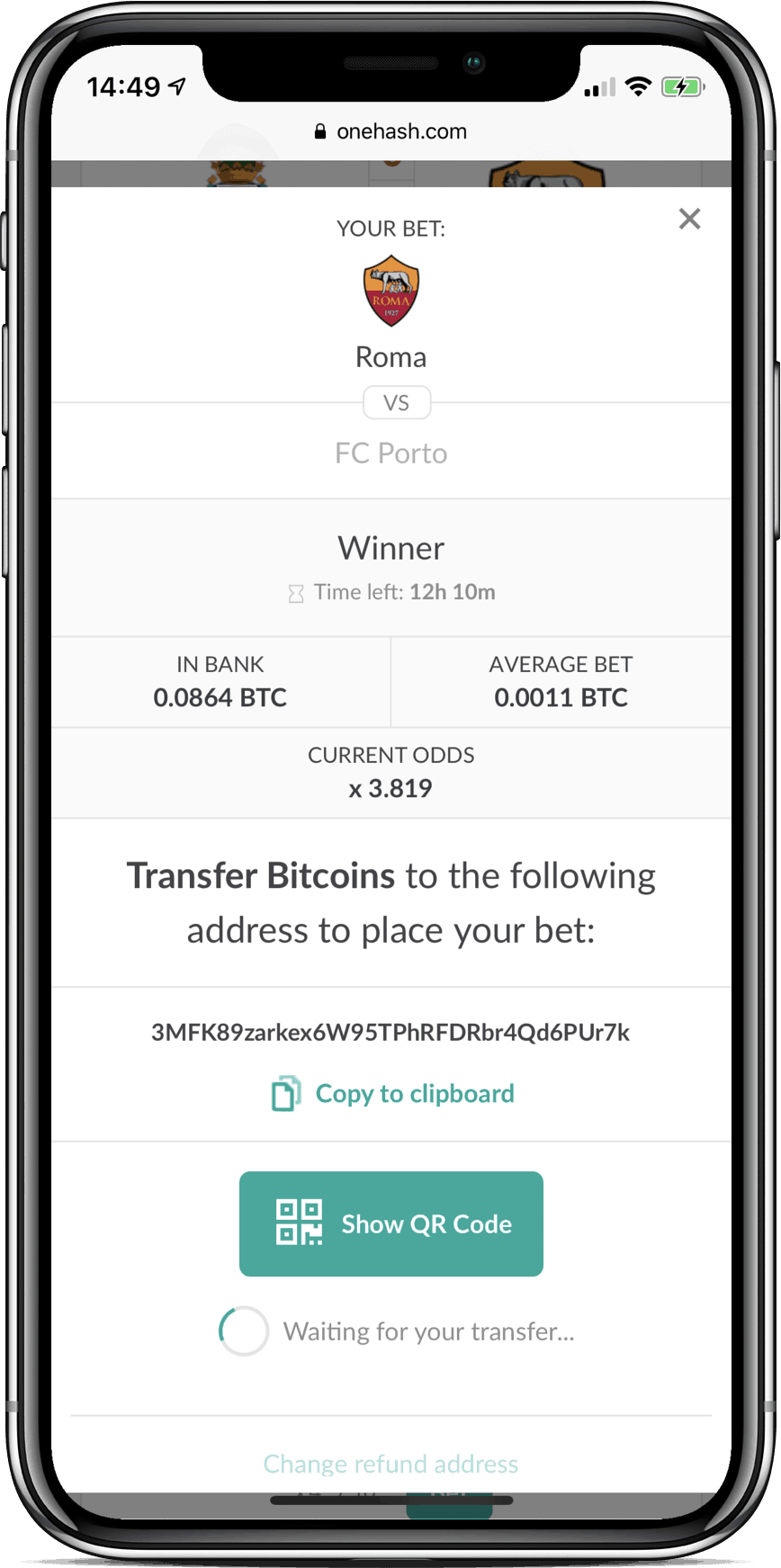 Range of bets
Range of sports, leagues and events: Medium. All the big obvious sports and leagues are there but not the less popular ones.
Range of bet types per event: Smaller than most.
The thing is mutual betting is useless on betting markets with no liquidity, so they don't offer less popular sports and event types.
Live betting
There is no live betting given that it is not suited to the mutual betting model.
Transactions
Unique deposit addresses: Available.
Confirmations before bet: 2.
Withdrawal time: A few hours or more.
Player to player transfer: Not available.
Customer service
Customer service channels available: Live chat and on site submission. The chat pops up when you open the site with a prompt asking if you need assistance.
Speed of replies: Live chat takes a few minutes to reply.
Accuracy of replies: Variable.
We did have to ask on two separate occasions when our Indian Premier League cricket bet would be settled and paid out. Each time we had a generic response (as shown below) followed up with the agent saying they would chase it. We didn't ever hear back, although the bet was eventually settled – albeit four days after the match.
Real life customer service test
Question:
Hi, my bet has been pending payout for almost a day now, can you tell me why that is?
Answer:

Evaluation of the match result and sending winnings usually takes several minutes. Sometimes it may take a bit longer, especially when potential delays from the bitcoin network are taken into account.

We will check why it is taking so long though.
Notes:
This exchange happened again, with exactly the same copy and pasted answer the next day when I asked again. After two days of a bet not settling it's a bit lazy to blame the bitcoin network and clearly was a problem from OneHash's end.
Privacy and security
Information required at signup: Email address but you can bet without even signing up.
2 factor authentication: Available.
Bonuses
OneHash offers a sliding scale welcome bonus that's based on the value of your first deposit:
Make a first deposit in the range 0.7 m฿ – 1.49999999 m฿ to get 30 Free Spins.
Make a first deposit in the range 1.5 m฿ – 2.49999999 m฿ to get 75 Free Spins.
Make a first deposit larger than 2.5 m฿ to get 150 Free Spins.
Free Spins are only available on Treasures of Egypt, Wild 7 Fruits and Lion the Lord.
Funds won will have a 40X rollover requirement. The max winnings paid out from Free Spins will be the equivalent of 100 EUR in BTC.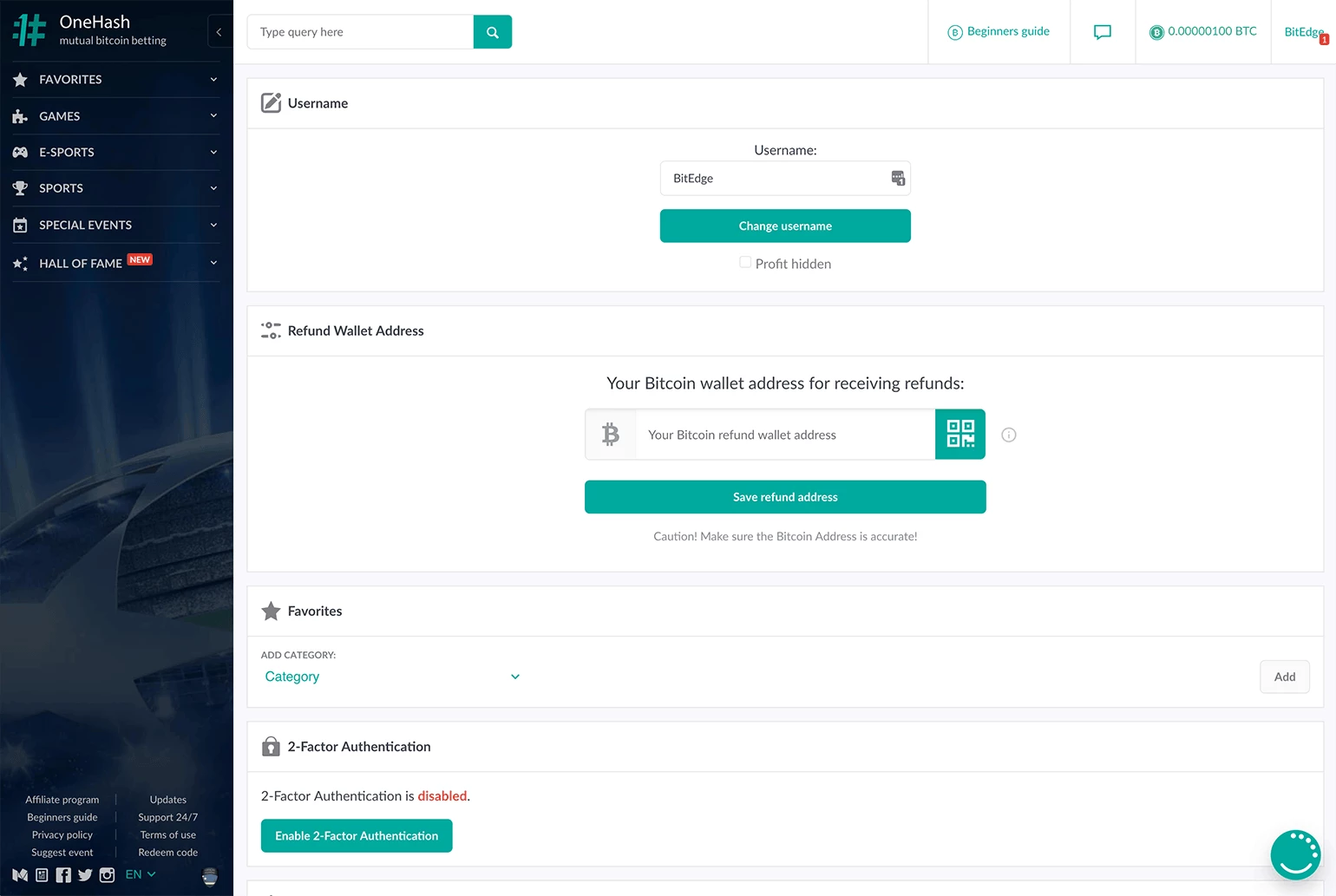 Overall
If OneHash would lower their cut from 5.3% to 1% I would use and recommend it. I think if they did lower their edge to 1% they would get more than 10 times the volume and therefore make more money overall.
As it is, the mutual model gives no benefit to the bettor compared to the top ranked sportsbooks listed here.
More by Will Wood

I first started writing professionally in 2015. I initially wrote science fiction novels and historical non-fiction books about British spies.