What is MiFinity Wallet?
MiFinity eWallet is a non-custodial global payments provider designed for individuals and organizations seeking a safe and user-friendly platform for managing digital assets and making online payments. Because of its adaptable and convenient design, user-friendly interface, and compatibility with a variety of wallets, the MiFinity personal wallet is a popular choice among consumers. Join us in this Mifinity wallet review to learn more.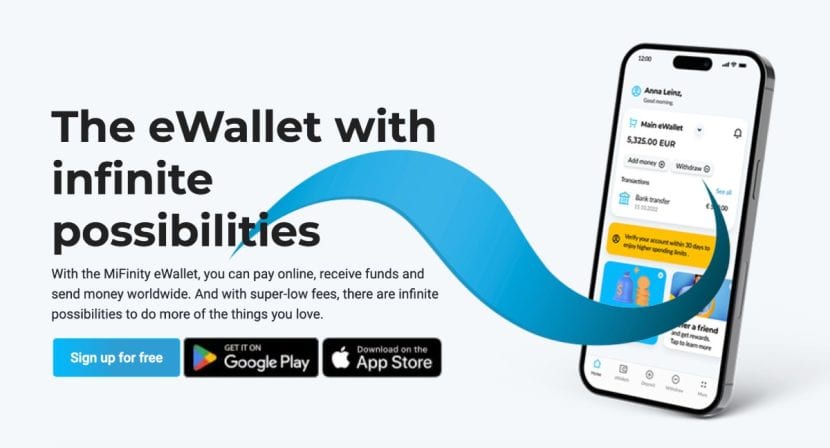 Type of Wallet

Price

Fees

2.99% for currency conversion
1.8% for crypto deposit and withdrawals
$1 monthly inactivity fee
Other variable fees

Phantom Features

User-Friendly Interface
Solana and Ethereum Support
Wallet Security
Browser Extension
Cross-Device Accessibility

Number of Cryptocurrencies Supported

Earn (Staking/rewards)

Customer Service

Emai, knowledgebase, Phantom community, and social media platforms.

Hardware Compatible

Yes, including Ledger Wallets

SPV or Full Node

Who is it Best for?

Individuals and organizations seeking a safe and user-friendly crypto and fiat wallet

Pros

Highly intuitive
Accessible in over 225 countries
Multiple payment options
Wide acceptability

Cons

Tedious sign-up process
KYC verification could delay
Services Offered by MiFinity Wallet
Global Money Transfers: MiFinity personal wallet enables users to pay online, receive funds, and transfer money globally, securely, and quickly.
Cryptocurrency Storage: The global payments provider allows users to securely store various cryptocurrencies, including Bitcoin, Ethereum, Litecoin, and more.
Multi-Currency Support: The wallet supports multiple currencies, allowing users to manage different cryptocurrencies on a single platform.
Virtual IBAN: MiFinity Wallet offers a virtual IBAN, allowing users to transfer funds into their eWallet with no fees to pay.
How to Create an Account
Go to https://secure.mifinity.com to access the MiFinity Platform Homepage.
Click on the "Sign Up" link to start the account creation process.
Fill in the required information.
Verify your email address by clicking on the verification link sent to your email.
Complete your profile by providing additional information.
Set up two-factor authentication (2FA).
Add funds to your wallet by buying cryptocurrency from an exchange or receiving it from another wall
How to Proceed with a Transaction
How to Make a Deposit
Log in to your MiFinity Wallet.
Select the deposit method you want to use, such as bank transfer, credit card, or debit card.
Enter the amount you want to deposit.
Follow the relevant deposit instructions provided to complete the transaction.
Verify that the deposit has been successfully processed by checking your MiFinity Wallet account balance
How to Make a Withdrawal
Launch the MiFinity Wallet app on your device.
Enter your credentials (username and password) to log in.
Look for the "Deposit" or "Add Funds" option and tap on it.
Choose the cryptocurrency you want to deposit into your wallet.
After selecting the desired cryptocurrency, you'll be provided with a unique deposit address. This address is specific to your wallet and is used to receive funds. You can either copy the address or use the provided QR code.
Now, open your external cryptocurrency wallet or exchange account from where you want to send funds. Use the provided deposit address or scan the QR code to send the desired amount of cryptocurrency to your MiFinity Wallet.
Once you've initiated the transaction from your external wallet or exchange, it may take some time for the funds to reflect in your MiFinity Wallet.
MiFinity Wallet Supported Tokens
Mifinity supports over 500 tokens ranging from Bitcoin (BTC), Bitcoin Cash (BCH), Ethereum (ETH), Litecoin (LTC), and Ripple (XRP). Additionally, it integrates with Cryptopay, which provides support for additional cryptocurrencies.
Is MiFinity Wallet Safe and Legit?
This MiFinity review established that the platform is safe and legit. It's licensed in the UK and Malta, and has its main office in Belfast with branches in Dublin and Malta. The company is hence regulated by the Financial Conduct Authority (FCA) in the UK and recognized as a financial institution in Malta. Kieron Nolan, the company CFO, owns the Mifinity global payments provider.
Security
MiFinity digital wallet is a highly secure platform that prioritizes the safety of its users. The company undergoes annual security audits to ensure compliance with the Payment Card Industry Data Security Standard (PCI DSS). They have also developed state-of-the-art firewall systems to fend off attacks from fraudsters. All client data and information transmitted through the platform is encrypted using Secure Socket Layer (SSL) technology, which prevents hackers from intercepting passwords or payment information. MiFinity ewallet follows Strong Customer Authentication (SCA) procedures to prevent fraud and ensure that personal information is not used for payments without clients' knowledge and authorization.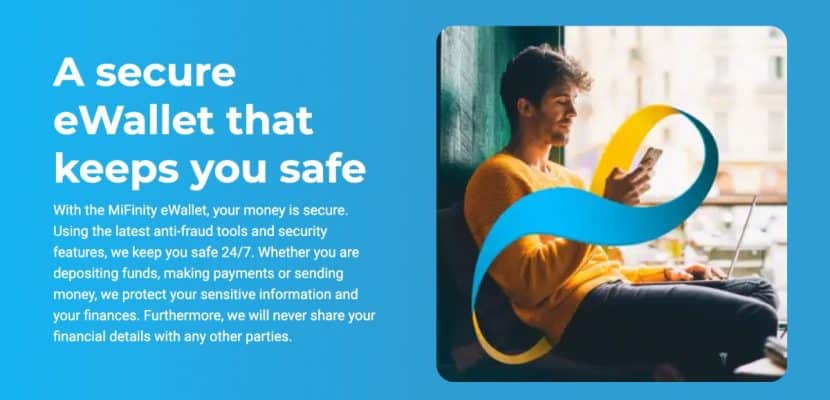 User Interface
MiFinity eWallet's user interface is user-friendly and simple. The main screen shows the user's cryptocurrency balances, presented neatly and clearly with each cryptocurrency's corresponding value in their preferred currency. The app allows easy sending and receiving of funds by simply tapping the respective buttons on the main screen or scanning QR codes. Users can customize their preferences by selecting their preferred currency, managing notifications, and adjusting security settings. The wallet's clean layout, clear icons, and straightforward functionality make managing cryptocurrencies a seamless experience for both novice and experienced users.
How to Use Crypto Wallet on Android & iOS
Download and Install the App:
Go to the Google Play Store or the App Store on your Android or iOS device.
Search for MiFinity," locate the official MiFinity crypto wallet app, and tap "install."
Launch the MiFinity app.
Tap on "Create New Wallet" to start the wallet creation process.
Open the MiFinity digital wallet app on your device.
Tap on "Log in" and enter your email address and password.
Once logged in, you'll land on the home screen of your wallet.
Here, you can view the balances of different cryptocurrencies supported by MiFinity.
To send cryptocurrency from your wallet, tap on the "Send" button on the home screen.
Enter the recipient's wallet address carefully.
Review the transaction details and confirm the transaction.
To receive cryptocurrency in your wallet, tap on the "Receive" button on the home screen.
You'll be shown a QR code representing your wallet address.
Share this QR code or copy the wallet address to receive funds from others.
To manage your wallet settings, tap on the "Settings" tab in the app.
Here, you can configure various options such as security settings, currency preferences, and notification settings.
How to Use Crypto Wallet on Desktop
Visit the MiFinity digital wallet website and navigate to the upper right corner, then click the blue "Sign up for free" button.
Fill out the form provided and verify your account to have it ready. Don't forget to set up a strong password.
Once your account is ready, sign in using your credentials and start using your MiFinity eWallet to store funds and make secure online payments.
You can navigate through different sections of the wallet using the menu options or tabs provided.
To send cryptocurrencies, click on the "Send" button. Enter the recipient's wallet address and the amount of cryptocurrency you want to send.
To receive cryptocurrencies, click on the "Receive" button. Copy the generated wallet address and share it with the sender.
Access the wallet settings by clicking on the "Settings" or "Preferences" option.
Backup & Restore
Creating a Backup
Launch the MiFinity Wallet application on your device.
Look for the "Settings" option within the wallet interface. In the settings menu, locate and select the "Backup" or "Export Wallet" option.
MiFinity Wallet offers different backup methods, such as mnemonic phrases, seed phrases, or private keys. Select the backup method that suits your preferences and follow the on-screen instructions to generate your backup.
Once you have generated the backup, make sure to store it securely.
Restoring Your MiFinity Wallet
Download and install the MiFinity Wallet application on your new device.
Open the application and hit the "Forgot Password option. Reset your credentials, then log in and "navigate to the "Settings" menu.
Look for the "Restore" or "Import Wallet" option within the settings menu.
Follow the on-screen instructions to enter the necessary details from your backup, such as the mnemonic phrase, seed phrase, or private keys.
Troubleshooting
Unable to install or open the MiFinity Wallet.
Solution: Ensure that your device meets the system requirements for the wallet. Check if you have a stable internet connection and sufficient storage space.
Trouble creating a new wallet or importing an existing wallet.
Solution: Double-check that you are following the correct steps for creating or importing a wallet. If you have difficulties importing an existing wallet, ensure that you have the correct wallet backup file or recovery phrase.
Transactions taking longer to process or pending for an extended period.
Solution: Check the blockchain network status to see if there are any ongoing issues or delays. Ensure that you have sufficient funds and included an appropriate transaction fee.
Inaccurate transaction details or missing transactions.
Solution: Double-check the recipient's address and transaction details before confirming the transaction. If you believe a transaction is missing, check your transaction history or blockchain explorer for confirmation.
MiFinity Wallet Alternatives
MiFinity Wallet Vs Coinbase Wallet
Versatility: Both MiFinity global payment platform and Coinbase are versatile wallets that support various functions like sending, receiving, and storing cryptocurrencies. Coinbase Wallet, in addition, is a gateway to decentralized applications (dApps) and interact with the blockchain ecosystem.
User Interface: Both wallets come with user-friendly interfaces that are easy to navigate, making them suitable for both beginners and experienced users to manage their funds. Coinbase Wallet also integrates with the Coinbase exchange platform, providing users with a great experience.
Security: MiFinity Wallet offers secure features such as two-factor authentication and encryption to safeguard user funds. On the other hand, Coinbase Wallet provides advanced security measures like biometric authentication, a secure enclave, and private key storage. However, since it is a custodial wallet, users do not have complete control over their funds as their private keys are stored on Coinbase's servers.
MiFinity Wallet Vs Exodus Wallet
MiFinity eWallet has a user-friendly interface with a simple design, making it easy for beginners to navigate. On the other hand, Exodus Wallet offers a sleek and intuitive interface with advanced features, appealing to more experienced users.
Both wallets prioritize security. MiFinity personal wallet uses advanced encryption techniques and secure logins to protect user funds. Exodus Wallet, on the other hand, offers features like multi-factor authentication and hardware wallet integration, providing enhanced security.
Supported Cryptocurrencies:
MiFinity Wallet currently supports only a few cryptocurrencies, including Bitcoin, Ethereum, and Litecoin. Exodus Wallet, on the other hand, offers a greater selection of cryptocurrencies, making it a more flexible solution for users with diverse portfolios.
Final Thoughts
If you're looking for a reliable and secure platform to manage and store your cryptocurrencies, MiFinity Wallet is a great option. It supports popular currencies like Bitcoin, Bitcoin Cash, Ethereum, Litecoin, and Ripple, as well as other 500+ tokens across different blockchains. If you need assistance, you can contact their support team through various channels, such as phone, email, the FAQ section, or the contact form. MiFinity Wallet offers high-level security measures through SSL technology, accepts multiple currencies. It has minimal deposit and withdrawal times, and charges reasonable fees. Feel free to give it a try.
Q&A Session
In this section, Eugene Abungana will address your inquiries and the most common questions regarding Mifinity eWallet and offer guidance to newcomers in the field. Feel free to submit your questions through our contact form, and we will strive to respond within 48 hours.