This operator is currently inactive

Pros

Longstanding trusted operator

Good privacy

Low rake
Cons

BTC only

Fees for frequent withdrawals
What is Nitrogen Poker?
Nitrogen Poker is one of the few Bitcoin-only poker rooms. It allows poker players to join tournaments and SNGs. It's accessible to players in the US who can join easy poker games that are limited in number. This nitrogen poker review illustrates how the main platform's feature is its BTC-friendly poker compatibility.
Poker Games
Even as a smaller-sized poker room, Nitrogen includes the major game types everyone is playing. These include cash games, tournaments, and SNGs. While the variation isn't great, it's good enough for a new provider that allows players to play poker anonymously.
Cash Games are available in No Limit Holden and Pot Limit Omaha with blinds as low as 0.02/0.04 and as high as 10/20 mBTC.
Tournaments are only available for No Limit Holdem games with 1, 3, 5, and 12 mBTC buy-ins.
Sit & Go's are No Limit Holdem-only games with 1 and 2 mbTC buy-ins.
Cash games
How it is Played?
The poker games offered by the provider include No Limit Hold-em and Pot Limit Omaha games. In the NLH game, every player gets two random cards that are face down. There's a betting round where players can bet, raise, or fold. After everyone has decided, the dealer lays the flop, which includes three cards. A new betting session between the remaining players takes place. The dealer turns another card, and players continue to bet. Finally, the dealer turns a last card. Players either bet, raise, or fold and must show their cards or muck them. A winning hand consists of any five cards. It can be one of the holding and four cards placed by the dealer.
In a PLO game, players get four cards in total. The dealer places five cards in total on the board. A winning hand must have two cards from the players' hand and three cards from the board.
Software Features & Graphics
The provider's graphics are not highly inviting. It includes dark tones and doesn't have anything special going for the game. The layout is familiar, so it's easy for poker players to know what buttons to click. Additionally, players can modify their bet sizing and the pot percentage to make it easier for them. We can't say we're disappointed or not impressed with the graphics, but it gets the job done.
Nitrogen has the best software of all poker sites.
Rake
The cash game rake ranges from 1% – 4% which is standard for crypto poker sites.
The rake on tournament entry fees is 4% which is among the lowest of any crypto poker site.
You will get an effective 10% – 40% rakeback from Nitrogen's loyalty program detailed below.
Range of Tables
No limit, fixed limit and pot limit tables are offered on:
Hold'em
Crazy Hold'em
Omaha
Hold'em 6+
BTC and mBTC
All poker buying on Nitrogen Poker is in mBTC or millibitcoins. The value of an mBTC is 0.001 BTC. The providers are using this price denominator to make it easy for players to understand the value of a poker tournament. Additionally, a player's bankroll is shown in mBTC, making it easier to understand how much they have left. Instead of reading multiple zeros, using millibitcoins is more convenient and less confusing since players can have a set fiat value for how much an mBTC is.
Moreover, the same denominator is used across the nitrogen casino since it's more convenient and removes any uncertainties about where the colon was placed.
Nitrogen Poker Tournaments
On Nitrogen Poker, players can access two types of tournaments: scheduled tournaments and Sti & Go's (SNGs). Scheduled tournaments include seven weekly tournaments, each with a guaranteed prize pool. There's no limit on how many people can join, and the prize pool can increase in case the total amount of play buy-ins exceeds that of the prize pool. Scheduled tournaments have 10-minute blinds and can be considered a Regular speed game in typical poker rooms. Later, registration is allowed, and every player starts with 5,000 chips.
Sit & Go's are ongoing tournaments where players can choose between 1 mBTC or two mBTC to play heads-up, 4, 6, or 8-player single-table games. Multiple SNG games can be played simultaneously if enough players join. The game format is a Turbo game with 5-minute blinds. Heads-up games have one winner, four and 6-player games have two winners, while 8-player games have three winners.
Withdrawal and Deposit Options
As a BTC-only casino, players can access nitrogen Bitcoin poker games using a single token. To make a deposit, each account has a unique BTC address where they can send tokens, or if they have a mobile device, they can scan the QR code. There's no minimum or maximum deposit amount, and by only having Bitcoin as payment, players have a high level of privacy and anonymity, especially since the operator doesn't require verification.
The only withdrawal method is also using Bitcoin, and players are required to complete a 2FA before being able to process a withdrawal. To process a withdrawal, users must submit no less than 0.5 mBTC, which is 0.0005 BTC or a maximum of 1 BTC.
Only the no limit hold'em micro-stakes tables of 0.01 m฿/0.02 m฿ tend to have action 24/7. However, a wider range of tables has action at peak times.
Transactions
Unique deposit addresses: Available.
Confirmations before play: 1.
Withdrawal time: Usually as fast as 10 minutes but we have had significant delays.
Player-to-player transfer: Available.
You only get 1 free withdrawal every 6 days. After that, you have to pay a 0.1 m฿ fee per withdrawal. It's also worth noting that new accounts must wait 6 days before being eligible for the free withdrawal offer. If you try to withdraw within the first six days you will have to pay the 0.1 m฿ transaction fee.
Nitrogen has the best transactions of all poker sites.
How to Sign-Up
To sign up to nitrogen sports poker games, you only need a valid email address to sign up and start playing. You have to click the red Register button that's located in the top right corner. A new form will appear where you must add your email address and a password. The system will then send a verification message with a four-digit code. Copy the code from your email and add it to the space. And that's it. Now, you can make a deposit and start playing.
Mobile
Unfortunately, Nitrobetting doesn't include a dedicated mobile or desktop app to play the games. The platform is designed to be compatible with every mobile and tablet device. Players can access their favorite poker games by opening any browser, typing the casino URL, and accessing the poker site, which is easily explained in our poker site reviews.
Its main advantage is that users don't have to be glued to the casino screen and can play poker even when remote/commuting. One advantage is that the layout is the same across mobile and PC, making it easy to navigate and interact with the game.
Customer service
Customer service channels available: On-site ticketing system or email. No live chat customer service although you can usually get some help in the community chat or through Nitrogen's social media accounts.
Speed of replies: 1 hour or less via the on-site ticketing system. Slightly longer via emails.
Accuracy of replies: Just okay. Support people are more knowledgeable about the sportsbook and sometimes get things wrong.
Nitrogen has the best customer service of all poker sites.
Privacy and security
Information required at signup: None, not even an email address.
2-factor authentication: Available. Mandatory for withdrawals.
Nitrogen has the best privacy and security of all poker sites.
Crypto Gambling Awards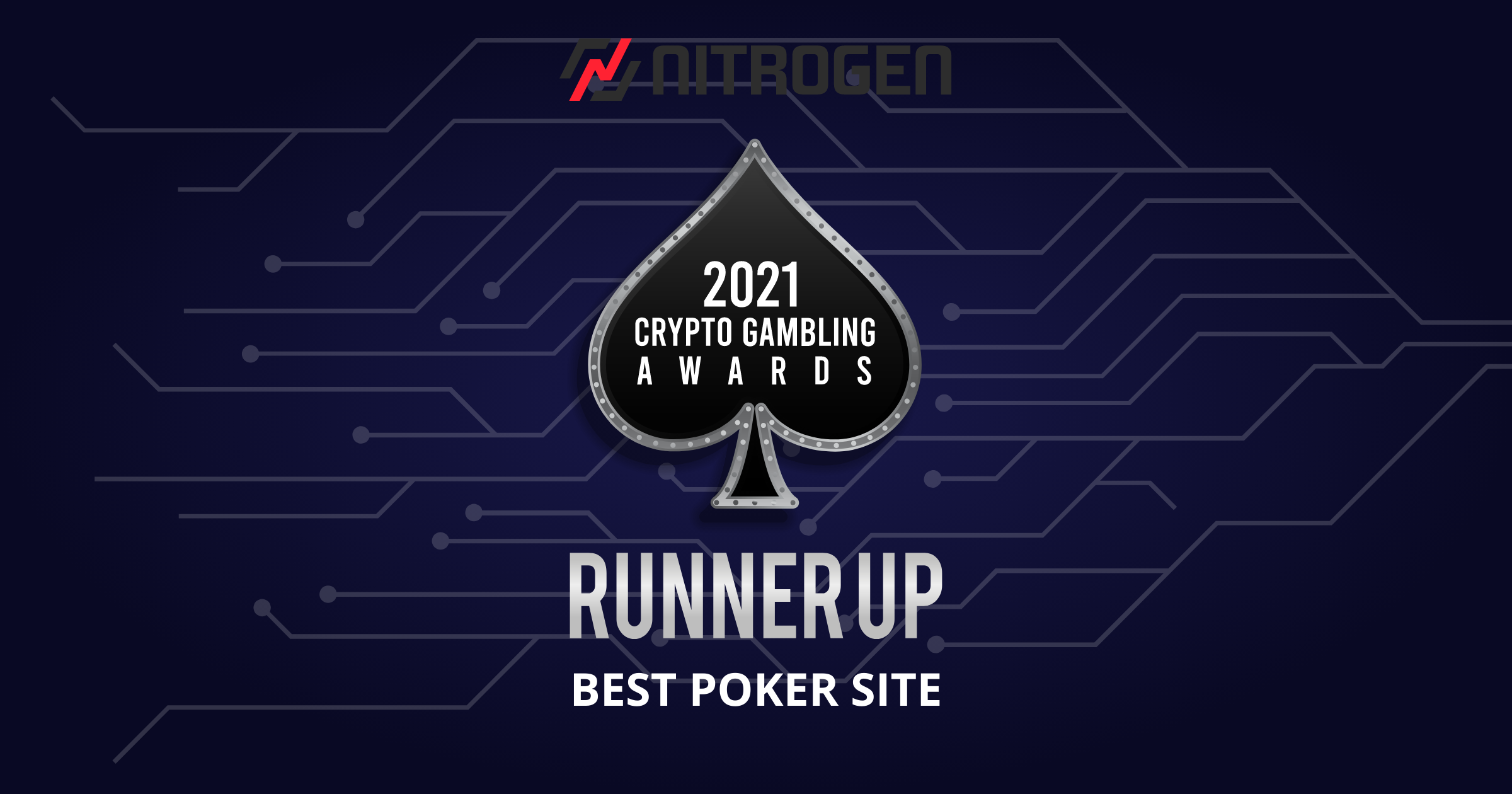 Bonuses
You can only get this bonus here on BitEdge!
Exclusive no-limit holdem poker freeroll with a 5 m฿ prize pool every Monday at 4:00 AM! No deposit required, full details of this and another exclusive freeroll.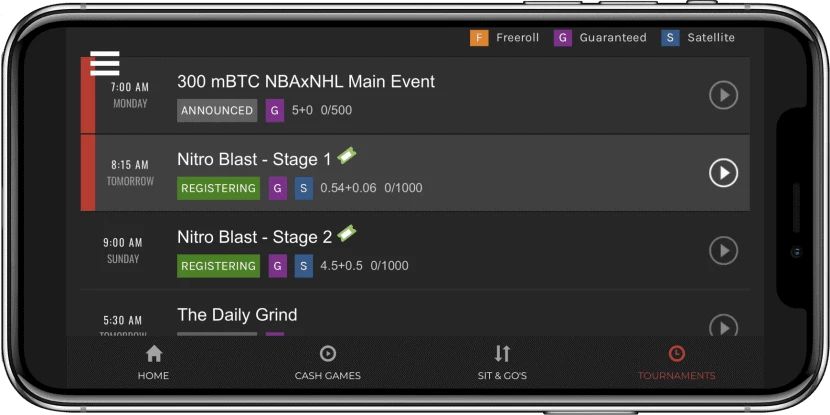 Loyalty program
Nitrogen Sports' reward program gives out points that can be used to buy great value-free bets at one of the world's best sportsbooks. You can also use the points to buy bitcoin or Nitrogen merchandise but it is better value to buy the free bets, even if you buy 2 and bet against yourself!
The program effectively pays 10% – 40% rakeback depending on how much rake you pay and how patient you are in holding your points to cash them out in larger chunks.
Nitrogen poker reward points are called nitros.
Nitros are earned every time you pay rake or tournament entry fees.
Nitrogen's reward program levels are bronze, silver, gold, platinum and diamond.
The more nitro you gain the higher level you are at and the more nitro you gain per bitcoin of fees paid.
At any time you can cash out your nitros for free bets or bitcoin.
Overall
Nitrogen is an easy-to-use poker site; combines the advantages of crypto, security and fun. If you want to try crypto poker then Nitrogen is certainly a good option.
Having a decent sportsbook and strong dice games on the side is a nice bonus.
Q&A Session
In this section, Vlad Hategan will address your inquiries and the most common questions regarding Nitrogen Poker availability, how to register for a tournament, or the types of cryptocurrencies available and offer guidance to newcomers in the field. Feel free to submit your questions through our contact form, and we will strive to respond within 48 hours.
We can't vouch if an unlicensed platform can be part of legit poker sites since the platform has some red flags. This can lead to issues in the future, and when playing poker on the platform, players should be considerate of that aspect.
Yes. In the poker room, players can only deposit using Bitcoin.
This poker site review shows that Nitrogen can be accessed from almost anywhere except Brazil, Russia, China, and the UK. Players from the US can deposit and play poker.
To participate in a Nitrogen poker tournament, you have to sign up for an account, send BTC to the casino's wallet address, search for an ongoing tournament, and click register.