Ethereum burst onto the scene in 2015, offering a new take on blockchain technology and its potential use cases. Ethereum is a powerful blockchain to run smart contracts on and a great crypto for transacting in.
This week, I'm rolling out the red carpet for ether and explaining why it's a top choice for smart bettors.
Ether accepted here
Ether has grown in popularity over the years and is now ranked number 2 by market cap, second only to bitcoin. As a result, virtually every crypto sportsbook, casino and dice site accepts ether. This means you can keep your ether as ether and there is no need to exchange it into bitcoin before you can play.
Whether you want to bet on the biggest sporting events at Stake (review, bettors are geo-blocked), spin the reels at BitCasino (review) or roll the dice at Bitsler (review, bettors are geo-blocked), you can do so with your ether – no questions asked.
Quick and easy
There's nothing worse than hanging around for ages to get your deposit credited to your account or for your withdrawal to make it back to your wallet. You can opt to store your ether in a browser extension wallet, such as MetaMask. This cuts down the time it takes you to send and receive ether, and when it comes to betting on sports in-play, we all know that every second counts.  
A block is mined every 14 seconds or so, and in each block you can fit around 70 transactions. Every site is different when it comes to confirmations. Presuming you're included in the next block, this is how long you will have to wait at the top ether gambling sites:
Cloudbet (review, bettors are geo-blocked) requires 1 confirmation which takes 14 seconds
Stake requires 12 conformations which takes 2 minutes and 48 seconds
BitCasino requires 20 confirmations which takes 4 minutes and 36 seconds
Most sportsbooks, casinos and dice sites require 1 confirmation for bitcoin deposits, which is 10 minutes away if you're included in the next block. As you can see, it's much faster to deposit using Ethereum than it is bitcoin.
The fees can bite
Ether requires you to set a gas fee in order to get your transaction included in a block. Generally the more you pay in gas, the faster your transaction gets into a block. As ether goes up in value, so too does the cost of transactions. If lots of people are using the Ethereum blockchain then you're going to have to hike up the gas to get included in the next block.
The average gas price is around 0.0021 ETH, but during periods of high network volume, it can rise. For instance, it's currently at around 0.0042 ETH ($6.80). This is a fairly expensive transaction, but it's still cheaper and faster to use than bitcoin, which currently costs $10 to get included in the next block.
Where can I bet with ether?
If you want to bet with ether, we've got you covered. Simply set ether as your currency of choice and you'll only see sportsbooks that accept it.
To do this go to the top right-hand corner of the website and click the settings icon, or simply click here.


Once you've opened settings, click on the currency drop down, select Ethereum, then press okay and save. Now you'll only see sportsbooks that accept ether.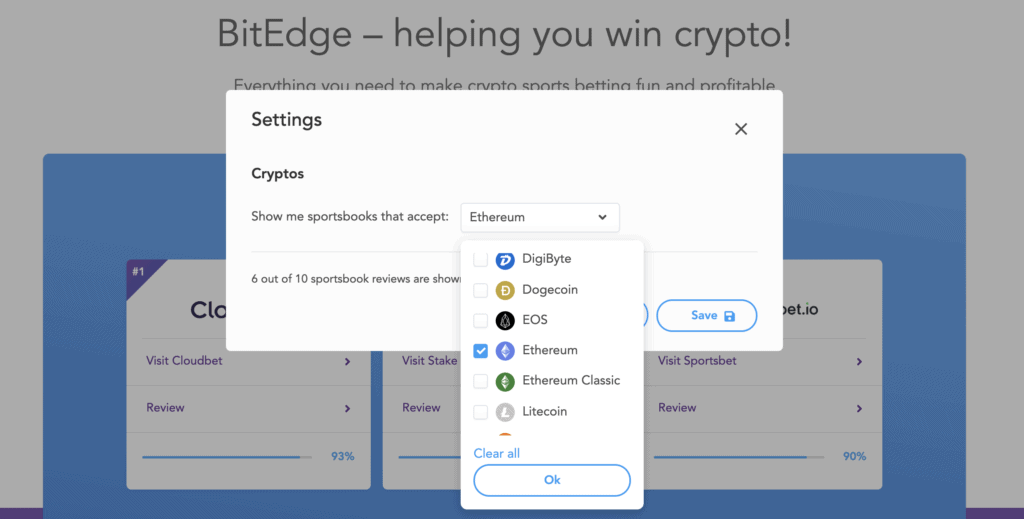 The verdict
Ether is one of the most popular cryptocurrencies, meaning that if you're looking to play at sportsbooks, casinos and dice sites, you're not going to be limited. The crypto betting world is your oyster, so take full advantage of the variety available to you when using ether and the speedy deposit times.
Ether might have an insurmountable number of use cases, but my favorite is placing bets at top sportsbooks… Staking validator nodes is a close second!