Regulated by BSP (the Philippines Central Bank)
Has 33,000+ cash partner outlets
Has advanced security systems to ensure your funds remain secure at all times
Has a wallet for storage and a pro feature to trade digital assets
Low trading fees
Allows users to buy load and pay all other bills
Offers Coins Pro, a professional spot exchange.
Free to install and run
Introduction to Coins.ph Exchange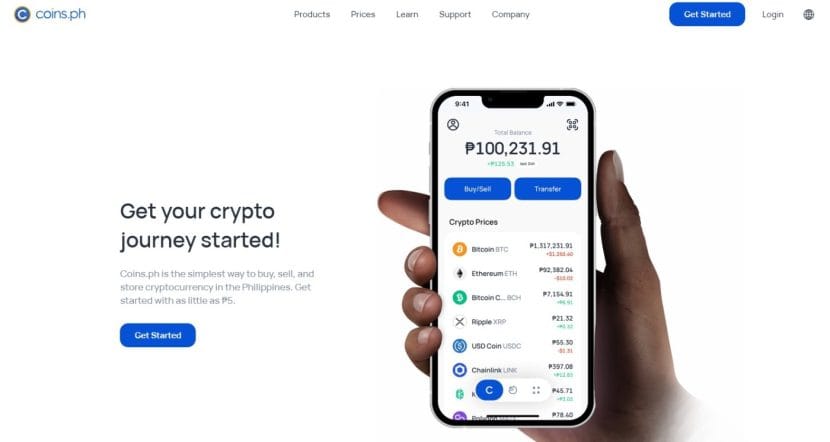 Coins.ph was founded in 2014 as a mobile wallet, aiming to provide individuals and small businesses direct access to money digitally. The platform is blockchain-backed, and supports crypto trading, buying and selling on top of the regular fiat financial services. The founder is a Silicon Valley entrepreneur, Ron Hose, and his dream was to create a platform that would help users in SouthEast Asia tap into the countless benefits of blockchain technology.
Currently, Coins.ph has 16 million users, making it the most popular crypto wallet and exchange in Southeast Asia. The founders have over the time improved the services and features they offer on the platform to include a coins academy, a free platform where you can learn everything you need to know about crypto, web3, NFTs and more. Let's delve into Coins.ph exchange review and find out about the accepted currencies, how to sign up, features, pros and cons and more.
Type of Exchange
Centralized Exchange
Price
Free to join
Fees
P50: P100-2,500:

2% fee: Above P2,500

0.3% : Coins pro

0 fees: All instapay transfers

Features

Crypto Exchange
Digital Wallet
Coins Pro
Portfolio App

Number of Cryptos Supported
20+
Earn
Customer Service

Support Center
Email
Telephone
DAOs

Hardware Compatible

Safepal hardware wallet
Ledger Nano x
Ledger Nano s
Trezor Model T

SPV or Full Node
SPV
Who is Coins.ph Best Suited For

People starting out in crypto trading and investing
Experienced Traders
Day Traders
People living in the Philippines

Pros

33,000 partner locations with cash in cash out
No need for a bank account to transact
User-friendly interface
Lots of ongoing cashback promotions
Easy buying, selling, and other crypto transactions
Has an Android and iOS app

Cons

Most services work inside the Philippines
KYC processes apply
High fees are charged when converting from crypto to fiat
Type of Exchange
Coins.ph is a centralized exchange that is fully regulated by the Bangko Sentral ng Pilipinas.
Price
You'll not incur any costs when downloading and installing the app. Signing up is also free.
Fees
The exchange has fees that depend on whether you're the maker or taker. For the maker, the fee is 0.25% if the transaction is less than 500,000PHP and 0.055% for any transactions above 2.5 Million PHP. The taker, on the other hand, pays 0.30% for any amount below 500,000 PHP and 0.055% for transactions above 2.5 million PHP. HHere's a summary of other internal transfer fees and charges.
Depositing money via Dragonpay: P50 for amounts between P100-2500
2% for amounts above P2500
InstaPay transfers:0 fees
Bank transfers: Fees depend on sending bank
PersonNet transfers: No fees charged
Palawan Pawnshop Charges: P15 – P500: P20 fee
P501 – P5,000: P30 fees
P5,001 – P50,000: P40 fee
Features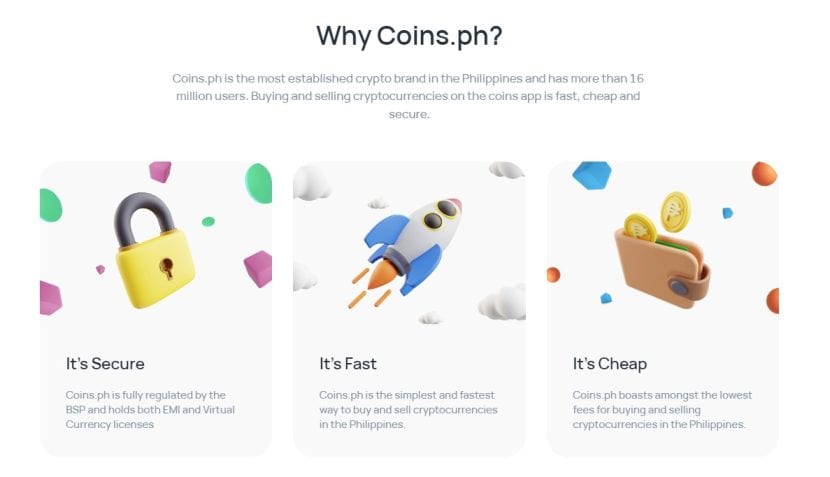 Here are the features you'll find:
Crypto Exchange
The exchange has more than 20 currencies that you can buy, sell and swap. The most popular coins listed on the exchange include: Bitcoin, Bitcoin Cash, Ethereum, Ripple, Tether USD, USD Coin, Polygon and others. The exchange is set up to enable easy buying of the cryptocurrencies using Pesos. You can also easily sell your crypto and receive Peso into your account.
Digital Wallet
This feature helps users to send and receive both inside and outside of the Philippines. It was the initial feature launched by Coins.ph before they added the crypto exchange. You can also use the wallet to load your phone with airtime, receive and make payments and the other functions of an eWallet.
Portfolio App
This feature makes it easy to view your balances and in all denominations and withdraw money from the wallet. Through this feature, you can understand the state of your assets and how their value changes over time. You can also buy and sell crypto using this feature.
Coins Pro
This is meant for people who have established a presence in online crypto trading. It allows users to place limits and stop orders on their crypto accounts. You can choose between candle sticks, bars, and other sophisticated analysis tools to understand the state of the market. You can also spot trade using either USDT or PHP.
Number of Cryptocurrencies Supported
The platform supports more than 20 cryptocurrencies. These include: Aave, Arbswap, Axie Infinity, Smooth Love Potion, TrueFi, Tron, Uniswap, Blur, Binance Coin, Bitcoin, Chiliz, Dogecoin, Enjin Coin, Ethereum, FLOKI, Gala, GMX, Polygon, Maker, GensoKishi Metaverse, Lido DAO, Chainlink, ApeCoin, Arbitrum, LooksRare, Liquity, Decentraland, USD Coin, Tether, Ripple, and Yield Guild Games, Basic Attention Token, Bitcoin Cash, Pepe, Radiant Capital, Ronin, Rocket Pool, The Sandbox, Shiba Inu, Kyber Network Crystal v2 and others.
Customer Service
Coins.ph has invested a lot in customer service. You can reach them through these channels:
Telephone Hotline: their hotline number is (02)882-26467 which is available between 7 am and 5pm from Monday to Friday, GMT+8.
The Contact Form: The platform has a contact form you can fill out when you want to contact support. It's the best method to use when you need to give specific details about your issue. The form allows you to offer explicit details about your problem, and also to attach evidence and other documents that will make it easier to get help.
DAOs and Social Media Pages: Coins.ph has a strong presence on social media channels including Discord, Twitter, Instagram, LinkedIn and TikTok. You can join any of the communities for updates on everything happening with the exchange. You can also send your queries through the communities and resolve the common system problems.
Hardware Compatible
The digital wallet does not directly support any hardware wallets. However, you can manually send your crypto into these wallets for safekeeping.
Safepal Hardware Wallet
Ledger Nano X
Ledger Nano S
Trezor Model T
SPV or Full Node
Coins.ph employs SPV validation. This is a simplified verification method that allows one user to validate their transactions without worrying about other transactions on the chain. This method is faster and more convenient because it doesn't involve downloading the entire blockchain and validating it.
Who Coins.ph Exchange Best Suited For?
Coins.ph was primarily made for people living in the Philippines and interested in taking part in digital transactions. However, it has expanded to include crypto transactions and in turn, become available in other territories. Currently, these groups of people can benefit from Coins.ph:
Beginners in Crypto: You'll find Coins.ph excellent if you're new in crypto trading. The platform has a simplified user interface that people with limited knowledge of how crypto works can easily interact with and complete transactions. They also offer excellent educational material to simplify the learning process.
Long-time Investors: Coins.ph is also excellent for people interested in making long-term crypto investments. It has a collection with some of the best coins to make part of a long term investment solution.
Day Traders: The platform executes orders fast, which is an excellent feature for people interested in speedy swaps.
Experienced Traders: The exchange has a pro version that offers a wide array of tools for people with substantial experience in crypto trading. The tools used for charting, real-time data on the market and different types of orders make it easy for seasoned traders to create and follow through a successful market strategy.
Services Offered by Coins.ph Exchange
Coins.ph offers a wide array of services to users. Here's a breakdown of the main services you get from the platform.
Remittance Services
The platform was started as an easy way for users to send and receive money to their loved ones inside the Philippines. Currently, you can send money either locally or internationally at a very affordable rate.
Load Top Ups
You can also top up your airtime using the application. This service works best for prepaid mobile phone plans; you can either top up your mobile or someone else's.
Settling Bills
The digital transaction platform also allows users to settle their bills digitally. You can settle internet, phone, credit card and other utility bills simply using the application.
Buying Things Online
Coins.ph also allows users to make online purchases in their favorite stores. They have a network of partner merchants that have integrated the wallet into their e-commerce stores, and which makes online shopping a seamless experience.
Crypto and Fiat Conversion
The app also allows users to change their crypto into fiat currency. Currently, the only available Fiat currency is Philippine Peso, which means you can only convert your fiat currency for Pesos.
Crypto Trading
The most notable feature offered by Coins.ph is crypto trading. The platform allows users to buy, sell, and swap various cryptocurrencies including Bitcoin, Ethereum, Tether, Ripple, Dai and Bitcoin Cash among others. Spot traders and other experienced crypto traders can place limit orders, and market orders and use other complex tools to analyze the market and perform successful trades.
How to Create an Account?
Here are the simple steps to follow when you want to create an account with Coins.ph:
Step 1
Visit the Coins.ph website using your PC or mobile device. At the top of the page, there's a 'Sign in' and 'Get Started' button. Choose the 'Get Started' Button.
Step 2
If you're on mobile, Coins.ph will redirect you either to the Apple App Store or the Google Play Store where you can download and install the app. On the other hand, the PC version will simply direct you to create an account.
Step 3
Fill out all the required details, and create a strong password. The system recommends upper and lower case letters and some special characters as part of your password. There's also a captcha code to verify you're human.
Step 4
When you're done filling the form and doing the captcha, simply click to agree with the terms and conditions and then click 'create account'. The system will redirect you to choose between a personal and business account. Choose a personal account if you need for personal transactions.
Step 5
The account will be ready at this point. But Coins.ph will need some KYC details. You can choose between three levels of KYC depending on the type of transactions you want from the system. The system will want details like name, physical address, official government ID, source of your income and what you plan to use the account for.
Step 6
After providing KYC details, you also have to set up 2FA. This is to add a second level of security to your account and deter scammers from targeting you. Once you complete this step, you'll have successfully created an account with Coins.ph.
How to Proceed with a Transaction?
Here are details on how to make transactions on Coins.ph
How to Make a Deposit?
Step 1
Visit the Coins.ph website and sign in using your email and password. You'll complete the login after you pass through the two stages of the 2FA.
Step 2
Click on the icon that says balance at the top of the page. This opens the page with all supported currencies. Scroll down the list of currencies and pick the one you'd like to deposit. Click on the 'Deposit' button next to the currency you want to deposit. You can choose the fiat currency, Philippine Peso, or any of the cryptocurrencies.
Step 3
Once you click on deposit, the system will provide all possible deposit methods. These include bank transfers, online banking and depositing a cryptocurrency.
Step 4
If you're depositing a cryptocurrency, provide the wallet address for the currency and the amount. Check the deposit details, especially the wallet address and ensure it's correct because mistakes typically lead to loss of crypto. Click the submit button when you're sure all the details are correct.
Step 5
Check your Coins.ph deposit account after some minutes. The amount you've deposited should reflect within minutes.
How to Make a Withdrawal?
Step 1
Visit the Coins.ph website and log into your account using your email and password. The system will ask for two-factor authentication to ensure you're the one logging into the account.
Step 2
Once you've successfully logged in, you can click on the 'Balance' tab at the top of the page. It will redirect you to the page with all supported currencies. Each currency has a deposit and withdraw button at the end. Choose the currency you'd like to withdraw, and click on the withdraw button.
Step 3
The withdrawal methods offered by Coins.ph depend on your location. Choose the ideal method depending on your location. Provide the needed withdrawal details depending on the withdrawal method. This could be the bank account details if you're making a fiat withdrawal or the wallet details if you're making a crypto withdrawal.
Step 4
Key in the amount of fiat or crypto you'd like to withdraw, and double-check your information to ensure you've not made mistakes. Once you're sure all details are correct, click 'Withdraw'. The amount will reflect in the selected account depending on the withdrawal method you choose.
Payment Methods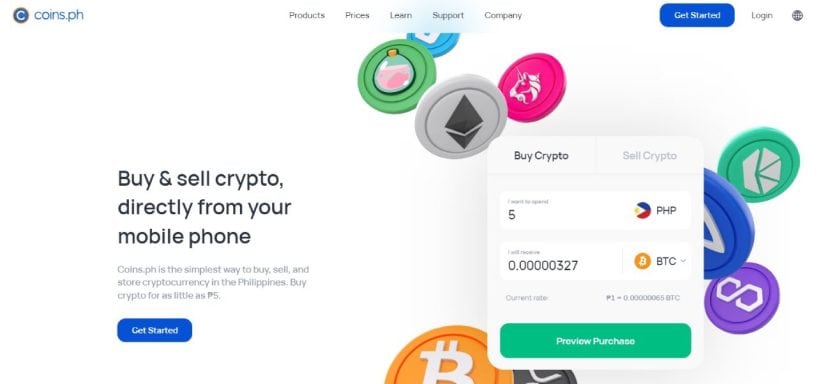 Coins.ph offers users more than 60 crypto payment methods divided into four main categories: Bank Transfers, Crypto, eWallets and Mobile Wallets.
Mobile Wallets:
This method is best for users who prefer to handle their money digitally using mobile eWallets. There's a wide array of wallets you can send money into from Coins.ph. The compatible mobile wallets include:
Cebuana Lhuillier
M Lhuillier
Palawan Pawnshop
eWallets
You can also seamlessly use Coins.ph with eWallets like PayPal and Skrill. This also makes it simple to fund your account for other transactions, even though it comes at a fee. Other eWallets supported by the platform include:
Banana Pay
GCash
GrabPay
Juan Cash
StarPay
Tayo Cash
Cryptocurrencies
Coins.ph is a crypto exchange that supports several crypto transactions including deposits, withdrawals, and other transfers to external wallets. You can also move digital assets fast and securely from the platform to a cold wallet. The major currencies you can trade on the platform include:
Bitcoin
Ripple
Tether
Dai
Aave
Ape Coin
Bitcoin Cash
Bank Transfer
You can make direct bank deposits and withdrawals with your Coins.ph account. It's the most convenient method when you have a large volume of fiat currency you need to move. Here are a few banks that work with the platform:
Al Amanah Investment Bank
ANZ Banking Group
Asia United Bank
Bank of China
Bank of Commerce
Union Bank of the Philippines
Coins.ph Exchange Supported Tokens
You can find five types of tokens on Coins.ph. These include:
Utility tokens: Their role is to provide access to certain products and services within the crypto ecosystem. Some of the utility tokens listed on Coins.ph include Binance Coin, AAVE, Ethereum and SAND.
Governance tokens: their role is to allow users to take part in the decision-making processes on the blockchain. As a user with governance tokens you can vote on issues like proposals, upgrades and changes you feel will improve the network. Some of the tokens you'll find in this category include MKR, AAVE and AXIE.
Stablecoins: These include Tether, USD Coin and DAI. Their value is typically pegged to another currency or external currency such as the US Dollar or the Euro.
NFTs: These are non-fungible tokens, and are proof that you won a particular rare item such as a piece of work. LooksRare NFT and Decentraland are two major NFTs on Coins.ph.
Is Coins.ph Exchange Safe and Legit?
Coins.ph is one of the safest exchanges serving the South East Asian market. Here's a detailed look at the measures it's taken to maintain legitimacy:
Audits: The system is regularly audited to ensure that it's in complete compliance with insurance and integrity standards. Insuring the assets on the platform gives users peace of mind about their investment.
Reputation: Coins.ph is also one of the most popular exchanges in the region. The overwhelmingly positive feedback is evidence that most people who have tried the platform had a pleasant experience, which adds to its legitimacy.
Compliance Regulation: The Central Bank of the Philippines regulates all the activities conducted by this exchange, which means that you can completely trust the platform with the safety of your money.
Security
The exchange has several measures in place to ensure that users get a superior level of security on the platform. Here are some of these measures:
Encryption and Authentication: Coins.ph uses SSL encryption to ensure that third parties don't gain access to information on the site. You should see the https:// heder when you access the authentic website. The site also uses an authentication warning to ensure everyone is visiting the correct site and not a cloned scam site.
Two-Factor Authentication: You cannot start running this wallet unless you've successfully set up the 2 Factor authentication. Signing in requires that you authenticate it using your email or phone, which eliminates the chances of someone else hacking into the exchange and tampering with your assets.
Cold Storage: a very small percentage of the crypto and other fiat assets are kept on the exchange. Most of it is safely tucked away in cold wallets. Every user has the choice to place the majority of their assets in a cold wallet and only have the little needed for the daily transactions in the hot wallet.
User Interface
Coins.ph has a very simple and intuitive user interface. We found it extremely easy to sign up and start transacting, despite the fact that we're not inside the Philippines. It's also easy to download the Android or iOS app and stay informed and connected with your transactions on the go. The accounts setting feature makes it easy for a user to choose the settings to help them get the best out of their decision.
The dashboard is also very simple and easy to follow. You can click on any of the links and access additional features on the platform. The easy layout makes it easy for users to track the performance of their portfolio, and make decisions that will improve their investment. The presence of multiple channels to reach the exchange support team also means you can easily fix any arising problems and continue trading.
How to Use Coins.ph Exchange on Android & iOS?
Follow these steps to set up Coins.ph on your mobile device:
Step 1
Visit the Apple App Store, or Google Play Store and download the Coins.ph app. Once the app is installed, open and choose to create a new account. You can complete this step by keying personal details about yourself and verifying the information.
Step 2
You can log in to the account using the credentials you just created once you complete the account creation process. You'll find all the links and buttons to the different functions of the site, including your transaction history, account balance, and other useful links.
Step 3
You can use the 'Trade button if you want to buy, sell or trade your cryptocurrencies. If you want to buy a cryptocurrency, choose the crypto pair you want to buy or sell and also whether you want it to be a limit or market order type.
Step 4
The system will ask you for details like the amount of the cryptocurrency you'd like to transact and other order specifications. Fill in the details and cross-check the details before submitting it.
Step 5
The system will process the order, and you can see it in the open orders tab or monitor it in the trade history section.
How to Use Crypto Exchange on Desktop?
You can follow these steps to use Coins.ph on desktop:
Step 1
Open your PC web browser and visit Coin.ph website here www.coins.ph
Step 2
If you already have an account with the platform, simply log in to your account using your email and password. The system will also ask you to perform a two-factor authentication. We provided details on how to set up a new account earlier on in the article.
Step 3
Once you've successfully logged into the account, it'll redirect you to the dashboard where you can access all the functions of the site, including the trading interface. You can check all the tabs and links and what they lead to.
Step 4:
Choose the trading pair you're interested in. For example, you can choose between Philippine Pesos and Bitcoin cash. The system will ask you to fill in the number of pesos you want to spend to buy crypto. Fill in the details and click the confirm button to complete the order. You can see the order details and other useful links on the order history page.
Backup & Restore
It's prudent to have measures in place to ensure you can recover your account in case it becomes compromised in any way. Here are details on how to backup and restore your coins.ph account.
Backup
It's important to make sure you've backed up your email and password in the cloud or Google Drive. This will help you easily retrieve your login information if you've lost it. The 2FA app should also be backed up.
Restoration
You can use the details backed up in Google Cloud to restore your Coins.ph if you've lost access to it.
Troubleshooting
Here are solutions to some of the most common problems you might encounter when using Coins.ph
Having trouble logging in
If you're having a hard time logging in, check the internet and ensure you're connected. If the internet is working, ensure that you have entered the email address and password correctly. If you forgot the password, click on the forgot password link and recover your account through email.
Having problems with deposits and withdrawals
If you're having a hard time depositing or withdrawing money, start by ensuring the method you've chosen is accepted and supported by the exchange. You should also cross check the withdrawal details and ensure they're correct.
Unexecuted Orders
If your order hasn't been executed, it could be the result of a system delay or mistakes on your end. Start by checking whether it's pending or awaiting confirmation. Assess all your trading details and make the necessary changes before trying to execute the order again.
Coins.ph Exchange Alternatives
Coins.ph is an excellent exchange. However, comparing it with similar exchanges could offer a clearer picture of how well it fares.
Coins.ph Exchange Vs Exmo Exchange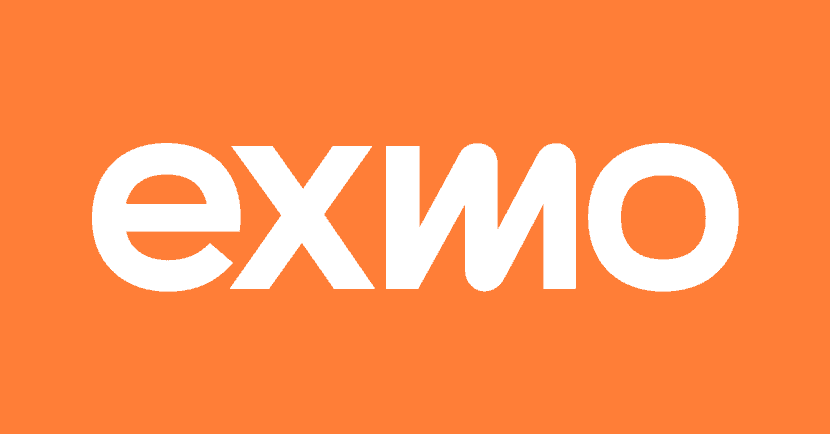 Exmo Exchange was founded in 2014 and is based in the UK. It's a fully decentralized exchange that doesn't have any oversight from the government, which is different from the government-regulated Coins.ph. We've created a side-by-side comparison of the two exchanges for a clearer understanding.
Coins.ph Exchange Vs OKX Exchange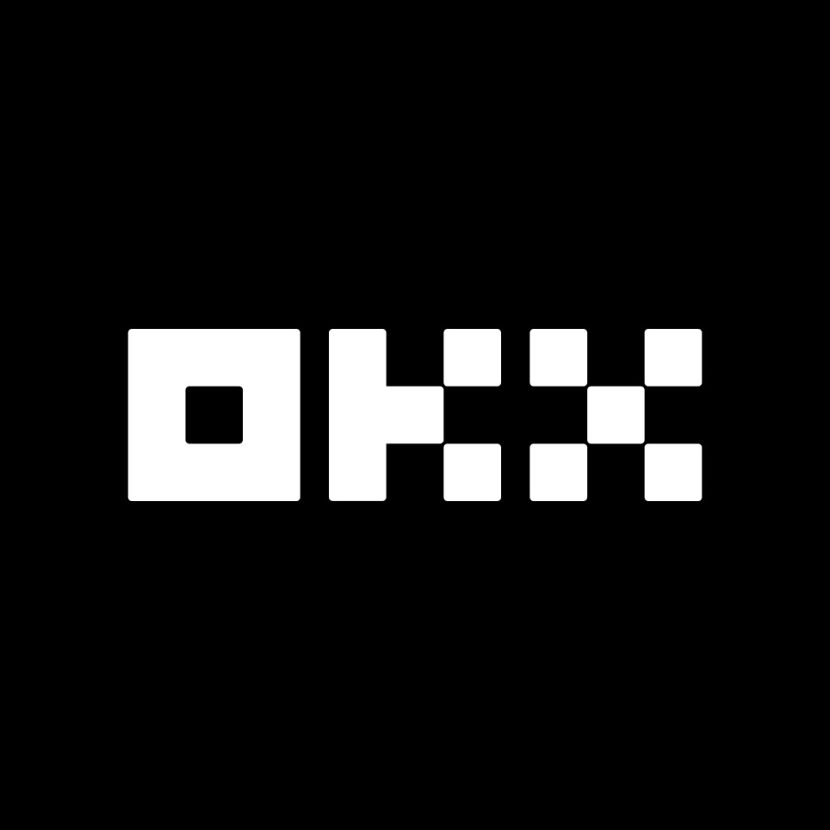 OKX exchange was launched in 2017 and is headquartered in Victoria, Seychelles. It currently has 50 million users and is completely decentralized. It offers more than 3,000 cryptocurrencies which is a lot more than what Coins.ph has to offer. Here's a summarized comparison between Coins.ph and OKX Exchange.
Coins.ph Exchange
Exmo Exchange
OKX Exchange
16 million users
2 million users
50 million users
$730,000 24 hr volume average
$50 million 24hr volume average
$920million 24hr volume average
50+ cryptocurrencies
50+ cryptocurrencies
340+ cryptocurrencies
56 Trading pairs
190 trading pairs
500 trading pairs
200+ countries
200 countries
180+ countries
Users in the US and Canada can use

third-party apps to access Coins.ph

Restricted in US, China and Japan
Restricted in US and Canada
Has an Android/iOS app
Has an Android/iOS app
Has an Android/iOS app
No NFT market
No NFT marketplace
Has NFT marketplace
Training through the Coins Academy
Training through Exmo study
Training through OKX learn
1 Fiat currency
8+ fiat currencies
90+ fiat currencies
Coins.ph wallet is custodial
Exmo wallet is self-custodial
OKX wallet is non-custodial
Final Thoughts
Coins.ph is one of the best-centralized exchanges in the Southeast Asian region. Even though most of its other functions seem only useful to Filipino users, it's still an excellent wallet and exchange for the international user. You can join the user-friendly and hassle-free platform and enjoy all it has to offer. Thank you for reading our Coins.ph exchange review.
Q&A Session
In this section, Millicent Ngugi will address your inquiries and the most common questions regarding Coins.ph Exchange and offer guidance to newcomers in the field. Feel free to submit your questions through our contact form, and we will strive to respond within 48 hours.