Developed in the Multiverse X lab in 2022 and early 2023
An upgrade to the original Maiar AMM
Has a native token, MEX 2.0
New version based on the Multiverse Blockchain
Based on the concept of Supercharging DeFi operations with energy
Free to download and install
Best for those who want to trade and engage with DeFi on the Multiverse X Network
Introduction to xExchange Exchange

xExchange Exchange was launched this year, after going through a development phase at the Multiverse X labs for the better part of 2022 and early 2023. It's an improvement on the Romanian DEX, Maiar, and has even been referred to as the Maiar DEX 2.0. The original Maiar Exchange was both a wallet and an exchange, but with the relaunch, Multiverse X labs separated the two into an exchange and a portal. The current version, xExchange is, therefore, a decentralized exchange based on the Elrond Network, and an improvement to the Romanian Maiar DEX. One of the best features of the Elrond Network was its speed and scalability for dApps, qualities that it brought with it as it relaunched into Multiverse X. Most of the products that were based on Elrond have also been rebranded to take the 'x' prefix.
Getting started on xExchange is easy, you simply visit the website and click Connect Wallet. Wallet options that you can connect include the Multiverse DeFi Wallet, the xPortal App, Ledger and Multiverse X Web Wallet. The wallet also comes with a native token MEX, which is the governance token of the Maiar Decentralized exchange, and provides liquidity on the platform. The exchange serves the MultiverseX network with more than 3 million users. In this detailed review, we'll discuss everything about xExchange including its features, pros and cons, and how it compares to competitors in the same market space. Shall we start?
| | |
| --- | --- |
| Founded in | 2023 |
| Native Token | MEX 2.0 |
| Listed Cryptocurrencies | 20 |
| Trading pairs | 20 |
| Supported Fiat Currencies | No Fiat currencies supported |
| Supported Countries | 30+ |
| Minimum Deposit | $1 |
| Deposit Fees | 0 |
| Transaction fees | 0.30% |
| Withdrawal fees | 0 |
| Application | no |
| Customer Support | 24/7 |
xExchange Features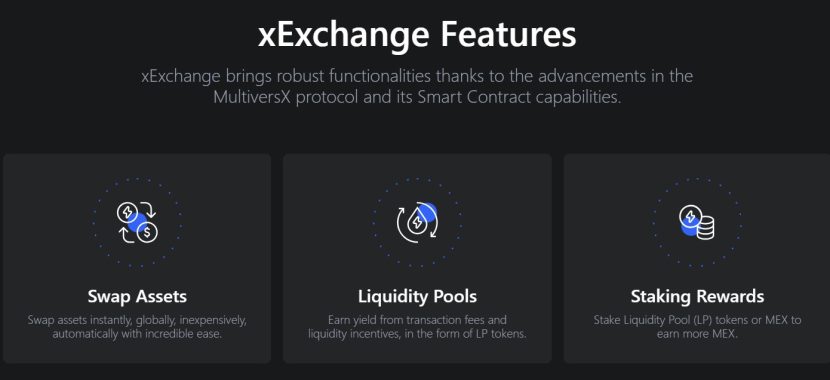 The revamped dex has come with a wide array of features for users. Let's take a closer look at the most important ones:
Order Types: xExchange is a decentralized exchange that doesn't use an order book. This means that all swapping activity is instant. The only semblance of an order type is the market execution kind.
DAOs/ Community Pages: An interesting difference between xExchange is their brand of customer support. Instead of having a support team, emails and other direct channels, they're focused on community building. Their upcoming community page will be used to make all announcements and other communication regarding the exchange.
Types of Assets: there are three main asset types on the site; coins, tokens and stablecoins. The exchange is compatible with other chains and their cryptocurrencies. UTK is one such chain. Tokens listed on the site are mostly popular and useful in the multiverse X ecosystem. They include EGLD, WEGLD, RIDE, ISET, AERO and others. Lastly you will find USDT, USDC, DAI and BUSD.
Native Tokens: The exchange has MEX and xMEX as part of their native token structures. The two were renamed when the platform rebranded into the current names and tickers. The community completely owns MEX and uses it for governance on the platform. xMEX is the locked version of the native token, and is used to power the energy feature. The tokens are typically locked for years, but are redeemable depending on the circumstances.
Accounts that Earn Interest: There are various staking pools that allow you to earn interest on the crypto that you stake on the platform. You can use the Multiverse Web Wallet or any of the other apps to stake your crypto for yields of between 10% and 30%.
Number of Cryptocurrencies Supported
xExchange focuses more on Altcoins than the mainstream and popular cryptos. Here are some of the supported cryptocurrencies on the platform: USDC, USDT, BUSD, WBTC, and WETH.
Earn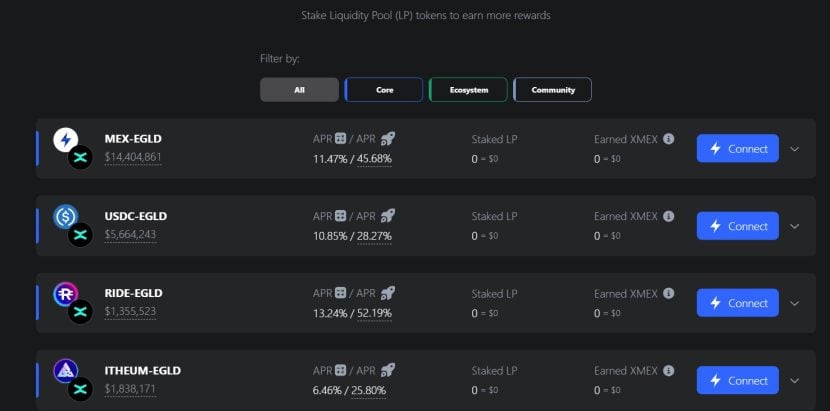 You can earn lucratively in APR and APY by staking your coins on your cryptos on the platform. The amount you earn depends on how much you've staked and the percentage set by xExchange. For example, someone that's staked 1000 ITHEUM on the platform will earn 20% APR over the next nine months. This means that they'll get 200 ITHEUM tokens if they lock their crypto for the next 9 months. On the other hand, since the token's APR is 10%, they will earn that percentage of their staked tokens every year.
Customer Service
One of the common kinks that come with decentralized exchanges is that they lack the customer service and support features that are considered normal. For example, xExchage doesn't have an email address, phone number or live chat where you can engage a support team and get help with pressing issues. Instead, they make use of DAOs and social media communities. xExchage is very fond of using their Twitter Page to make announcements on what's new and what's changing in the platform. You can also join their Telegram community, which currently has more than 20,000 members and ask your questions to the admins. Facebook, LinkedIn and Blog offer a lot of helpful tips and information about the site.
Hardware Compatible
xExchange works excellently on PC. It runs well on MacOS, Linux and also Windows. Currently, there's no mobile application for the exchange, and you don't really need one as all you do is connect the wallet and perform the transaction.
SPV or Full Node
xExchange fully validates transaction nodes. The Elrond blockchain runs 3,200 validator nodes that are split into four shards delivering 5,400 transactions per second.
Who xExchange Exchange Best Suited For?
xExchange is quite different from other exchanges, starting from the listed cryptocurrencies and also the market it serves. The exchange is best-suited for people who prefer complete anonymity when making their crypto transactions. It's very specific about the coins and tokens it supports, which is why we believe it's best suited for people who understand or want to get involved in multiverse X projects and investments. Most importantly, you should check the range of currencies and projects available before deciding whether it'll work for you or not.
xExchange Pros & Cons
Pros
Interface is simple, minimalist and easy-to interact with.
Easy to set up by simply adding your wallet
Full of training and tutorials for beginners
Has staking, yield farming, swapping and liquidity pools.
Works well with several hot and cold wallets
Has a good collection of tokens for people interested in multiverse X projects
Trustworthy and secure
Cons
Has no mobile application
Limited and little known cryptos
No margins
No longer has a wallet function
Services Offered by xExchange Exchange
Swapping
The exchange allows users to swap tokens of one kind for an automatically determined amount of the second token. It uses AMM algorithms to determine the price of the tokens. This means that there's no order book used to determine the price. Also, the system will charge users a 0.3% rate for every swap. The charge is utilized as follows:
0.2% goes to the liquidity providers
0.05% goes to wallets with energy
0.05% goes towards buying back and burning MEX 2.0 from the EGLD/MEX pool
Autorouter
The autorouter feature has made swapping even simpler and more efficient on the platform. You can use it to swap between two tokens listed, even when they aren't directly paired. This means that the system pairs two transactions that will give you the token you need and makes them one simple swap.
Liquidity Pools
Liquidity is one of the major challenges that Decentralized exchanges face. The lack of supply for some tokens means that users have a hard time performing swaps and other transactions. However, xExchange solves the problem by giving rewards to every user that stakes their tokens into the pool. They get an LP token that's proportional to the token amount they've staked. The rewards for participating in the liquidity pool is that you get a share of the mentioned 0.2% fees charged on the token swaps. The only downside to the feature is that cryptocurrencies are highly volatile, and there's the risk of an impermanent loss of your token when the price plummets.
Yield Farming
Farms are a second-tier feature and benefit that users get from xExchange Exchange. Once you have added to the liquidity pool and gotten LP token, you can now stake it in the yield farms, and harvest xMEx returns. Note that there's a 1% penalty when you withdraw your LP tokens early. This move creates a sustainable liquidity and sustainability of the ecosystem. Additionally, the farms will have base and boosted rewards. 60% of what you get goes to the boosted rewards, while 40% goes to the base rewards. Your reward will be determined by the liquidity of your contribution to the farm's energy, and also your total liquidity share. The system calculates the annual wll be revealed to the users at the end of every reward cycle.
Metastaking
You can earn from these revenue streams through the Metastaking feature:
From the trading fees taken from others doing swaps
Staking LP in the yield farms
Staking farm position for more rewards
Metabonding
The aim of the feature is to connect projects to the 3 million MultiverseX community. You can apply to participate in Metabonding if you're a part of any project built on Elrond. Metabonding also requires you to give 10% of your token supply to xExchange for free. 5% goes to those who stake EGLD and the other 5% goes to LKMEX stakers.
Price Discovery
It's common for newly listed coins on any exchange to attract a lot of attention, which leads to a supply and demand imbalance, creating a deceptive valuation. The price discovery feature helps tokens find their true market value and also ensures that users aren't buying into the hype and ending up with a grossly overvalued token.
How to Create an Account?
Follow these simple steps when creating an account on xExchange:
Step 1: Setting up the Wallet
xExchange is different because it doesn't ask you to register using names and other personal details. Its decentralized nature means that you'll only need a wallet linked to the site to start your transactions.
Step 2: Choosing the Wallet to connect
Once you click on 'connect wallet', the site will present a number of options. The accepted wallets include: the Multiverse X DeFi wallet, xPortal app, Ledger, and the MultiverseX web wallet.
Step 3: Complete the Link
Once you have chosen a wallet, follow the prompts until you successfully link it to the app. From this point, you can now access the services and choose the best one. Options include: swapping, liquidity, farms and metastaking. To swap, click on swap on the menu, select the token you want to swap and follow the prompts.
How to Proceed with a Transaction?
You can make various types of transactions on xExchange, depending on what you're aiming to achieve from it. The most common types are deposits and withdrawals, known as adding liquidity to the pools, and unstaking. However, you'll need to connect a wallet before you can make a transaction. Here are steps on how to connect your MultiverseX Defi Wallet.
Step 1: Visit the Chrome web store extension and search for the MultiverseX DeFi wallet. Click 'Add' to add it to your browser.
Step 2: A popup will appear asking you to confirm the decision to add the wallet. It'll also explain the privacy settings for the extension. Click Add again. The software will be downloaded and added to your chrome browser.
Step 3: Another popup will appear notifying you that the extension has been added to your browser. Once installed, click on the icon. It'll give you two options, either to create a new wallet or import an existing one.
Step 4: When you choose to create a new wallet, it'll auto generate seed phrases that you should write down for safe keeping. The app will ask you to confirm that you've written down the phrases.
Step 5: The system will then ask you to write down a few of the seed phrases that you wrote down.
Step 6: Once you correctly write the requested phrases, the wallet will request you to create and confirm a new password.
Step 7: Once you create and confirm a new password, your wallet will be ready to use.
Step 8: You can successfully carry out other transactions once you have set up one of the accepted wallets.
How to Make a Deposit?
Depositing in this case means adding liquidity to one of the pools. Here are the simple steps to follow:
Step 1: Visit www.xexchange.com and connect your wallet to the exchange.
Step 2: After making the connection, click on the icon that says liquidity and wait until it opens the new page. Here, you can add liquidity to any of the tokens and get LP tokens in return.
Step 3: Assess the options available and the rewards. For example, the site has a MEX-EGLD pair whose liquidity you can add for 0.04% fees rewards. It also has USDC-EGLD at 5.51%, and UTK-EGLD at 1.136%
Step 4: Click on add and fill in the number of one token. The system will calculate the other automatically. Make sure you have enough in your wallet for the transaction.
Step 5: Once you've added liquidity, you'll get back LP.
How to Make a Withdrawal
Withdrawing is simply removing the tokens you've added to the liquidity pool. If you do it before 72 hours elapse after staking, the site will give you a 1% penalty. However, here's the process to follow:
Step 1: Visit the liquidity link on your xExchange website, ensuring that your wallet is connected.
Step 2: Check the tokens you've staked in the pools and click on the one you want to remove.
Step 3: The system will ask you to specify how much to unstake and also determine whether you should pay any tokens.
Step 4: Once you've completed the transaction, the token will be free to withdraw, swap or put into other transactions.
Payment Methods
The platform has very limited deposit and withdrawal methods. Since it's decentralized, it automatically means that all fiat transactions aren't allowed. You can only deposit and withdraw 20 cryptocurrencies. Additionally, you can only use these four wallets for the transactions:
Multiverse DeFi Wallet
xPortal App
Ledger
MultiverseX web wallet
xExchange Exchange Supported Tokens
Here's a list of the tokens supported by xExchange exchange:
EGLD, WEGLD, MEX, RIDE, ISET, AERO, SUPER, EFFORT, CRU, ZPAY, WAM, OFE, ITHEUM, BHAT, UTK, CRO, PROTEO, CRT, QWT, ASH, RARE, SFIT, CYBER, ONE, INFRA, LEGLD, WBTC, WETH, MOOVE, CHARGED, HTM and more.
Is xExchange Exchange Safe and Legit?
xExchage is a revamped version of the Maiar, one of the most trusted decentralized exchanges. As mentioned there are thousands of nodes that verify the transactions on the DEX, which means that your crypto is secure even if there's no central authority involved in its governance. The current network is secure and hard to hack into. Also, the fact that your token private keys are always in your wallet greatly improves safety on the site.
Security
Decentralized exchanges come with their own security challenges because they're mostly ungoverned and unregulated. However, xExchange has put in place new security features to safeguard users and their digital assets. Here are some of these security measures:
SSL Encryption and Authentication: the site uses SSL encryption to ensure that the information shared on the site cannot be decrypted even if it was intercepted. They also have a message at the top of the page asking users to check whether they're on the correct site url, which helps deter hackers with scam pages.
Two-Factor Authentication: You can easily set up 2FA and ensure that no other person can access your wallet without your knowledge.
Cold Storage: First, the exchange doesn't hold any of the users' cryptocurrency, and you're expected to safeguard your own tokens in a cold wallet. This minimizes chances that someone might hack the system and take your currency.
User Interface
The web version of xExchange is simple to use and understand. You simply connect your wallet and then visit the swap, liquidity, farms or metastaking and other links to complete the type of transaction you want to carry out. Its simplicity and the fact that you don't need to go through rigorous KYC to set up an account and start trading are part of this exchange's massive appeal.
How to Use Crypto Exchange on Android & iOS?
The exchange doesn't have a mobile application. The developers created a mobile wallet separately from the exchange, and the xPortal wallet does have a mobile application.
However, the exchange is easily accessible through the phone. You simply use your Android or iPhone's browser to visit the platform and carry out any transaction. The site is intuitive and highly responsive.
How to Use Crypto Exchange on Desktop?
Desktop is the simplest and most straightforward way to use xExchange. Here are the simple steps to follow:
Step 1: Visit the revamped xExchange website and check to ensure you're on the right page. The correct web address is xExchange.com
Step 2: At the top left hand corner of the page, there's the option to connect your wallet. Click on it.
Step 3: The page will give you options of the wallets that you can connect. Pick yours and follow the prompts.
Step 4: Once you've successfully connected the wallet, you can visit any of the features and carry out your transactions.
Backup & Restore
Decentralized exchanges have a major advantage, that you can store the private keys to your cryptocurrency in a cold wallet and minimize the risk of hacking and loss. However, getting cold storage also comes with its challenges. First, if you lose the private keys or seed phrase to your wallet, you'll have a hard time recovering your cryptocurrency. It's therefore important to learn how to backup and restore the xExchange wallet you're using.
Backup
Step 1: You'll be backing up the wallet connected to your xExchange exchange. In this example, we can use the MultiverseX DeFi Wallet that we installed earlier.
Step 2: The key thing is backing up the seed phrases somewhere safe. You can simply write them down on paper and ensure they remain safe.
Step 3: You can also backup the phrases in your Google drive but make sure that nobody can access the information.
Restore
Step 1: You'll need to do a restore in case you lose your device or your PC is compromised, leading to loss of access to the crypto. Follow these simple steps to restore your Multiverse X wallet:
Step 2: Open Chrome web store and search for MultiverseX DeFi wallet. Click add extension to get the widget on your browser.
Step 3: The widget will be downloaded and added to your browser. Click to open the wallet. You'll get a pop up asking you either to create a wallet or import an existing wallet. In this case, you're restoring the lost wallet, so you'll simply choose to import the existing wallet.
Step 4: The popup will ask you to write the 24 seed phrases you backed up into the system.
Step 5: Type each word after the other and ensure they're all correct.
Step 6: Cross check to ensure that all the seed phrase are correct before clicking 'continue'.
Step 7: Click continue once satisfied that all the words are correctly typed into the system. The system will ask you to set a new password.
Step 8: Once you set up the password, the system will inform you that you've successfully restored the wallet by displaying a 'Wallet Created' message on the right. If you open it, you can access all functions as shown on the left.
Troubleshooting
There are few problems that you might encounter when setting up a transaction using your xExchange exchange. Here are a few common issues and solutions.
Low balance in native tokens
This is a common problem with Decentralized exchanges. Some tokens come with gas fees and other additional charges that add on to the token amount you'd like to transact. Always ensure your wallet has a little more than the amount displayed in the transaction window. If the transaction doesn't work, choose a lower amount and try again.
Misunderstanding how Liquidity works
This is a common mistake users make when rushing to make a swap when the price favors them. Ignoring the price impact warning could lead to loss of your tokens. It's best to check liquidity before making the swap.
xExchange Exchange Alternatives
xExchange occupies a very unique space in the cryptocurrency ecosystem. It's undoubtedly one of the best ways to transact tokens for people keen on MultiverseX and all it has to offer. But it also comes with some limitations. Let's compare it with Sushiswap and PancakeSwap and see how it fares.
xExchange Exchange vs SushiSwap Exchange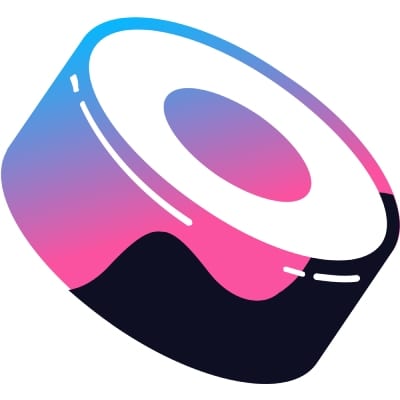 Sushiswap was launched in 2020 and is a little older than the new version of xExchange exchange. It has its headquarters in japan and a user base approaching 200k, which means it's slightly smaller than xExchange. However, when it comes to token availability and features, Sushiswap offers more versatile options. Here's a side by side comparison.
| | |
| --- | --- |
| xExchange Exchange | SushiSwap Exchange |
| 500k users | 198K users |
| 20 cryptocurrencies | 187 cryptocurrencies |
| 20 trading pairs | 228 trading pairs |
| Accessible all over the world | Available in 200+ countries |
| No mobile app | No mobile app |
| No NFTs | NFT marketplace present |
| Learning through xExchage Docs | Only has FAQs |
| No Fiat Currencies | No Fiat Currencies |
xExchange Exchange Vs PancakeSwap Exchange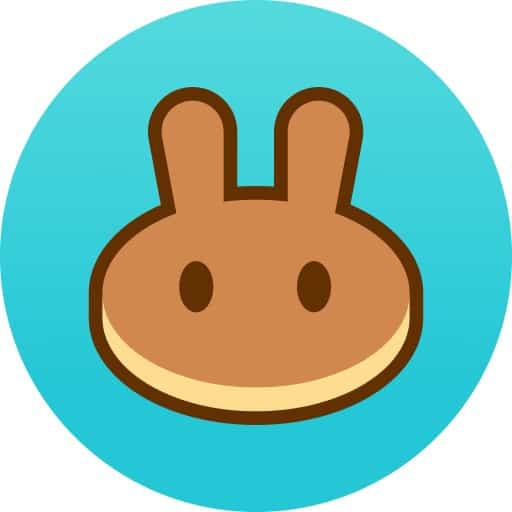 PancakeSwap is one of the most popular DEXs because of the products they offer, excellent transaction charges and supportive online communities. With 2.5 million users and more than 200 cryptocurrencies listed, it easily beats xExchange. However, xExchange has an innovative energy concept that you cannot find on PancakeSwap. Here's a side-by-side comparison.
| | |
| --- | --- |
| xExChange Exchange | PancakeSwap Exchange |
| 500k users | 2.5 Million users |
| 20 cryptocurrencies | 203 cryptocurrencies |
| 20 trading pairs | 513 trading pairs |
| Accessible all over the world | 200+ Countries |
| No mobile app | Mobile App |
| No NFTs | NFT marketplace present |
| Learning through xExchage Docs | Training through PancakeSwap Learn |
| No Fiat Currencies | No fiat currencies |
Final Thoughts
xExchange is an excellent revamp of the original Maiar Dex. It comes with an excellent set of new features that make swapping, trading, staking and yield farming more profitable. It has a very limited number of cryptocurrencies, altcoins and trading pairs. However, it seems to be made for a very specific market, which is why it works. The user experience, installation, and overall operations are well designed and executed. Commendable safety features are in place and articles in xExchange docs provide enough guidance to anyone new to the platform. What's more, the decentralized exchange has 3,200 nodes securing transactions. The first thing you notice at the top of the site is the phishing verification. You'll have a pleasant experience signing up and transacting on xExchange exchange.
Q&A Session
In this section, Millicent Ngugi will address your inquiries and the most common questions regarding xExchange and offer guidance to newcomers in the field. Feel free to submit your questions through our contact form, and we will strive to respond within 48 hours.