New crypto betting sites appear regularly. With the industry growing, it's no surprise to see new crypto sportsbooks grabbing the headlines. Our guide finds the best new betting sites on the market and covers the most vital factors in the crypto betting world.
Bettors looking for a top new site or to learn more about crypto sportsbooks have come to the right place. From our toplist onwards, it's everything any player could need.
Top New Crypto Sportsbook Sites
Reel Crypto – Best For a Huge Welcome Bonus
Betfury – Best for Many Betting Markets
Coinplay – Best for Cryptocurrency Choice
Club Riches – Best Overall New Crypto Sportsbook
888Starz – Best for Mobile Play
Crashino – Best for Provably Fair Games
Winz.io – Best for eSports Betting
CryptoLeo – Best for Responsible Gaming
Lucky Block – Best for Betting Markets
Powbet – Best for VIP Program
New Crypto Sportsbook Sites Reviewed
Bettors looking for the best new crypto sportsbook can easily find the top sites using our mini-reviews. Just closely examine what we have available to find the most suitable site for all requirements.
1. Reel Crypto – Best For a Huge Welcome Bonus
Reel Crypto Sportsbook offers a unique and partly anonymous cryptocurrency-based sports betting experience across 30+ betting markets with instant deposits. Comparing it to dedicated eSports bookies, Reel Crypto presents small but advantageous differences in odds. For instance, in a recent ESL Pro League Season 18 game between Furia and MovieStar Riders, Reel Crypto had the underdog at +180 while FURIA Esports had odds of 1.42, compared to MovieStar Riders at +170 on Thunderpick.
The platform's focus on underdog betting offers higher payouts, although Thunderpick, as a sponsor, may provide boosted odds for certain teams. Regarding bonuses, Reel Crypto Casino offers a limited selection, including a welcome bonus and a cashback promotion. The welcome bonus, paid in USD, can match deposits up to $10,000, often with added free spins for minimum deposits. The cashback promotion varies seasonally, currently offering 10% cashback on weekly losses, capped at $1,000 per week, paid out every Friday before 12:00 UTC. Eligibility requires a minimum $20 deposit into the account.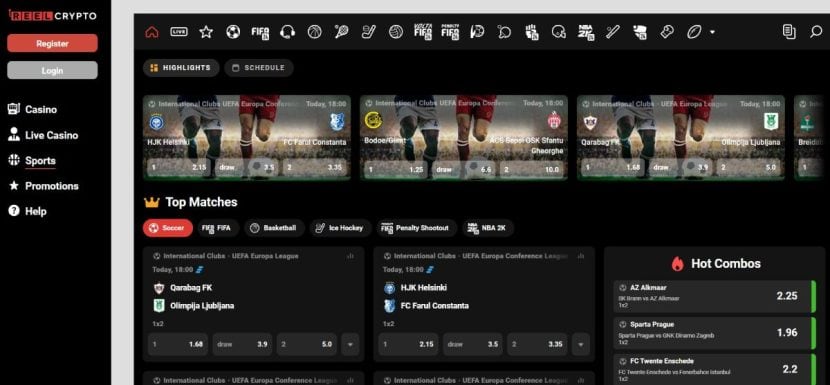 | | | | |
| --- | --- | --- | --- |
| Crypto Bonus | Wagering Requirement | Minimum Deposit | Available Currencies |
| 100% up to $10,000 + 50 Free Spins | 40x for bonus and 35x for free spins | $50 | BTC, ETH, BCH, BNB, ADA, LTC, TRX, USDT, XRP |
Pros
Withdrawals are instantly
Players can make crypto deposits on-chain without having to wait for additional platform verification
The sportsbook includes casino games and sports betting options
Lots of casino game choices
Cons
Some withdrawals will have to be verified independently
2. Betfury – Best for Many Betting Markets
BetFury stands out among crypto sportsbooks by offering an entire crypto ecosystem rather than just a sports betting platform, delivering an exceptional betting experience since its establishment in 2019.
BetFury boasts a unique payment system, facilitating seamless Fiat-to-crypto and crypto-to-Fiat transactions with minimal fees. Users can easily deposit funds into their BFG accounts using digital wallets like Binance and Tron. Furthermore, the platform supports the storage of BTC and ETH in Metamask. In addition to traditional sports, BetFury covers e-sports extensively, offering a wide array of high-quality options with numerous markets, including niche opportunities, catering to diverse preferences. This broad selection accommodates the fast-growing popularity of e-sports among crypto enthusiasts, ensuring a multitude of choices for users to enjoy.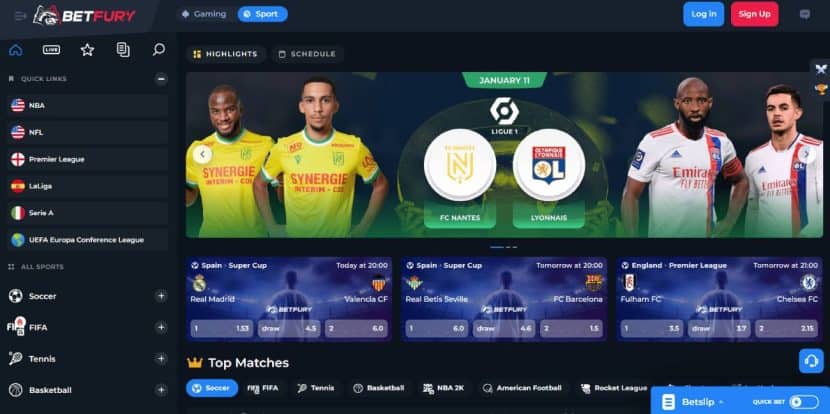 Crypto Bonus
Wagering Requirement
Minimum Deposit
Available Currencies
100 No Deposit Free Spins, Fury Wheel,

BetFury VIP membership system

Low wagering requirements
0.00015 BTC minimum deposits
BTC, ETH, BTT, BNB, DOGE, TRX, USDT
Pros
No withdrawal limits
Supports multiple crypto payment options
Attractive bonuses and promotions
Cons
3. Coinplay – Best for Cryptocurrency Choice
Betting at a crypto betting site means one thing above everything else: crypto availability. Bettors can't access the site to their whole desires. Without a high-quality selection of cryptocurrencies. Fortunately, Coinplay has one of the best crypto choices on the market. So, users with a range of crypto can easily choose the most appropriate one. The site is also excellent, with simple navigation making finding the right betting options a breeze.
There's one of the most impressive bonuses on the market at Coinplay. Bettors can claim up to 5,000 USDT with 40x wagering requirements. Additionally, the sports selection is superb. Users can find a significant choice of events with plenty of markets to go with them.
KYC is complex at Coinplay. Although it doesn't require players to complete the request when creating an account, it has a KYC policy. So, bettors must have their ID documents on hand if Coinplay requires a KYC check. As it's in the terms and conditions, it's a risk users have to take seriously.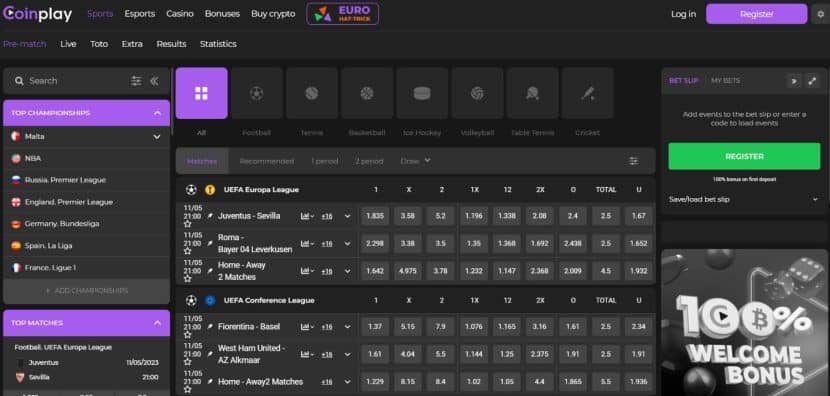 | | | | |
| --- | --- | --- | --- |
| Crypto Bonus | Wagering Requirement | Minimum Deposit | Available Currencies |
| 100% up to 5,000 USDT | 40x | 0.001 BTC | 22 |
Pros
Extremely generous welcome bonus
Has an extensive selection of cryptocurrencies
A comprehensive range of bonuses and promotions
Significant range of betting choices, including eSports
Cons
Bettors are unable to use fiat in any form
4. Club Riches – Best Overall New Crypto Sportsbook
Club Riches stands at the top of the tree for new crypto sportsbooks. It provides one of the most impressive VIP schemes available, ensuring loyal players can claim plenty of rewards. Additionally, there's also a superb welcome bonus. Up to $200 as a matched bet is available to claim on the first deposit. However, the wagering requirements are a little high at 50x. Bettors can collect some of the best bonuses on the market, which helps Club Riches to stand out for players looking to boost their bankroll.
There's a tremendous sports betting selection at Club Riches. It covers all of the most popular sporting events, as well as niche options. Additionally, the market choice is superb. Everything from parlays to prop bets is available. If users want a change, a high-quality crypto casino provides excellent variety.
One minor downside is the KYC policy. Bettors must complete a KYC check to create an account with Club Riches. As a result, total anonymity is impossible. However, bettors can still keep their banking private through crypto transactions.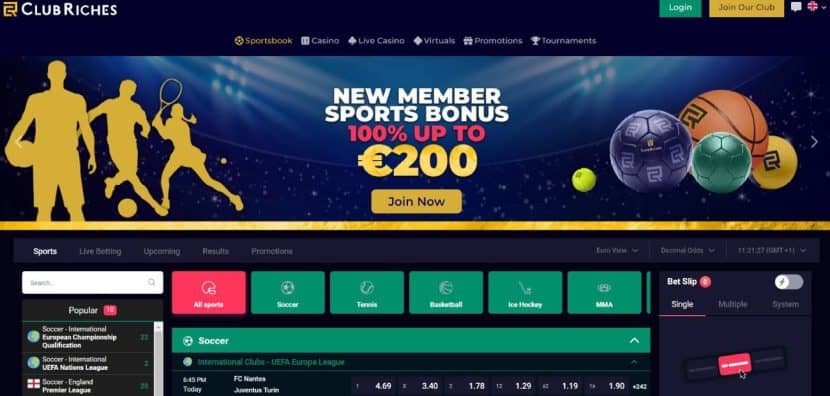 | | | | |
| --- | --- | --- | --- |
| Crypto Bonus | Wagering Requirement | Minimum Deposit | Available Currencies |
| 100% up to $200 | 50x | $15 | 3 |
Pros
One of the best VIIP schemes available
An excellent welcome bonus is in place
Plenty of sports and betting markets
Lots of casino game choices
Cons
There is a KYC protocol in place at Club Riches
5. 888Starz – Best for Mobile Play
Mobile gaming is a rapidly expanding demographic. With mobile devices becoming more powerful by the day, it's no surprise to see crypto sportsbooks taking advantage of this technology. 888Starz is one such site providing players with a fantastic mobile experience. With an app for iOS and Android, it caters to almost the whole market, making it highly appealing. However, it's more than just a great site for mobile bettors, 888Starz has many excellent features.
The sports choice at 888Starz is terrific. Players can enjoy a vast range of sports with top-class markets to go with them. A perfect variety for users. It also has a fantastic welcome bonus with just 5x wagering requirements.
KYC isn't a guarantee at 888Starz. Although a policy is in place, the site doesn't strictly enforce it. So, as long as bettors don't behave suspiciously, there is a possibility of remaining anonymous when playing here.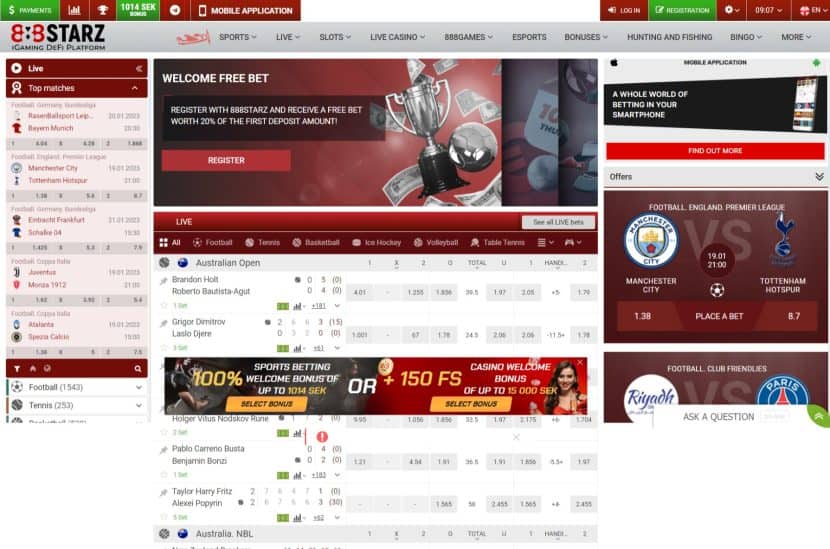 | | | | |
| --- | --- | --- | --- |
| Crypto Bonus | Wagering Requirement | Minimum Deposit | Available Currencies |
| 100% up to $150 | 5x | 0.0000001 BTC | 9 |
Pros
Mobile play is available on an Android and iOS app
Extremely low wagering requirements for the welcome bonus
An excellent welcome bonus for sports bettors
Banks cannot track payments
Cons
There's room for improvement with the customer support
6. Crashino – Best for Provably Fair Games
Provably fair games are an aspect of betting intrinsically linked to the blockchain. As a result, they're only available to crypto bettors. Although it's not as relevant to sports betting as some other aspects, it's a solid option to have available, especially as it provides a more measured approach to gambling, similar to sports betting. Crashino delivers some of the best provably fair games on the market, ensuring players can enjoy variety.
While it's nice to see the provably fair choice, the sports choices interest users the most. So, it's great to see Crashino providing an excellent sports selection. It covers the most prominent events from the most popular sports. So, bettors can find the NFL, NBA, Premier League, World Cup, and more at Crashino. It also offers fantastic markets, so there are plenty of wagering options.
The lack of KYC at Crashino is a huge positive. Bettors can bet anonymously, which is perfect for crypto bettors. So, anyone looking for a truly private betting experience can find it with Crashino.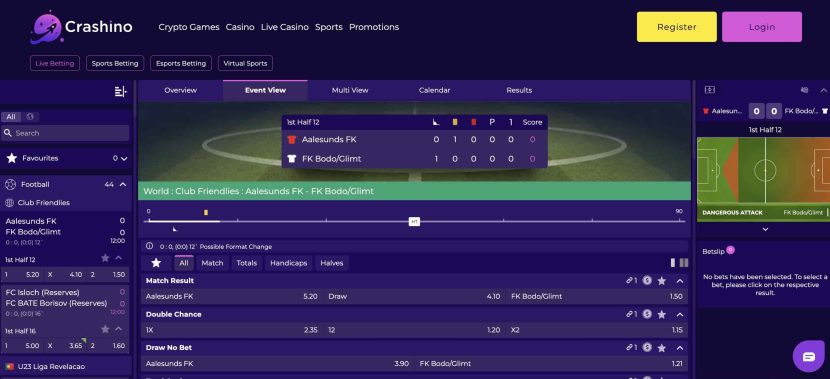 | | | | |
| --- | --- | --- | --- |
| Crypto Bonus | Wagering Requirement | Minimum Deposit | Available Currencies |
| 100% up to $200 and 300 free spins | 40x | $10 | 10 |
Pros
Playeranonymously anonymously as there are no KYC checks
Superb choice of different provably fair games
Sports bettors have some fantastic events and markets available
A comprehensive selection of different bonuses and promotions
Cons
The welcome bonus is mainly for crypto casino players
7. Winz.io – Best for eSports Betting
Bettors can find a lot of excellent choices at Winz.io; however, the eSports selection is the most impressive. As eSports and crypto have had a connection over the last few years, crypto sportsbooks are the first to offer eSports betting. As a result, it's fantastic to see some of the top events available here. It covers everything from the top-ranking options to smaller events such as Starcraft tournaments. It's amazing for anyone who loves eSports betting.
Winz.io also has a top-class sports choice for bettors. It's more than just eSports, there are events from the biggest organizations available, with a comprehensive selection of markets to back it up. The welcome bonus is also appealing, with a 100% matched bonus of up to $500 and no wagering requirements attached. It makes it extremely fair.
Another huge positive is the lack of KYC. Players can sign up and remain anonymous afterward. It's excellent for any crypto bettor who wants to retain privacy when betting.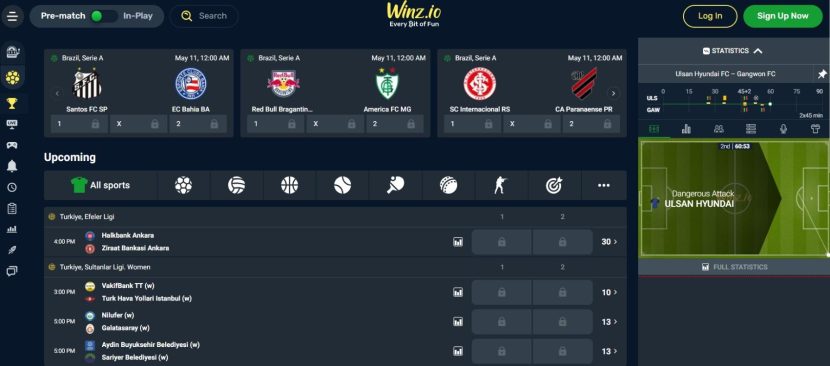 | | | | |
| --- | --- | --- | --- |
| Crypto Bonus | Wagering Requirement | Minimum Deposit | Available Currencies |
| 100% up to $500 | N/A | 20 USDT | 9 |
Pros
The welcome bonus doesn't have wagering requirements
One of the best eSports betting selections
A high-quality range of sports betting markets
Zero fees on crypto transactions
Cons
Additional promotions are a little bit sparse
8. CryptoLeo – Best for Responsible Gaming
CryptoLeo has some incredibly responsible betting tools. For bettors who want to remain safe when gambling, it's one of the best sites on the market. The site allows for self-exclusion and limits as part of its collection of tools. It could also explain why it doesn't offer a welcome bonus. As it's dedicated to helping players stay responsible, CryptoLeo may be attempting to avoid additional temptation. However, this would be a downside for most players, as a welcome bonus can positively increase a bankroll.
The sports and eSports selection is fantastic with CryptoLeo. Players can find all of the most prominent events, with various matches within each event. There's also a superb choice of betting markets, making finding the best bets a breeze.
There's a grey area for KYC with CryptoLeo. Users don't have to provide information when creating an account, but if suspicious behavior occurs at any point, the site reserves the right to request KYC checks.

| | | | |
| --- | --- | --- | --- |
| Crypto Bonus | Wagering Requirement | Minimum Deposit | Available Currencies |
| N/A | N/A | $10 | 10 |
Pros
Excellent choice of sporting events
Some superb eSports betting options
Fantastic markets for betting selections
Amazing responsible gaming options
Cons
No welcome bonus is available
9. Lucky Block – Best for Betting Markets
Lucky Block provides bettors with fantastic betting markets. Over 1,000 different markets are available in certain sports, which ensures players can create the perfect betting slip. On top of this, the welcome bonus is extremely generous. Up to $10,000 is available as a 200% matched deposit. The wagering requirements are set at 60x but split into ten blocks of 6x. So, bettors get 10% of the bonus released for every 6x the deposit they wager. It makes it slightly easier to get the total bonus.
There are excellent sports and eSports choices with Lucky Block, but it really rises to the occasion through its market options. As previously mentioned, the choice of 1,000+ markets makes this a site perfect for bettors looking for good value.
Unfortunately, there's no guarantee of anonymous play with Lucky Block. Although it doesn't require a KYC check upon sign-up, there is always the possibility customer support will ask for player details. So, bettors must be aware of the potential to go through KYC.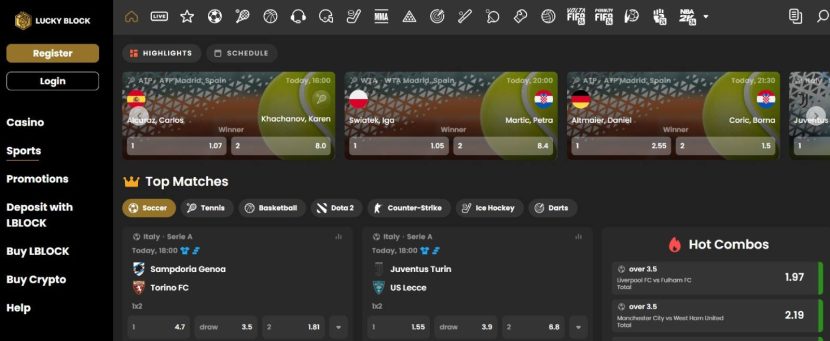 | | | | |
| --- | --- | --- | --- |
| Crypto Bonus | Wagering Requirement | Minimum Deposit | Available Currencies |
| 200% up to $10,000 | 60x across 10 installments | 0.0001 BTC | 10 |
Pros
Huge welcome bonus
Massive range of betting markets
Top-class choice of sports and eSports
Plenty of different promotions are available
Cons
High wagering requirements
10. Powbet – Best for VIP Program
Loyalty is something that deserves a reward. So, it's fantastic to see Powbet offering bettors an excellent selection of rewards for loyal players. The VIP program here is one of the best on the market, ensuring sports bettors can claim various bonuses. It doesn't end there, either. Powbet also has a solid welcome bonus, with low wagering requirements for sports players. Just 6x the bonus is in place, going as low as 5x in certain territories. It makes it an excellent bonus for users betting on sports.
The sports choice is also superb. Bettors can play on a significant selection of events, with the most popular ones taking pride of place at the top of the list. There are also superb eSports options and a variety of markets. It's a top-of-the-range choice.
KYC isn't a guarantee with Powbet. Players can sign-up without going through the process, but there is always a possibility of support asking for proof of identity.

| | | | |
| --- | --- | --- | --- |
| Crypto Bonus | Wagering Requirement | Minimum Deposit | Available Currencies |
| 100% up to $100 | 6x | $10 | 8 |
Pros
Low wagering on the welcome bonus
Plenty of sports and betting markets
Ability to wager on eSports events
Has a good range of additional bonus promotions
Cons
A newer site so hasn't built up a solid reputation yet
Introduction
Cryptocurrency has seen a significant period of growth over the last decade. With more users, developers, and innovations, it will likely continue to be the case going into the next ten years. However, one industry has seen a significant impact from crypto and the blockchain. Online gambling.
More crypto sportsbooks appear all of the time, which can make it a difficult proposition to choose the most suitable one. We understand players aren't always able to spend the time researching what each site offers, but it's still vital to find the best sportsbook.
As a result, sportsbook reviews are a vital aspect of finding an acceptable operator. We've covered the most critical factors players must consider when selecting a betting website. With our reviews, players can find a trustworthy sportsbook, but how do we put together the best guides on the market? Keep reading, and we'll take you through the whole process.
Understanding Crypto Sportsbooks
Crypto sportsbooks provide a different experience from standard online sports betting sites. While many feel cryptocurrency payment options are the only way the websites differ, other distinctions make them stand out.
The sites most commonly provide a different experience through betting options. For example, players can access far more sports and eSports events with a crypto sportsbook than with standard ones. There's also the ability to bet with provably fair games, which traditional betting sites don't offer.
Anonymous betting is also much more likely with a crypto betting site. Although not all sites provide the opportunity, the opportunity is never available with a traditional gambling operator. The ability to bet using crypto is a huge selling point, especially for bettors with a significant cryptocurrency portfolio.
Pros & Cons
Pros
The pros to using crypto sportsbooks ensure bettors have plenty of reasons to switch over. We've provided the top reasons players should seriously consider betting with crypto.
Faster access to funds
Higher levels of security
Ability to retain privacy and bet anonymously
More betting choices for sportsbooks and casinos
Significantly higher bonuses
Cons
Of course, cryptocurrency isn't perfect, so there are some negatives to using a crypto sportsbook. However, we've covered the most prominent drawbacks to give our users an understanding of additional risks.
Volatility can lead to a loss of crypto value
Fewer crypto sportsbooks compared to traditional sites
How New Crypto Sportsbooks are Chosen?
We select new sportsbooks based on a variety of factors. However, before we complete a full site review, we always look into what we deem to be the most significant aspects. So, our first port of call is the following:
Reputation
Security Measures
User Feedback
Licensing
Each of those four factors is the most critical when selecting a sportsbook. Reputation and security are vital for players' safety when using a site. Licensing ensures significant protections are in place if an operator doesn't behave fairly. Finally, user feedback provides the lived experience of other bettors, which allows a genuine snapshot of what the sportsbook offers.
Once we have clarified a site is reputable, we begin to analyze it based on what's available. Here we cover the different aspects of using the sportsbook and whether it's worth creating an account. The various factors we cover in detail are as follows:
Sports and Markets
Competitive Odds
Bonuses and Promotions
User Interface
Customer Support
Each factor is thoroughly reviewed to give our readers a complete breakdown of the site's offerings. We then put this together to create a final score. We cover each individual aspect in detail to allow bettors to select the best crypto sportsbook for their own needs.
What Factors Should I Consider When Choosing a New Crypto Sportsbook Site?
Each player will have their own requirements when choosing a crypto sportsbook. As a result, we've put together a guide which helps bettors to understand the variations in service each site offers. It ensures all our readers are fully informed and can find the most suitable crypto sportsbook for their needs.
Welcome Bonus
Each site will provide a different welcome bonus to players. There are varying factors which go into what's on offer. For example, some sportsbooks have substantial bonus amounts available. Up to 30,000 USDT or 7 BTC are examples of current welcome bonuses. So, high-roller players may want to look for a site with a larger bonus.
However, with a large bonus often comes significant wagering requirements. Bettors willing to take a minor bankroll boost can often get much lower rollovers. So, checking the full terms and conditions before accepting a bonus is essential. While the amount available may be appealing, the smaller bonuses often offer better conditions for players who want easier access to the bonus.
Overall value is also essential. While up to 5 BTC may seem appealing if it's a 25% matched deposit, it's not as generous as a 100% matched deposit up to 2 BTC. The terms and conditions also apply here, if players only have 7 days to complete wagering, it can make a bonus unobtainable.
Promotions
The same concepts apply to regular promotions, as with a welcome bonus. However, there are some factors where additional information is vital.
Firstly, regular reload bonuses are available. They typically work in the same manner as a welcome bonus but offer a lower percentage matched bonus. In addition, it allows players to claim regular bonuses over the lifetime of their account.
There are also seasonal offers which crypto sportsbooks provide. These tend to come into play when significant sporting events occur. For example, bettors may find special bets available during the World Cup. Increased odds and parlay boosts are the most common during these events.
Finally, there may be contests and tournaments available. Each one will provide a different experience, but they can allow players to earn extra rewards for the bets they place.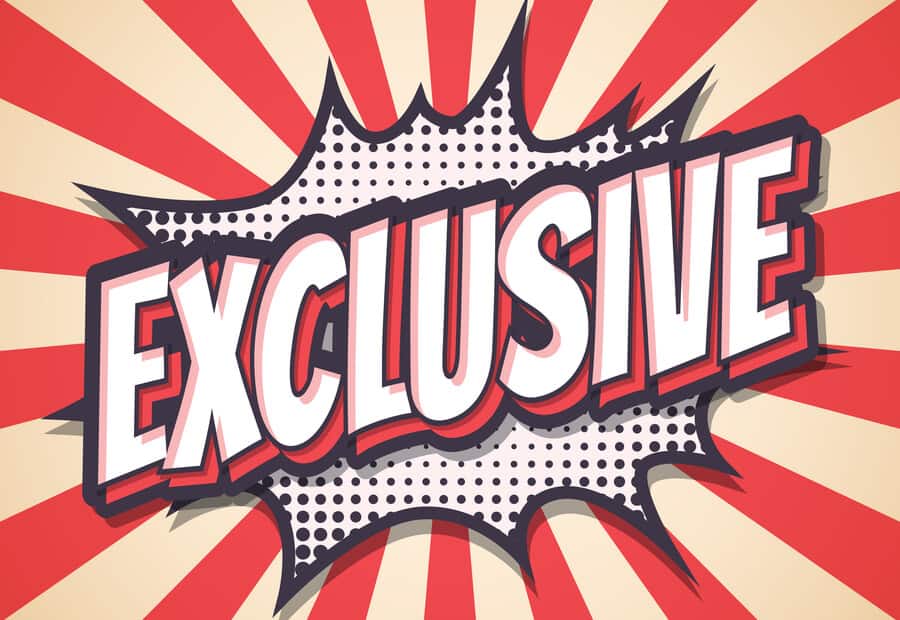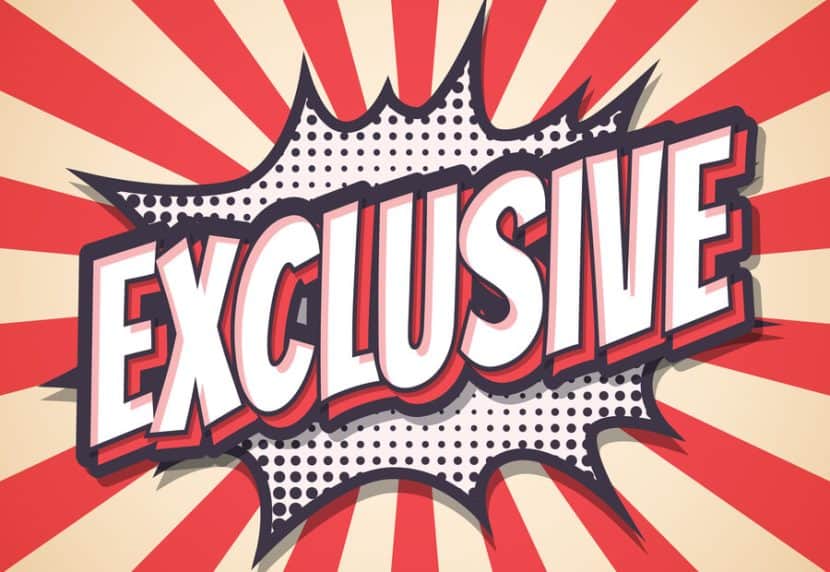 Sports
Sports selection is a critical aspect. Without the right sports, players can't wager on what they want. So, a fan of volleyball should look to ensure it's available. If it's not, they will find the sportsbook useless. However, it goes beyond just available sports. For example, if the right events aren't available, it makes it impossible for bettors. It's not typically an issue for fans of more prominent sports, but it can become an issue for players who enjoy more niche sports.
Of course, eSports is another aspect bettors should look into. It's a growth area of the market, providing plenty of potential for new innovations. Players looking for good value bets can also find it through intensive research.
Finally, market choice is vital. With a poor market selection, finding the right bets is impossible. Many sportsbooks offer more than just moneyline, so anyone with a complex research strategy must ensure the required markets are available.
Deposit & Withdrawal Speed
One of the most significant benefits of crypto is the rapid transaction speed. Compared to fiat currency, bettors can access their funds far faster. So, ensuring the chosen sportsbook allows players to maximise this benefit is vital. Unfortunately, with some sites adding on their own processing times, it can remove the benefits of depositing and withdrawing with crypto. So, players who want to rapidly claim their funds must check the site also offers instant withdrawal processing.
Although not explicitly linked to the withdrawal speed, players should ensure the site doesn't charge fees. Transaction fees can eat into potential profits, so finding a site without fees is vital if playing with a tight margin. Deposit and withdrawal limits are another essential factor, as low-budget users may struggle with higher minimums. Conversely, high-budget players will want access to substantial maximums.
Verification before making a withdrawal is something else to research. Players who want to remain anonymous should ensure no KYC checks are in place.
Customer Support
Even at the best crypto sportsbooks, issues can arise. As a result, high-quality customer support needs to be available. So, users should always research whether the customer service is up-to-standard.
Of course, it's not just a case of finding out if it's available. Bettors should also look into what support is offered. Live chat is necessary in the modern world, so players must discover if it's available first and foremost. However, other support options are also important. Email, phone and an FAQ allow all forms of users to access customer service. An FAQ is particularly useful as it gives instant answers to potential issues. So, if it has the correct information, it can remove the need to contact support operatives.
The professionalism of customer service is also essential. For example, players don't want to talk to someone rude and dismissive when contacting live chat. Checking the quality of customer service makes it simple to avoid these problems.
Restricted Countries
Country restrictions are likely at many sportsbooks. So for bettors, it's critical to ensure they can access a site before signing up. A list of restricted countries is often available in the terms and conditions, but if not, we cover them in our sportsbook reviews.
Bettors can sometimes get past restrictions with a VPN. However, there are additional risks associated with VPN use. For example, some sites will confiscate funds if they find out a player has used one to create an account, as it contravenes their terms and conditions. As a result, it's vital for players to weigh up the potential risks before choosing to get around location restrictions.
It's typically due to regulatory issues that sites restrict certain countries. However, sometimes it can be because the government doesn't allow online or crypto gambling. So, bettors should ensure they check all regulations before signing up.
License
A regulatory license is often an excellent way to ensure a site is going to behave reasonably. It shows the sportsbook is willing to abide by regulations to operate. Therefore, seeing a license in place is typically a good sign. However, some exceptions exist, as some unlicensed sites provide an excellent service.
A regulatory license can come from several areas. The MGA and UKGC are usually the top names within the industry, but there are secondary licenses that provide just as much use to players. Curacao is the most common within the crypto world, so it's typically the one bettors will find.
Although some sites without a license provide excellent service, players should choose licensed sites where possible. It increases the chances of high security and good service. As a result, we always cover the available licenses in our sportsbook reviews.
Conclusion
With the crypto landscape continually evolving, reliable sportsbook reviews are vital. In addition, regulations, blockchain potential, and betting options constantly change, so bettors must stay up-to-date with what's available.
Using our reviews, players can instantly find out whether a site is trustworthy and its service quality. We conduct extensive research to create our reviews, guaranteeing players can find an informed and unbiased opinion.
We also cover the latest crypto sportsbooks, so players can easily stay up-to-speed with the available options on the market.
FAQs