One of the main elements to consider when betting on any UFC bout is the varying fighting styles and techniques of the competitors in question.
For example, it has long been assumed that MMA athletes coming from a boxing background are at a disadvantage against wrestling or Jiu Jitsu experts inside the octagon.
But is this actually the case?
We dug deeper into the theory in order to set the record straight…
Top UFC Sportsbook Sites
BC.Game – Best Overall UFC Betting Site
Stake – High Reputable Betting Site
Cloudbet – Best for Huge Welcome Bonus
Thunderpick – Best for eSports Betting
Sportsbet.io – Top Betting Operator with International Sports Sponsorships
Vave – Best for Cashback on Sports Betting
Bitsler – Top Binance Coin Operator for Mobile Sports Betting
Fairspin – Best to Receive TFS Casino Token
Fortune Jack – Best for 4 Deposit Welcome Pack
Betonline.ag – Top Long-Standing Sports Operator
Primary Fighting Styles
Mixed martial arts is in many ways self-explanatory; a mixture of multiple combat styles all rolled into one.
The sport started off as a clash of styles, often with opponents of starkly contrasting skills facing off against one another.
In fact at UFC 1, Royce Gracie's incredible Jiu Jitsu skills were so new and innovative that even the referee didn't notice his opponent Ken Shamrock tapping out!
Those days are long gone. The game has changed.
Alongside the mainstream rise of UFC, MMA has evolved beyond recognition. Elite contenders now need to be extremely well-rounded – genuine ultimate fighters, if you like – with a strong level of expertise in many different disciplines.
That said, every fighter has his or her base skill. And still, to this day, the overwhelming majority of fighters can be categorised into one of the following 7 primary fighting styles:
Wrestling
Brazilian Jiu Jitsu
Boxing
Muay Thai and kickboxing
Taekwondo
Judo
Karate
UFC Scoring Criteria
To put these varying styles into a betting context, it's helpful to understand how UFC bouts are scored. As per the official unified rules of MMA, there are 4 key criteria judges should prioritise when awarding points:
Effective striking: how many legal strikes are landed – relevant for boxing, Muay Thai, karate and taekwondo.
Effective grappling: how many successful takedowns or reversals are achieved – relevant to wrestling and judo.
Effective aggressiveness: has a fighter shown effective aggressive attempts to finish the fight – this is style agnostic.
Fight area control – Who's dictating the pace, location and positions in the cage? The fighter moving forward to corner his opponent is rewarded here – this one might seem agnostic, but wrestling is all about dictating the pace and controlling areas.
So, there are specific ways that 6 of the 7 primary fight styles can impact and influence the judges' scorecards.
The single exception is Jiu Jitsu, but this discipline is almost solely responsible for submissions, which make up almost 40% of UFC stoppages.
Wrestling Superiority
It is wrestling, however, that rules the roost.
When wrestlers transition into MMA, the core moves that come naturally to them actually score points inside the octagon. 3 of the 4 scoring criteria are already habitual to any wrestler.
After all, wrestling is all about controlling your opponent. Achieve a takedown to the mat, and you get points in MMA. Control your opponent and keep them pinned, and you get even more points.
Add to that the fact wrestlers are used to endurance battles and are purpose-built for a combination of speed and strength, and there's little doubt you have a primary fighting style that is ideal for MMA competition.
Indeed, a quick glance at the ESPN graph below, tells a compelling story – collated from a gigantic dataset of 21 years of UFC fights, between 1997-2018.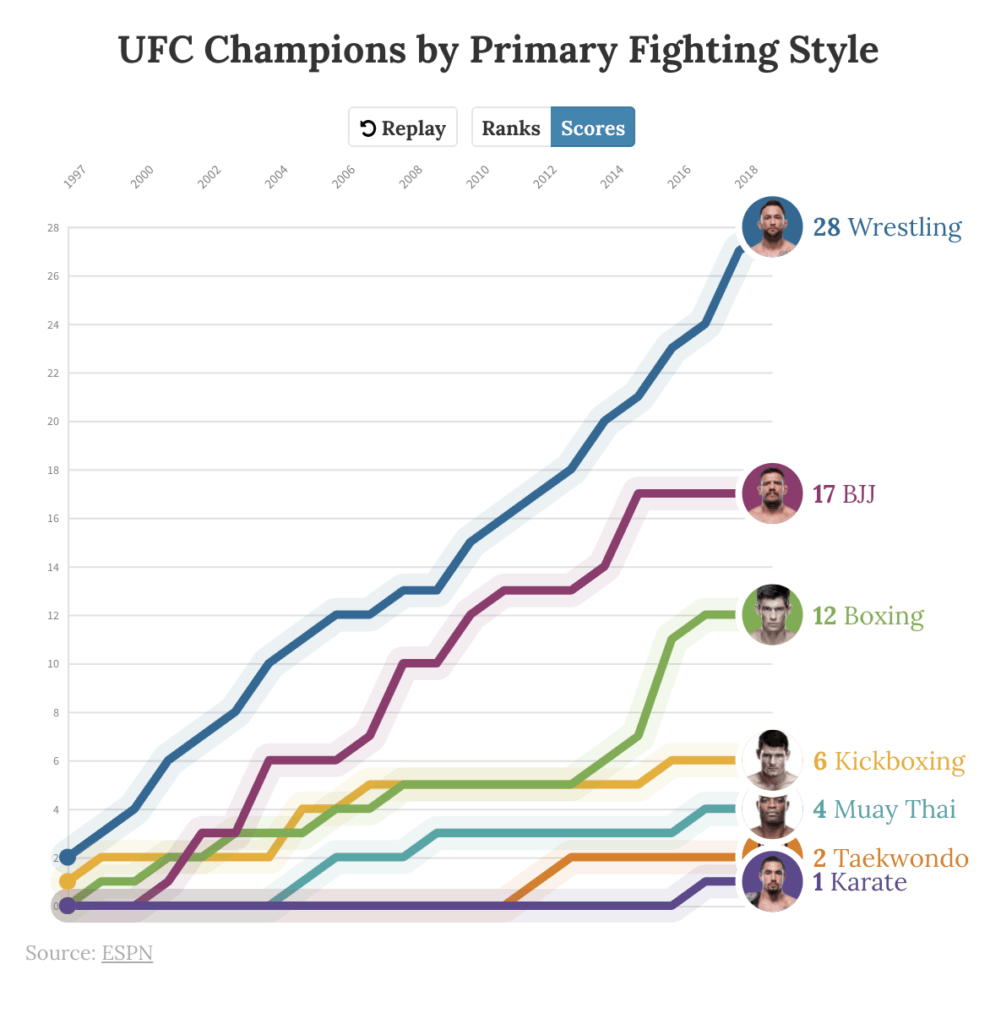 The data is conclusive. But it's a couple of years old.
Today's Champions
So, as an addendum to bring things completely up to date, we decided to take a look at the current roster of UFC men's champions and number 1 contenders, as of July 2020.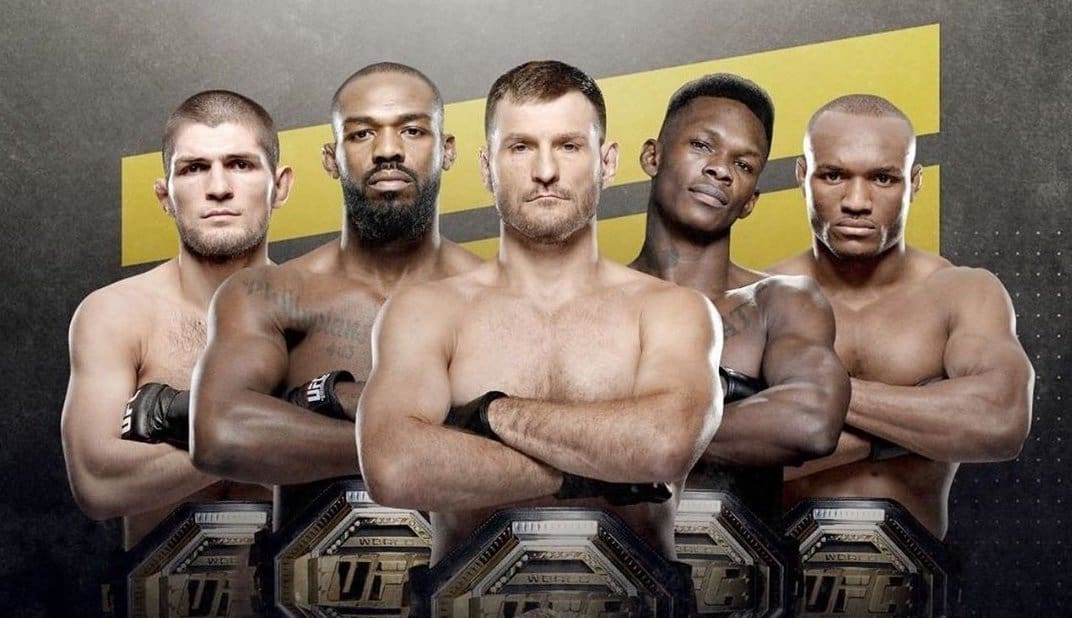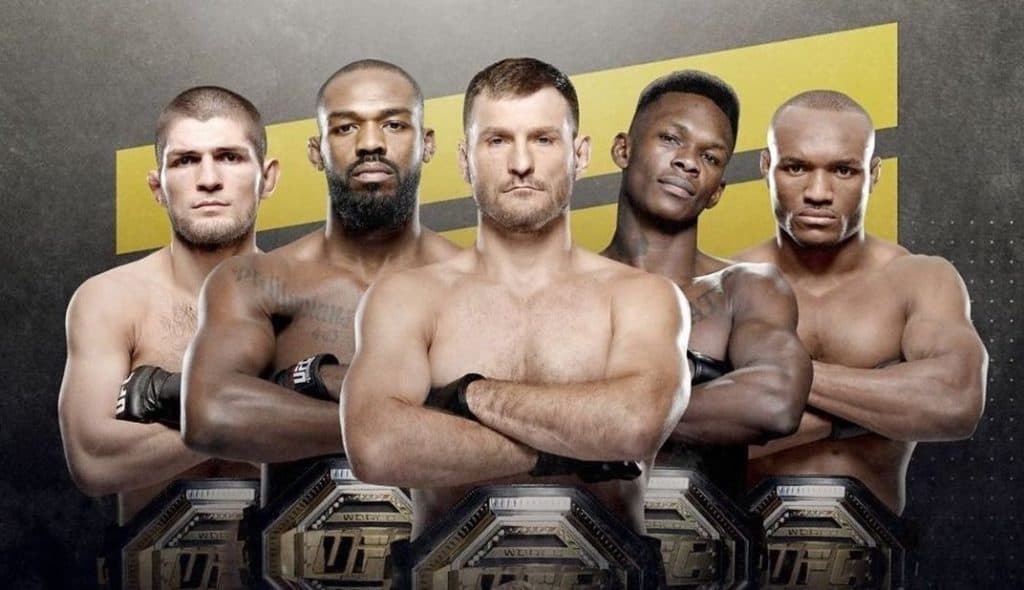 There are 8 active men's weight divisions, here are the current champions and number 1 contenders – and their dominant primary fighting styles – for each category:
Heavyweight
Champion: Stipe Miocic – wrestling
No.1 Contender: Daniel Cormier – wrestling
Light Heavyweight
Champion: Jon Jones – wrestling
No.1 Contender: Dominick Reyes – wrestling/Muay Thai
Middleweight:
Champion: Israel Adesanya – Muay Thai/boxing
No.1 Contender: Rob Whittaker – wrestling/karate
Welterweight:
Champion: Kamaru Usman – wrestling
No.1 Contender: Gilbert Burns – wrestling/boxing
Lightweight:
Champion: Khabib Nurmagomedov – wrestling
No.1 Contender: Justin Gaethje – boxing
Featherweight:
Champion: Alexander Volkanovski – wrestling/Muay Thai
No.1 Contender: Max Holloway – Muay Thai
Bantamweight:
Champion: Petr Yan – boxing
No.1 Contender: Marlon Moraes – Muay Thai
Flyweight:
Champion: Deivison Figueiredo – wrestling
No.1 Contender: Joseph Benavidez – wrestling
There are of course extra strings to each of their bows, that's what has made them elite-level champions.
Jon Jones possesses top-class Muay Thai skills and Stipe Miocic is a former regional Golden Gloves champ. Another interesting anomaly is attacking powerhouse Justin Gaethje, who has an elite-level wrestling background, but insists he tries not to draw on those skills in the UFC.
Overall though there's a compelling trend among the current cream of the UFC crop.
And with 11 of the top 16 ranked fighters possessing wrestling as a primary fighting style, it shows that grapplers still rule the roost.
So, next time you're weighing up your betting options for an upcoming UFC event, remember wrestling is king. Good luck!