Top UFC Sportsbook Sites
BC.Game – Best Overall UFC Betting Site
Stake – High Reputable Betting Site
Cloudbet – Best for Huge Welcome Bonus
Thunderpick – Best for eSports Betting
Sportsbet.io – Top Betting Operator with International Sports Sponsorships
Vave – Best for Cashback on Sports Betting
Bitsler – Top Binance Coin Operator for Mobile Sports Betting
Fairspin – Best to Receive TFS Casino Token
Fortune Jack – Best for 4 Deposit Welcome Pack
Betonline.ag – Top Long-Standing Sports Operator
Primary Fighting Styles
Mixed martial arts is in many ways self-explanatory; a mixture of multiple combat styles all rolled into one.
The sport started off as a clash of styles, often with opponents of starkly contrasting skills facing off against one another.
In fact at UFC 1, Royce Gracie's incredible Jiu-Jitsu skills were so new and innovative that even the referee didn't notice his opponent Ken Shamrock tapping out!
Those days are long gone. The game has changed.
Alongside the mainstream rise of UFC, MMA has evolved beyond recognition. Elite contenders now need to be extremely well-rounded – genuine ultimate fighters, if you like – with a strong level of expertise in many different disciplines.
That said, every fighter has his or her base skill. And still, to this day, the overwhelming majority of fighters can be categorized into one of the following 7 primary fighting styles:
Wrestling
Brazilian Jiu Jitsu
Boxing
Muay Thai and kickboxing
Taekwondo
Judo
Karate
UFC Scoring Criteria
To put these varying styles into a betting context, it's helpful to understand how UFC bouts are scored. As per the official unified rules of MMA, there are 4 key criteria judges should prioritize when awarding points:
Effective striking: how many legal strikes are landed – relevant for boxing, Muay Thai, karate and taekwondo.
Effective grappling: how many successful takedowns or reversals are achieved – relevant to wrestling and judo.
Effective aggressiveness: has a fighter shown effective aggressive attempts to finish the fight – this is style agnostic.
Fight area control – Who's dictating the pace, location and positions in the cage? The fighter moving forward to corner his opponent is rewarded here – this one might seem agnostic, but wrestling is all about dictating the pace and controlling areas.
So, there are specific ways that 6 of the 7 primary fight styles can impact and influence the judges' scorecards.
The single exception is Jiu Jitsu, but this discipline is almost solely responsible for submissions, which make up nearly 40% of UFC stoppages.
The Evolution of MMA Fighting Styles in the UFC
Mixed martial arts (MMA) has come a long way since its inception, and over the years, fighters have adapted their techniques and strategies to become more well-rounded and versatile in the cage. This has led to the development of various fighting styles that are now prevalent in the sport, and these include:
Strikers
Strikers are fighters who excel in striking techniques, using punches, kicks, knees, and elbows to damage their opponents. In the early days of the UFC, many strikers came from traditional martial arts backgrounds such as karate, taekwondo, boxing, or Muay Thai. These fighters often relied heavily on their striking prowess to score knockouts or win by decision. Over time, however, strikers in the UFC had to evolve to become well-rounded athletes. Otherwise, they'd risk being at a disadvantage when facing grapplers or fighters who would take fighting to the canvas. Some notable strikers that have impacted the sport include Anderson Silva, Conor McGregor, Israel Adesanya, and Dustin Poirier, known for their striking acumen and strong grappling skills.
Grapplers
Grapplers specialize in taking their opponents to the ground, controlling them, and attempting to finish the fight via submission. Wrestlers also made their mark in the sport, utilizing their takedown abilities to control and wear down their opponents, which would help them win rounds as player stamina would decrease significantly. However, grapplers must incorporate striking and standing fighting into their arsenal as the sport evolves to adapt to the striker-type fighter's precision and force. Fighters like Khabib Nurmagomedov and Georges St-Pierre are known grapplers but possess effective striking skills. However, today fighters who take the fight down to the canvas are more versatile and can trade strikes with their opponents while standing.
All-Rounder
All-rounders excel in all aspects of MMA, combining striking, grappling, and wrestling techniques to create a complete fighting style. These fighters are often the most difficult to prepare for, as they can adapt their approach based on their opponent's strengths and weaknesses. Notable all-rounders, including Jon Jones, Kamaru Usman, Jose Aldo, and Anderson Silva, have shown their ability to combine all fighting styles and dominate a specific weight class for years! The rise of freestyle fighters in the UFC shows how the sport is evolving, and no one style fits all in combat sports.
Wrestling Superiority
It is wrestling, however, that rules the roost.
When wrestlers transition into MMA, the core moves that come naturally to them actually score points inside the octagon. 3 of the 4 scoring criteria are already habitual to any wrestler.
After all, wrestling is all about controlling your opponent. Achieve a takedown to the mat, and you get points in MMA. Control your opponent and keep them pinned, and you get even more points.
Add to that the fact wrestlers are used to endurance battles and are purpose-built for a combination of speed and strength, and there's little doubt you have a primary fighting style that is ideal for MMA competition.
Indeed, a quick glance at the ESPN graph below, tells a compelling story – collated from a gigantic dataset of 21 years of UFC fights, between 1997-2018.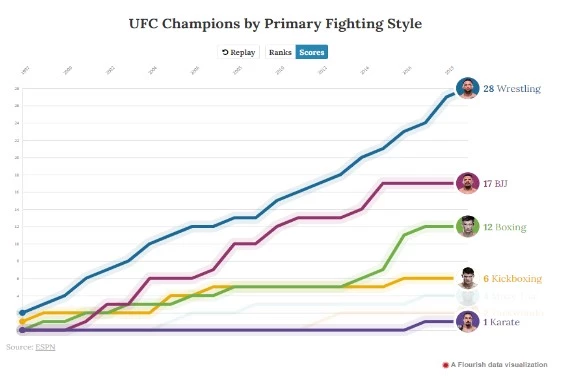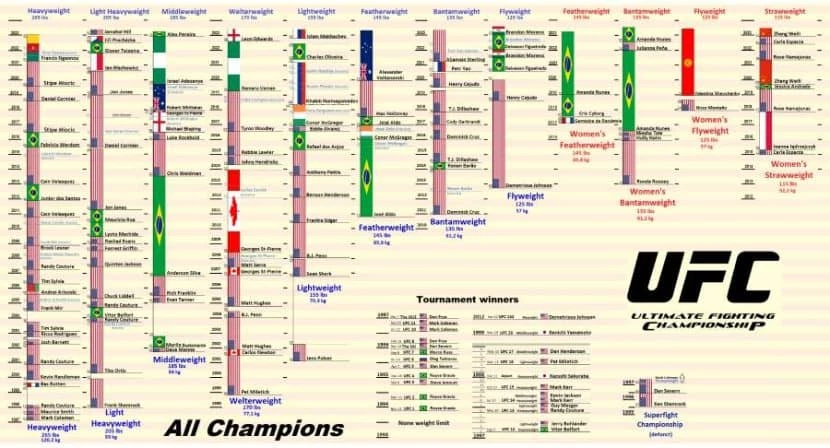 The title of "Greatest of All Time" (GOAT) in the UFC is not included; however, many have pointed to the likes of Georges St-Pierre, Jon Jones, Anderson Silva, Connor McGregor, and Khabib Nurmagomedov – who's the only undefeated fighter on the GOAT list.
The best bets for UFC fights depend on the specific matchups and odds. Some popular bet types include moneyline bets (picking the outright winner) and over/under bets (predicting the number of rounds).
The current UFC contract guarantees fighters three minimum fights per year; however, they tend to find two times per year due to fight fatigue, injuries, and contract issue.
Yes, the UFC is a safe sport that has a set of measures in place set to protect fighters with strict regulations and safety measures.
Weight cutting includes exercise, sauna, and dieting, all part of fight camps designed to get fighters to their weight class before their weigh-ins.
No fighter has ever died during a UFC fight in the octagon.
The number of fighters in the UFC fluctuates, but as of 2023, there are 721 active fighters in the UFC.
It's difficult to pinpoint a single "best" fighter to bet on, as odds and matchups constantly change. The winning bet is not always the champion since upsets always occur, so it's best to analyze each fighter individually.
Payments for UFC fighters start from $20,000 to show and $20,000 to win. Fighter pay increases significantly as they get more popular, enter pay-per-view or reach champ status.
More by Eugene Abungana

I have worked with several companies in the past including Economy Watch, and Milkroad. Writing for BitEdge is highly satisfying as I get an opportunity to share my knowledge with a broad community of gamblers.