British cryptocurrency exchange platform that boasts more than 2.5 million users around the world.
Supports 56 cryptocurrencies and has 190 trading pairs.
Best for traders interested in doing very specific business connected to certain cryptocurrencies.
Used to buy, sell and swap your cryptocurrencies.
Has a native Token EXM
Introduction to EXMO Exchange
One of the most striking things you notice when you visit Exmo's website is the Tagline- Uncreepy Crypto, which alludes to their goal to make cryptocurrency transactions a little less ambiguous and risky for their traders. The exchange was founded in 2013 and has its headquarters in the UK. Its decade-long appeal to a specific market segment serves as evidence of its continued commitment to meet their crypto client's market needs.
You won't pay any fees to download and sign up an account on Exmo. However, it charges a flat trading fee of 0.30%, which is quite high, considering that the industry-wide median rating is 0.25%. On the positive side, traders don't have to pay any commission when depositing or withdrawing cryptocurrencies from the platform. Here's a simplified summary of what Exmo exchange offers their clientele.
Type of Exchange

Decentralized Exchange

Price

Free

Fees

Deposit: 0

Taker Trading Fees: 0.3%

Maker Trading Fees: 0.3%

Features

Exmo Premium
Gift card
Exmo Prime
Variety of order types

Number of Cryptos Supported

Earn

Customer Service

Hardware Compatible

SPV or Full Node

Full Node

Who is Exmo best Suited For

Beginners in crypto
Experts
Institutional clients

Pros

24/7 support
Hot and cold wallets accepted
Accepts fiat and crypto
Site available in 12 languages
Simple and intuitive user interface
A low trading fees
The Exmo Study feature
Cashback program
50+ Listed cryptocurrencies and 190 trading pairs.
Up to 40% partner commissions
Superior security

Cons

No phone support.
Many transfer restrictions
High crypto deposit fees.
Few cryptocurrencies accepted
Only allows 8 Fiat currencies
Type of Exchange
EXMO is a dual purpose decentralized cryptocurrency platform that's custodial and uses third party technology providers to safely hold 95% of the users' crypto offline. It has a desktop app that's downloadable for Windows, Ubuntu, Linux, and MacOS, and also a mobile app compatible with iOS and Android phones.
Price
Registering an account on the platform is free, and so is downloading the app.

Fees
The platform has varying fees depending on the transaction you want to carry out. Here's a summary:
Transaction Fees
Deposit 0
Withdrawal Depends on network transaction fees
Taker Trading Fees 0.3%
Maker Trading Fees 0.3%
Note that the withdrawal, maker and taker trading fees can be dynamic. The maker and taker fees vary depending on 30-day trading volumes.
EXMO Features
Exmo might have fewer cryptocurrencies and trading pairs than many alternatives in the market. However, it gives beginners an ideal range of ways to interact and make money from the exchange. Here are the top exchange features:
Exmo offers the basic version that's free to download and use when you don't need any highly specialized functions from the exchange. However, there's also the premium version that comes with perks you won't find in the basic version including:
Users get between 15-100% trading fee discount.
Users get a fixed discount, regardless of their trading volume.
It covers all allowed cryptocurrency pairs.
You can choose the level of your premium package from the four available options. These include the Basic whose subscription fee is $1, standard, which comes at $10, advanced, which comes at $100, and professional at $500.
The gift card is a feature that makes it easy for Exmo users to transfer their cryptocurrencies between their accounts. The card is a combination of 57 letters, numbers and other characters, which means that someone you haven't sent it to would find it impossible to correctly guess it. The functions of the card involve:
Moving crypto from your account to another user's
Account top up with crypto and fiat funds
Access payment methods that aren't available on Exmo when withdrawing funds.
This is a variation of the platform designed for high-income professional traders, financial companies and institutional investors. You can access these services through the OTC desk or API. in the OTC desk, you get insights and expert advice on the market, swift and very convenient service.
Exmo offers three order types when buying and selling cryptocurrencies:
Market: A market order allows you to buy and pay for crypto at the current market price. On the upside, the order gets automatic execution. However, it's hard to predict the execution price because of crypto's high volatility.
Limit: A limit order allows you to purchase and sell an asset at a certain predetermined price. The order is not automatic and immediate like the market alternative. The system can only execute the order when the cost of the asset reaches the predetermined price.
Stop: A stop order instructs the exchange to buy or sell market orders only after the market price hits a certain specified price. The transaction is automatically triggered when you hit the price.
Other features worth noting include the referral program, exmo coin and VIP rewards. These are all aimed at ensuring traders at all levels get the best out of the exchange.
Number of Cryptocurrencies Supported
Exmo currently supports these cryptocurrencies: BTC, ETH, XRP, BCH, EOS, LTC, ADA, XLM, TRX, NEO, DASH, XEM, ETC, QTUM, OMG, ZEC, and 50+ others.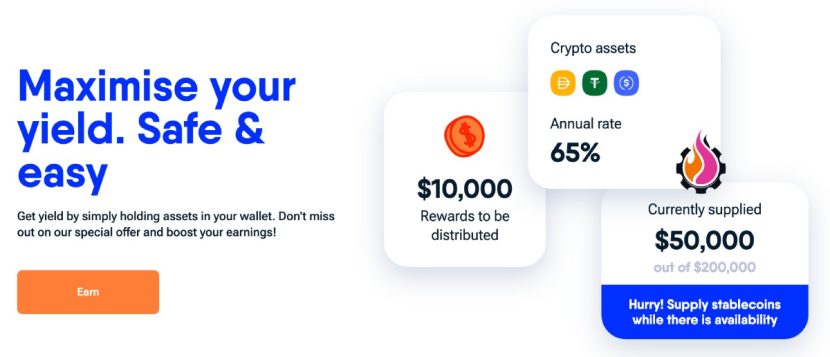 Earn
Staking Crypto
Exmo allows users to stake all the cryptos based on the POS consensus. If you already hold certain coins in your wallet, you can move from simply holding to staking for reasonable returns. For example, the exchange's native token EXM can be staked for excellent APY. here's a breakdown of the APYs you can expect from staking cryptocurrencies:
| | |
| --- | --- |
| Coin | APY |
| Exmo Coin | 17% |
| Bitcoin | 2.5% |
| Atom | 13% |
| Ethereum | 3.5% |
| Tether | 3.0% |
| Dot | 12% |
| USD Coin | 3.0% |
| Dai | 3.0% |
| LiteCoin | 1.0% |
| Tezos | 4.5% |
| SUI | 2.0% |
| Tether EURT | 1.0% |
| Solana | 5.0% |
| Ton Coin | 3.0% |
| Tron | 1.5% |
This is just a sample of how much staking can earn you for an average of 30 days. Exmo regularly updates the figures in their earn page, and you can easily access it for that.
Yield Farming
Yield farming also allows users to earn rewards by depositing their crypto or other digital assets in a decentralized application. Exmo has an ongoing yield farming promotion allowing users to deposit certain cryptos and get these yields:
| | |
| --- | --- |
| Asset | Yield |
| Tether | 65% |
| USD Coin | 65% |
| DAI | 65% |
Customer Service
Exmo has managed to create and enjoy so much market prestige from investing in a sound customer service team. They ensure users can reach a help desk at any time of the day. Here are the ways you can access the exchange customer service:
There are several emails you can use to contact support depending on your query, and the issues are categorized into finance, media, customers, and strategic cooperation. The live chat is accessible when you have quick questions that need immediate response. Finally, the FAQs are divided into topics like verification, account security, features on the platform, and trading features among others.
Hardware Compatible
Exmo works on Windows PC, and Macbooks. You can also download the Android App on Playstore and the iOS app on the Apple Store for Android and iPhone. Exmo employs high-level third party dApp security to eliminate the chances of losing one's crypto. Hardware wallets like Ledger Nano S, and Trezor are perfect to pair with Exmo Exchange when you want to create an additional safety layer for your cryptocurrencies.
SPV or Full Node
Exmo fully validates transactions and nodes. The system means that transactions take a little longer than they should. The benefit is that fully validated transactions and nodes ensure that fewer errors can be made in the process. However, you have to spend a little additional time for full node transactions.
Who EXMO Exchange Best Suited For?
The best thing about Exmo's marketing strategy is how they have a product for everyone. If you're new to crypto you can register for a free account, learn and participate in basic services like buying, selling and swapping tokens. On the other hand, there are expert traders intending to invest huge sums in crypto. OTC, and API services specifically target high volume traders for a less stressful user experience. Additionally, there's also exmo premium with 4 levels: Basic, Standard, Advanced and Professional. Trade volumes also vary with the level where one is operating.
EXMO Pros & Cons
Pros
24/7 support for all traders on the platform.
Hot and cold storage options for cryptocurrencies.
Accepts a wide variety of payment options both in fiat and cryptocurrency.
A simple and intuitive user interface
A low fiat trading fee of 0.2%
The Exmo Study feature allows investors to learn all the ways they can earn from cryptocurrencies.
Cashback program that allows users to save up to 100% in commission charges.
50+ Listed cryptocurrencies and 190 trading pairs.
Offers up to 40% partner commissions in the referral program
Superior level of data and asset security on the platform.
Cons
The site doesn't have a call option for contacting support.
Many transfer restrictions on certain transactions.
High deposit fees for crypto.
Few cryptocurrencies accepted compared to other exchanges.
US citizens cannot access or trade on the platform.
Only allows 8 Fiat currencies
Services Offered by EXMO Exchange
Spot Trading: This is the simple and direct function allowing users to trade currencies at the immediate market prices. Most users on Exmo go into spot trading with the goal of buying low and selling high, which translates to substantial profits depending on market volatility and the volume of crypto they spot trade.
Fiat to Crypto and Crypto to Crypto Exchange: Exmo offers a reliable platform for users to exchange conventional fiat currencies like USD, EURO, GBP and PLN for cryptocurrencies like Bitcoin, Tether, Ethereum, Litecoin and others. It also allows users who already own cryptocurrencies to exchange them for other cryptocurrencies.
Isolated Margins Trading: Regular margins trading is also known as leverage trading. It allows users to borrow money from the exchange and use it as leverage when speculating about the rise in price for certain currencies.
Multi Currency Wallet Service: The exchange comes with a wallet where users can store their cryptocurrencies. The site only holds 5% of the crypto in the hot wallet and keeps the rest in a secure cold storage.
How to Create an Account
You can follow these simple steps to create an account with Exmo and start enjoying its services:
Visit the Exmo website. On the top left corner of the home page you'll see the option to either login or sign up. Click on the signup button.
The link will redirect you to the registration form where you're supposed to fill out your details. Note that Exmo will need you to verify these details later, which is why it's advisable to provide accurate personal information.
The site will require you to verify your email address once you have supplied your legitimate details.
Once you verify your email address, Exmo will also require that you set up two factor authentication, by adding your phone number to the account. They'll send a verification code to your number, which you have to fill in.
The second level of KYC comes after you've created the account and verified your email and number. It involves verifying your identity at three levels.
Once you complete the verification process, you can comfortably log into your account, deposit funds or crypto and start trading.
How to Proceed with a Transaction
Most of the transactions on Exmo are locked for security reasons, and you can only access them when you've successfully completed the necessary KYC processes. Making transactions is also simple when you've installed the mobile application.
How to Make a Deposit
After successfully creating and verifying your account, you can make a deposit into your Exmo account and start other transactions. Here's the step by step process you can follow when making a deposit:
Go to the wallet section of your crypto website and choose cryptocurrency.
The site or app will give you a list of all the available assets you can deposit.
Choose the cryptocurrency you want to deposit and click on it. The app should open a page with the deposit details including the wallet address, minimum amount you can deposit and a QR code you can scan for the address.
Copy the address and move over to the wallet you're depositing the funds from. You can then paste the address and specify the amount you want to send.
Ensure all details are correct before hitting the 'send' button. Your cryptocurrency should be in your Exmo account within minutes,
How to Make a Withdrawal
You can withdraw both crypto and fiat from your exmo account, as long as you have sufficient balance for the transaction. Follow these simple step by step process to make a crypto withdrawal:
Tap on the wallet button of your Exmo account when you're already logged into your account.
Choose the asset that you want to withdraw. For example, you can tap on Bitcoin if you want to withdraw the currency.
Tap on the withdraw button next to the asset you intend to withdraw.
The system will ask you to fill in details such as the amount of crypto that you want to withdraw, and the address you want to send it to.
Ensure you paste the destination address accurately to avoid sending your crypto to the wrong address.
The cryptocurrency will be sent to your wallet within a few minutes.
Payment Methods
Exmo might not have as wide a selection of payment methods as what other exchanges offer. However, it has curated methods that are most suitable for their majorly European markets. Here are some of the payment methods available on the platform:
Wire Transfers like Chaps and BACs
Credit and Debit cards like Visa and Mastercard
SWIFT
Web Money
SEPA
Payeer
Bank Transfers
ADV Cash
EXMO Exchange Supported Tokens
Here are some of the tokens supported by Exmo exchange:
Uniswap, Maker, AAVE, Synthetix, RocketPool, Frax Share
Curve DAO Token, dYdX,GMX, Woo Network, Compound
And 1Inch among others.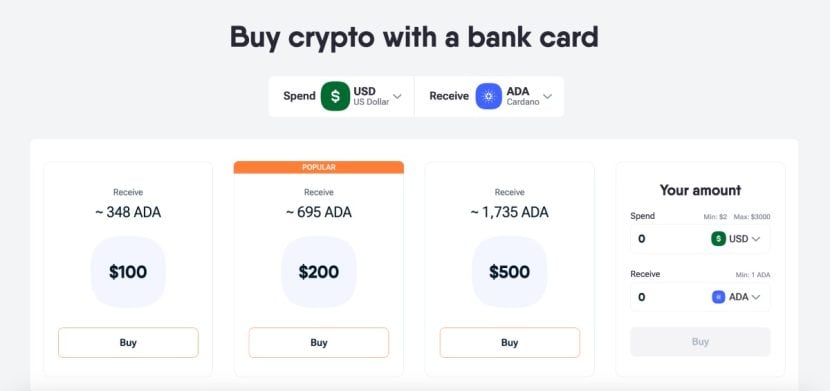 Is EXMO Exchange Safe and Legit?
Exmo is rated as one of the safest places that you can store and transact your crypto. Here are details about the safety and security measures employed by the system to protect users from crypto loss. More than 2 million people use the exchange globally. However, the user feedback on TrustPilot and other sites indicates that the site still has a lot to work on, especially when it comes to customer service.
Security
Exmo has a dedicated page where they explain all the security measures they expect users to adhere to for the sake of their crypto's safety when trading on the platform. The measures include:
Offline Crypto Storage: For the safety of your assets, only 5% of your portfolio is stored in hot wallets. The rest of it is stored in cold wallets protected by the Ledger Vault infrastructure. The vault infrastructure is an insurance scheme that protects and covers crypto losses of up to $150 million. Therefore, traders are assured 95% of their crypto will always be secure when trading on the platform.
Selfie Videos: This is a simple and effective way to verify that the person who deposited the ID details is the one initiating a transaction on Exmo.
Two Factor Authentication: This is a simple but very effective way to ensure that all transactions related to an exmo account are secure and initiated by the account owner. Exmo will prompt you to set up two-factor authentication when signing up for the account, and also each time you initiate a critical transaction.
SSL Encryption: This is a standard security measure for all crypto exchanges. The website address contains HTTPS to indicate that all the data shared on the site is safely encrypted and no one can decode it even if they intercepted it.
User Interface
Exmo exchange as a pretty decent and easy to use interface. The signup process is easy compared to the larger exchanges.
How to Use Exmo Crypto Exchange on Android & iOS
Exmo is available in the Apple app store and also Google Play Store as a downloadable application. You can follow these steps to use Exmo exchange on the downloadable application.
Visit the Google Play Store to access and download the Exmo app. Apple's App store will have the iOS version of the app.
Download the application and wait for the icon to appear on the phone's screen.
Tap on the icon to open the app. It loads in less than a second, and requests you to either sign up or sign in.
If you already have an account, you can sign into it. On the other hand, you'll have to register and follow the required KYC processes to access the deposit, withdrawal and other features.
You can start exploring the different features and functions once you complete the registration process on the application.
How to Use Exmo Crypto Exchange on Desktop
Exmo doesn't have a dedicated desktop app for Windows or Macbook. However, it's possible to access the web version of the app from your PC. Follow these steps to use Exmo on your desktop:
Visit exmo.com on your chrome, safari or other browser.
Signup or sign in using the button at the top left of the website.
The signup process takes several steps and verifications, but you'll be able to access all the functions once you complete the steps.
You can then buy, sell, and earn using the web version of exmo.
Backup & Restore
The safety of your cryptocurrency always depends on how secure you can keep your public and private keys. Any circumstances that endanger your keys might also lead to the loss of your crypto assets. Exmo provides various ways to backup and restore the account.
Backing up Exmo on MetaMask
Here are simple steps to follow to backup your account using a third party dApp like Metamask.
Ensure that your MetaMask browser extension is working, and that you can access your metamask wallet. Create a wallet if you don't have one yet.
Create a strong MetaMask password and record the seed phrase in a safe and secure place.
Go to the Exmo exchange website and log into your account. Visit the settings and narrow down to the security section. Check whether you've enabled the two-factor authentication and do so if you haven't.
Go back to the Metamask page and click on the 'My Account' icon. Choose to either export the seed phrase or private key option.
Follow the directions and enter your Metamask password to reveal the seed phrase associated with the wallet. Ensure you have written it down or copied and stored it in a secure location.
Restoring Exmo from the MetaMask Backup
Here are simple steps to help you restore Exmo from your Metamask backup:
Access the Metamask browser extension from your desktop and log into your account. You can install the widget if you don't have one already.
Select the option to restore from the import wallet or restore seed phrase option.
Enter the seed phrase recorded and stored earlier, and follow the directions from metamask to help you fully restore the account.
Once the process is complete, you'll see the account and all its data inside metamask.
You can now access and perform any transactions on the restored wallet.
Troubleshooting
Several issues might arise when you're using Exmo exchange and wallet functions. Proper troubleshooting helps you figure out the cause of the problem, and how to fix it. Here are some common problems you can troubleshoot:
KYC and Account Verification:
You should ensure your documents are clear, and up to date. If the problem persists, contact customer support for guidance.
If you notice that the pages on your Exmo account aren't loading fast and reliably, you should check the internet connection. If the signal is strong and the problem persists, check whether the browser could be the issue. If all these fail, contact customer support for assistance.
Check and ensure that you have the right deposit address and your amount is within the limit, while catering to any transaction fees. If your details are correct and you've provided the network enough time to process the transaction, consider contacting support.
EXMO Exchange Alternatives
The currency exchange space is highly competitive, and users are constantly looking for the exchange offering the best rates, features, services and safety to their users. Exmo does not rank very highly in any of these categories, but it's still an excellent place to start your crypto investment. Let's compare it with Coinbase and OKX.
EXMO Exchange Vs Coinbase Crypto Exchange
Coinbase Exchange was first launched in May 2012 with the goal of making it possible for anyone to secure Bitcoin from anywhere. At the time of its launch, Bitcoin was worth $6, and there were very few other cryptocurrencies in the market. However, Coinbase has over the years grown to become one of the most popular and useful cryptocurrency exchanges. Let's place the two exchanges side by side for a clear comparison.
| | |
| --- | --- |
| Exmo | Coinbase |
| 2 million users | 73 million users |
| $50 million 24hr volume average | $1.003 billion 24hr volume average |
| 50+ cryptocurrencies | 150+ cryptocurrencies |
| 190 trading pairs | 525 trading pairs |
| 200 countries | 100+ countries |
| Restricted in US, China and Japan | Operational in Canada, Japan and USA |
| Has an Android/iOS app | Has an Android/iOS app |
| No NFT marketplace | Has NFT marketplace |
| Training through Exmo study | Training through Coinbase learn |
| 8+ fiat currencies | 60+ fiat currencies |
| Exmo wallet is self-custodial | Coinbase wallet is non-custodial |
Exmo Exchange Vs OKX Crypto Exchange
OKX
OKX crypto exchange came into the market in 2017 and is one of the small but wildly popular exchanges. Here's a side by side comparison between Exmo and OKX.
| | |
| --- | --- |
| Exmo | OKX |
| 2 million users | 50 million users |
| $50 million 24hr volume average | $920million 24hr volume average |
| 50+ cryptocurrencies | 340+ cryptocurrencies |
| 190 trading pairs | 500 trading pairs |
| 200 countries | 180+ countries |
| Restricted in US, China and Japan | Restricted in US and Canada |
| Has an Android/iOS app | Has an Android/iOS app |
| No NFT marketplace | Has NFT marketplace |
| Training through Exmo study | Training through OKX learn |
| 8+ fiat currencies | 90+ fiat currencies |
| Exmo wallet is self-custodial | OKX wallet is non-custodial |
Final Thoughts
Exmo Exchange is formally registered by the State Enterprise Center of Registers of the Republic of Lithuania as a provider of activities of a virtual currency exchange operator and a deposit virtual currency operator. Their services are created and curated in a way to cater for all market segments, and everyone from the beginner moving minimal crypto amounts per month to the institutional clients moving millions in crypto can benefit from the platform.
Q&A Session
In this section, Millicent Ngugi will address your inquiries and the most common questions regarding Exmo Exchange and offer guidance to newcomers in the field. Feel free to submit your questions through our contact form, and we will strive to respond within 48 hours.